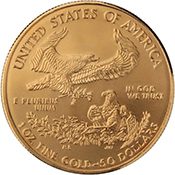 You would think that the old adage "buy low, sell high" would apply to Gold as well as everything else. Wouldn't you expect that as gold has pulled back from $1,900/oz. down to around $1,600/oz that people across the country would jump in and purchase gold with both hands? Well that has not been the case.
US Mint sales of gold American Eagle coins in September reached 115,500 ounces, which is lower than the previous month of 167,500 ounces, a 31% drop in sales. The American Eagle gold coin is the most popular US mint coin aimed at investors and contains 91.6% pure gold. The gold Buffalo coin also dropped from August to September from 28,000 to 13,000/oz. respectively.
Gold is in a bull market; therefore most experts will agree that the pullback is temporary and that we will see gold prices exceed $1,900/oz. again in the not too distant future. So you would think that people would use this pullback as an opportunity like they are in India. India has seen an uptick in sales of 8-10% on average according to the State Bank of India.
One explanation could be that people in the US seem to like to buy when prices are on the rise, and tend to be leery when prices are falling. Another possibility is when stocks are rallying people in the US tend to be less fearful which could also be contributing to the lower sales figures for gold.
Gold has built strong support above $1,600/oz. The end of the year is typically strong for gold, averaging around 13% growth in the last 3-4 months of the year. I would expect the trend to continue, therefore now is a good time to get in, especially if you are in it for the long-term.
If you are long-term (not a trader) dips are a great time to buy as they increase your profit potential. If gold retraces from here and runs back up to $1,900/oz it would create a gain of 15.5%.  But those that are long-term buy and hold through the trend cycle, waiting for the bull market to peak out before the bubble bursts.
If the last bull market in gold is any indication (2,400% growth from 1970-1980) then gold could easily breach $6,000/oz. Therefore take advantage of the opportunity, stick with the old adage (buy low, sell high) and do what the smart money does and buy the dips in gold.