Yesterday we looked at how big tech companies like Facebook, Google and Amazon etc., to use our personal experiences and digital footprints to create enormous wealth and global power. We also saw that this vast amount of data, when coupled with Artificial Intelligence (AI) and machine learning, super charges perception management that can shape your perception and control your actions.
Today we're going to look at how these few large private corporations are grabbing even more personal data in what was once highly guarded sensitive areas hoping to control your every choice.
Have more questions that need to get answered? Call: 844-495-6042
You might recall the uproar around Russia's involvement in Trump's presidential campaign, but a recent study by Freedom on the Net shows that it isn't just foreign interference that we have to worry about. The study showed that out of 30 countries studied, 26 that had held elections or referendums over the past year, had interfered online, to influence citizens.
As example; in the US they found "false, misleading and hyper-partisan content proliferated online" and there are even more tools now than in 2016. In fact, if you are paying attention, there is a proliferation of warnings about how our smart TVs and smart phones are being used to track your movements and send customized ads to "surround you with messages" and now they want your phone contacts as well.
In fact, these political campaigns want YOU to directly influence your friends, they'll even help you compile the text message for them. After all friends and family are the greatest "influencers". As if political robo calls weren't bad enough!
Can you see how a constant bombardment could influence your choices and potentially threaten democracy itself?
But that's not enough for big tech, they want your body too.
On March 8, 2016 a study on "Privacy Policies of Android Diabetes Apps and Sharing of Health Information" was published. They found that diabetes apps shared information with hundreds of third parties. Technology has advanced much faster than privacy laws.
In addition, many of these medical apps, once downloaded, had access to many areas of your smartphone and can track your location, network connections, read user's contacts and directly call phone numbers as well as take pictures and videos without your knowledge.
On April 5, 2019, Amazon (who recently purchased PillPack) announced six new HIPAA compliant Alexa "skills" in partnership with six different code developers. They have plans to work with "many other developers through an invite-only program." The floodgate of big tech into medical services is now opened wide and the network to share with advertisers is already in place.
Google is well positioned to monetize this network and is:
Currently the biggest recipient of data from top health websites
Partnered with the Mayo Clinic for health care innovation and cloud computing
Recently bought Fitbit
How would you like an algorithm to determine your treatment? How valuable do you think your most intimate health and wellness habits might be to advertisers and insurers?
But that's still not enough. They want to control your wealth too.
We've been watching as Facebook has been attempting to invade the central bank money monopoly with Libra. Indeed, surveys show that most US consumers are open to tech banking. We've watched as fintech has been reshaping traditional banking with banks rushing to participate and redefine their positions in this new financial structure based on surveillance. China has led this movement as almost all transactions, regardless of the size, now being conducted on smartphones.
In addition, the growth of small loans to the naïve public have exploded is recent years, as Silicon Valley and central bank easy money policies have funded lending startup experiments. Nowhere is this more apparent than in India.
In 2015 lending startups began using information gathered from Smartphones and algorithms to decide who was credit worthy. When borrowers default, they use tracking data to "hassle" borrowers.
All of this, and more, is possible because currently, all our data is stored centrally, which is begs the question "Who owns our personal data?" And while the technology is unique the business model is not.
Central banks, which are private corporations, have held a monopoly because fiat money is also centrally controlled. As such, since 1971 when Nixon handed over full control of our money supply to those private central banks, wealth has transferred to banks.
What is the one real money that is NOT centrally controlled? Gold. Isn't it interesting that central banks have gobbled up 20% of the global gold supply since 2008? This is higher than the level held during the 1971 monetary regime shift.
I don't think it's a coincidence, do you?
Slides and Links: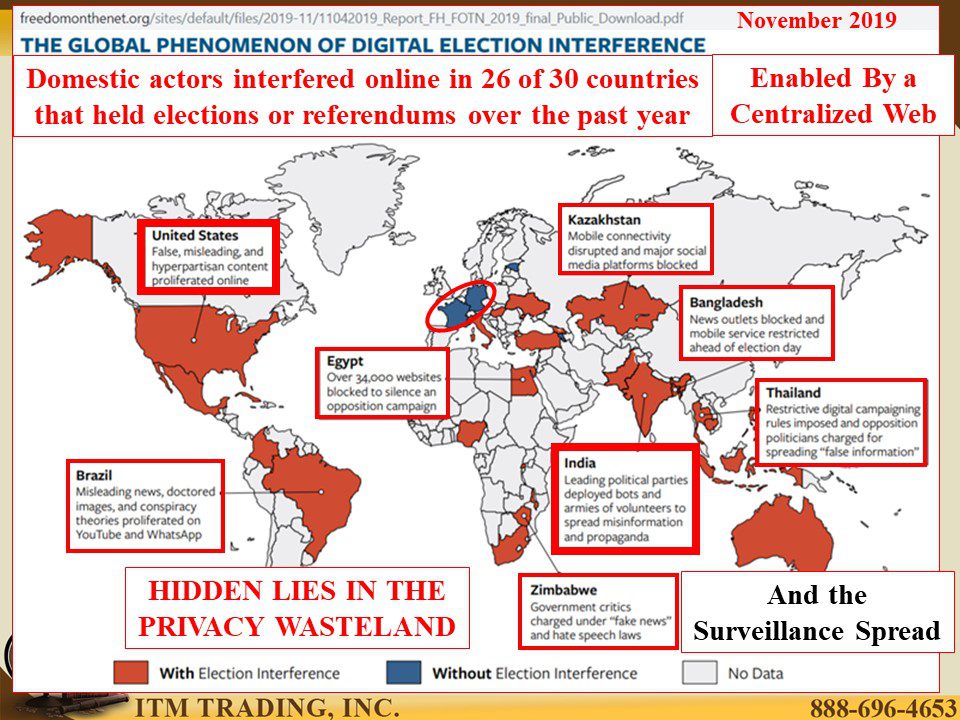 https://www.freedomonthenet.org/sites/default/files/2019-11/11042019_Report_FH_FOTN_2019_final_Public_Download.pdf
https://www.freedomonthenet.org/sites/default/files/2019-11/%21Updated_Abridged_FOTN_2019.pdf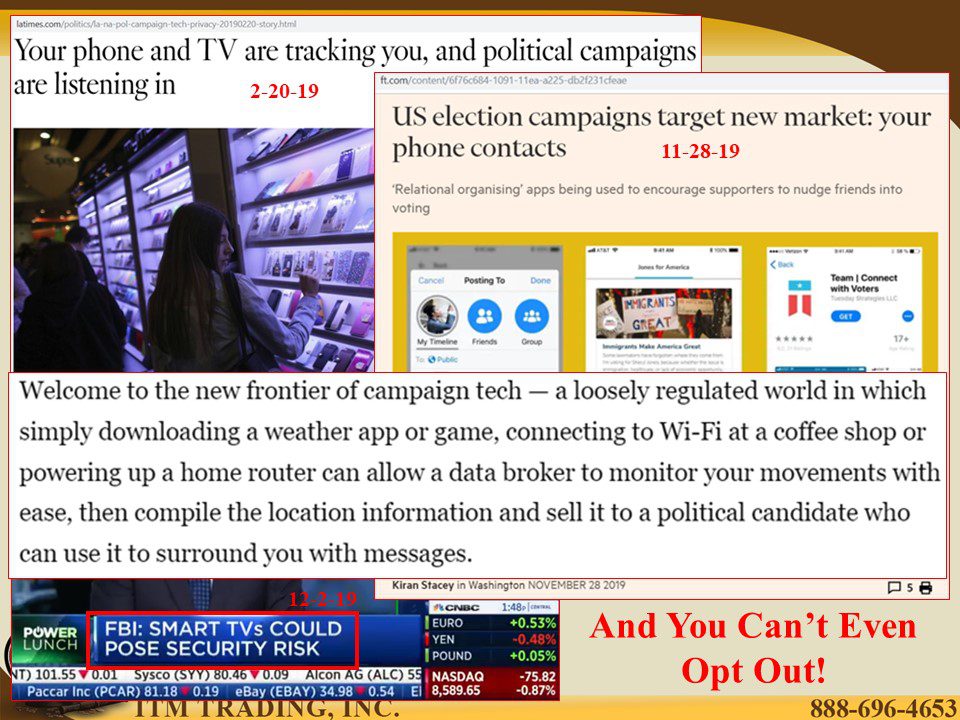 https://www.latimes.com/politics/la-na-pol-campaign-tech-privacy-20190220-story.html
https://www.ft.com/content/6f76c684-1091-11ea-a225-db2f231cfeae
https://qz.com/1449789/votewithme-app-shows-if-friends-and-family-voted/
https://www.wbur.org/onpoint/2019/02/25/political-campaigns-cellphone-tracking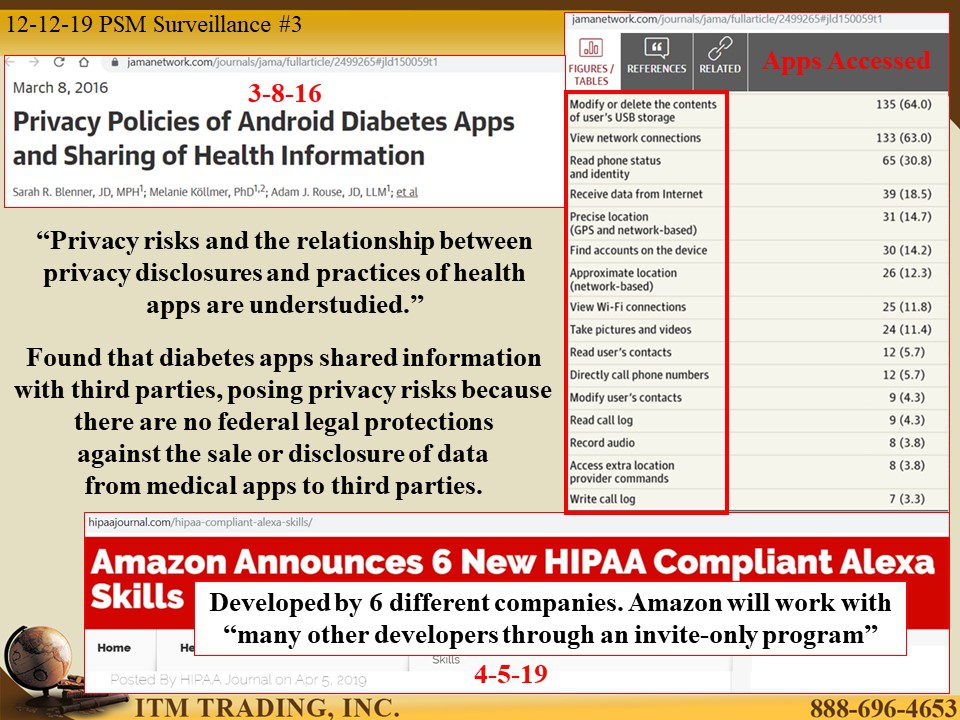 https://jamanetwork.com/journals/jama/fullarticle/2499265#jld150059t1
https://www.hipaajournal.com/hipaa-compliant-alexa-skills/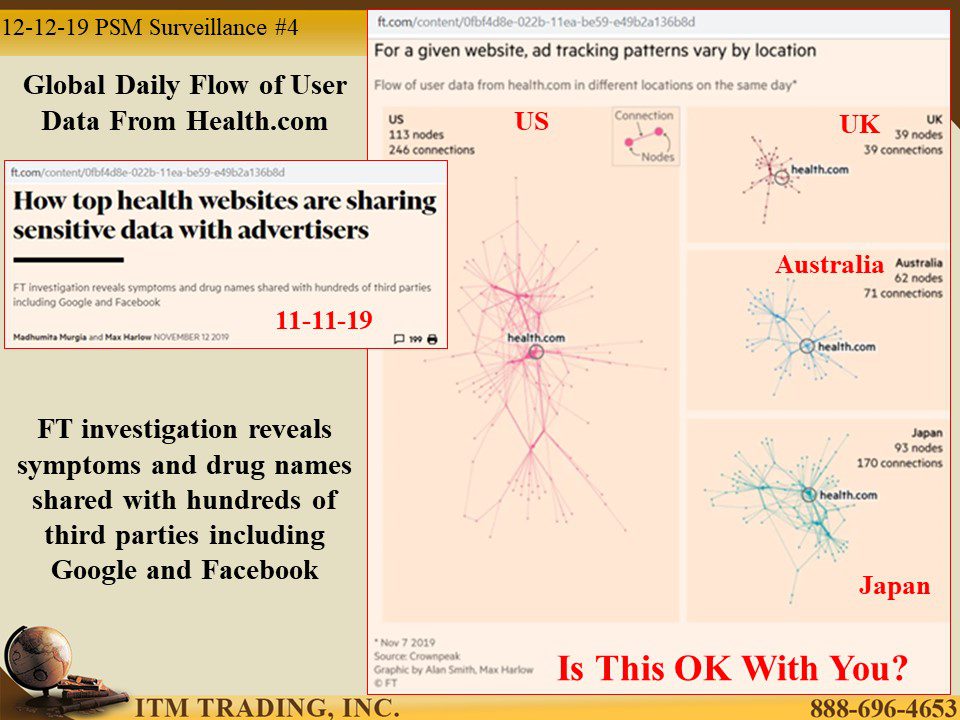 https://www.ft.com/content/0fbf4d8e-022b-11ea-be59-e49b2a136b8d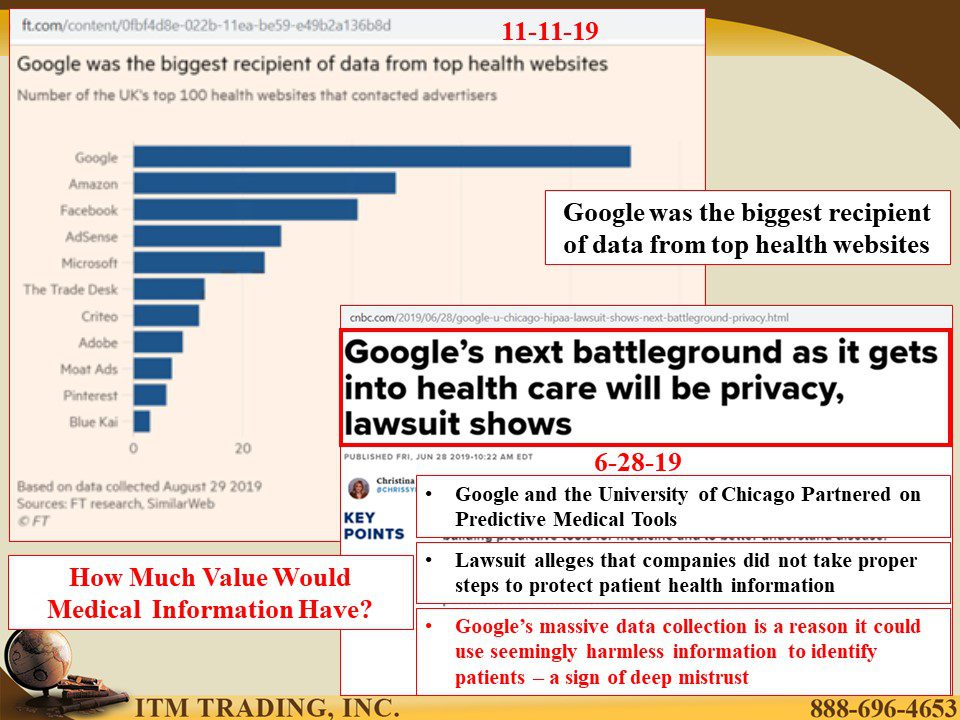 https://www.cnbc.com/2019/06/28/google-u-chicago-hipaa-lawsuit-shows-next-battleground-privacy.html
https://www.ft.com/content/0fbf4d8e-022b-11ea-be59-e49b2a136b8d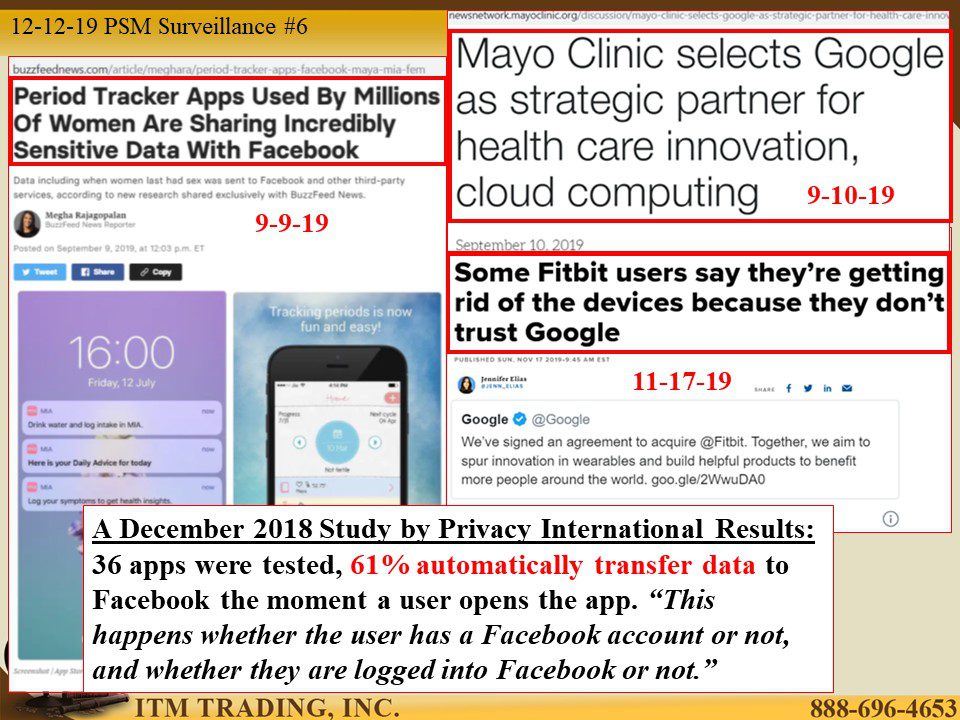 https://www.cnbc.com/2019/11/17/people-getting-rid-of-fitbits-after-google.html
https://www.cnbc.com/2019/11/12/google-project-nightingale-hospital-data-deal-raises-privacy-fears.html
https://newsnetwork.mayoclinic.org/discussion/mayo-clinic-selects-google-as-strategic-partner-for-health-care-innovation-cloud-computing/
https://www.buzzfeednews.com/article/meghara/period-tracker-apps-facebook-maya-mia-fem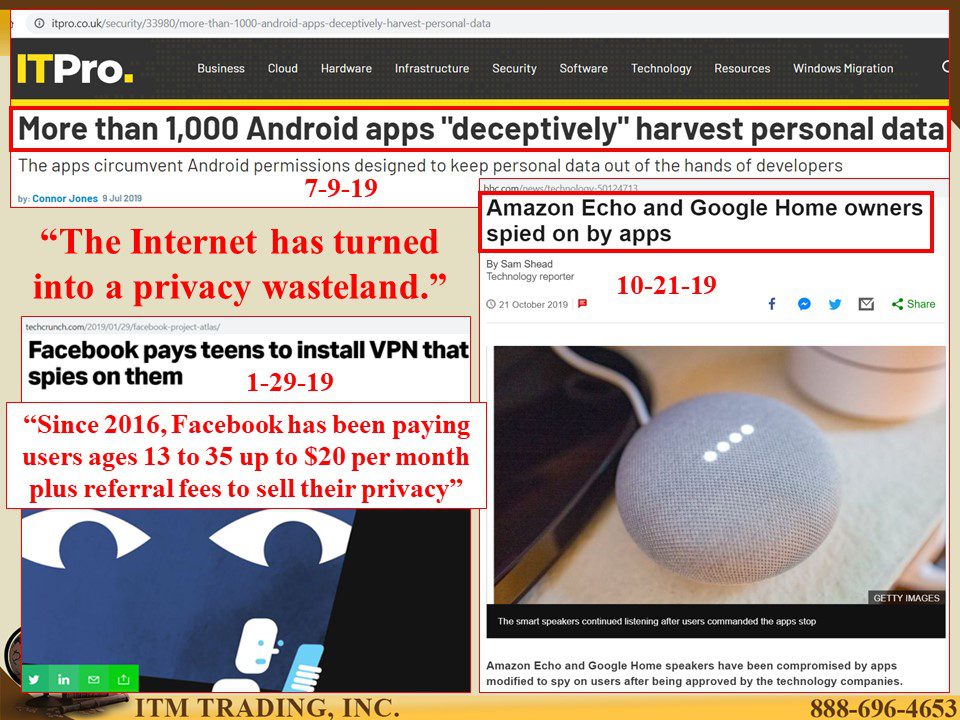 https://www.itpro.co.uk/security/354156/google-confirms-android-cameras-can-be-hijacked-to-spy-on-you
https://www.itpro.co.uk/security/33980/more-than-1000-android-apps-deceptively-harvest-personal-data
https://www.ft.com/content/e3e1697e-ce57-11e9-99a4-b5ded7a7fe3f
https://www.ft.com/content/a2afd690-0703-11ea-a984-fbbacad9e7dd?segmentId=778a3b31-0eac-c57a-a529-d296f5da8125
https://www.ft.com/content/0fbf4d8e-022b-11ea-be59-e49b2a136b8d
https://www.bbc.com/news/technology-50124713
https://techcrunch.com/2019/01/29/facebook-project-atlas/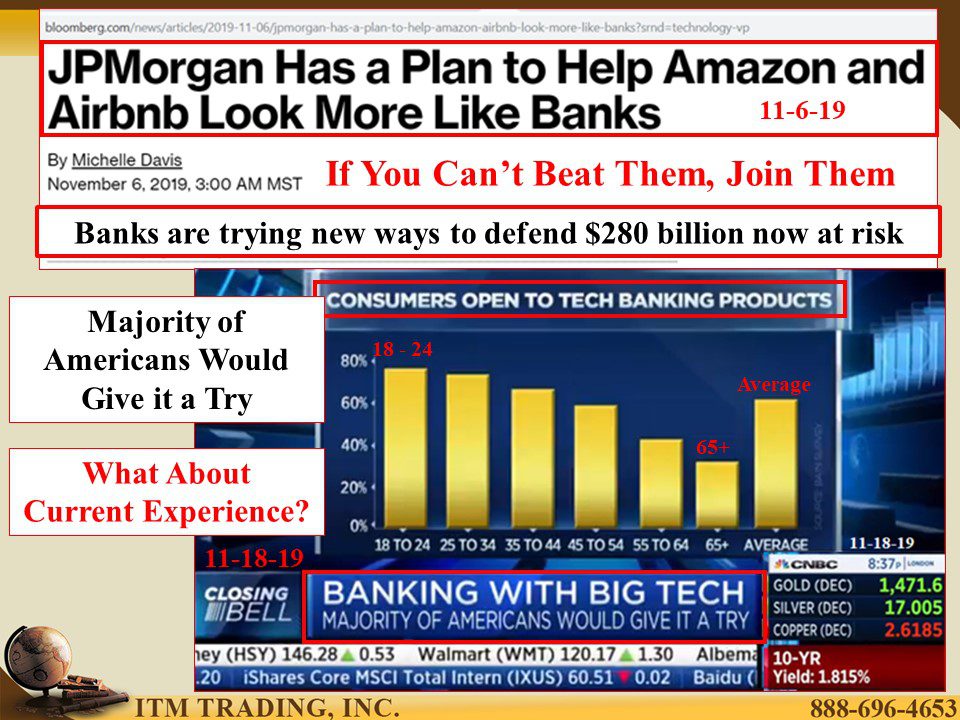 https://www.bloomberg.com/news/articles/2019-11-06/jpmorgan-has-a-plan-to-help-amazon-airbnb-look-more-like-banks?srnd=technology-vp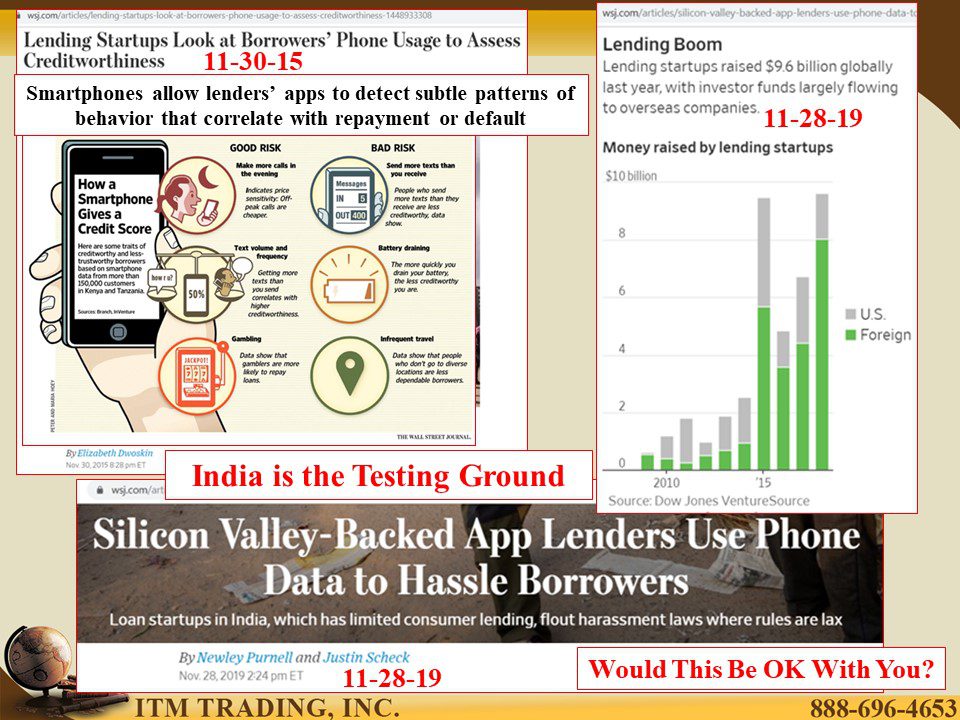 https://www.wsj.com/articles/lending-startups-look-at-borrowers-phone-usage-to-assess-creditworthiness-1448933308
https://www.wsj.com/articles/silicon-valley-backed-app-lenders-use-phone-data-to-hassle-borrowers-11574969095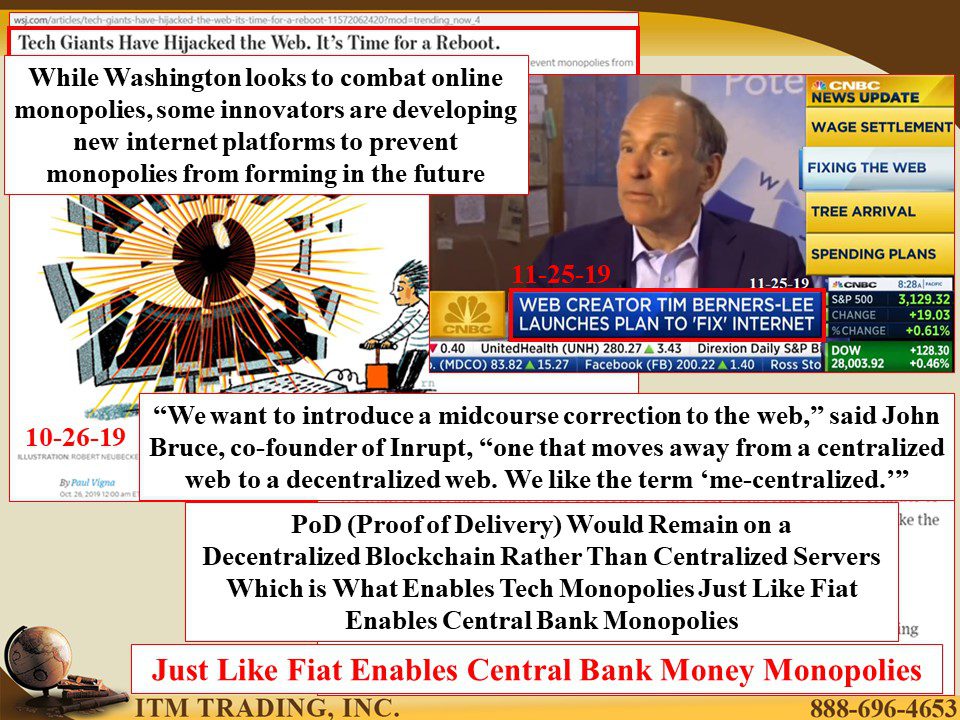 https://www.wsj.com/articles/tech-giants-have-hijacked-the-web-its-time-for-a-reboot-11572062420?mod=trending_now_4
https://www.itchronicles.com/technology/data-the-new-gold-rush-for-businesses/
https://www.bloomberg.com/quicktake/why-eu-is-reining-in-tech-giants-while-the-u-s-is-hands-off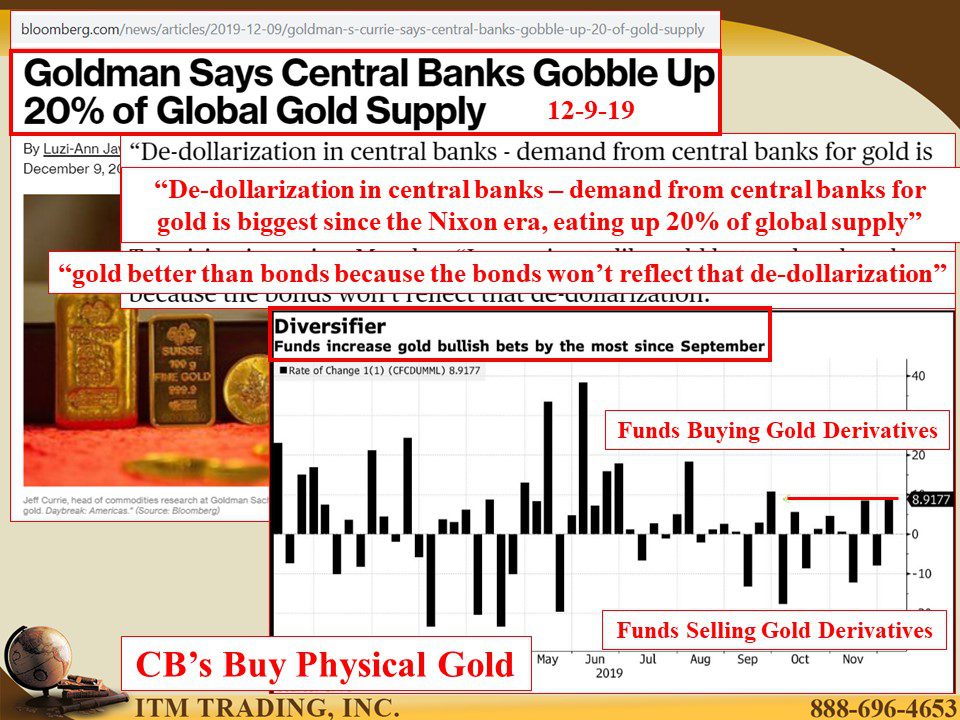 https://www.bloomberg.com/news/articles/2019-12-09/goldman-s-currie-says-central-banks-gobble-up-20-of-gold-supply