INVESTING ON BORROWED TIME: How Close Are We to the Meltdown?
Peek Beneath the Skin of the Markets
Nov 7, 2019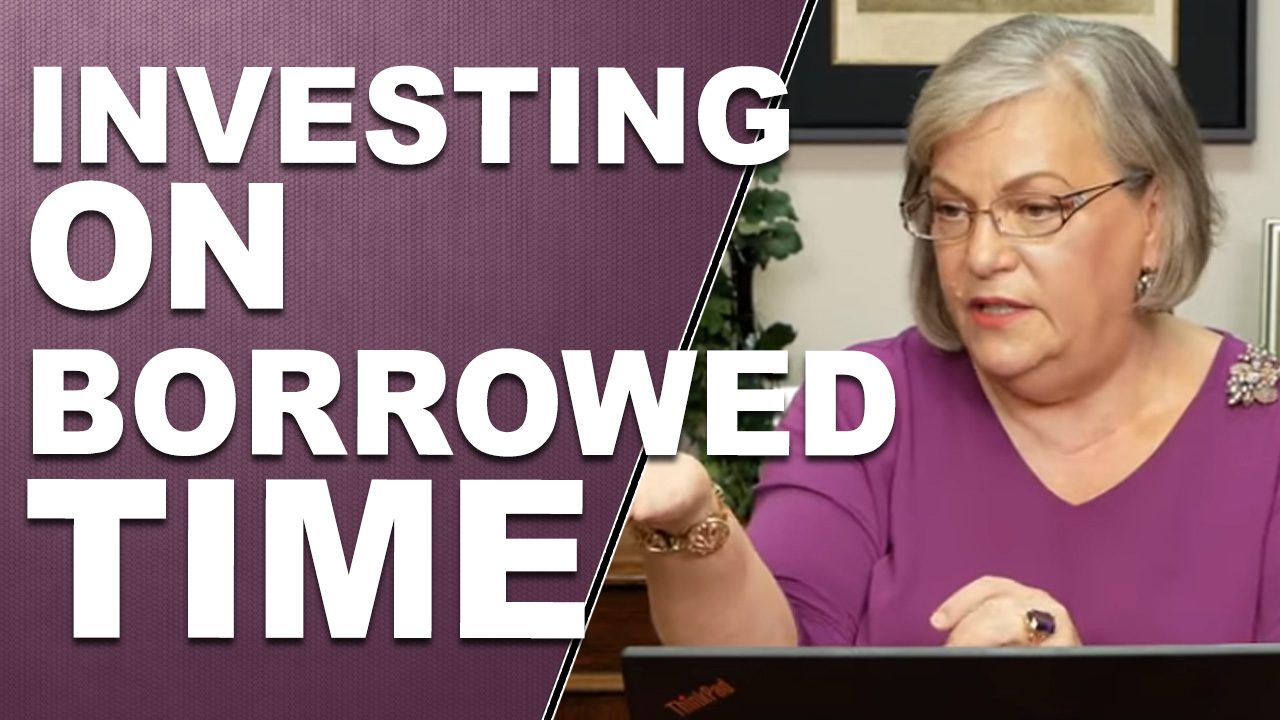 Central Bankers are between a rock and a hard place. They know that ZIRP (Zero Interest Rate Policy) and NIRP (Negative Interest Rate Policy) experimental policies have not actually stimulated the global economy, but rather put the debt-based system at risk and removed the tools they had to keep this fiat game going.
They know that these policies forced income seekers (individuals, institutional investors, insurance companies, pension plan managers etc.) to take on more risk. Nowhere is this more apparent than in the leveraged loan market where subprime borrowers have been able to grow massive amounts of debt at the same time, they have been reducing investor protections (Cov Lite). Currently 77% of leveraged loans are Cov Lite that can hide financial declines from investors.
A leveraged loan is typically used in LBOs (leverage buyouts) where a corporate merger or acquisition is funded by debt initially, secured by either a bank or a non-bank. Then, "using the leveraged loan market as a wallet" additional debt is put on the corporation to fund dividend payouts. Once that money has been paid out, it's no longer available to the company and may put the ability to repay these loans at risk.
Because of the low quality of leveraged loans, they are not typically liquid (easily bought or sold). You might ask, who buys them? According to the BIS: CLOs, Pensions, Mutual Funds, Hedge Funds, Asset Managers, Insurance Companies and Banks.
You may hold some of these risky loans and not even know it because, like the CDOs that triggered the 2007 financial crisis, these loans, when bundled together,  magically have a higher credit rating and become "marketable securities" that are sliced and diced into "tranches" then "pitched to more risk-adverse investors."
Central bankers know that the leverage danger is now at extreme levels, and the popping of this massive debt bubble will create a crisis large enough to justify the shift into a new global monetary system.
But what is a central banker to do? The key tool they have is interest rates and those are anchored near or below zero since 2008. But if they don't raise rates, how will they lower them into the next crisis?
At the same time, if they do raise rates, the market value of all debt declines, but even more important could be the ability to roll over and service debt with higher interest rates. We are all between a rock and a hard place, and many feeling an impending collapse, are flying to safety of gold.
Because of this and the recent trend in no (apparent) fee wall street products, Barclays Bank has launched the "first zero-fee gold investment product". Now you might think this sounds awesome, after all, who likes to pay fees, except that everybody needs to generate money to stay in business, so it would benefit any investor to understand what they are really buying.
With gold or silver ETFs (Exchange traded fund) they are buying shares in a trust that are backed by physical gold, even though YOU can NEVER convert your shares into gold. But this new product is an ETNs (Exchange traded note) which is actually an unsecured debt obligation of, in this case, Barclay's. But it does not pay interest and repayment of principal is based on a very complicated formula tied to 3-month gold and silver derivatives.
In the meantime, Barclays will use investor deposits to speculate and hopefully, make more money than they'll have to pay out.
In fact, ETNs are so risky that FINRA (Financial Industry Regulatory Authority), who regulates Wall Street, has increased the margin requirements (amount of money down) because of the ETNs "complexity and substantial risks." So those who do not understand what they are buying, may want the safety of gold but are getting complicated risk. Free, will likely end up being far more expensive than the fees you know about.
How can you avoid these mistakes? It's easy, just buy real physical gold and silver that you hold.
Slides and Links: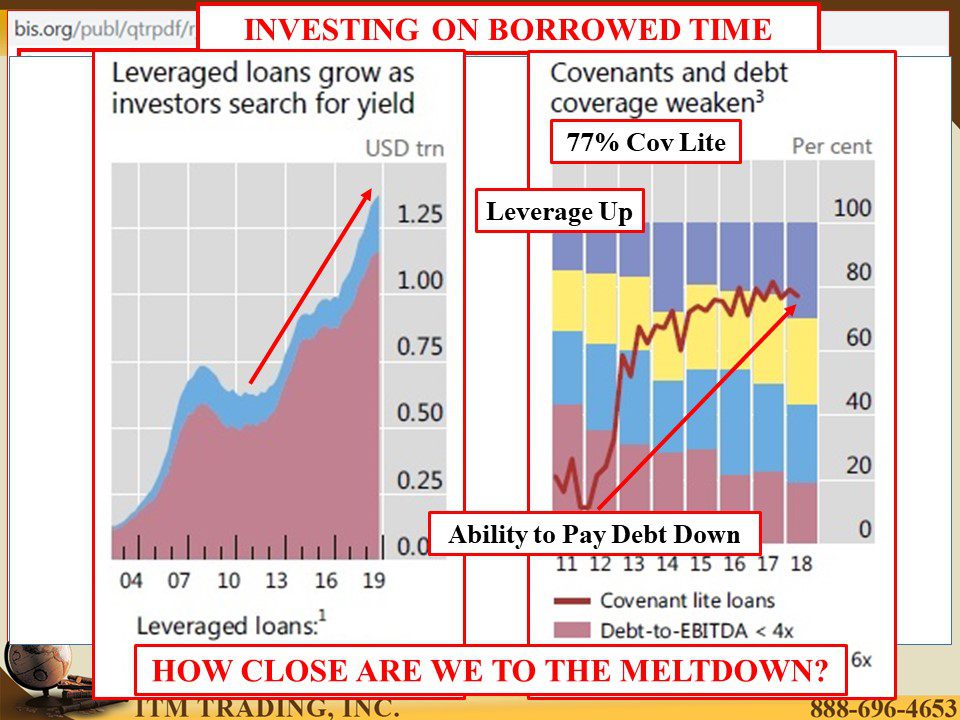 https://www.bis.org/publ/qtrpdf/r_qt1909.pdf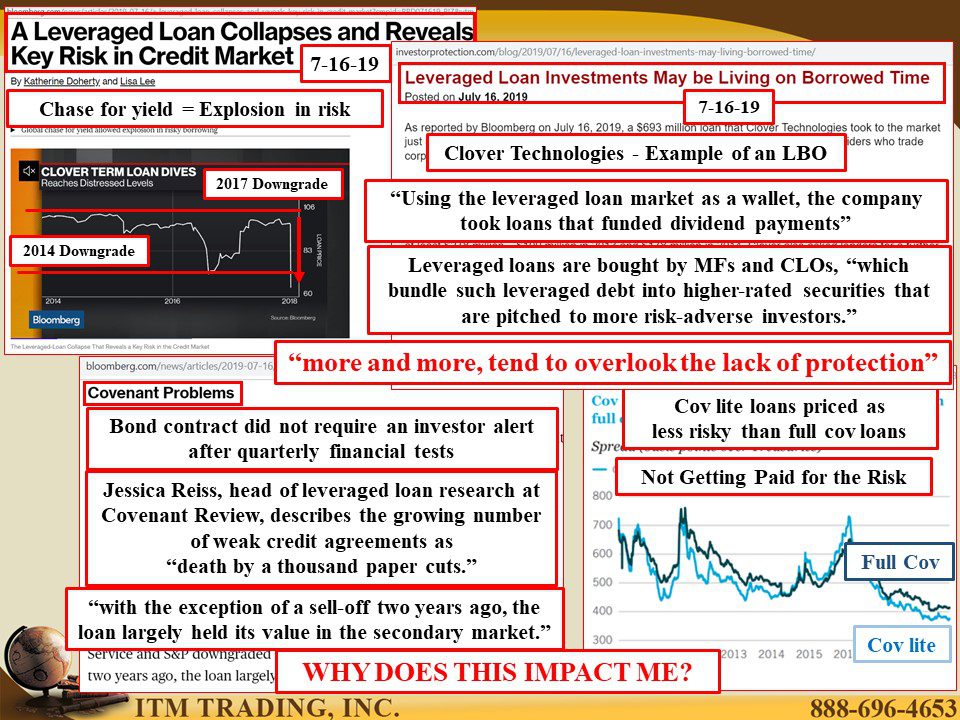 http://www.investorprotection.com/blog/2019/07/16/leveraged-loan-investments-may-living-borrowed-time/
https://documents.nuveen.com/Documents/Nuveen/Default.aspx?uniqueId=692B602B-9E3A-408C-AED4-43084C983A0C&subid=2%7C7
https://www.bloomberg.com/news/articles/2019-07-16/a-leveraged-loan-collapses-and-reveals-key-risk-in-credit-market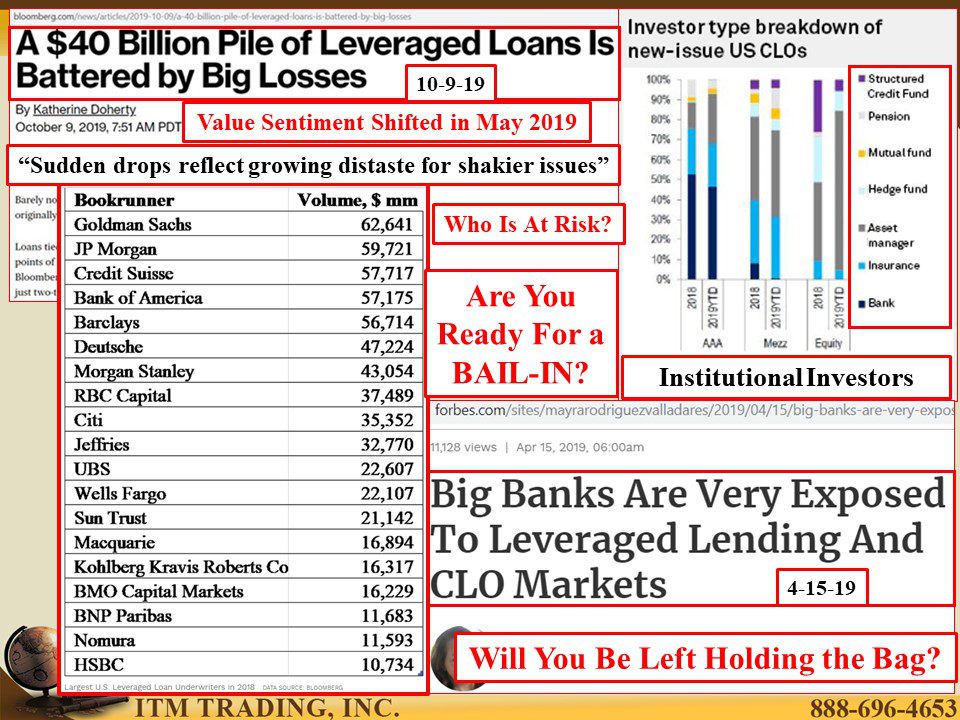 https://www.bloomberg.com/news/articles/2019-10-09/a-40-billion-pile-of-leveraged-loans-is-battered-by-big-losses
https://www.spglobal.com/en/research-insights/articles/u-s-leveraged-finance-q2-2019-update-b-issuer-credit-ratings-on-the-rise-in-leveraged-loans-and-clos
https://www.forbes.com/sites/mayrarodriguezvalladares/2019/04/15/big-banks-are-very-exposed-to-leveraged-lending-and-clo-markets/#5b68c07d7309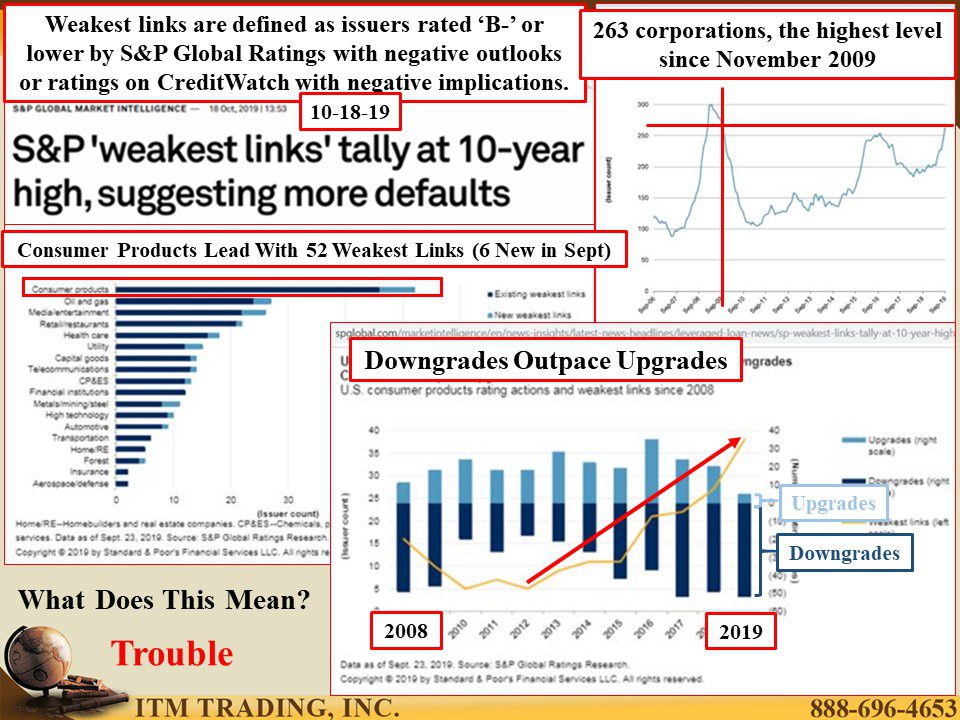 https://www.spglobal.com/marketintelligence/en/news-insights/latest-news-headlines/leveraged-loan-news/sp-weakest-links-tally-at-10-year-high-suggesting-more-defaults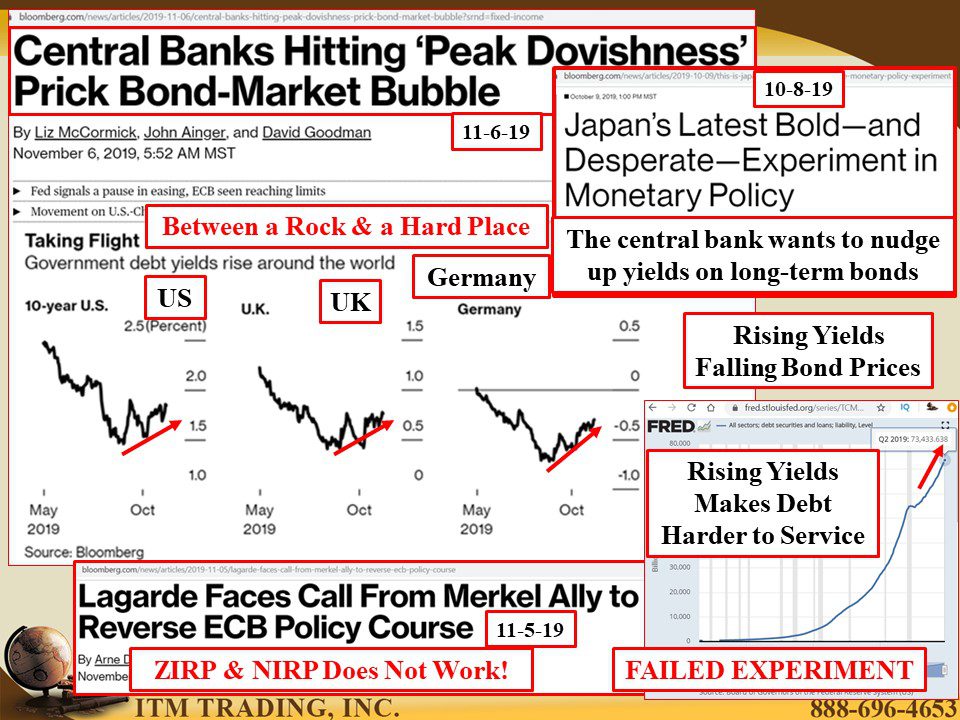 https://www.bloomberg.com/news/articles/2019-11-06/central-banks-hitting-peak-dovishness-prick-bond-market-bubble
https://www.bloomberg.com/news/articles/2019-11-05/lagarde-faces-call-from-merkel-ally-to-reverse-ecb-policy-course
https://www.bloomberg.com/news/articles/2019-10-09/this-is-japan-s-latest-bold-desperate-monetary-policy-experiment
https://fred.stlouisfed.org/series/TCMDO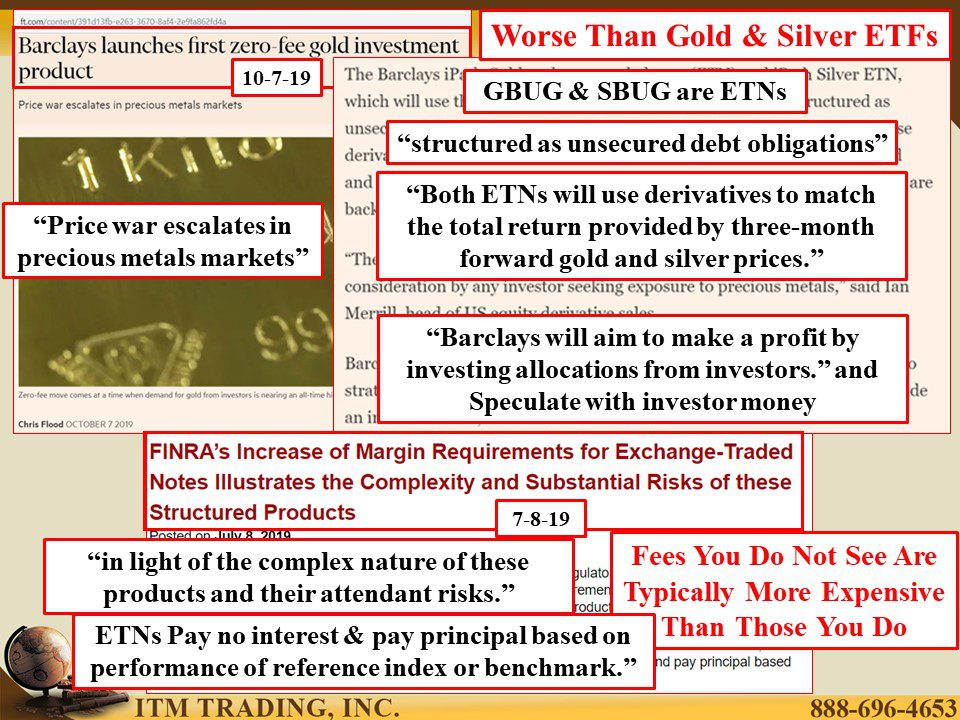 https://www.ft.com/content/391d13fb-e263-3670-8af4-2e9fa862fd4a
http://www.investorprotection.com/blog/2019/07/08/finras-increase-margin-requirements-exchange-traded-notes-illustrates-complexity-substantial-risks-structured-products/

We believe that everyone deserves a properly developed strategy for financial safety.
Lynette Zang
Chief Market Analyst, ITM Trading