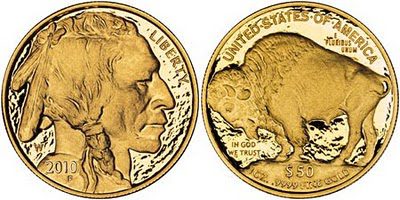 The US mint announced on its website last week that it is no longer selling its 2010 24-karat one-ounce American Buffalo coin.  It had been selling them amid record high gold prices and they simply ran out of inventory.
"The United States Mint has depleted its inventory of 2010 American Buffalo One Ounce Gold Bullion Coins," the Mint said in a statement, seen on Reuters on Monday.
The American gold buffalo design was created nearly a century ago by American sculptor James Earle Fraser, once a student of Augustus Saint-Gaudens, for America's buffalo nickel.  The obverse of the coin showcase the head of an Indian man said to have been designed after three different Indian men that posed for the sculptor.  The reverse has a buffalo believed to be modeled after Black Diamond, a popular attraction at the New York Zoological Gardens.
The buffalo is the first 24-karat gold coin ever minted by the US Mint, and it is .9999 pure.  The face value of the coin is $50 and the gold content is guaranteed by the US Government.  The coin was authorized for minting in 2005 and its first issue was in 2006.
Since they became available in April the mint has sold 209,000 of them which is 9,000 more than last year (2009).
This highlights the incredible demand for gold amid record prices.  Gold is up more than 18% this year with a fresh record reached last week of over $1,320 per ounce.  Gold is continuing to trend upwards as economic uncertainty plagues the US and other economies around the world.  Gold is up over 12% off its lows in July and fund managers and industry experts believe that gold has much farther to go in the long-term.