IS CORONAVIRUS THE BLACK SWAN? Is Central Bank Money Printing the Cure
Insider Trading Report
Feb 24, 2020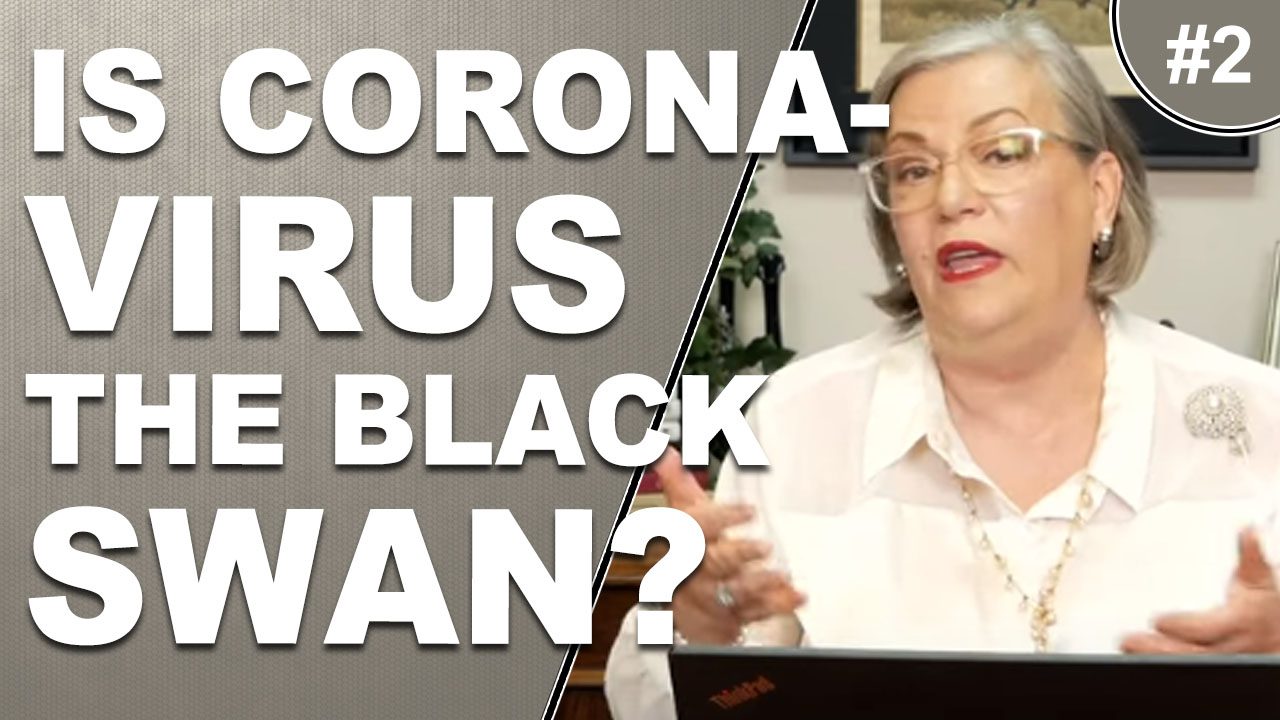 As of January 21st, China's Communist Party confirmed 473 cases of the Coronavirus, mostly concentrated in Mainland China, Wuhan Provence, but the  world doubted the accuracy of what was reported, particularly since the method for counting confirmed cases keeps changing.
The most current confirmed cases are 79,498 with total deaths reported at 2,621. Even as China says the spread is slowing, globally the spread is picking up. Particularly troubling is what is happening in Italy, with 3 reported cases last week and 219 and 5 deaths reported today. At this writing, 33 countries have reported cases and this pandemic is spreading rapidly.
This could be "Disease X" that the World Health Organization warned about years ago…and it could overwhelm diminished central bank tools of lower rates and higher credit availability. All they have left is a tsunami of new money that would usher in the hyperinflationary death of the current financial system.
Current tools are based on inspiring consumption, but this is different.
Since the 1990s China has become the manufacturer to the world and 90% of all active businesses have been impacted. Further, globalization means that these Chinese corporations are "intricately" interconnect to 5 million companies worldwide.
What's impacted are manufactured goods as well as raw materials, new orders as well as current in process orders. Bottom line is that business in China has stopped.
Up until last week, markets just shrugged this off, even as global central bankers began their call of coordinated QE, the drug of choice to keep markets up. They say it saved us from the "Great Recession" though, even before the coronavirus crisis, the world was slipping into recession and central bankers had used up most tools. Even Fed Chair Powell said recently that the Fed may lack ammo to combat the next recession, so now there is a flight to safety as spot gold surges, the USD rallies against other fiat currencies and US treasury yield drop into uncharted territory. What are bonds telling us?
This could indicate the loss of control by the central bankers. I believe that they knew this day was coming back in 2008. I say this because of the massive central bank physical gold buying done since 2010. They do know something most do not. The end of the current debt-based system is near. Frankly, physical gold and silver are the proven antidote.
Links: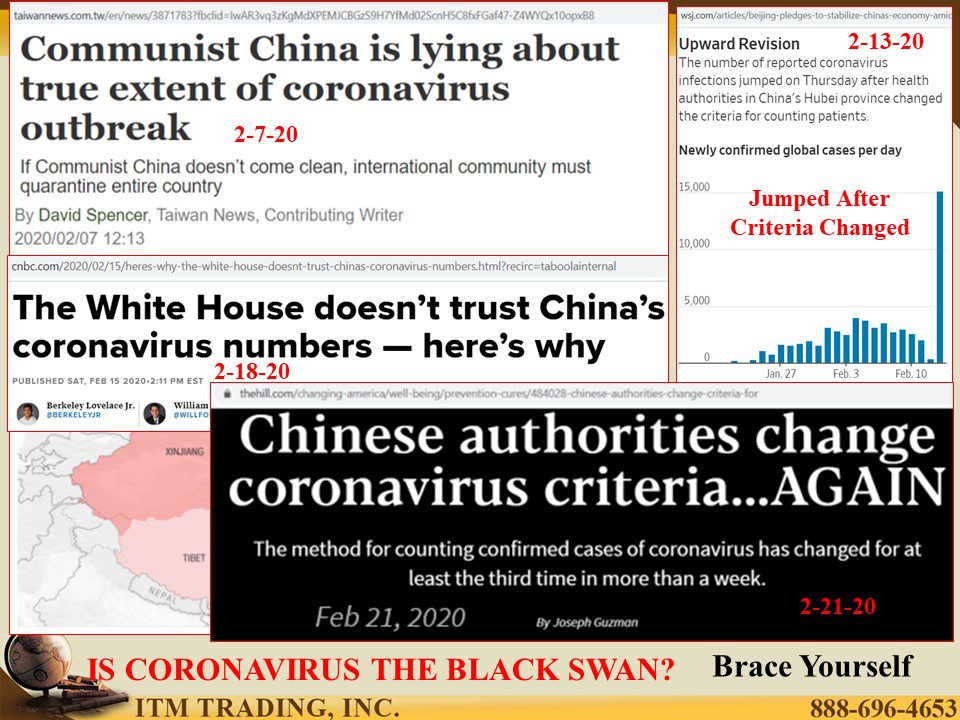 https://www.cnbc.com/2020/02/21/who-officials-say-coronavirus-outbreak-in-iran-is-very-worrisome.html
https://www.taiwannews.com.tw/en/news/3871783?fbclid=IwAR3vq3zKgMdXPEMJCBGzS9H7YfMd02ScnH5C8fxFGaf47-Z4WYQx10opxB8
https://www.wsj.com/articles/beijing-pledges-to-stabilize-chinas-economy-amid-coronavirus-outbreak-11581520499?mod=article_inline
https://thehill.com/changing-america/well-being/prevention-cures/484028-chinese-authorities-change-criteria-for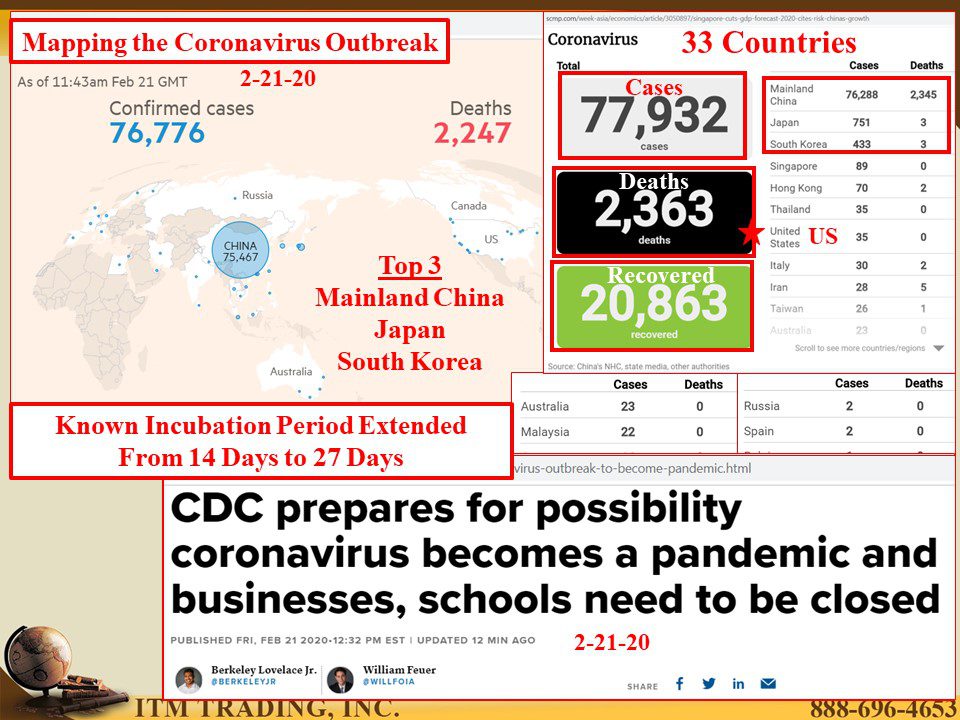 https://www.scmp.com/week-asia/economics/article/3050897/singapore-cuts-gdp-forecast-2020-cites-risk-chinas-growth
https://www.cnbc.com/2020/02/21/us-health-officials-prepare-for-coronavirus-outbreak-to-become-pandemic.html
https://www.reuters.com/article/us-china-health/china-reports-fewer-coronavirus-cases-outside-epicenter-cases-surge-in-south-korea-idUSKCN20H03U
https://www.reuters.com/article/uk-china-health-incubation-idUKKCN20G072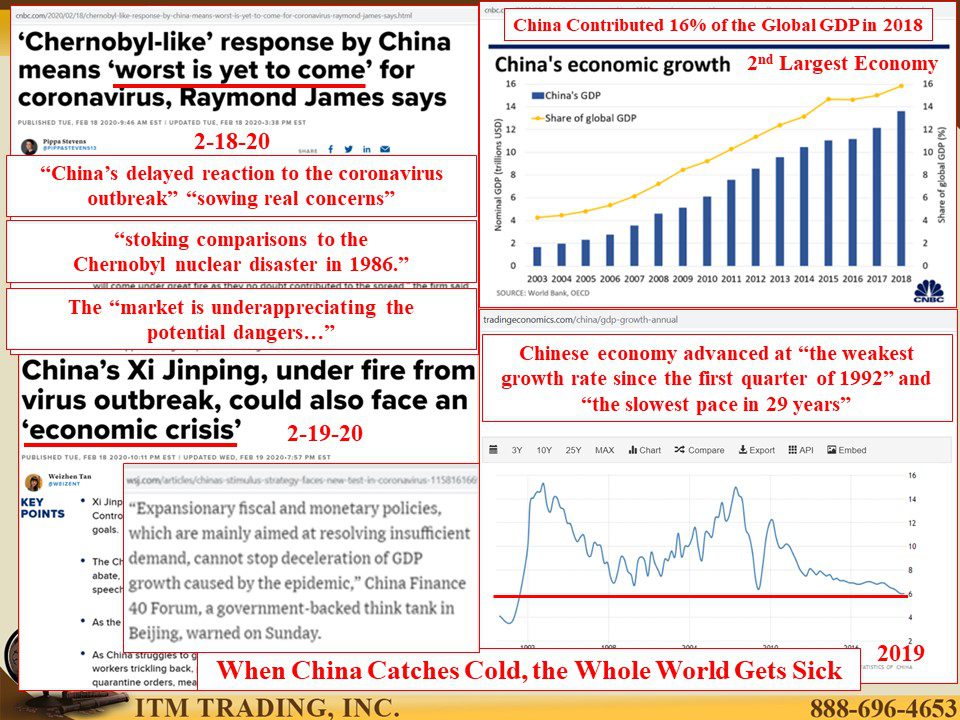 https://tradingeconomics.com/china/gdp-growth-annual
https://www.cnbc.com/2020/02/18/chernobyl-like-response-by-china-means-worst-is-yet-to-come-for-coronavirus-raymond-james-says.html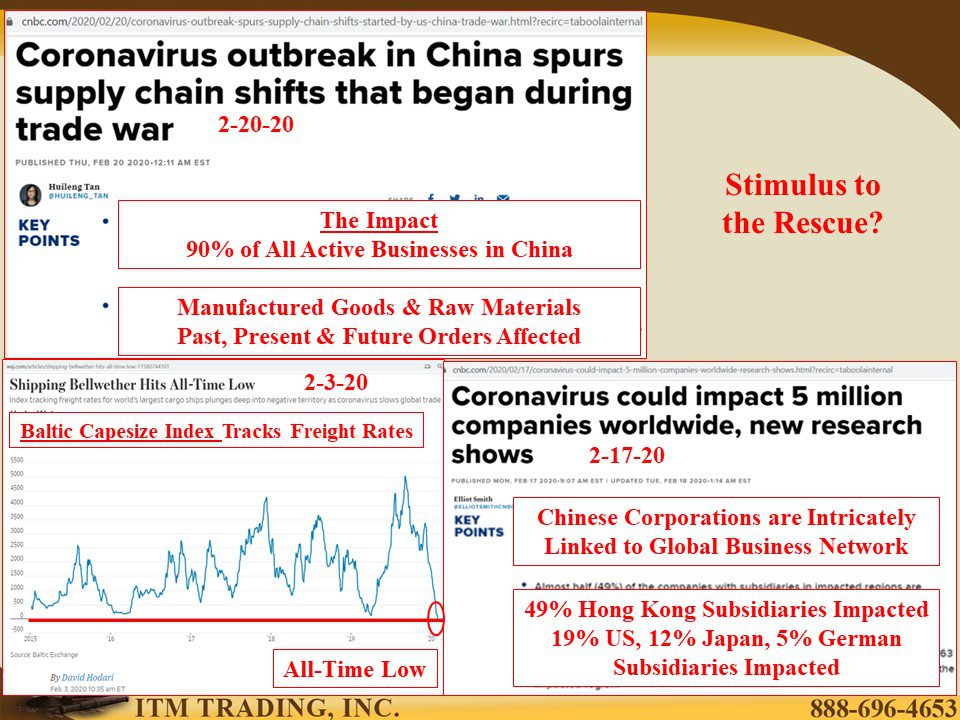 https://www.wsj.com/articles/shipping-bellwether-hits-all-time-low-11580744101
https://www.cnbc.com/2020/02/17/coronavirus-could-impact-5-million-companies-worldwide-research-shows.html?recirc=taboolainternal
https://foreignpolicy.com/2020/02/18/coronavirus-economic-impact-worldwide-supply-chain-disruptions/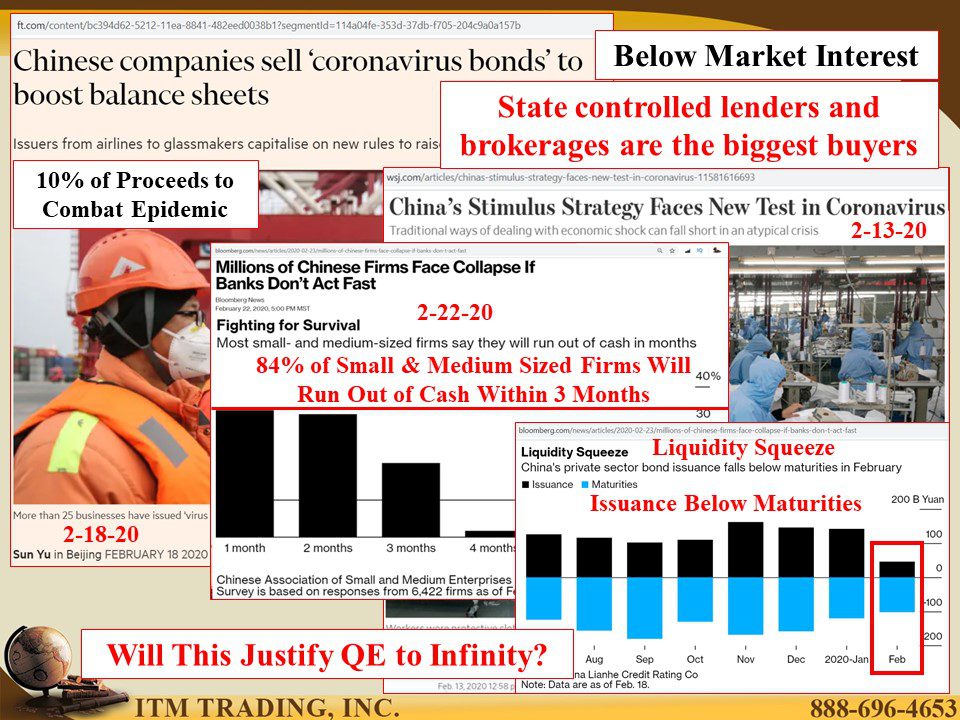 https://www.wsj.com/articles/chinas-stimulus-strategy-faces-new-test-in-coronavirus-11581616693
https://www.bloomberg.com/news/articles/2020-02-23/millions-of-chinese-firms-face-collapse-if-banks-don-t-act-fast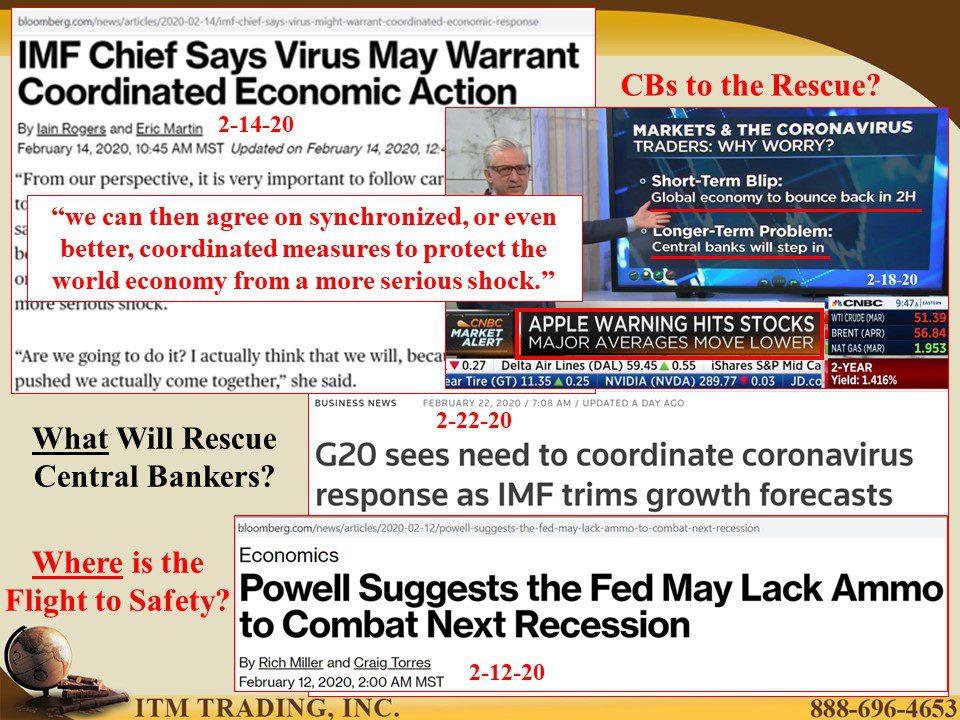 https://www.bloomberg.com/news/articles/2020-02-12/powell-suggests-the-fed-may-lack-ammo-to-combat-next-recession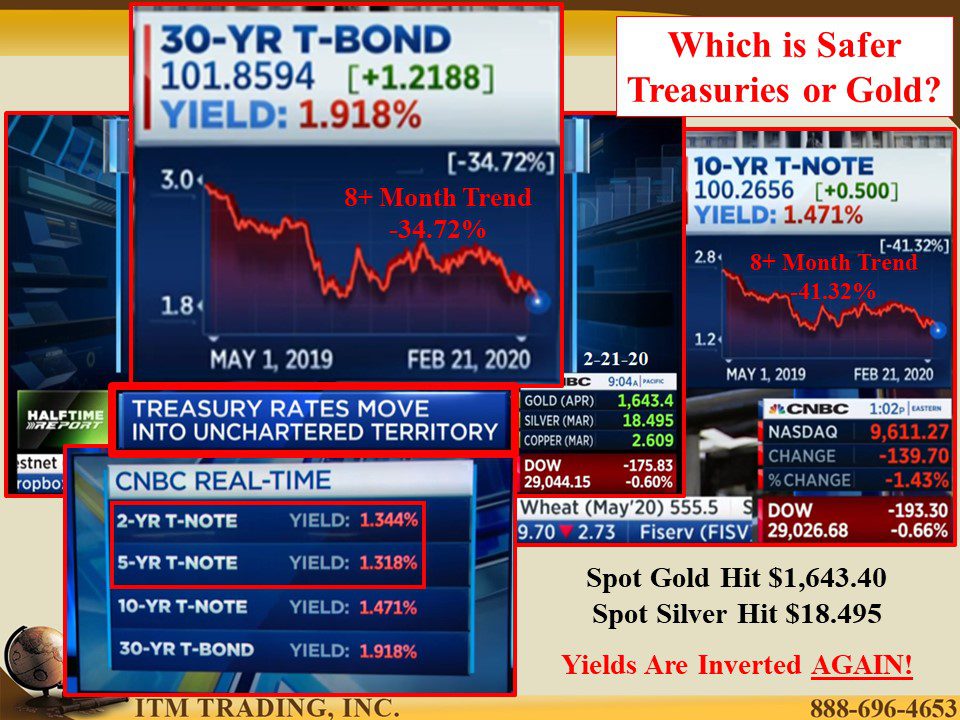 NA
For YOUTUBE
Over the weekend reported new cases and new deaths caused by the coronavirus spiked outside of China. European markets fell near 5% and this morning the Dow opened Down almost 1,000 points. We've been wondering where and when the black swan event that would topple this global house of cards and this appears to be it. Can global central banks save the day?

We believe that everyone deserves a properly developed strategy for financial safety.
Lynette Zang
Chief Market Analyst, ITM Trading