 I found this chart produced by Casey Research.com and I couldn't stop looking at it.  It is by far the most convincing chart I have seen in regards to showing that gold is not in a bubble.  The chart compares previous familiar bull markets in the Nasdaq and gold in the 1970's.  Take a look and decide for yourself.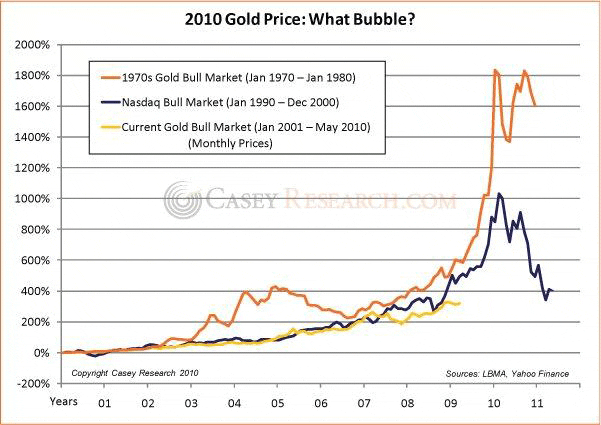 It looks like we are heading for extreme upward action in the not to distant future.  Gold has only increased 400% in this bull market thus far, whereas in the last gold bull market gold increased from $35 per ounce to $850 per ounce, which is an increase of over 2,300%.  Looking at this chart and the figures we are a long way out before we can use the term bubble.
Look at mentalities at the end of a bull market.  Everyone is trumpeting the investment.  There are a lot of naysayers for gold in the media today.  When the third and final phase hits, everyone will want in.  It is nearly impossible for anyone to resist the panic phase of a bull market, and thus the reason why prices rise rapidly.  Most of these naysayers do not own gold, but one day they will.  But I would rather be in now before the price skyrockets.
Look at what foreign central banks around the world are doing.  The World Gold Council (WGC) reported that Russia, Venezuela, the Philippines, and Kazakhstan all bought gold in the first quarter; and China which is the largest gold producer in the world buys every ounce they produce.  This shows us that those in the know want gold as a protection against fiat paper.
Gold can definitely correct in the near-term and hopefully it does because it will be another buying opportunity.  Jeff Clark editor at Casey Research said "Stocks are vulnerable, bonds are toast, currencies are fiat. Other than cash, where are you going to put money right now?"  Gold and silver in my opinion are the only option. Buying gold coins or silver coins is easy and can be a very simple process.

We believe that everyone deserves a properly developed strategy for financial safety.
Lynette Zang
Chief Market Analyst, ITM Trading