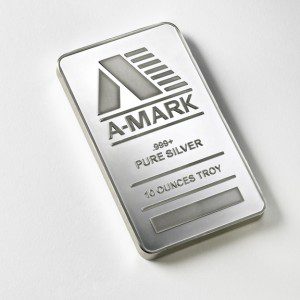 As a writer of article blogs for ITM Trading, I am constantly reading trade articles, editorials, and posts related to the precious metals markets. Recently I came across an interesting piece published online that tracked some of the more common gold coin prices as well as the more common silver coin prices. When you choose to buy gold coins or buy gold bars, and especially if you buy gold coins online, price should be a consideration, but by no means the only consideration. For instance, you still want authenticity (what is the point in buying fake gold coins?), prompt service and shipping, customer service and satisfaction in case there is an issue, and a buy-back policy is important as well. Well, this little article I read and the information it provided was not exactly what I would have expected, but then again people never cease to amaze. Why Would You Pay More For Less? I'll admit it. I have bought precious metals off of the Ebay website. I have purchased gold bars, and silver bars. When I buy gold coins online, I am usually looking for an unusual coin to add to my collection, I want something I don't already have. The same may be the case for a silver purchase, but if I am just buying silver rounds or silver bullion, then price is usually the most motivating factor. I very seldom buy gold coins or gold bars from Ebay, but when I do, I buy small. 1/10th oz god coins or even 1/20th oz gold coins. If I buy silver online I tend to buy 1 oz silver coins or silver bars, and following is my reasoning. Burned Before I have been burned buying other items on Ebay before, and I certainly don't want to be burned buying silver coins or gold coins. Once I purchased a gaming console on Ebay. I'm not a big video gamer, but I thought that it might be fun to have a few games around, after all, I grew up in the era of Atari and the first generation of Personal Computer games and they were a lot of fun, so why not? Well, I'm still not a big gamer because I never received the game console. The seller never sent it. Eventually, after a few weeks and several emails to pay pal, I was reimbursed the cost of the gaming console, but not the postage I paid to have it mailed to me. Odd. Then another time I bid and won an auction for a Super Audio Cd. A Super Audio Cd is a somewhat rare disc that requires a special CD player. An SACD sounds simply amazing compared to a regular CD. SACD is a technology that never quite caught on, but there are a few of us out there that still collect and listen to them. When the CD arrived, it was just a regular old CD. Nothing super about it. In fact, it was scratched.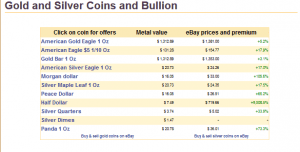 I have bought items from Ebay. I have bought small gold bars as well as 1 oz silver bars from this website. I also told you about the gaming console that never arrived because apparently the seller wanted both my money and the console he was selling so he never bothered to package up my purchase and mail it out. The SACD that I bought turned out to be your everyday scratched CD, not the rare and well kept SACD that the seller was advertising. Caveat emptor is Latin for "Buyer Beware", and this little piece of advice is good to follow when dealing on Ebay for anything, let alone gold bars or gold coins. So Far So Good All of the metals I have purchased on Ebay so far have been as they were described, at least as far as I know. I have purchased very small (1 gram) gold bars and platinum bars, and although I have not tested them to make sure they are genuine, because this would entail opening the PAMP serialized tamper resistant packages they came in, I do believe they are genuine. The silver bars and silver coins I have purchased all seem to be authentic as well. Perhaps when you buy gold bars online from an auction site, it is best to apply the logic often applied to gambling; don't bet more than you can afford to lose. Personally, I would never consider purchasing expensive gold coins online, or gold bars for that matter. Truth be told, by the time you are spending over $1300 for a gold coin or gold bar, spending an extra $20 or $30 to make sure that your purchase is genuine, in great condition, and backed by a reputable company with a buy back policy firmly in place, seems like good old fashioned common sense. For whatever reason, I can handle watching the mailbox waiting for $100 worth of gold or silver to be delivered from a private individual that I am only connected to via cyberspace, but if I'm going to order $1000's and $1000's worth of silver bars and gold coins at once, I not only want a fair price, but I want professionals handling my transaction. Very much like the game console, I don't want the seller deciding that they would rather keep both my money and the coin. And like the SACD, I certainly don't want to pay for and expect something fine and rare only to be delivered something that is common and worn. What Article On Ebay Auctions Said That Surprised Me Perhaps I am not your typical Ebay shopper. Perhaps I am neither your average person looking to buy gold coins or buy silver coins. What this article had to say about the prices charged when you buy gold coins online through Ebay surprised me, I'll tell you why.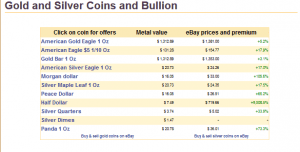 I found on a chart in an article about Ebay prices for gold coins. Perhaps I am not sure what I expected. Surely people who go online to buy gold coins or buy gold bars don't pay less than the spot price for gold. That won't happen. I remember at one point a few years ago when physical silver was very hard to find that the premiums being realized on Ebay were somewhat substantial. In a way, Ebay does provide a true supply/demand type of market place where real prices are allowed to materialize because there are only a few items being bid on by people willing to pay what they believe an item to be worth. Maybe this factor explains a few of the price factors in the chart. 5% Over Spot As I glanced through this chart of Ebay coin prices, the first pricing structure seemed about right to me. An American Gold Eagle coin was selling for a little more than 5% over the value of it's gold content. Typically, 5% over the spot price of gold is about normal for an American Gold Eagle. At this price usually the dates of the coin are unspecified and left up to the decision of the seller. Unless you are trying to collect a series of years, however, the date of a coin like the American Gold Eagle is not of much consequence. Personally, buying a $1300 plus coin online from someone I don't know and then just hoping everything goes ok is outside of my comfort zone. All in all, being that there is really only a small percentage of mark up on these coins, I think I would prefer to buy gold bars from an established BBB accredited dealer rather than an individual. One of the other gold items listed on the chart was a 1 oz gold bullion bar. This item had a price 3.1% above the value of the gold in the bar. 3.1% is also a reasonable price over spot for gold bullion product of this type, and several precious metal dealers offer similar pricing. Speaking of which, there is a growing number of very established precious metals dealers that have begun to deal on Ebay, and in part four of "Does Ebay Have The Best Coin Prices?" I'll tell you why, and the reason may surprise you. Back To 3.1% There will always be a premium to be paid in order to own physical gold, that is unless in our case the U.S. government reverts back to it's past ways and issues gold and silver coin as currency, eliminates Federal Reserve Notes, and commands the banks to conduct their daily transactions using government issued gold and silver coins. ( I would love to see this happen, but I'm not overly optimistic that we will ever see this again). But what guarantees of product and service would you give up to save maybe $13 on a $1300 transaction?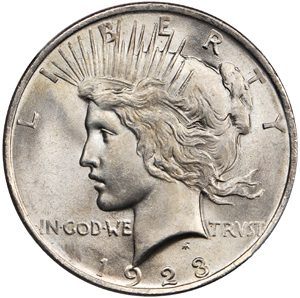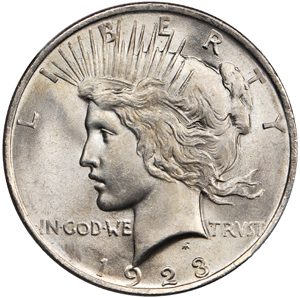 I looked at Gold American Eagle coin prices that were about 5% over the spot price of one ounce of gold. Gold bars weighing one ounce were selling for a premium of about 3% over the spot price of one ounce of gold. These prices are rather normal and not surprising being that one of the primary reasons to buy anything on Ebay is to get the best price. 3% to 5% over spot is right where buyers are willing to pay and sellers can still afford to sell without losing money. Of course, another reason to buy on Ebay is to find unusual or hard to find items quickly and somewhat easily, and maybe this is the reason for one of the most startling purchases noted in the Ebay pricing charts. +9505.8%! When I saw this I had to look a second and a third time to make sure what I was looking at was the truth. An Ebay seller had a half-dollar silver coin for $719.66. This is 9505.8% above the value of the metal in the coin. My mind instantaneously thought that first this must be an error. Then I realized that this pricing must be for a rare and graded fifty cent piece. However, even if the coin is rare and graded, is it worth over 9000% of it's value of raw silver? One one hand, it is only $700, so if something goes sideways and the trade never happens and you lose out on $700, the world won't come to an end. But on the other hand, if you really wanted a $700.00 silver coin, aren't there dealers who can sell the coin that are more reliable and established than the private seller of this coin? And why is the seller selling the coin? Could it be that they are not happy with the coin, or what they paid for the coin, and now they are just looking to exit their position? Hmmm… Silver Peace Dollars Another number that I found interesting was the pricing and cost over spot for silver Peace Dollars. According to this chart, the silver value of a silver Peace Dollar at the time was worth about $16.05. Meanwhile, buyers were paying an average of $26.51. There is a difference (or spread) of 65.2%. Perhaps there is a mix of coins being factored into this number that skews the numbers a bit high. Perhaps some of these coins are graded and in Mint State. In reality, a spread of 65.2% is rather high if there are no rarity or quality factors to be accounted for. Older American silver coins do carry a premium that is higher than new silver coins or silver bars that have been recently minted or struck, but not a 65.2% gap.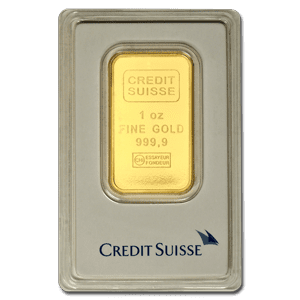 Earlier in this article-blog, I approached the reason that some larger and more established precious metals dealers have begun to deal on Ebay. Some Americans love to buy things online, and when it comes time to buy gold bars or buy gold coins or buy silver bars, they naturally turn to the internet. Some people look high and low and search for the best coin prices. Perhaps what these sale-seekers do not realize is that gold coins and silver coins don't go on sale like refrigerators do, at least not in the same manner. If the spot price of silver is $20, and the spot price of gold is $1325, then you will not find 1 ounce silver bars on sale for $15 and 1 ounce bars gold on sale for $1200, at least not real ones, so there is no need to look. While you cannot buy gold coins or buy silver coins at the spot price or less than the spot price, sometimes a wholesaler or broker can. And sometimes, these wholesalers or brokers can realize two benefits by offering some of the best coin prices online. Kill Two Birds With One Gold Coin? The world we live in is changing, and it is changing fast and not always in ways that seem to make much sense. For instance, these days if Google doesn't know your website or webstore exists, then no one will know that your website or webstore exists. Getting Google to know you exist can be very expensive, and very time consuming, and once they actually do recognize you, you still don't necessarily have any business or commerce happening. One "shortcut" for getting your business recognized online and by Google, is to link your business somehow to a website that has a lot of traffic and a strong online reputation. Rather than write content and more content, and try other various expensive ways of driving traffic to your website, sometimes you can offer your product online through a website like Ebay, cut your prices in order to be ultra-competitive, and the web exposure benefits that you receive by selling on Ebay are greater and less expensive than if you had relied solely on organic search engine optimization. I believe that this is one reason you see companies like APMEX or MCM sell though online Ebay stores; it is an inexpensive way to grow your online presence. Other Unusual Coin Transactions On The Ebay List Next I will look a little more at some of the pricing anomalies I noticed on the chart of Ebay coin prices, and we will also look a little more in depth at why when you buy gold coins or buy silver bars it is very important to buy them from an entity that offers to buy back the precious metals and has a buy-back policy and the funds to effect the buy-back policy firmly in place.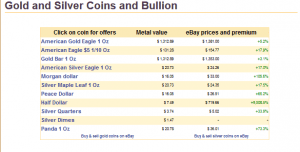 Some larger companies that have well established business now will sell a single silver coin online or through Ebay while that same coin is unavailable to be purchased over the phone or in person because there is just not enough profit in selling the single coin to offset the costs of doing business. However, if you can sell the coin online and use that transaction to better your store's online reputation, then perhaps the value realized in bettering your search engine optimization is worth taking a small loss on selling a coin or a small number of silver coins or gold coins. This is a little insider's secret that you may capitalize on if you are in the market to buy a few gold coins or even a single silver bar. Why Are The Quarters So Expensive? According to the chart I read showing the varying prices of gold coins and silver coins being sold on Ebay, old silver quarters, also known as "junk silver quarters" seemed to be selling for a higher price than is usual for the market. According to the chart, silver Quarters at the time had a silver content value of $3.74, but were selling for $5.02 each, demonstrating a spread of 33.9%. I have no idea why there would be such a discrepancy in this particular area of the market. Typically silver quarters are not graded and encapsulated, so chances are that this price is not inflated by including rarer or encapsulated specimens. Should this price be for a single silver quarter, plus shipping charges, then a whole other issue is raised; how much should you pay in shipping fees when you buy gold coins or buy silver bars, or even silver quarters. In any event 33.9% is way to much to pay in the case of buying silver quarters. This is where Ebay perhaps becomes it's own worst enemy in the realm of gold and silver coins and bars. Most precious metals companies will not sell a single silver bar or silver dollar or silver dime, etc. For instance, ITM Trading has a $1000 minimum on trades of silver bars or silver coins or even gold coins. Simply put, ITM Trading has bills and a staff to pay, and so far we just can't do it by selling $3.74 coins one at a time. Ebay will sell you a single silver quarter, and this inherently is a good thing, until you add in shipping and handling charges of 30%+. As you can imagine, paying exorbitant shipping and handling charges is not the way to generating quick profits in the precious metals arena. If you would like to know exactly what ITM Trading charges for particular gold coins and silver coins, as well as the costs involved to ship them, please call us at 1.888.OWN.GOLD.