DIGITAL DOLLAR & $200K GOLD: The Attempt at New Laws for Your Money By Lynette Zang
Insider Trading Report
Aug 14, 2020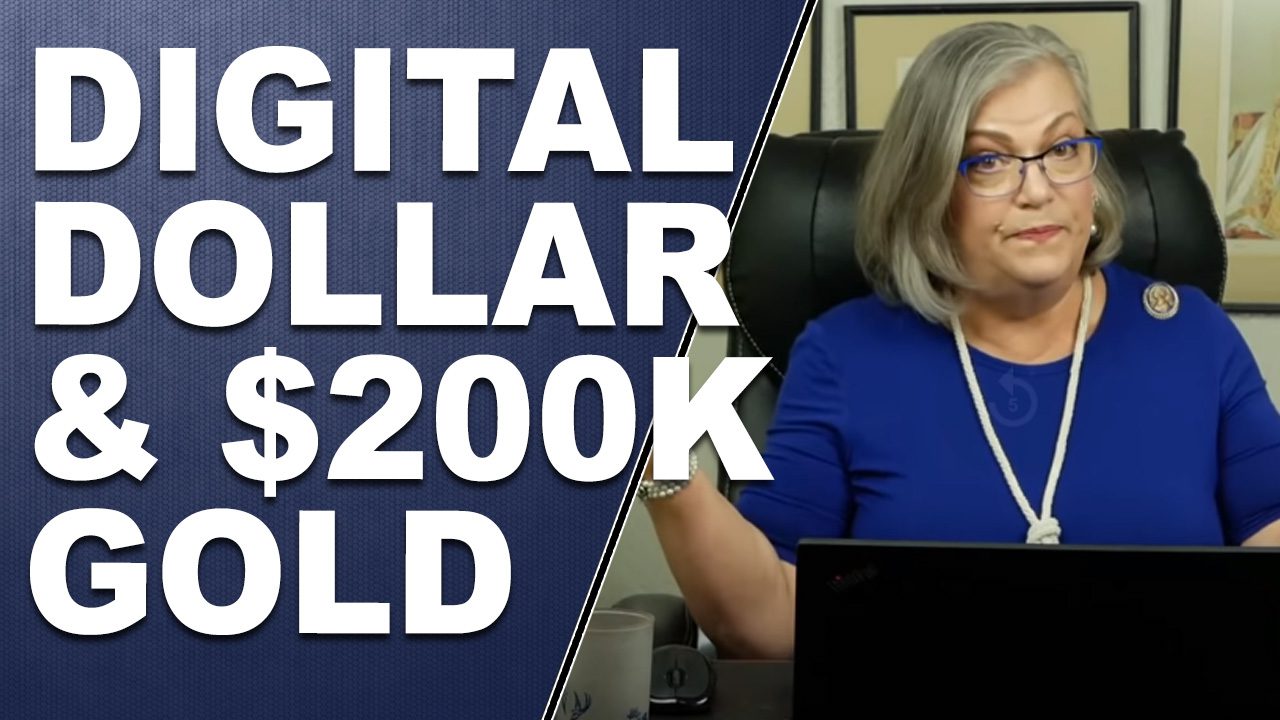 "Never let a good crisis go to waste" is the motto of many politicians and central bankers. The coronavirus pandemic has provided the cover and opportunity required to reset the global financial system and execute the transition plan they outlined in the 2015 Working Paper "Breaking Below the Lower Zero Bound". They are currently executing number 8 in their 18-step outline.
Though the stock markets have made a V-shaped recovery, the broader economy has not. Without a extending the extra unemployment and SNAP benefits, US poverty is expected to spike the second half of this year. When people are hungry and hopeless, they grab onto ANYTHING they think will save them and if it is free? Well, so much the better. They will accept the offer and not think about the consequences.
Have more questions that need to get answered? Call: 844-495-6042
On March 19, 2020, the United States Congress and Senate, began working together on number "8. Formally make money in central-bank certified bank accounts legal tender." Simultaneously introducing a new bill s.3571 – Banking for All Act", which legalizes "retail" central bank digital money and putting in a deadline that "All Federal reserve banks shall, not later than January 1, 2021, make digital wallets available to all residents and citizens". Are you ready for the new money standard?
If you think your safer in a community bank or credit union, think again, those entities are included in the bill.
Central bankers have experience in making the shift, just keep things as close to normal as possible (called the digital dollar) and, for good measure, make the terms attractive so that people are inspired to participate voluntarily (same features as typical demand deposit accounts but no fees, no balance restrictions and they pay interest). Furthermore, they cannot be "closed or restricted by the bank" because they are not profitable. The central banks will simply reimburse any costs to the bank, credit union or post office (for rural areas). All bases covered.
You might ask what the difference is and why it would matter but this would give central banks direct control over the choices you make about your money. Currently it is the commercial banks that transmit policy to the public. It takes roughly 18 months for central banks to see the impact. But if they control the accounts directly, impact could be seen almost instantly. And we have seen how successful they were at "managing" the markets and the economy from the 2008 crisis. Globally, we were headed into recession even before the pandemic hit.
Currently, when people received the $1,200 stimulus check the savings rate spiked to 33% because people were not confident of the future. What do you think would happen if negative rates made the principal in your bank account evaporate? You would most likely spend it in order to keep something of value. Additionally, fed created digital money makes UBI (universal basic income) easier to distribute since it is a direct entry onto the bank's ledger. These are just a couple of reasons your fiat wealth is at risk.
These days, it has become apparent that the current financial system is completely broken. To combat this, we see the rise in "complementary currencies" which are typically "founded in response to economic crises when traditional financial systems have ground to a halt." A complementary currency can be cities making their own local currency, which is something that has been happening around the world, as cities attempt to keep their local economies going. But they are still fiat with questionable values.
Additionally, a number of states have made gold and silver legal tender. The obvious advantage of good money is its universal and peer to peer acceptance, as well as the broad-based demand across every aspect of the global economy. Consequently, spot gold has hit all time nominal highs and spot silver is at levels last seen in 2013.
Of course, there are different types of physical gold. Bullion, that tracks the spot market and collectible gold. Many people think there are large premiums in the collectibles because, in the past, that has been true. And certainly, when looking at ultra-rare coins, like the recent discovery of an 1870cc with a face value of $20 and a current market value of $200,000, that would be true.
But since 2008 premiums on many collectible gold coins is still near all time lows, even as spot gold has risen. This, in my opinion, is the golden opportunity and the biggest bargain on the planet. This is where I put the lion share of my wealth because I believe it to be the single safest bet for protecting my wealth. Additionally, as the biggest bargain in the long-term positive trend in gold, I believe it will position me the best for growth opportunities.
The choice, for now, is yours. Digital money is coming. History shows us that 100% of the time, you have always been able to convert physical gold and silver into ANY currency. With what central bankers have in mind, holding your purchasing power wealth has never been more important.
Slides and Links:
https://www.imf.org/en/Publications/WP/Issues/2016/12/31/Breaking-Through-the-Zero-Lower-Bound-43358
https://www.bloomberg.com/news/articles/2020-07-29/almost-30-million-in-u-s-didn-t-have-enough-to-eat-last-week?cmpid=BBD072920_BIZ&utm_medium=email&utm_source=newsletter&utm_term=200729&utm_campaign=bloombergdaily&sref=rWFqAg1Y
https://www.bis.org/publ/arpdf/ar2018e5.pdf
https://www.congress.gov/bill/116th-congress/senate-bill/3571/text#:~:text=Introduced%20in%20Senate%20(03%2F23%2F2020)&text=To%20require%20member%20banks%20to,persons%2C%20and%20for%20other%20purposes.&text=A%20BILL-,To%20require%20member%20banks%20to%20maintain%20pass%2Dthrough%20digital%20dollar,persons%2C%20and%20for%20other%20purposes.
https://www.banking.senate.gov/imo/media/doc/SIL20449.pdf
NA
NA
NA
https://www.ft.com/content/fdcf5c6d-be70-41c0-8f0d-72f7ffab16e1?desktop=true&segmentId=7c8f09b9-9b61-4fbb-9430-9208a9e233c8#myft:notification:daily-email:content

We believe that everyone deserves a properly developed strategy for financial safety.
Lynette Zang
Chief Market Analyst, ITM Trading