COPPER, GRADED METALS & HYPERINFLATION..Q&A WITH LYNETTE ZANG AND ERIC GRIFFIN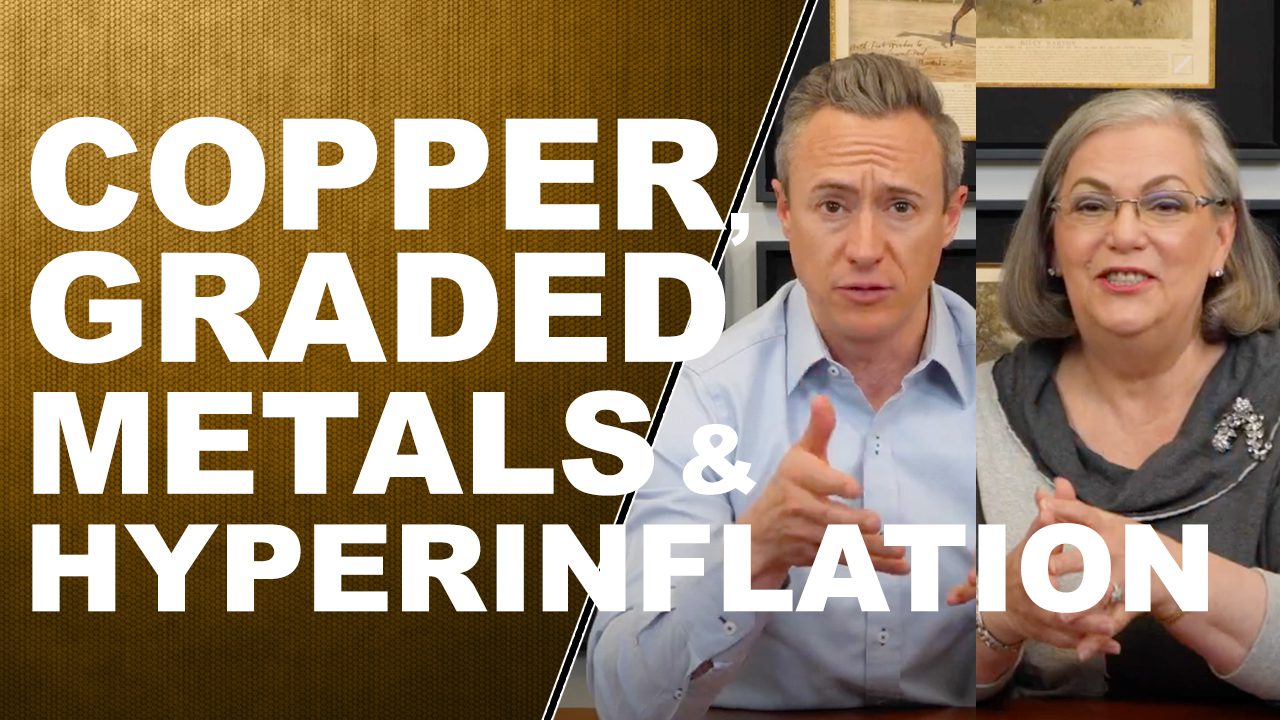 Eric sources questions from Lynette's viewers and Lynette responds with organic and unrehearsed answers. If you have a question for Lynette and Eric, please either submit your question though YouTube, Facebook, Twitter, or email to questions@itmtrading.com. If you enjoyed the Q&A with Lynette Zang, please like, subscribe, and share in order to help Lynette fight the fiat money disease!
Have questions for the Q&A, email us at questions@itmtrading.com
Have questions about acquiring gold and silver? Call: 877-410-1414
Viewer Submitted Questions:
Question 1: 1:07
I have heard much about whether the strategy of collecting graded Morgan's is smart, as no one will care if they are graded or not after a collapse of the system, and that they will only be worth their fundamental value. I have approached it as a two pronged strategy, that the graded ones may be worth more to us old timer collectors and a wealth building exercise, and the raw coins for bartering and a life sustaining resource. Your thoughts?
Question 2: 5:34
Isn't a huge stock market sell-off coming soon? Won't they be selling precious metals to cover shorts? Won't that cause a huge spot price drop?
Question 3: 11:20
Someone made the comment that if you have gold bullion you would be able to melt it down into jewelry (if bullion is confiscated)?
Question 4: 13:30
I own gold and silver which is a significant amount of my wealth stored in a rented Singapore vault. The storage fees are calculated based off the value of the gold in USD's. If the dollar hyperinflates as a result of the "crack up boom" and the dollar hyperinflates, is it possible that I would be hyperinflated out of my gold holdings because I may not have enough USD's to pay for storage fees to redeem my gold or would I just pay the storage fees using a tiny portion of my gold holdings because gold will also skyrocket in price?
Question 5: 16:39
Isn´t copper also monetary just as gold and silver?
Question 6: 17:06
What should I buy when I roll over my Traditional IRA?
Question 7: 21:20
If one isn't liquidating one's pre 1933 gold coins, is it a good strategy to get the least expensive pre 1933s (avoid confiscation) without the extra nominal fees of hi grades?

We believe that everyone deserves a properly developed strategy for financial safety.
Lynette Zang
Chief Market Analyst, ITM Trading