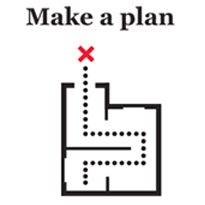 In a two-year "Drastic Times" program that has mostly been secret until now, U.S. regulators have ordered five of the nation's largest banks, Bank of America, Goldman Sachs, Citigroup, Morgan Stanley, and JP Morgan, to develop emergency plans to avoid a collapse, specifically without the help of a bailout or other aid from the government.
Back in May of 2010, the Federal Reserve and the U.S. Office of the Comptroller of the Currency ordered these five banks to develop of these "recovery plans" to examine severe measures that would side-step collapse in desperate times. These measures take in selling off assets, developing other income sources, and minimizing risk.
This counsel is interesting as the same advice could well be given to individuals and families across the country. In the face of increasing desperate times we should look to develop our own "recovery plan" in cutting back on luxuries and selling off unnecessary items, developing alternative sources of income, and minimizing our own risk.
At the time the recovery plans were ordered in 2010 they garnered little public attention. The specific banks that were required to submit them have not been disclosed before Reuters acquired them as a result of a petition of the Freedom of Information Act.
These "recovery plans" should not be confused with the "living wills" from the recent past, which are also called "resolution plans." The objective of the "living wills" is to detail how they would sell parts of themselves off in the advent of a disaster and at the same time not endanger the financial system.
"Recovery plans are about protecting the crown jewels," remarked Paul Cantwell, a managing director at consulting firm Alvarez & Marsal. "It's about, 'How do I sell off non-core assets?' The priority is to the shareholders. A resolution plan is about protecting the system, taxpayers and creditors."
One of the senior deputy comptrollers for large banks at the OCC, Mike Brosnan, said the office constantly examines back-up plans at the banks and savings associations it oversees.
"Recovery plans required of the largest banks are helpful in ensuring banks and regulators are prepared to manage periods of severe financial distress or instability affecting the banking sector," he stated.
Each plan was to deal with dangerous financial pressure at the bank, as well as "general financial instability." The directions for the plans were to be executable preferably between three and six month period, according to the documents to deal with drastic times.