The new decade begins with a BANG as the US sends in drones and kills Qasem Soleimani, a key Iranian military leader, after attacks against American civilians in Iraq.
As Iran vows vengeance and announces that they will no longer be held to the 2015 nuclear accord (the US pulled out in 2018), the US counters with threats to hit up to 52 Iranian targets.
Have more questions that need to get answered? Call: 844-495-6042
Because the killing was done on Iraqi soil, the Iraq parliament voted to end US military presence in their country. President Trump says the US won't leave Iraq unless they repay the US for the Air Base built there.
Through this, as gold broke out to new seven-year highs, bonds, stocks and oil seemed to shrug off this geopolitical crisis. Perhaps the flood of central bank liquidity helped support these severely overvalued markets.
Overnight, Iran's revenge began by striking the two Iraqi bases from which the US drones that killed Soleimani where located. But not wanting to unleash US military retaliation, no one was hurt by these actions.
Is this over? How much of the current market response is about complacency? If you look at the markets, including the oil market, you'd think so, but I'm not so sure.
Aside from their military, Iran has been honing their cyberattack skills over time. Many think their cyberattack programs rival those of Russia, China and North Korea. They can do a lot of damage by targeting private businesses, universities, banks and dams.
Ask yourself if you think this is done. Then ask yourself what is the most likely asset to protect your wealth if this is not over? If your wealth is held intangibly, it is at risk and not just because it's nominal value could fall, but also because you could lose all access to it in a cyberattack.
One reason physical gold has been money for 5,000 years is because it is indestructible. But central bankers know that if you don't hold it, you don't own it. Therefore, global central bankers have been accumulating and repatriating gold, the true safe-haven asset.
Slides and Links: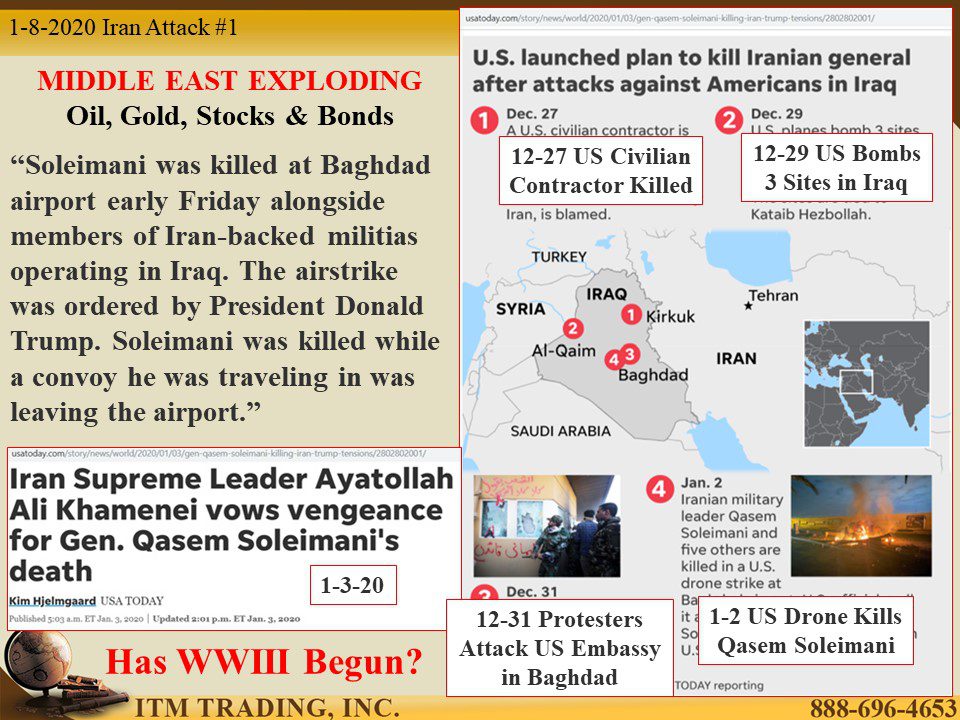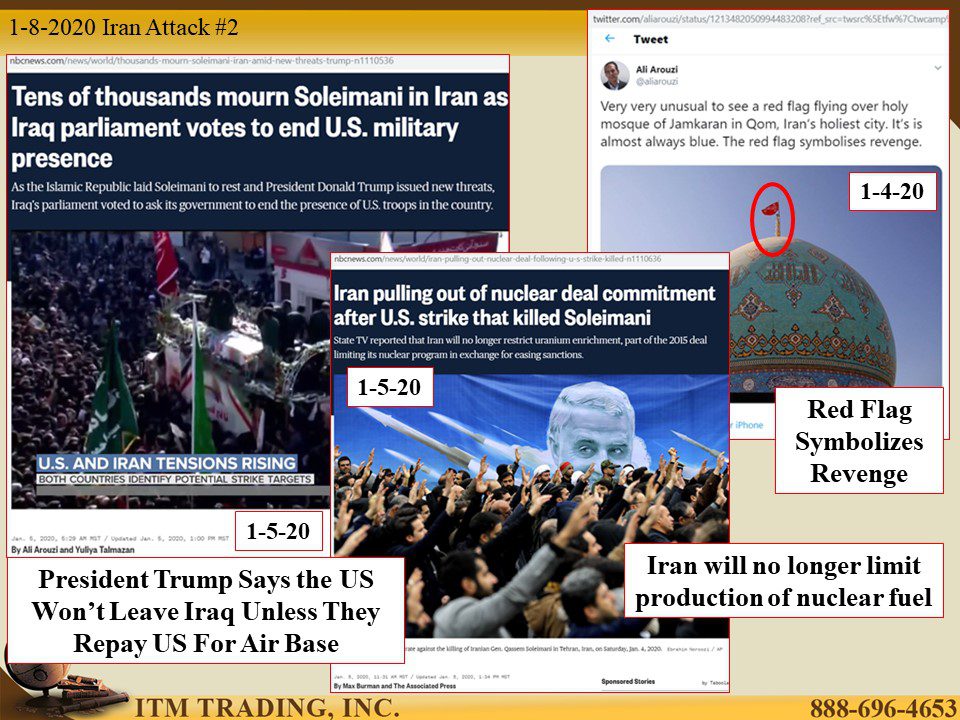 https://www.nbcnews.com/news/world/thousands-mourn-soleimani-iran-amid-new-threats-trump-n1110536
https://www.nbcnews.com/news/world/iran-pulling-out-nuclear-deal-following-u-s-strike-killed-n1110636
https://www.nytimes.com/2020/01/05/world/middleeast/Iran-us-trump.html
https://twitter.com/aliarouzi/status/1213482050994483208?ref_src=twsrc%5Etfw%7Ctwcamp%5Etweetembed%7Ctwterm%5E1213482050994483208&ref_url=https%3A%2F%2F
www.nbcnews.com%2Fnews%2Fworld%2Fthousands-mourn-soleimani-iran-amid-new-threats-trump-n1110536
https://www.cnbc.com/2020/01/05/iraq-prime-minister-says-parliament-must-end-foreign-troop-presence-as-soon-as-possible.html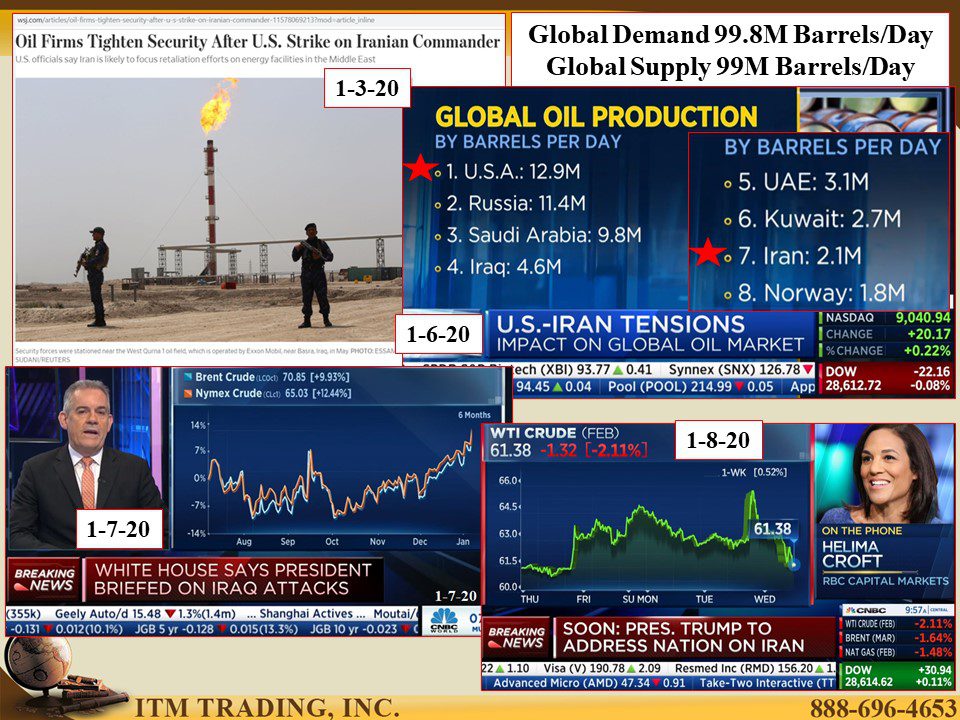 https://www.wsj.com/articles/oil-firms-tighten-security-after-u-s-strike-on-iranian-commander-11578069213?mod=article_inline
https://www.bloomberg.com/opinion/articles/2020-01-05/will-oil-become-a-weapon-in-iran-s-escalation-with-the-u-s
https://www.wsj.com/articles/targeted-killing-of-iranian-general-puts-u-s-at-crossroads-in-middle-east-11578098318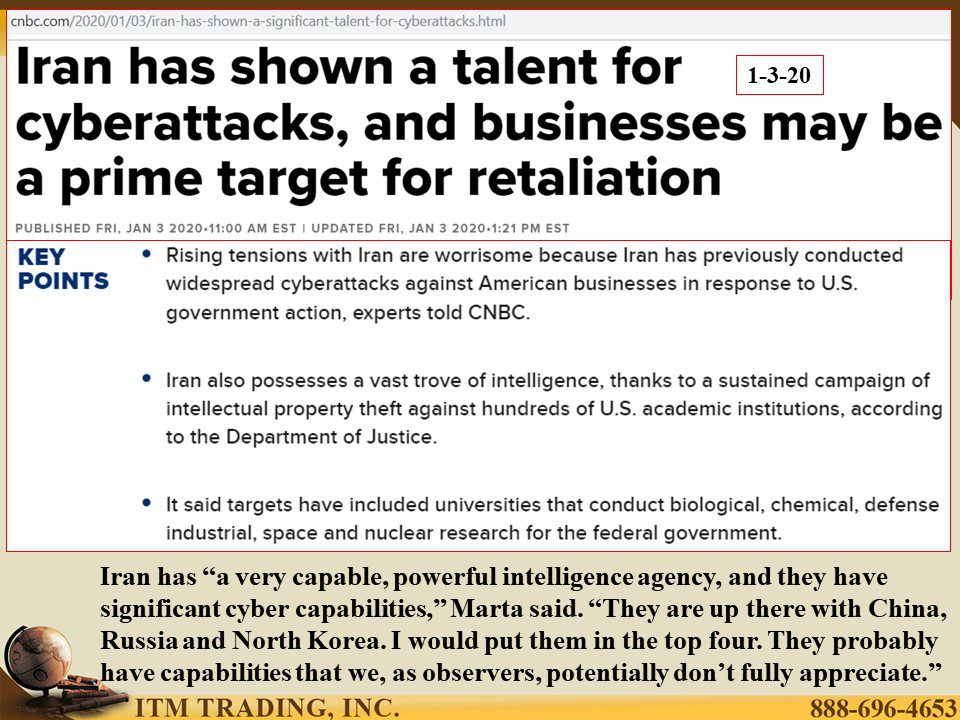 https://www.bloomberg.com/news/articles/2020-01-05/iranian-attack-on-adelson-provides-lesson-on-cyber-strategy
https://www.bloomberg.com/news/articles/2014-12-11/nuke-remark-stirred-hack-on-sands-casinos-that-foreshadowed-sony
https://www.cnbc.com/2020/01/03/iran-has-shown-a-significant-talent-for-cyberattacks.html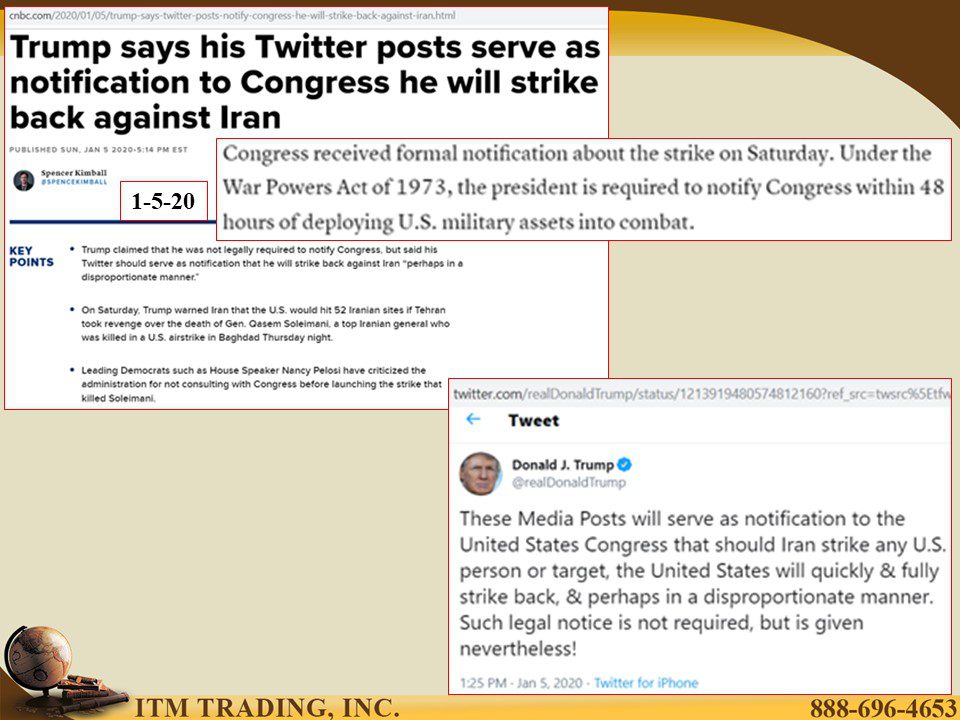 https://www.cnbc.com/2020/01/05/trump-says-twitter-posts-notify-congress-he-will-strike-back-against-iran.html
These Media Posts will serve as notification to the United States Congress that should Iran strike any U.S. person or target, the United States will quickly & fully strike back, & perhaps in a disproportionate manner. Such legal notice is not required, but is given nevertheless!

— Donald J. Trump (@realDonaldTrump) January 5, 2020
www.nytimes.com%2F2020%2F01%2F05%2Fworld%2Fmiddleeast%2FIran-us-trump.html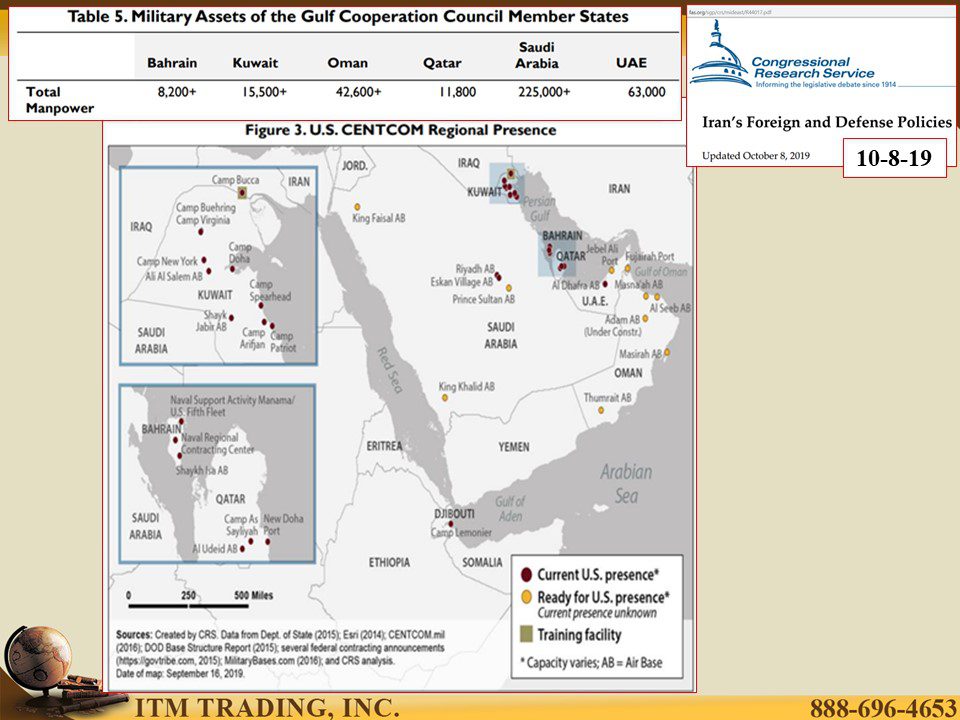 https://fas.org/sgp/crs/mideast/R44017.pdf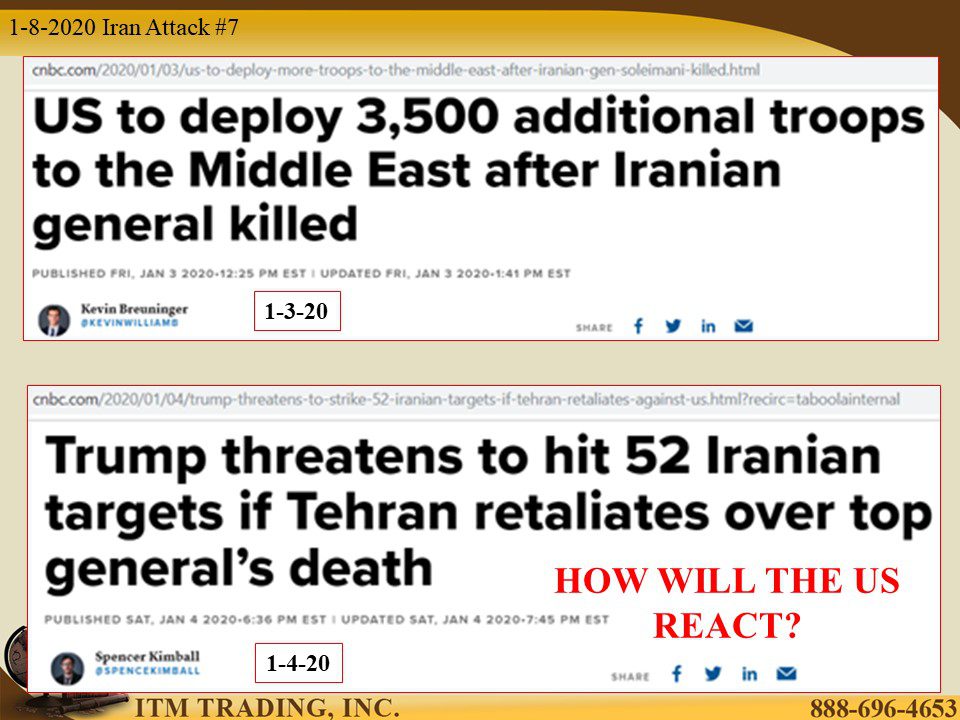 https://www.cnbc.com/2020/01/03/us-to-deploy-more-troops-to-the-middle-east-after-iranian-gen-soleimani-killed.html
https://www.cnbc.com/2020/01/04/trump-threatens-to-strike-52-iranian-targets-if-tehran-retaliates-against-us.html?recirc=taboolainternal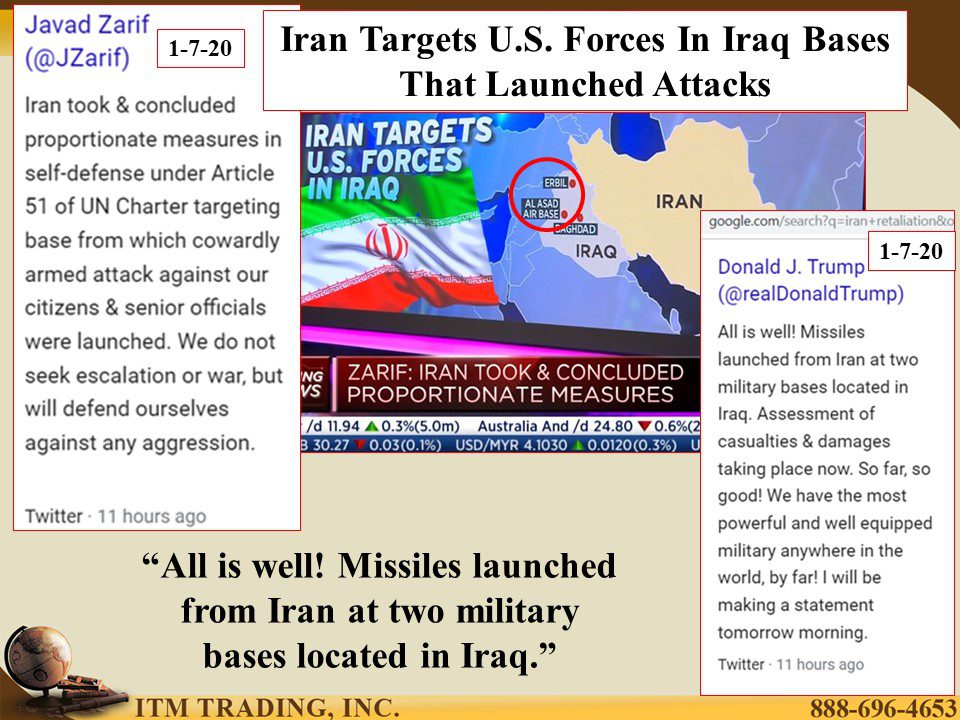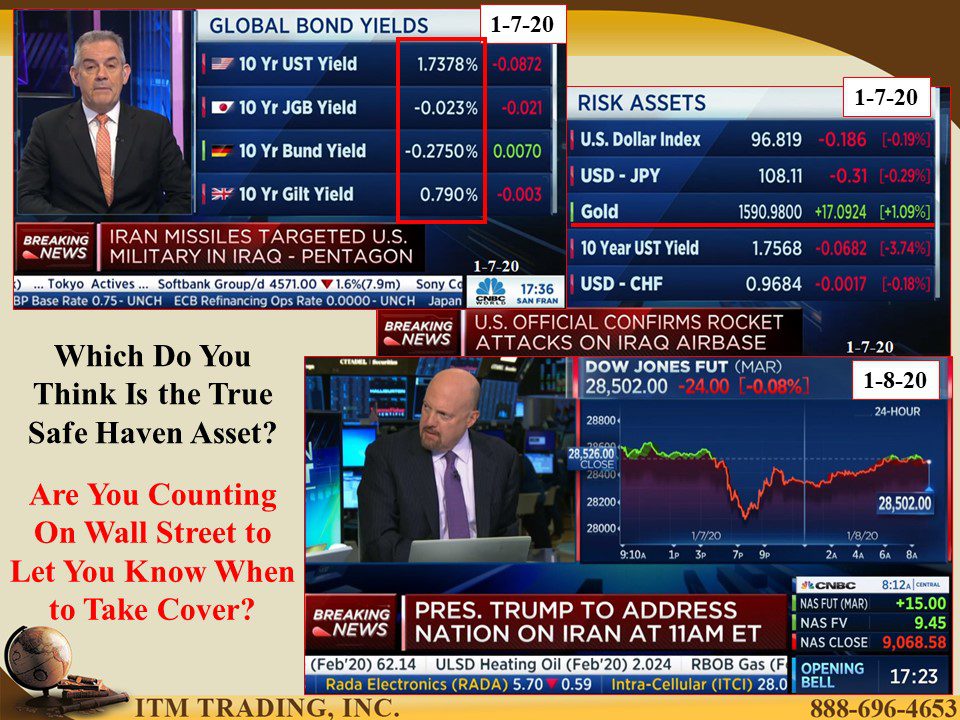 https://www.worldforexrates.com/xau/irr/1-exchange-rate/
https://www.worldforexrates.com/xau/iqd/1-exchange-rate/