TECH GIANTS: Who Shapes the Laws? by Lynette Zang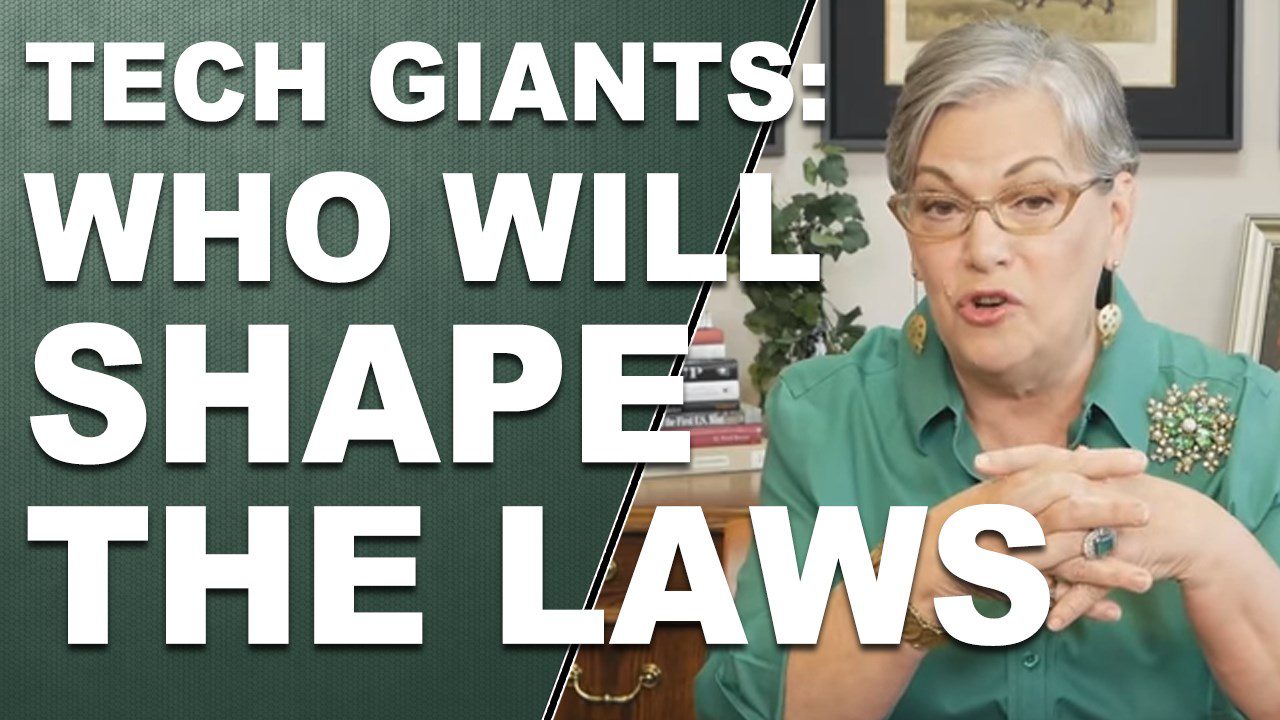 Insider Buy/Sell Ratio
The surge in insider selling is picking up steam with the current buy/sell ratio now at the highest level of the year. In addition, the Dow Jones Industrial Average crossed its 200-day moving average as trade wars heat up, though this is certainly impacting the global markets as well.
What does this mean?
This could indicate a market on the brink of a major market breakdown! With global central banks now moving toward tightening (raising rates and buying fewer bonds), who will ride to the markets rescue?
Focus GE             
On June 26th, after 122 years, General Electric has been removed from the Dow Jones Industrial Average because it's stock price no longer represents how other companies of its size or in its sector are doing, though its price does reflect the demise of an American icon.
Where does that leave current and future employees that depend on the pension benefits to fund their retirement? In jeopardy.
How to Win Friends and Influence Outcomes
Tech giants; Amazon, Google, Facebook and Apple, spent a record $50 million in lobbying efforts in 2017. Additionally, if the first quarter of 2018 is any indication, they'll set a new record this year.
With such deep pockets, they can afford to employ the very best lobbyists. As example, Alphabet (Google) has employed a former Republican congresswoman to oversee and manage 102 lobbyists and spent $18.2 million to influence laws regarding self-driving cars, immigration, net neutrality and tax issues.
Why Should I care?
Because laws and policies have an impact on our privacy, income and freedoms, we've been watching the demise of the middle class in America.
Amazon is a great example. Initially, they did not have to charge sales tax, which was a huge advantage over mom and pop shops. This drove many out of business or forced them to become vendors to Amazon and changed the opportunities for employment.
This has had a huge impact on state and city tax collections. In a recent ruling, on-line retail sales taxes will now be collected. Kind of like closing the barn door AFTER the chickens have escaped.
How Much Have You Spent to Influence Washington?
We the people elect government officials. Their job is to protect our rights. Unfortunately, many seem to be more influenced by deep pockets and connections and public pays the price.
Slides and Links: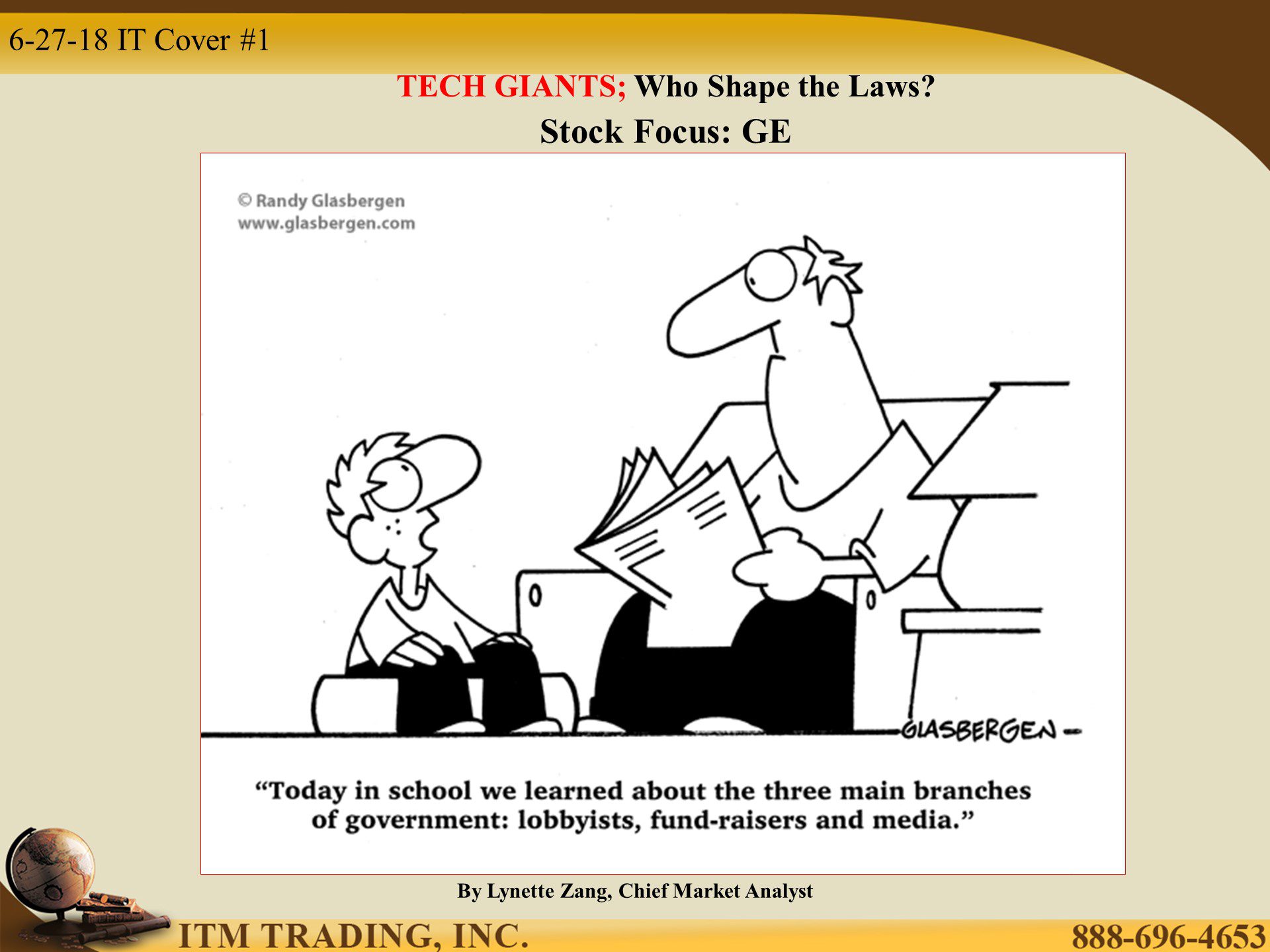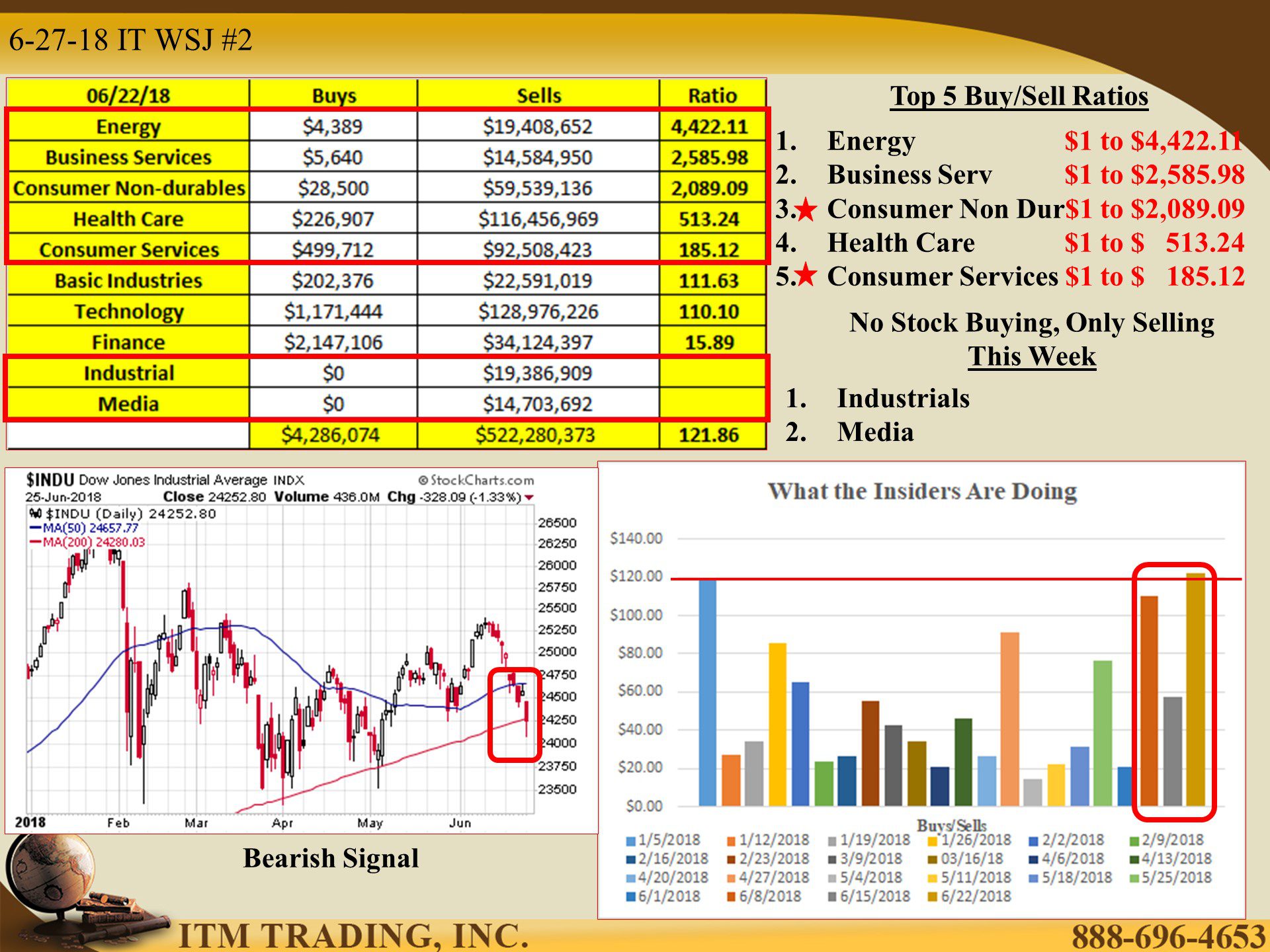 http://stockcharts.com/h-sc/ui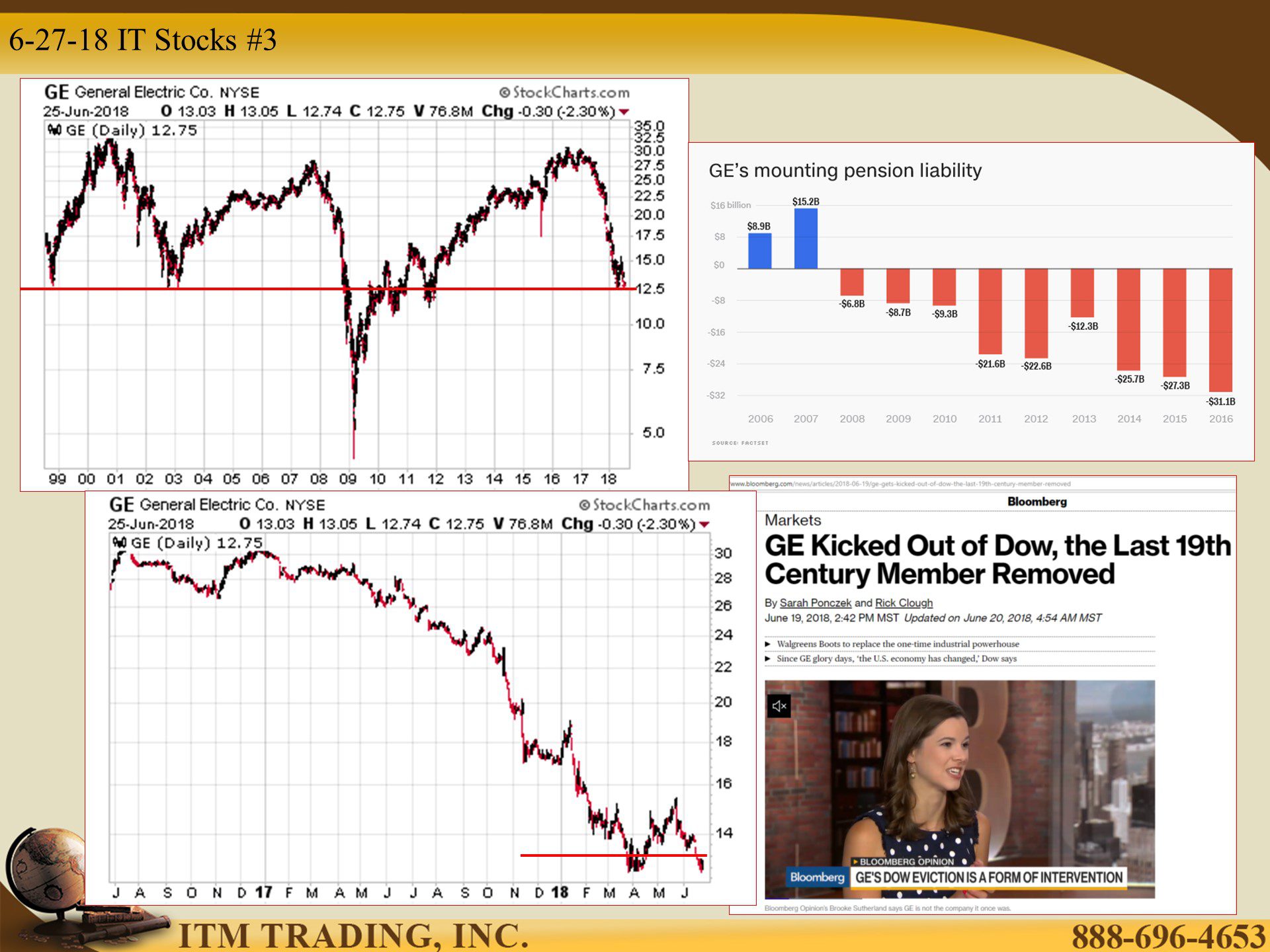 https://www.nasdaq.com/symbol/ge/insider-trades
http://stockcharts.com/h-sc/ui
https://www.bloomberg.com/news/articles/2018-06-19/ge-gets-kicked-out-of-dow-the-last-19th-century-member-removed
https://www.engadget.com/2018/01/23/tech-giants-spent-record-50-million-lobbying-in-2017/
https://www.recode.net/2018/1/23/16919424/apple-amazon-facebook-google-uber-trump-white-house-lobbying-immigration-russia
https://www.recode.net/2018/4/22/17267740/facebook-record-lobbying-spending-tech-companies-amazon-apple-google
http://fortune.com/2018/01/24/google-facebook-amazon-apple-lobbying-efforts/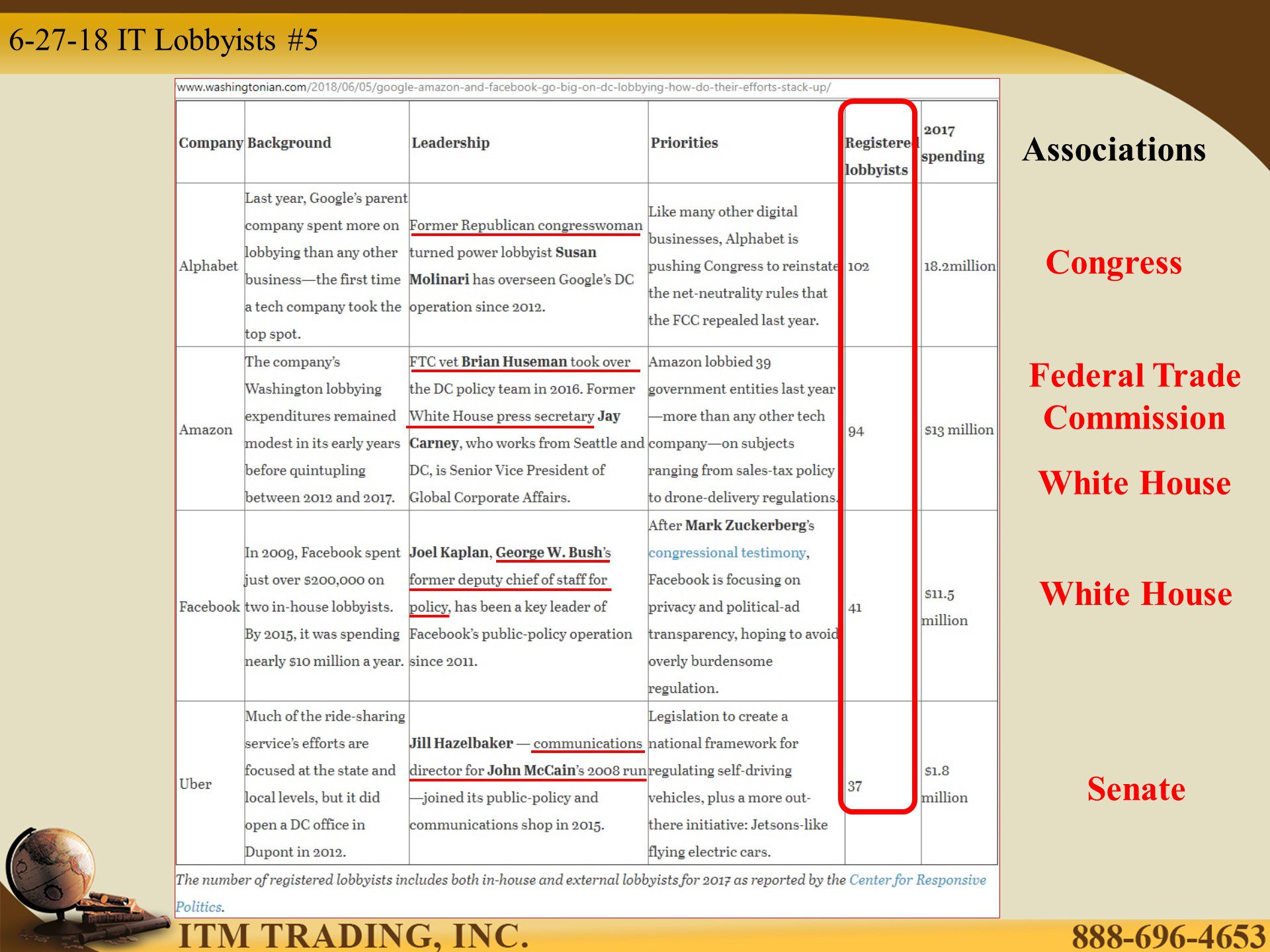 https://www.washingtonian.com/2018/06/05/google-amazon-and-facebook-go-big-on-dc-lobbying-how-do-their-efforts-stack-u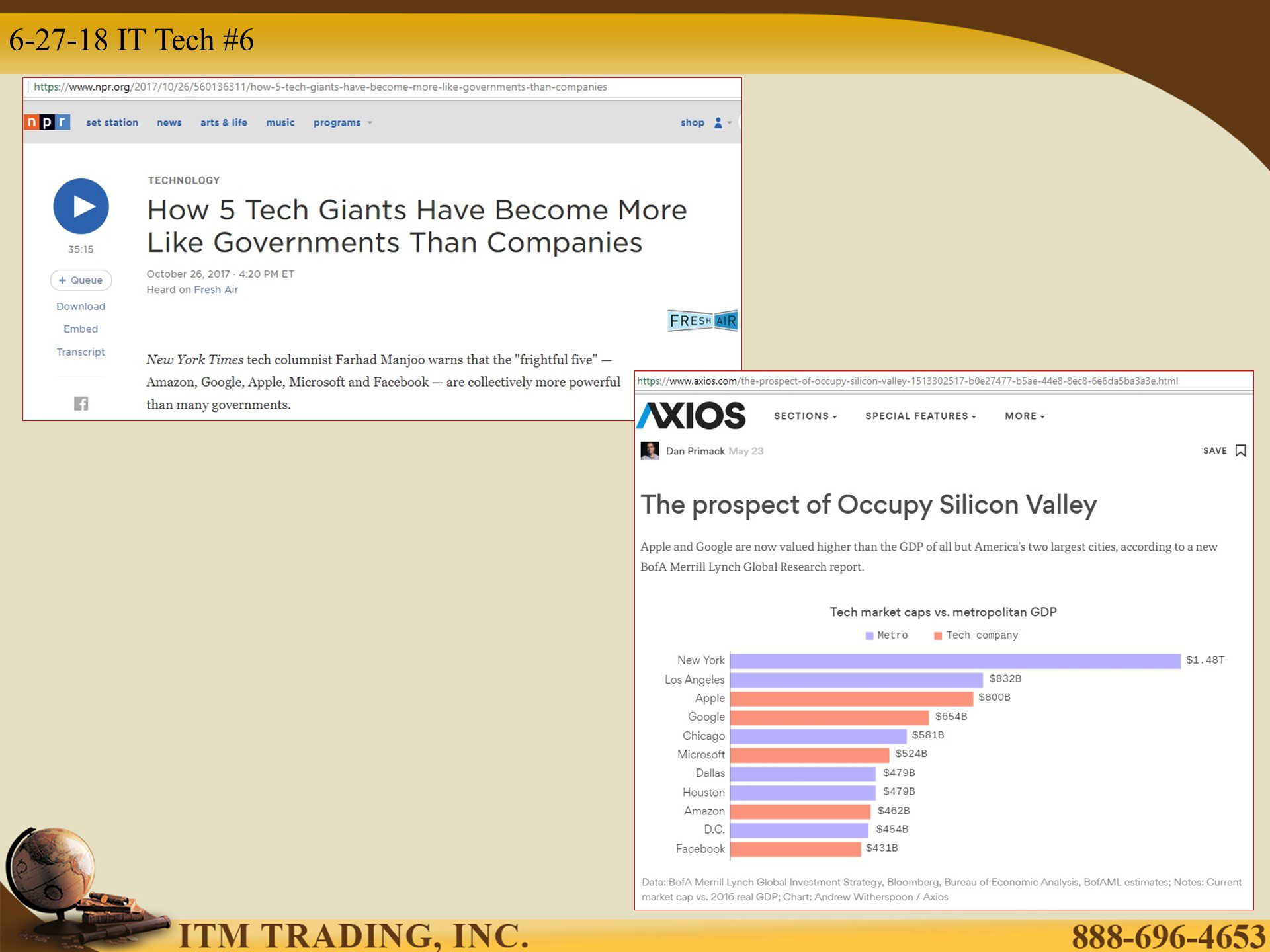 https://www.npr.org/2017/10/26/560136311/how-5-tech-giants-have-become-more-like-governments-than-companies
https://www.axios.com/the-prospect-of-occupy-silicon-valley-1513302517-b0e27477-b5ae-44e8-8ec8-6e6da5ba3a3e.html

We believe that everyone deserves a properly developed strategy for financial safety.
Lynette Zang
Chief Market Analyst, ITM Trading