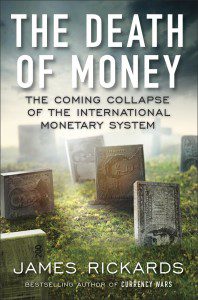 ITM Trading is proud to announce that Jim Rickards, Author of best-selling book "Currency Wars" and his new book "The Death of Money" will be joining Craig Griffin, Founder and President of ITM Trading, for an interview on Tuesday, April 15th, 2014. Craig wants to hear your questions for Jim Rickards. Hopefully we can get a couple of the best questions in front of Jim!
To submit your question, leave it in the comment box below. You should submit your question no later than Monday, April 14th at 12:00 noon MST for consideration.
We really encourage you to ask Jim what you want to know about his insider views into world finances and financial systems!
Thank you,
ITM Trading
Watch Jim Rickards on ITMTrading.com here and here.
*Disclaimer: Due to the time constraints of the interview, ITM Trading cannot guarantee that reader submitted questions will be asked.
Leave Your Questions For Jim Rickards In The "Comment Box" Under "Leave A Reply" Below: