Reputable Silver Investments Vs. Reputable Companies This article is a companion piece of sorts to another article I wrote available here. The general idea is that a company known as the Reputation Institute has released a report they compiled listing the top 100 companies worldwide as they are perceived by consumers in fifteen countries over seven separate criteria. My other article compared reputable gold investments to the company at rank number twenty-four, L'Oreal, and the company at rank number twenty-one, Amazon. This article will illustrate a similar whimsical comparison between reputable silver investments against a couple more companies on the Reputation Institute report.
Reputable Silver Investments Vs. Reputable Companies: Levi Strauss.
Levi Strauss is an American success story, and there is a story behind the success of Levi Strauss. Two men joined forces to create the now legendary blue jeans with the copper rivets at the stress points for reinforcement. The other man you never hear about had a name, and his name was Jacob Davis.
Levi Strauss & Co. began business in San Francisco, California during 1853. Today they have 2800 company operated stores, and a reported 2013 annual revenue of $4.68 billion. Interestingly, this company is privately owned by the heirs of Levi Strauss, the company is not traded on the American stock exchanges.
At one point during the 1970's Levi's had sixty-three production plants in the United States and another twenty-three worldwide. Perhaps as Ross Perot predicted, by 2003 the last Levi's plant in the United States was closed, ending a century and a half of Levi's Jeans being proudly made in the U.S.A. Today there are small Levi's plants in the US, however, they produce specialty jeans that cost up to several hundred dollars. I am not kidding you.
During the transition from massive plant operator to massive plant closer, Levi's faced public scrutiny as foreign sweatshop accusations were made and massive fines were levied against Levi's suppliers. Picket lines formed outside of the San Francisco head offices. Levi's has not always been loved.
Reputable silver investments include Silver American Eagles and Morgan Silver Dollars. When you purchase authentic Silver American Eagles and Morgan Silver Dollars you know you will be purchasing products made in the USA. The Morgan Silver Dollars were always produced in the United States, and current regulation demands that the production of all Silver American Eagles take place in the United States.
Even though Levi's has been around more than 150 years, silver has been money and currency much longer. As far as reputable silver investments go, I would rather have a shoebox full of silver coins than a closet full of Levi's made in Egypt, Singapore, Costa Rica, or the Marianas Islands. Advantage: reputable silver investments.
Reputable Silver Investments Vs. Reputable Companies: Volkswagen.
Last year Volkswagen finished the Reputation Institute survey in fourteenth place, well ahead of L'Oreal, Amazon, and Levi's. This year Volkswagen finished in 123rd place. Volkswagen had a worldwide public relations disaster.
If you don't recall, or if you don't pay attention to automotive issues, Volkswagen announced that the company had been intentionally rigging some models to test cleaner than they really run for emissions certifications. Fallout then ensued, and stock prices dropped. Volkswagen showrooms became as quiet as closed libraries. The Chief Executive of Volkswagen resigned.
Volkswagen has long had a reputation for building indestructible inexpensive cars like the Volkswagen Beetle. Unfortunately, the last inexpensive indestructible vehicle that Volkswagen built may have been the Beetle, and I don't mean the New Beetle.
Automotive insiders know that many Volkswagen products have been plagued with the same nagging product defects for decades. Anyone who picks up a Consumer Reports Automotive issue will think that Consumer Reports ran out of red ink when printing the Volkswagen review charts. (If you are not familiar with Consumer Reports and especially their annual automotive publication, please familiarize yourself.)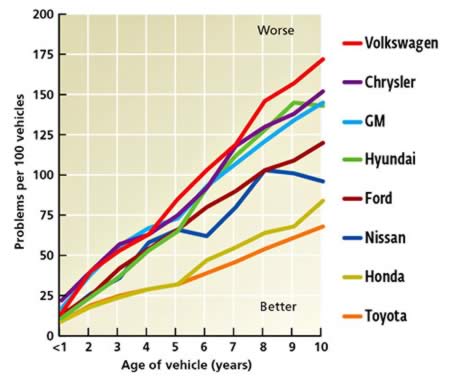 Volkswagen owners know that trips to the dealership are frequent, and if they are not covered by warranty, the trips are expensive. Even do-it-yourselfer's know that newer Volkswagen parts are quite expensive, especially the ones made in Germany. Exchange rates and a weak dollar can hurt the auto repair budget.
If you have ever had a Volkswagen Jetta where the power windows work and sometimes they don't, and sometimes they just fall into the door and disappear, you know what I mean. The New Beetles had a penchant for not starting when you really wanted them to. Old Volkswagen rabbits used to make mechanics run and hide. Volkswagen is not perfect, and they never have been. But, according to Volkswagen themselves you cannot trust the numbers and results they "achieve" and publish, at least with respect to some emissions data.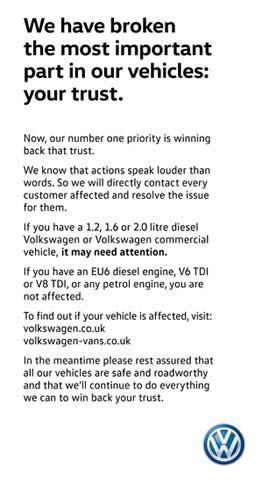 Reputable silver investments have purity measurements. Silver coins meant for use as currency, like the Morgan Silver Dollar, have a small content of other harder metals to give the coin durability. The Morgan Silver Dollar is 90% silver and 10% copper. The Silver American Eagle is the official US silver bullion coin and is not intended to circulate as a circulating currency piece. Therefore, the Silver American Eagle is 99.9% pure silver.
When a product of a US Mint says it is 99.9% silver, it is 99.9% silver. A reputable silver investment really does not need to be compared any further to Volkswagen.
Reputable Silver Investments Vs. Reputable Companies: ITM Trading.
ITM Trading was not included in the Reputation Institute study. ITM Trading has earned an A+ rating with another well-known reputation based service: the Better Business Bureau. ITM has a 20-year history of servicing clients and delivering guaranteed physical gold and silver products directly to your home or business address. All deliveries are registered, insured, tracked, and a signature is required upon receipt.
ITM Trading also has a buy-back policy. ITM Trading will buy back any product ITM Trading sells you, at current sell-market pricing. Speak to an ITM Trading representative for further clarification of the policies and guarantees that ITM Trading has put in place to serve and protect you, the consumer.
If you are a studied and practiced buyer and trader of gold and silver coins, then you may want to browse the online purchase options available at ITMTrading.com. We have well established and long respected affiliations with some of the largest precious metals wholesalers in the United States.
These relationships allow ITM Trading to offer very competitive pricing, not only on the purchase price of the gold or silver items you buy from ITM Trading, but also the redemption or buy pricing when it comes time to capture your profits. ITM Trading has no hidden fees.
If you are not experienced acquiring precious metals, let an ITM Trading representative answer your questions one-on-one today. Our precious metals professionals are easy to talk to and will dedicate as much time as necessary to answer your questions.
Once you are confident enough to acquire physical precious metals through ITM Trading, you can open an account and begin seeing how reputable silver investments and ITM Trading work together to help protect your financial holdings.

We believe that everyone deserves a properly developed strategy for financial safety.
Lynette Zang
Chief Market Analyst, ITM Trading