Reasons There Is Trouble Brewing In The Subprime Auto Loan Market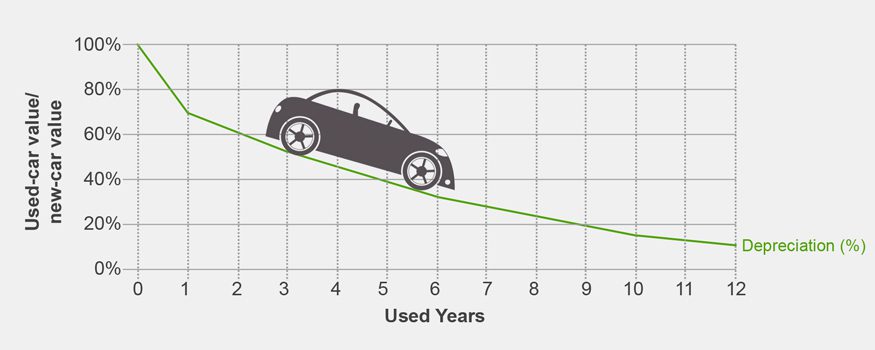 There is trouble brewing in the subprime auto loan market and unfortunately, it is a type of trouble that we have seen before, but this time on a smaller scale. Even though the scale is smaller, the twist at the end still has a very financially noxious and dangerous outcome. Following are just a few reasons that the subprime auto loan market might be forming a $1 trillion+ bubble and why you need to be aware of what is going on.
Trouble Brewing In The Subprime Auto Loan Market: Off-Lease Supply.
There are some metrics in the car game that are pretty simple to track. One of them is how many vehicles are out on lease and when they come back. And, because the terms of an automobile lease actually define the value of the vehicle after a certain amount of time and miles, we already know what the vehicles are predicted to be worth. This is just how the system works.
This part is the part that is a shock to the system. Reports published at ZeroHedge.com indicate that in the last five years, the amount of leased vehicles flowing into the used car market has doubled. This number will increase by another 25% in the next two years. In a market that is heavily price factored by supply and demand, there is a lot of supply available down the road, cheap. The over-availability of less expensive newer-used cars drive down the value of older-used cars on the market.
Trouble Brewing In The Subprime Auto Loan Market: Rising Interest Rates.
The United States has been pursuing a Zero Interest Rate Policy (ZIRP) for some time now. Interest rates in the US are artificially low. In fact, if you don't follow such things, interest rates are near the lowest they have ever been in the US. This means that eventually, interest rates must rise.
Rising interest rates result in different outcomes when applied to economic models. For instance, when a bank decides how much money they will loan an individual, part of that decision is based on how much the individual can afford to pay back each month. People that make a lot of money can more easily afford large monthly payments and they are more likely to make them. Those that have small monthly incomes simply cannot afford large monthly payments, especially 72 or 84 of them.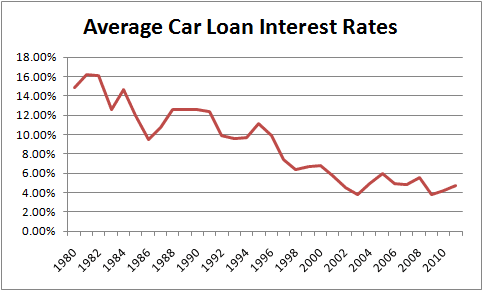 Here is where the above paragraph applies. Suppose you want a $25,000 automobile and you have good credit and can qualify for a 6% loan. At a 60 month term, your payments will be in the $480/month and total $28,999. If you try to purchase the same vehicle, but nominal interest rates in the US have risen, to say 1985 levels and a decent car loan is 13 %, then your payments would be $569/ month and total $34,130. What you see is that the bank always gets paid first, in interest. As interest rates rise, smaller amounts of the payment actually go toward the value of the vehicle, thus determining it's possible value.
Trouble

Brewing In The Subprime Auto Loan Market: Extended Credit Terms.

Another part of the trouble brewing in the subprime auto loan market is extended terms. This is a fancy way of saying that auto loans are now longer than ever. 48-month loans used to be the norm. Then 60 months, or five years. Today, 72 months,78 months, and 84-month terms exist. 8 years is a long time to finance a used vehicle. In fact, many vehicles only last a realistic 10-12 years, even with regular maintenance and repairs.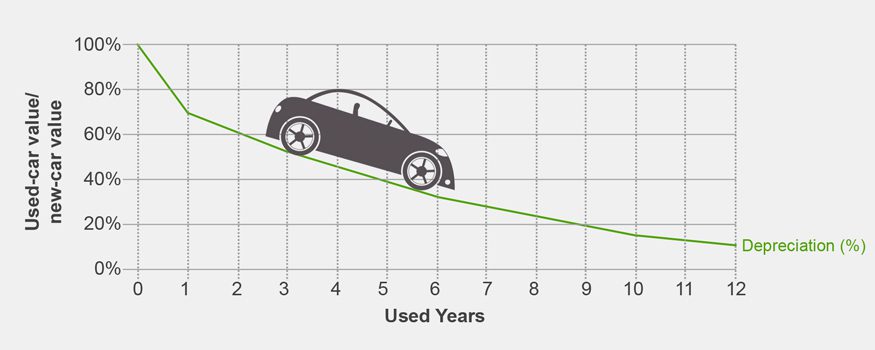 Since loan terms are a determining factor in calculating auto loan payments, the fact the outer boundary of loan terms has been reached means that there is not any more room to stretch car values in this regard.
Trouble Brewing In The Subprime Auto Loan Market: Uber.
While you may not think of Uber as a factor is used car prices, it is. As it happens, quite a few people are using the Uber app instead of using rental car services. This trend has been going on for a little while now. In fact, this trend has resulted in a surplus of vehicles being help by rental car companies.
Rental car companies are a whole different animal together. When a rental car company liquidates it's aging fleet, these cars usually go to auto auctions where they bring BOTTOM dollar. The rental car companies have to sell them, so they do, at whatever price they bring.
These are the same auto auctions that used car dealers buy their wholesale stock from. These auctions ultimately set the price structure for the used car market. Overheated auctions will affect the value of the vehicle in your garage, regardless of how many payments you do or don't have left.
Trouble Brewing In The Subprime Auto Loan Market: The Sting.
The news above may not sound good, and even though you can eventually expect used car prices to drop, you may not feel like these problems really affect you. Here is why these problems affect you. Just like during the subprime mortgage meltdown of 2007/2008, these subprime auto loans are being bundled together and sold as investments. You may actually own some of these securities somewhere in your retirement portfolio. Betting on deadbeats to make expensive payments on junk cars is not really much of a retirement strategy.
If you would like to discuss creating a retirement strategy based on owning physical gold and silver coins and bars, pick up the phone and call ITM Trading today. 1.888.OWN.GOLD.

We believe that everyone deserves a properly developed strategy for financial safety.
Lynette Zang
Chief Market Analyst, ITM Trading