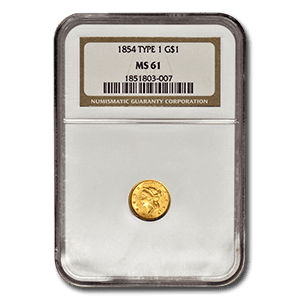 These days, the Internet is becoming a dominant marketplace for many items, and you can now purchase items or services online that just a few years ago you either would not or could not. For instance, take mortgage products. When I purchased my first property, not only did I know my mortgage broker personally, but I had to make several treks down to his office to deliver tax filings, W2's, bank statements, letters of employment, and the like. These days, even after the "mortgage meltdown" of 2008-9, it is completely possible to apply for, negotiate, and submit documents for a mortgage online. My how times change. Perhaps one of the last markets to move online is the rare gold coins market. Numismatic gold coins have traditionally been a conservative investment, and more often then not, old rich men were the ones who held substantial collections of gold coins, rare gold coins, and numismatic gold coins, but that is changing.
The Market For Rare Gold Coins And Numismatic Gold Coins Is Getting Younger
There is a strong reason for this trend in particular. The IRS classifies rare gold coins and certain numismatic gold coins as "collectibles" and treats them differently upon the event of death. For instance, if you want to leave your baseball card collection to your son and your antique kerosene oil lamp collection to your niece, you can do so without these items having to legally go through probate. If you so choose, you can just put them in a box, and deliver them yourself or have them come over for dinner and then leave with your old collection. Currently, the same goes for rare gold coins and certain numismatic gold coins. ITM Trading always suggests checking with your estate planner and tax professional before finalizing your plans to transfer wealth inter-generationally. For this reason, many older people own rare gold coins as a way to avoid some of the hassels of probate and immediate taxation when they leave wealth to their heirs. During my time working in the offices of ITM Trading, it was not uncommon to hear of the passing of a client. Sometimes we were contacted by a relative or an heir who wanted to liquidate some rare gold coins or numismatic gold coins that had been left to them, and as long as they could submit the required minimal paperwork, we would gladly and quickly buy back the gold coins that we had sold to the deceased. Quite often however, when a client of ITM Trading passed on, we never heard from any relatives, because they had chosen to keep the rare gold coins and numismatic gold coins in their possession as a store of wealth, or for sentimental reasons, or both. ITM Trading also does a substantial business with younger generations. Perhaps people in their forties have lost money in their 401k's and IRA's, or the stock market, or in real estate, or in some unfortunate instances all four, and they buy rare gold coins and numismatic gold coins because they see the value in holding tangible wealth that cannot go broke and become worthless. To continue reading this article about rare gold coin dealers and buying gold coins online, follow this link.