After $14.5 Trillion of new central bank QE money and global debt, encouraged by ZIRP (Zero Interest Rate Policy), breaching $255 trillion by the end of this year, central bankers are worried about global risk taking, even though their actions were designed to force savers and investors to take more risk.
From some recent Financial Stability Reports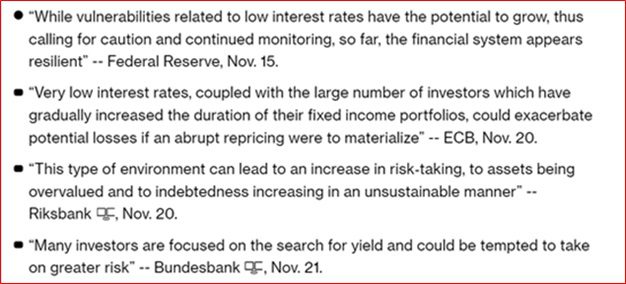 I'm thinking they are also worried about how that risk has shifted from the banks to non-financial corporations. Why? Because of a couple of key reasons:
US Treasuries are the world's biggest bond market and funds US federal government spending.

The USD is supported by the "Full Faith and Credit" of the government. In other words, the governments ability to grow more debt. As "the" world reserve currency, almost all global central banks and corporations hold and use USD.
Repo markets are funded by exchanging Treasuries for USDs.

US government is issuing a flood of new treasuries to fund deficit spending in the Repo markets are now primarily funded by leveraged investors, like hedge funds, independent broker dealers and non-financial corporations.

Funds from these investors is considered HOT money, meaning the flow of funding can increase or decrease rapidly.

The doom loop connection between these leveraged players and the banks that have supported this growing leverage. Meaning that banks are at risk.

Zombie companies (unable to service debt from operating profits with little hope of growth) have grown to 6% of listed corporations so banks do not have to take write-downs from bad loans. Instead they loan more money to zombie companies to maintain the illusion of solvency.
With interest rates at 1.5% and a bloated balance sheet, central bankers are out of tools. All that money printing created inflation in select markets like stocks, bonds and real estate, but did nothing to support broad economic growth it just made the financial system more fragile.
What do they have to work with in the next crisis? More of the same, though it appears they are now concerned that inflation will noticeably pass through to the broader economy. I say this because of two recent central bank announcements from the ECB (European Central Bank) and the Federal Reserve (US Central Bank) related to raising inflation targets even as they've been unable to hit current targets.
Additionally, the gold buying and repatriation trend that began with the "Great Recession of 2007" is speeding up globally but particularly in Eastern Europe.
Hungary boosted gold reserves by 1,000% touting the move as a way to improve the security of the nation's wealth.
Romania voted to repatriate gold held at the Bank of England stating "As you keep your jewels at home, you do not keep them at your neighbors"
Poland adds to and repatriates gold from the Bank of England and states "The gold symbolizes the strength of the country"
Do you think they might be getting ready to survive when the crisis becomes apparent to all?
Links:
https://www.yardeni.com/pub/peacockfedecbassets.pdf
https://www.bloomberg.com/news/articles/2019-11-28/ecb-review-may-reset-inflation-aim-to-2-but-struggle-to-do-more
https://tradingeconomics.com/hungary/gold-reserves
https://www.reuters.com/article/romania-gold/romanian-parliament-votes-to-bring-gold-reserves-back-from-bank-of-england-idUSL5N226519
https://www.bloomberg.com/news/articles/2019-11-25/poland-repatriates-100-tons-of-gold-from-bank-of-england-storage
https://tradingeconomics.com/china/gold-reserves