Are The Precious Metals Prices Being Manipulated Through Flash Crashes?
Precious metals prices and values are manipulated. They have been throughout the centuries. Emperors used to secretly order changes to the composition of the coinage in order to create more money to cover excessive spending and debts. Today, banks and politicians create dollars in order to cover up excessive spending and debts. However, in order to keep the insane money creation from manifesting as inflation or a worthless dollar, several stories must be told and many facades must be created. This article will take a look into how and why precious metals are being manipulated through flash crashes.
But first, let us define the term "flash crash". A "crash" in the price of a stock, commodity, or equity gives the impression that a significant amount or percentage of the value of the instrument has been lost. The timeframe involved, however, can be assumed to be days or weeks or even months. A "flash crash", on the other hand, begins in a fraction of a second and will likely only last minutes. The definition graphic below is the result of a Google search.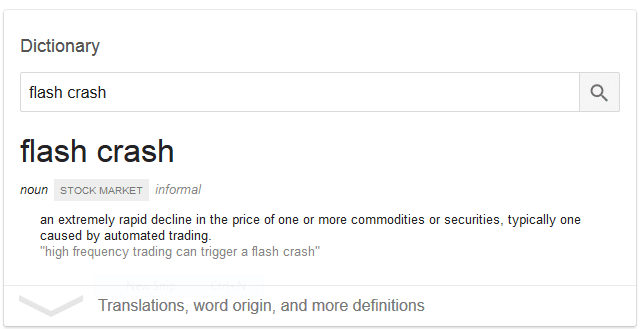 Are The Precious Metals Prices Being Manipulated Through Flash Crashes?
To be clear, flash crashes happen in almost every market, they are not specific to the gold and silver markets. And, unfortunately, flash crashes are becoming far too common and the excuses and reasons given for them are absolutely ludicrous. Quite often, the billion dollar mistakes are blamed on "fat fingers". This simply means that the operator entered the buy or sell information incorrectly, by magnitudes. Below is a capture which was taken from Google search results of the term "flash crash".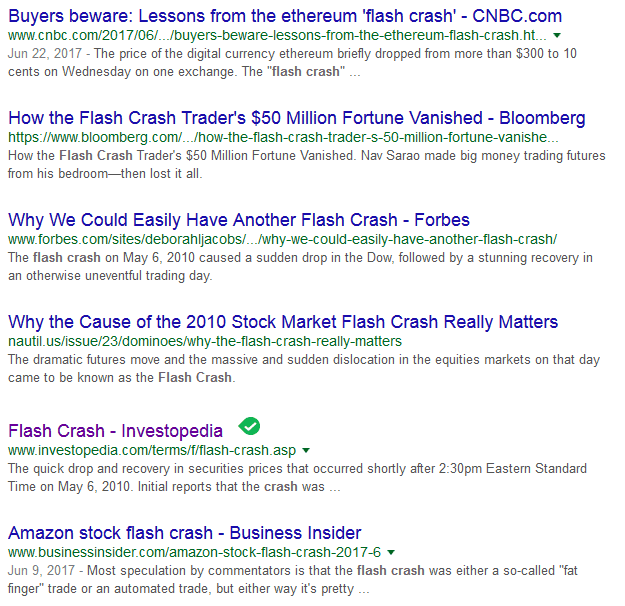 The Google search returned more than 7.2 million results. As more and more trading becomes automated, the flash crashes will likely become more severe. Since automated trading programs and algorithms have a prime directive of making profits and limiting losses, fat finger mistakes that significantly alter market supply and demand can automatically trigger buy or sell commands that sometimes snowball into other automatic buys or sells. Essentially, this system is a ticking financial time bomb. A bomb that is getting bigger every day. ITM has covered this topic in articles and presentations before.
Are Flash Crashes The New Normal?
With respect to the gold and silver markets, in particular, flash crashes are a relatively new tool. A tool that might be offering market insiders and market riggers a way to reap quick and ill-gotten gains. Recently, ZeroHedge.com published a brief commentary about the silver flash crash that happened early in July of 2017. Just as the ZeroHedge posts and articles are informative and quite often keenly written, the comments that follow the articles are usually somewhat sarcastic to somewhat brilliant. The brief commentary was published on July 6, 2017, the day of the flash crash. Tyler Durden and the staff at ZeroHedge studied and posted multiple articles about the silver flash crash for days to follow. Below is a capture of part of Mr. Durden's summation of the flash crash in the silver market.
Since there are bright minds that check in with ZeroHedge on a regular basis, finding a kernel of wisdom in the comments section is not unheard of. Below is perhaps the best comment generated by the July 6th post.

Banks Buy Physical Gold And Silver.
Banks buy physical gold and silver. Don't think that just because they won't sell you silver bullion or exchange paper for legal tender gold and silver coins (banks used to routinely do both), that they don't have positions in the physical gold and silver markets. Banks also speculate on precious metals by buying futures contracts. Banks also buy short and/or long positions in the precious metals markets. They do this to produce financial gains regardless of whether gold and silver prices go up or down. The new and here to stay flash crash phenomenon may just be another way that large corporations and insiders can pillage the system. They will create huge instant paydays and wealth transfers for themselves.
BUY PHYSICAL GOLD AND PROTECT YOUR WEALTH HERE!
Are The Precious Metals Prices Being Manipulated Through Flash Crashes?
Eventually, the truth will come to light about the how's, who's, and when's about the manipulations of the precious metals markets. I won't be surprised when flash crashes are found to have something to do with it. Just as surely as the prices of metals are manipulated downwards, the value of the US dollar is manipulated upwards. Now is absolutely the time to move assets out of the overvalued dollar and into artificially undervalued physical gold and silver. Talk to a proven and trusted precious metals dealer about adding physical gold and silver to your asset portfolio.

We believe that everyone deserves a properly developed strategy for financial safety.
Lynette Zang
Chief Market Analyst, ITM Trading