PCGS graded coins are coins that have been submitted to and graded by the Professional Coin Grading Service company, which was established in California in 1985, for authentication and grading. In the last 30+ years PCGS graded coins have set the highest standards in the coin grading industry. This is by no mistake.
David Hall and Silvano DiGenova, along with five other experienced coin dealers, saw the need for established standards of coin grading, as well as the need for an authentication service, and a guarantee service in the market of rare coin ownership and rare coin investing. These men aligned themselves professionally to create PCGS.
David Hall has emerged as the front man, and is often seen as the face of PCGS. Silvano DiGenova is credited as being the loan creator of the grading standards of PCGS. It is said that DiGenova has assembled a set of "grading coins" that are used as a set of standards in the grading system that produces PCGS graded coins. This set of grading coins is reportedly "widely accepted" in the world of rare coin grading, and perhaps this fact alone sets PCGS graded coins far ahead of other rated competitors.
In fact, if you want to become a professional coin grader, then in essence you are aspiring to work at PCGS and become familiar with the set of grading coins before you can begin to turn out PCGS graded coins. As you may expect the number of professional coin graders, especially the ones that produce the PCGS graded coins, is a relatively small number of people that exist in a very specified field. PCGS is known to attract the best talent in this very small talent pool.
PCGS Graded Coins Include All Types Of Coins.
PCGS graded coins can be either United States coins or foreign coins. PCGS will authenticate the coin, and if it is indeed authentic, they will note the specific attributes of the coin, such as date of strike and mint of strike, and perhaps any coin peculiarities, and then they will encapsulate the coin in a clear plastic container.
This Short Video Explains PCGS Coin Grading.
This container not only preserves the coin and it's authentication and provenance, but the container will also do a great job of protecting the coin from any future damage or degradations. In the world of rare coins, condition is everything. A small scratch or a big ding can have devastating consequences to the dollar value of a rare coin.
PCGS graded coins don't have to be gold or silver coins, PCGS will grade copper pennies or steel pennies, or nickels and dimes and quarters of varying alloys. Because rarity and condition are such major factors in valuing rare coins, a very rare coin in a very good condition or "Mint State" condition that is made of bronze, can be much more valuable than a common gold coin that is worn and much larger in size.
PCGS Graded Coins Teach Us About Coin Rarity And Coin Populations.
Once PCGS graded coins have graduated from the PCGS coin grading system, the details of that coin are entered into a coin census that PCGS maintains. All PCGS graded coins have had their specifics catalogued so that coin information could eventually be categorized, devised, and maintained.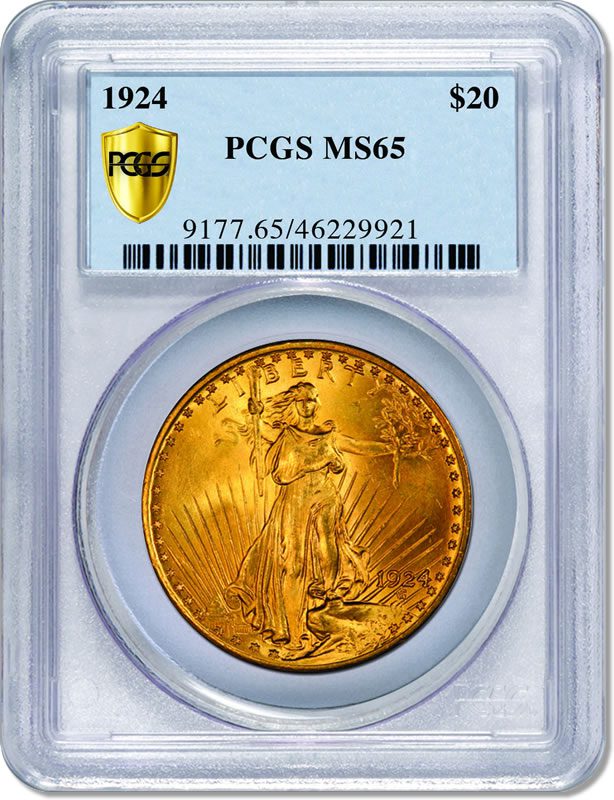 For instance PCGS records each coin's date, the mint mark of that coin, the particular die variety, as well as whether or not the coin is a particular type of strike such as a "proof", or "commemorative". Since PCGS graded coins have been teaching us about coins' rarities and populations for over three decades now, much clearer views into the world of rare coins has been obtained.
Here is an example; by keeping track of PCGS graded coins numismatists have learned and the databases have revealed that coins that were once thought to be very rare, have indeed proven to be somewhat common. In a reverse situation, coins that were thought to be relatively plentiful have proven to be relatively scarce. PCGS graded coins have gone a long way in contributing to the knowledge we have, and the knowledge that we can apply to the rare coin market.
PCGS graded coins can also be valued online at www.PCGS.com. This website will give you a look into the fair market values of different PCGS graded coins. You can also view how the value of a particular coin has changed over time.
David Hall Of PCGS Speaks About Counterfeit Coins.
During my time as a senior analyst at ITM Trading, I would often take clients and potential clients to the PCGS website. I was able to show them how particular PCGS graded coins that I could put into their physical possession had increased in value over time.
The PCGS website tracks public auction and public sales results of what are otherwise often private investments. Commonly, a comparison between what a coin sold for 8 to 10 years ago versus the retail price of that coin today would produce a result of growth in between 200% and 400%.
You can visit www.ITMTrading.com and view our prices, and then visit www.PCGS.com and look up historical trading values for the same PCGS graded coins, and then choose the coins that you believe will deliver the best returns.
View our better dated PCGS graded coins here.