According to news reports, $674 billion has been added to the total debt just this past November, bringing the total US debt to over $18 trillion. Many economists would say that there is not enough gold bars in the coffers of the United States to pay this debt, should it ever be called due. However, according to some of those that have a more optimistic view and a higher understanding of how gold bars function as a currency, perhaps someone like a Ron Paul or a Jim Rickards or a Gerald Celente, there could be plenty of gold bars to pay the US national debt off and then some, it all boils down to how much a ounce of gold is worth versus US dollars, and then multiply that amount times the number of ounces in the gold bar.
If gold were to rise, or viewed another way, if the dollar were to sink, to a million dollars needed to buy one ounce of gold, then far fewer gold bars would be needed to settle the national debt then would currently be the case. If this sounds unlikely to you, then perhaps you have not spent much time studying currency devaluation and runaway inflation, because these are the circumstances that surround the fall of all fiat currencies, great and small.
A fiat currency is a currency that is literally declared into being and declared to be worth a certain value with absolutely no physical backing of wealth whatsoever. An ornate gold coin issued by a government and a plain gold bar issued by a private mint both have the ability to function as a backed currency because they consist of gold and gold is tangible wealth proven to retain value century after century.
A gold coin is a literal shining example of a gold backed currency. Some governments, including the US government, have issued paper notes that could be readily exchanged for an equal value of gold upon demand at any bank. In theory, there was always supposed to be enough gold bars and gold coins in the coffers to cover all of the gold notes printed, or at least the majority of them, and these gold notes were known as Gold Certificates. Eventually these were called in in the United States, and replaced with Federal Reserve Notes.
Today it takes more than a thousand Federal Reserve Notes to purchase a single ounce of gold, and if that gold coin is an old Liberty Double Eagle or a Saint-Gaudens Double Eagle, the one ounce gold coin with be marked with a value of "Twenty Dollars", because back when these coins were traded as US currency, gold was about $20 an ounce, whether that ounce be in the form of gold coin, gold bar, or gold nugget.
This was the case until 1933, when the price of gold was officially reset to $35 an ounce. For those of you that do not think in mathematical terms, that is a 75% increase in valuation over night. Those of you who do think in mathematical terms know that you don't need too many over night 75% upwards valuation before the cost of a one ounce gold bar becomes astronomically priced against dollars.
How A Gold Bar Can Preserve Your Wealth.
For instance, lets say gold is $1000 an ounce, and then over night due to international currency struggles, war, etc. Gold is revalued upwards 75% to $1750 an ounce (a one ounce gold bar has been valued higher in the past, so this number is still quite plausible), and then when worse news hits and the dollar slides further, and gold is revalued upwards again by 75%, we have a price of $3062 for a one ounce bar of gold. After just three more similar dollar devaluations we have a price of $16,413 for a one ounce bar of gold.
By the time the US dollar has fallen this far, you won't be able to use it to buy eggs, much less a chicken, because nobody with eggs or a chicken will want to trade food for something dropping in value as quickly as a fiat currency US dollar. If this sounds harsh or unlikely, it is not. Currency devaluation and hyperinflation happen, even in this day and age.
If you want to see just how far the value of the fiat US dollar has fallen, stack up about sixty four Twenty dollar Federal Reserve Notes and head out to buy a gold bar. While you are making the transaction, picture a past relative, maybe a grandfather or grandmother making the same transaction, but only requiring a single Twenty Dollar piece to purchase a one ounce gold bar. That is the power of currency devaluation and hyperinflation vs a completely gold backed currency.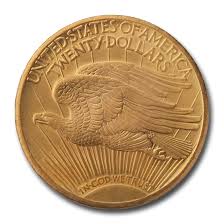 Perhaps another example of the power of currency devaluation and hyperinflation is the current availability of Iraqi Dinars and Zimbabwe Dollars available for purchase on the internet. You can buy a trillion Zimbabwe dollars for next to nothing. Iraqi Dinars arrive in large Fed-ex boxes and require a corner of your closet to store.
In the end of a fiat currency life cycle, the monetary units that used to make an entire economy go around are worth less than the paper they are printed on, and the numbers printed on these pieces of paper become absolutely ridiculous to try to use in commerce and especially to make change for even in basic transactions.
If you are convinced that you would rather trade sixty four Twenty dollar bills, for an ounce of gold today, rather than 820 of those Twenty dollar bills when a one ounce gold bar costs $16,400 then please consider doing business with ITM Trading.
You can either speak with a precious metals specialist to order your gold bar, or you can order your gold bar online anytime of the day or night. After all, if the plan to pay off the national debt is to devalue the dollar to ridiculous amounts against a one ounce gold bar, better to own the gold bar than a closet corner full of useless paper.