NGC coin grading is a service that is available through ITM Trading. Oftentimes ITM Trading is contacted by clients as well as by people who hear our advertising on the radio, in regards as to how to have a "loose" coin graded. A loose coin is a coin that has not been graded or encapsulated by a grading service such as NGC. In essence few coins have been graded. All of the coins that exist in today's circulation for commerce are loose.
NGC coin grading is a way to have professional numismatists as well as professional coin graders closely examine a coin you may have, authenticate the coin, and seal it in a protective case along with the printed provenance and details about the coin. NGC coin grading also uses anti-counterfeiting measures in its coin slabbing procedure.
One Reason You Need NGC Coin Grading: Coin Values.
Before you can properly bring a coin to the marketplace, you need to authenticate the coin as well as gain a clear understanding of what physical condition the coin is in. You also need to understand the rarity of this particular coin in the marketplace. A rare coin in the marketplace can bring very big money. A common coin in the marketplace, will bring common money. A rare coin that is in fantastic condition or like new condition, is referred to as being in a "Mint State" in numismatic terminology, and can bring top dollar and then some.
Even those unfamiliar with rare coin dealings would understand that if you want to take a rare coin in Mint State to the marketplace, and receive top dollar from that marketplace, then having the best provenance and coin detailing is what you need to have. If you were to ask those in the know at the marketplace who the top coin graders are, NGC coin grading service will often be the first words you would hear.
NGC coin grading has truly set several market standards in the coin grading services. For this reason as well as others, quite often those that lay down big dollars for the rarest coins in the best conditions, prefer that those coins be graded by and go through the NGC coin grading process.
NGC Coin Grading through ITM Trading.
The best way to have a coin that you have personally in your possession graded by NGC coin grading services through ITM Trading, is to make an appointment and bring that coin to our office. ITM Trading is located in Phoenix Arizona, and is open Monday through Friday from 8 o'clock until 5 o'clock. The phone number for ITM Trading is 1-888-OWN-GOLD or 1-888-696-4657. The local number for ITM Trading is 602-404-4010.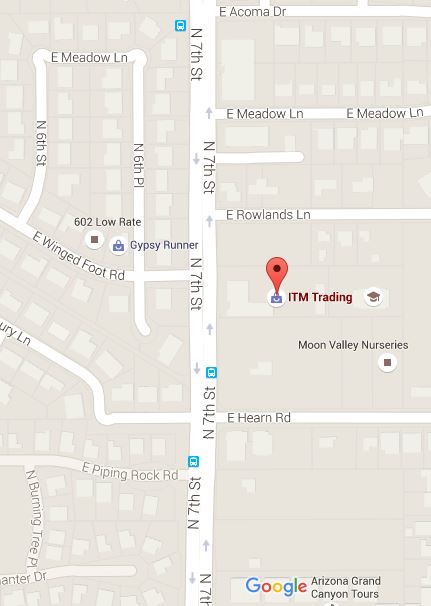 When you call you will speak with an ITM Trading professional who can answer some questions that you may have about your coin, and will set a time aside for you to meet personally and discuss the grading of your coin. Not every coin needs to be graded and as you would expect there are expenses associated with NGC coin grading or any coin grading service for that matter.
When you meet with an ITM Trading professional regarding submitting your coin for NGC coin grading, a professional will examine your coin under magnification or varying magnifications, in order to try to not only authenticate your coin but to also try to glean insights about the rarity and possible condition of your coin. The rarity in the condition of the coin can greatly influence whether or not submitting the coin to NGC coin grading is a financially reasonable or sound idea.
In the past, I have seen the cost of coin grading range anywhere from $40-$50, up into the several hundreds of dollars. In fact NGC coin grading works on a sort of sliding fee scale. The cost of obtaining a NGC coin grading and authentication and coin slabbing service can vary somewhat depending on factors. In essence an NGC coin grading authentication and slabbing service fee essentially varies in proportion to the value of the coin being graded.
While this may strike you as a little odd at first, there is a reasoning that ends up making sense behind the sliding-scale pricing structure. Keeping the cost of NGC coin grading relatively low for coins that have a relatively low value allows for the grading and certification of coins like unusual nickels and pennies.
Pennies and nickels that are unusual can have values that are orders of magnitude higher than their face values, but it wouldn't make much sense to obtain and NGC coin grading service at a cost of $50, if the nickel was worth $40.
At the opposite end of the spectrum, if a rare coin in Mint State condition is submitted to NGC coin grading services, and this coin may have a high dollar value associated with it, the professional coin graders and NGC coin grading services will undoubtedly spend more time authenticating and grading, and detailing the coin before they will guarantee it, then they would a $40 nickel. Hopefully from this point of view a sliding fee scale makes more sense in regards to NGC coin grading.
So, if you have a somewhat unusual coin in a closet corner or in a safety deposit box, or perhaps you have an old coin that has been passed down to you by family members tucked away in a safe, and you would like to discuss submitting your coin for NGC coin grading, and you live in the Phoenix metropolitan area, then please call us at ITM Trading. We will schedule a time to meet and examine your coin or coins, and discuss the rare coin market in full detail.
If you have an unusual coin, and you do not live in the Phoenix area, but wish to submit your coin for PCGS coin grading, please call us at 1888 OWN GOLD, ITM Trading will still be able to be of service.