9-20-17 IT CFPB Lies about Wells Fargo and Equifax Hides Data Breach, by Lynette Zang
Insiders have stepped up selling this week with the average spiking up to $46.42 of selling for every $1 of buying.
Consumer Financial Protection Bureau (CFPB) Director Richard Cordray allegedly misled Congress about the agency's investigation into the Wells Fargo scandal according to a new report by the House Financial Services Committee.
Last week Equifax disclosed a data breach compromising 143,000, nearly half the countries SS numbers as well as other sensitive, private information. This week we found out that their data base was hacked via the same flaw last March. They had the fix since then and knew their system was vulnerable, why didn't they correct the issue?
In addition, someone bought a lot of puts (the right to sell at a fixed price within a set time frame) on August 21st, just before the announcement. Put simply, they made a lot of money on that trade. Was that an insider?
How is the consumer protected? We'll look at the facts and you can draw your own conclusions.
Slides And Supportive Links Regarding Insider Trading And The CFBC ,Wells Fargo and Equifax: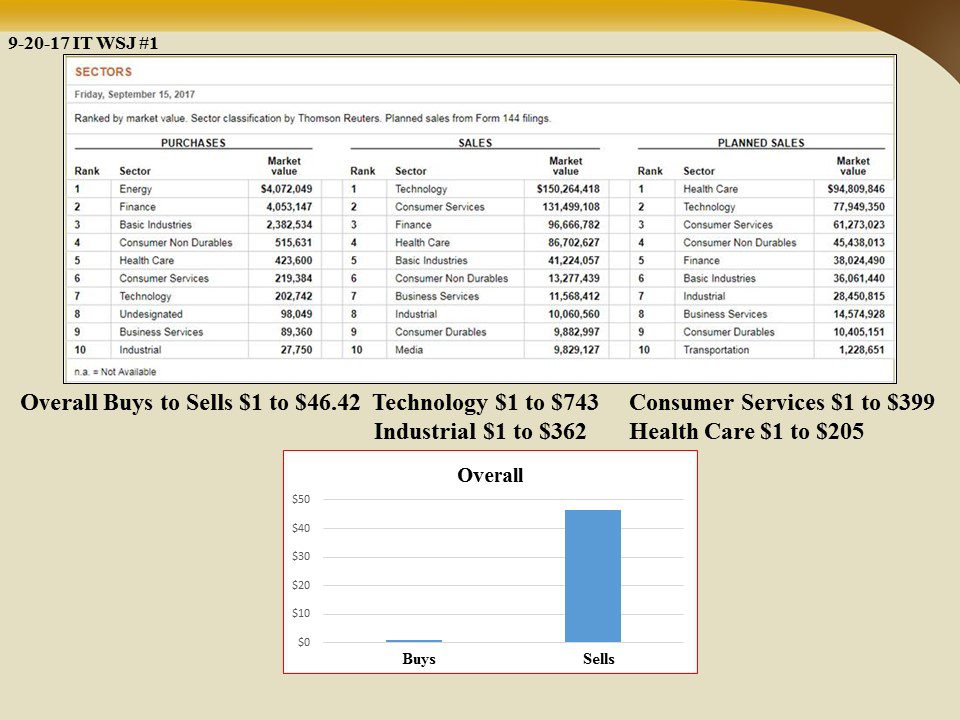 http://www.wsj.com/mdc/public/page/2_3024-insider1.html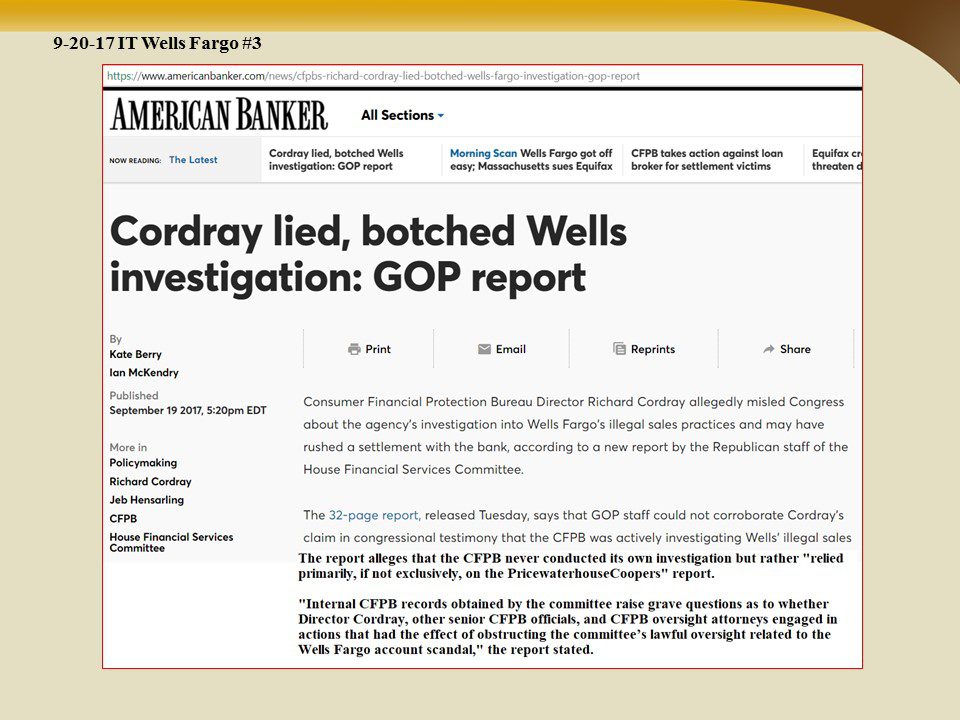 https://www.americanbanker.com/news/cfpbs-richard-cordray-lied-botched-wells-fargo-investigation-gop-report
https://financialservices.house.gov/uploadedfiles/wf_report.pdf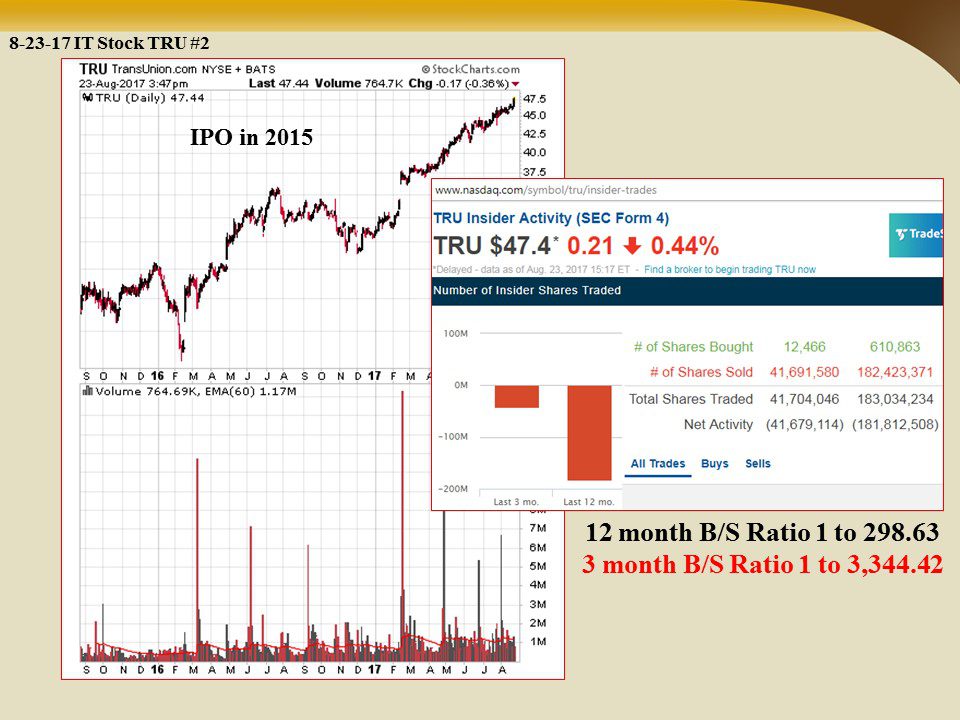 http://stockcharts.com/h-sc/ui
http://www.nasdaq.com/symbol/tru/insider-trades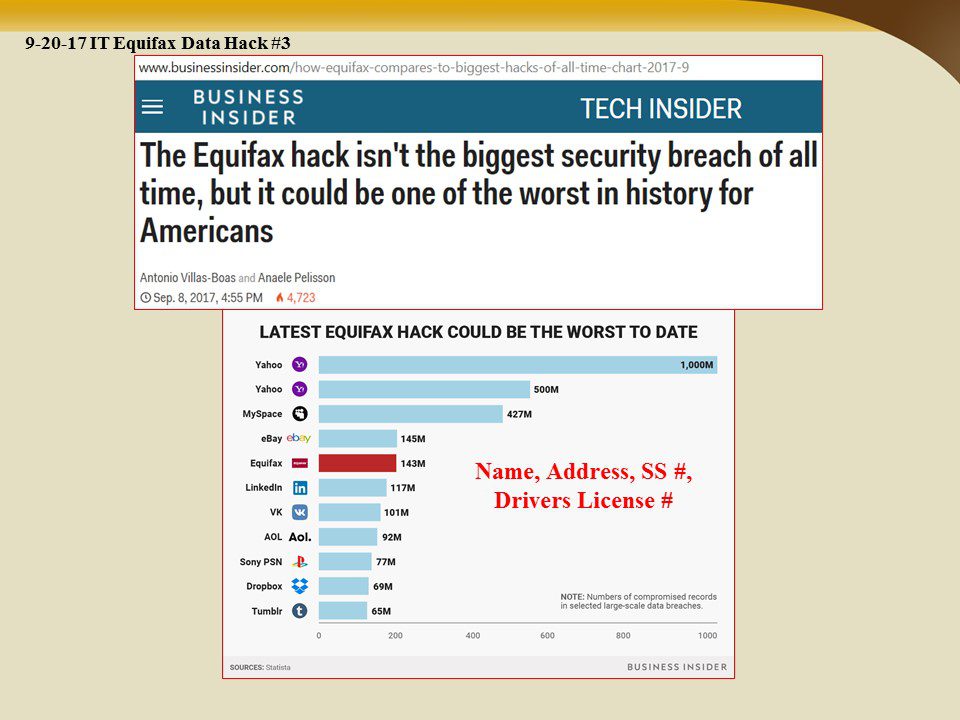 http://www.businessinsider.com/how-equifax-compares-to-biggest-hacks-of-all-time-chart-2017-9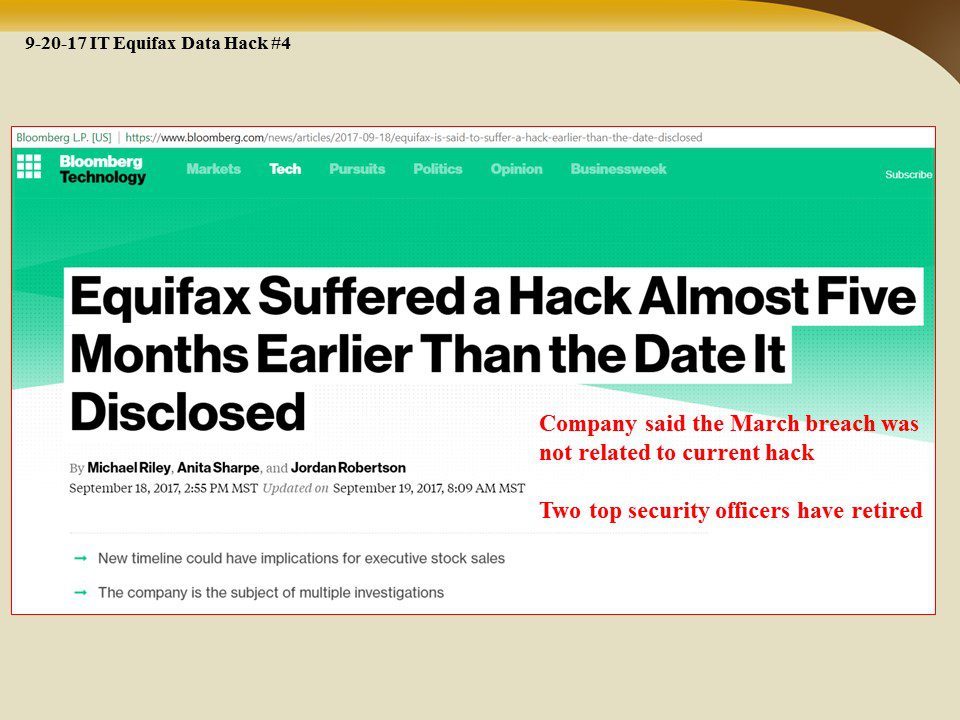 https://www.bloomberg.com/news/articles/2017-09-18/equifax-is-said-to-suffer-a-hack-earlier-than-the-date-disclosed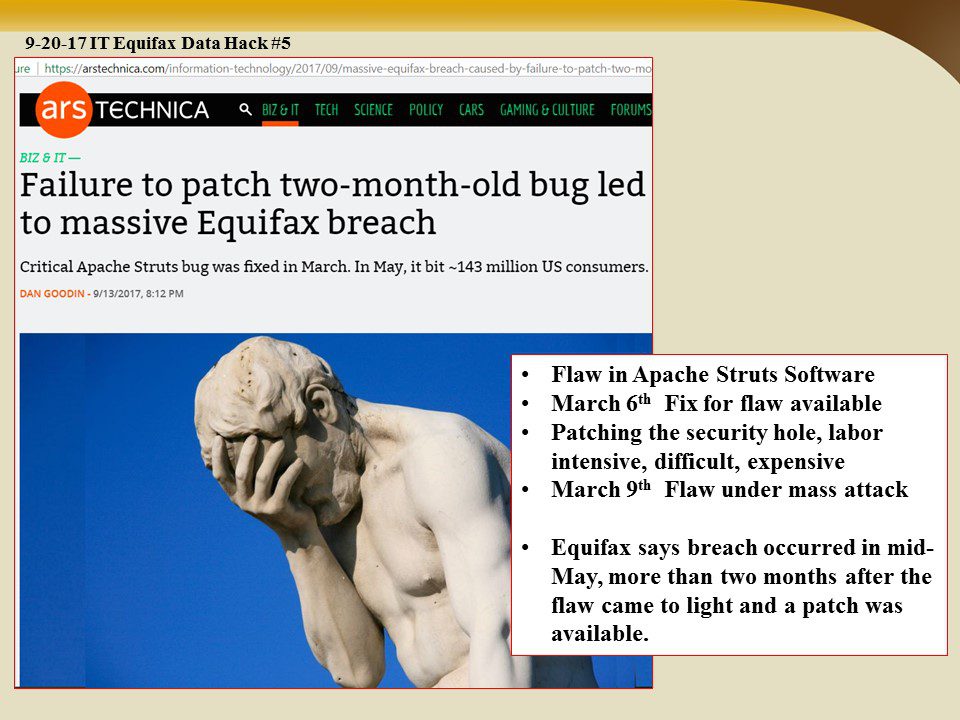 https://arstechnica.com/information-technology/2017/09/massive-equifax-breach-caused-by-failure-to-patch-two-month-old-bug/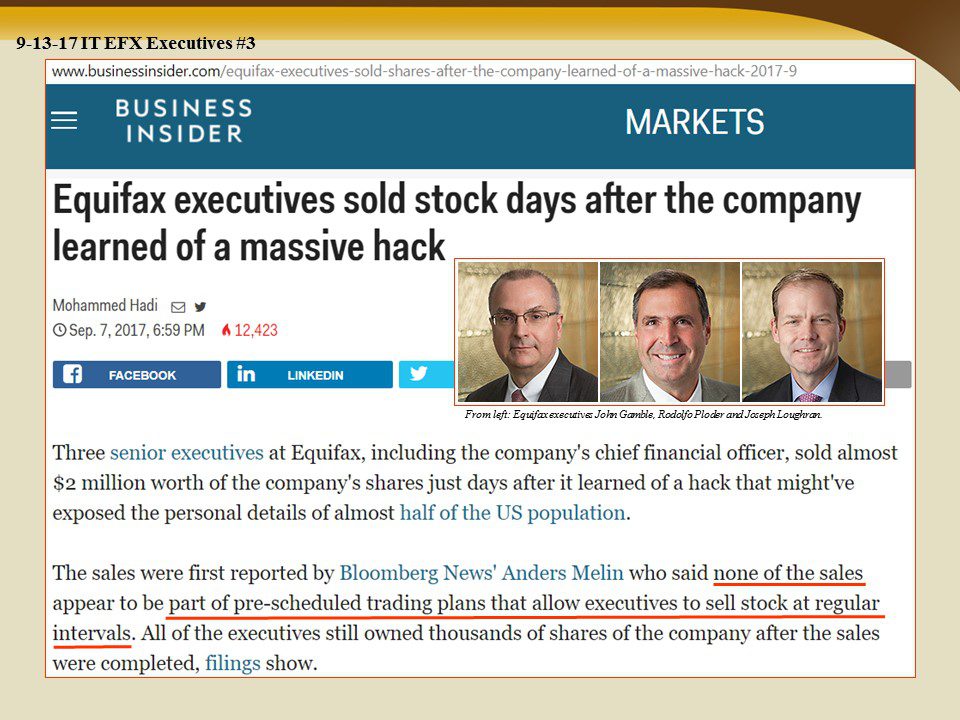 http://www.businessinsider.com/equifax-executives-sold-shares-after-the-company-learned-of-a-massive-hack-2017-9
http://www.marketwatch.com/story/equifax-executives-sold-stock-after-data-breach-before-informing-public-2017-09-07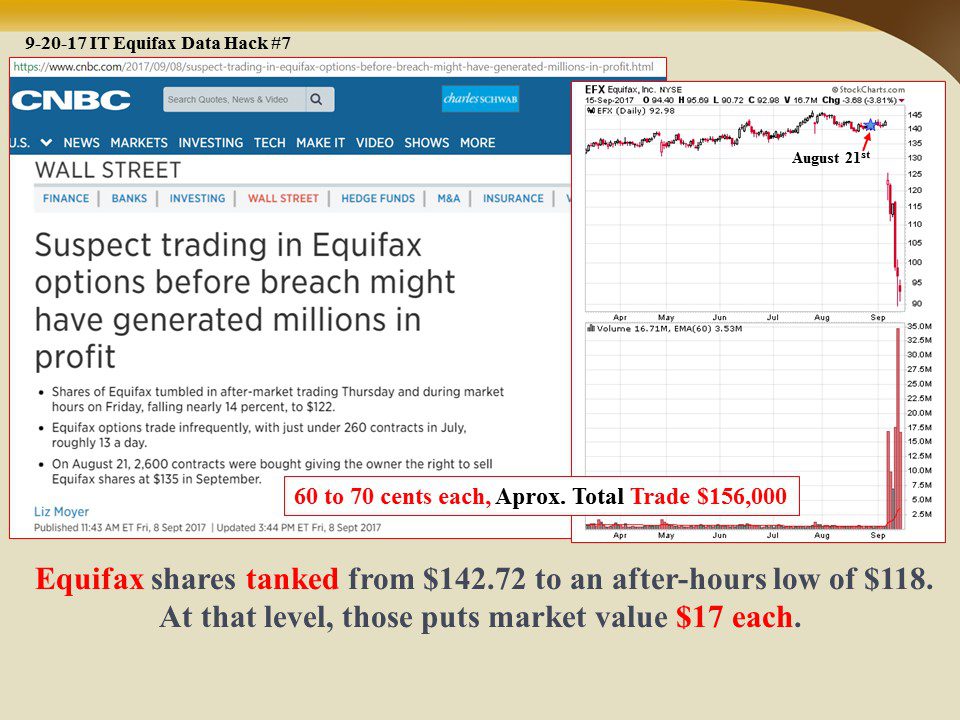 https://www.cnbc.com/2017/09/08/suspect-trading-in-equifax-options-before-breach-might-have-generated-millions-in-profit.html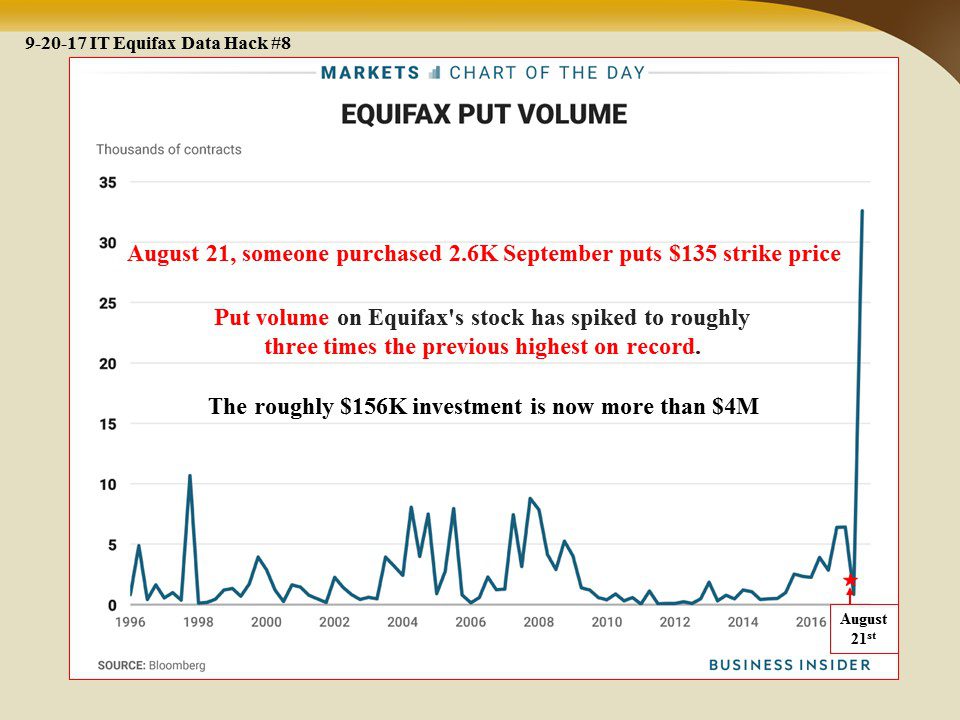 http://www.businessinsider.com/equifax-stock-price-options-traders-on-further-decline-after-security-breach-2017-9
https://seekingalpha.com/news/3294441-suspect-trading-equifax-options-seen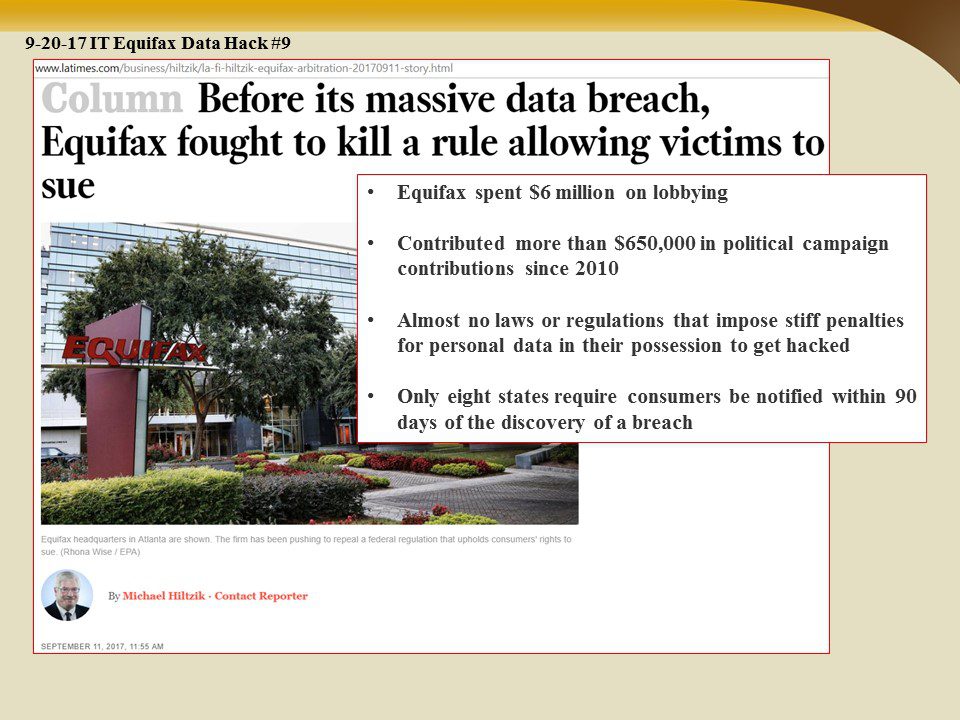 http://www.latimes.com/business/hiltzik/la-fi-hiltzik-equifax-arbitration-20170911-story.html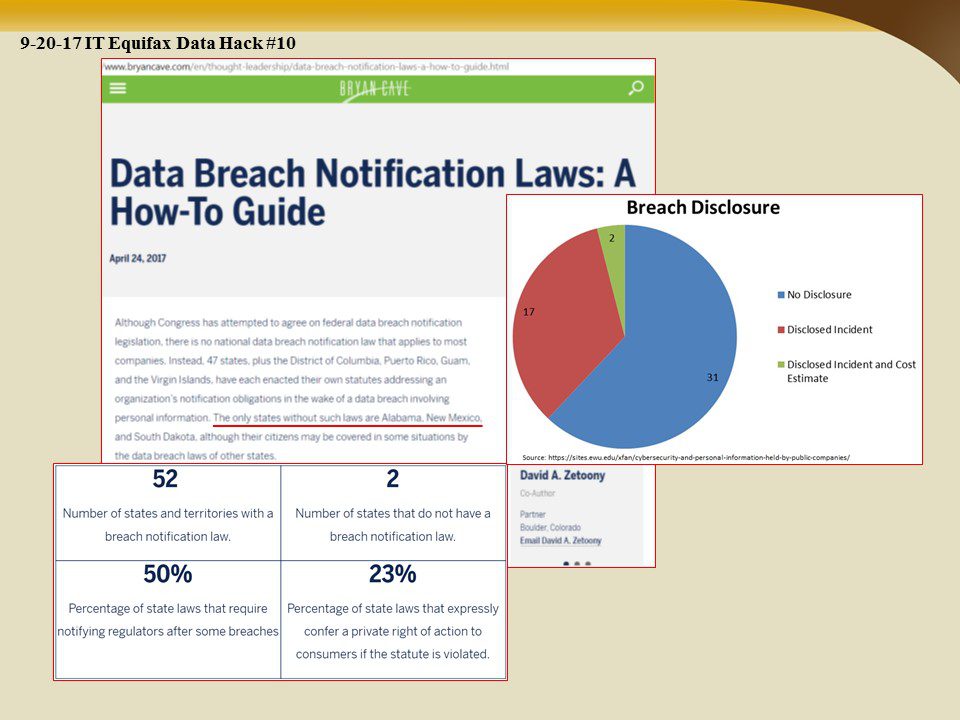 https://www.bryancave.com/en/thought-leadership/data-breach-notification-laws-a-how-to-guide.html
https://www.bakerlaw.com/files/Uploads/Documents/Data%20Breach%20documents/Data_Breach_Charts.pdf
http://www.dwt.com/statedatabreachstatutes/
https://sites.ewu.edu/xfan/cybersecurity-and-personal-information-held-by-public-companies/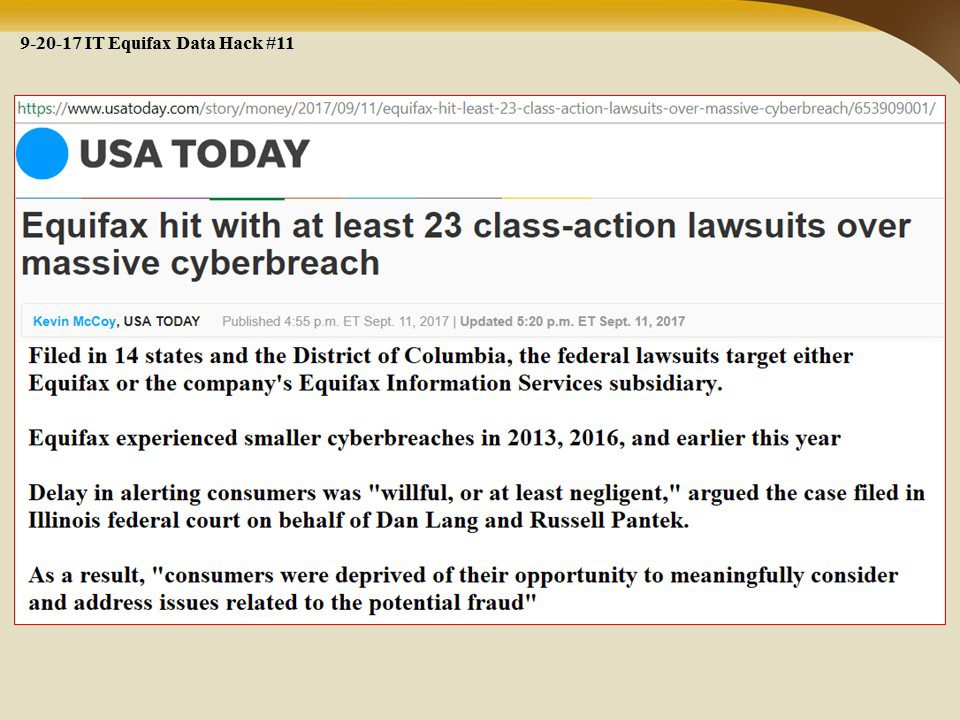 https://www.usatoday.com/story/money/2017/09/11/equifax-hit-least-23-class-action-lawsuits-over-massive-cyberbreach/653909001/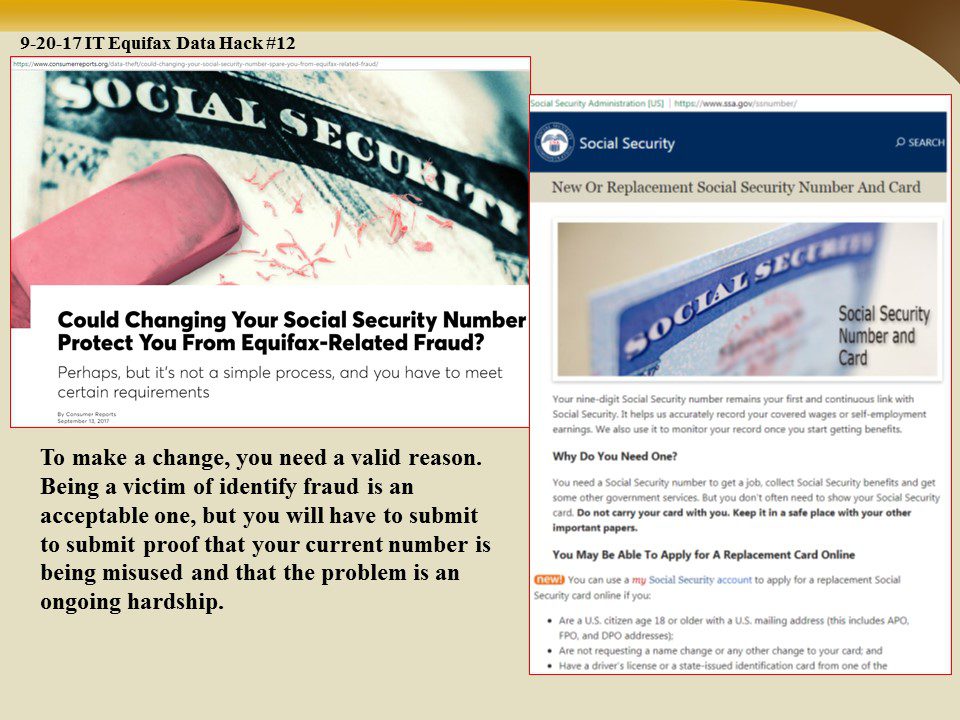 https://www.consumerreports.org/data-theft/could-changing-your-social-security-number-spare-you-from-equifax-related-fraud/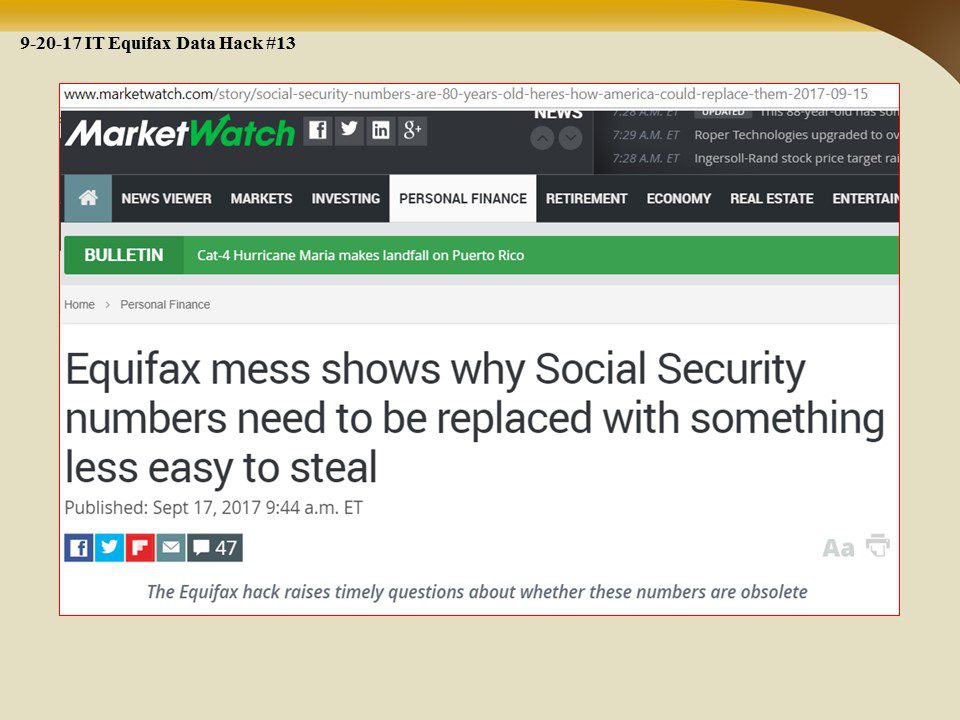 http://www.marketwatch.com/story/social-security-numbers-are-80-years-old-heres-how-america-could-replace-them-2017-09-15