9-13-17  Insider Trading Equifax Data Breach and Disclosure, by Lynette Zang
Insider trading has picked up this week with an overall Buy/Sell ratio of $1 of buying to $33 of selling, but the insiders at Industrial companies selling off the charts this week with every $1 of buying to $2,282 of selling.
Last week Equifax disclosed a data breach compromising 143,000,000 Americans and nearly half the countries SS numbers as well as other sensitive, private information. Considering that Equifax is one of three key credit agencies that holds the information used to determine not just IF you get a loan but the interest rate you pay, insurance premiums and may even be used to determine job worthiness, this could be very significant.
In addition, this information was withheld for 6 weeks and insiders sold Equifax stock prior to the disclosure.
Some say this reveals that Equifax and similar firms are more concerned about collecting personal information than protecting it. We'll look at the facts and you can draw your own conclusions.
Slides And Supportive Links Regarding The Insider Trading Equifax Data Breach And Disclosure :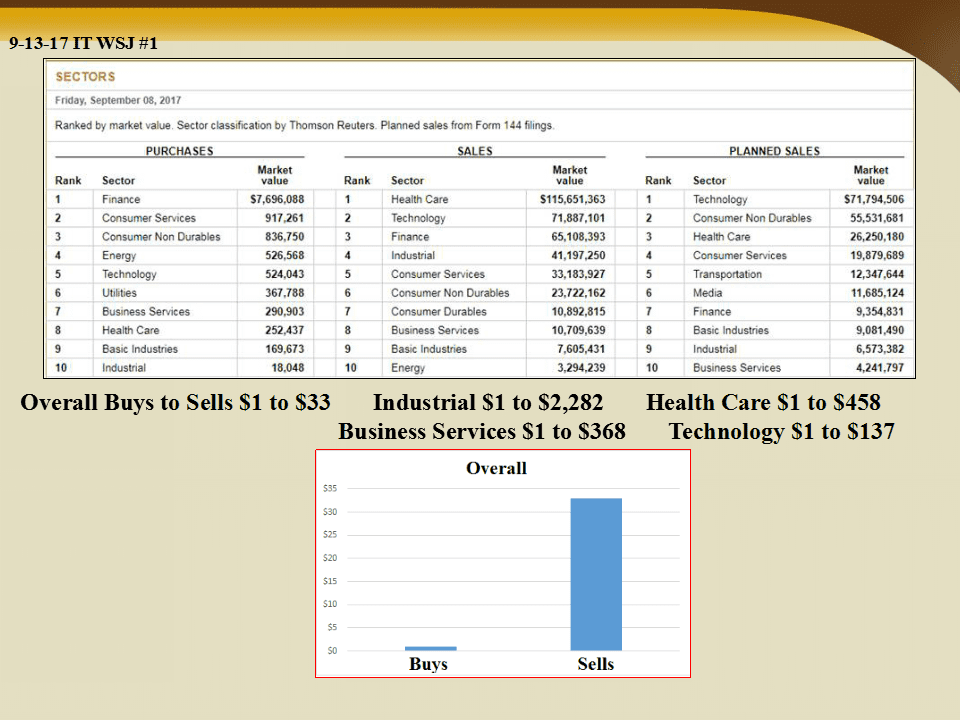 http://www.wsj.com/mdc/public/page/2_3023-insider.html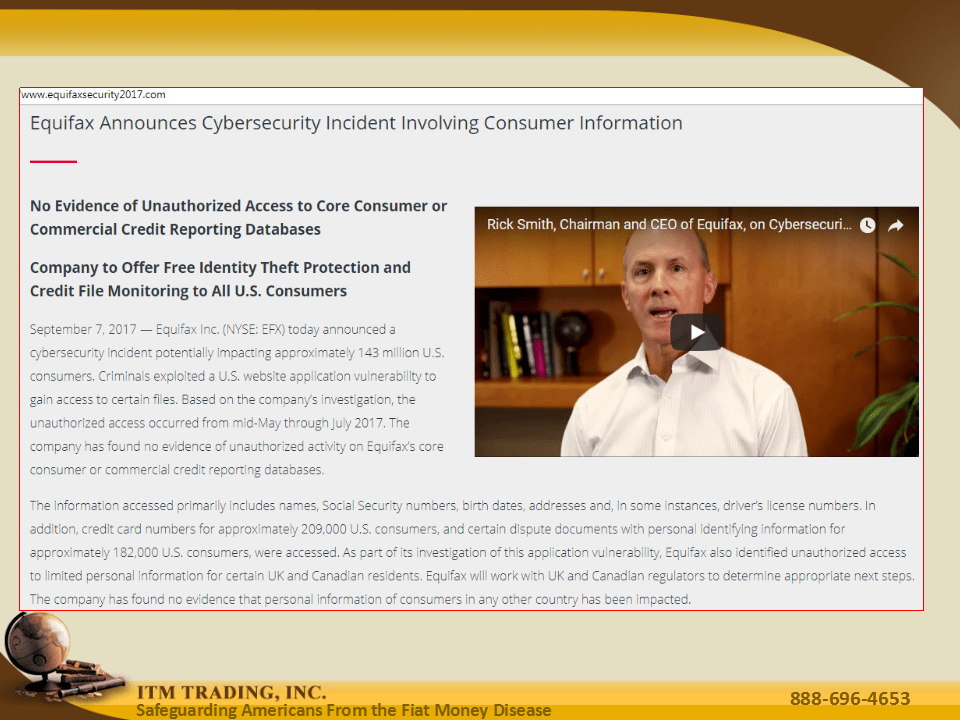 https://www.equifaxsecurity2017.com/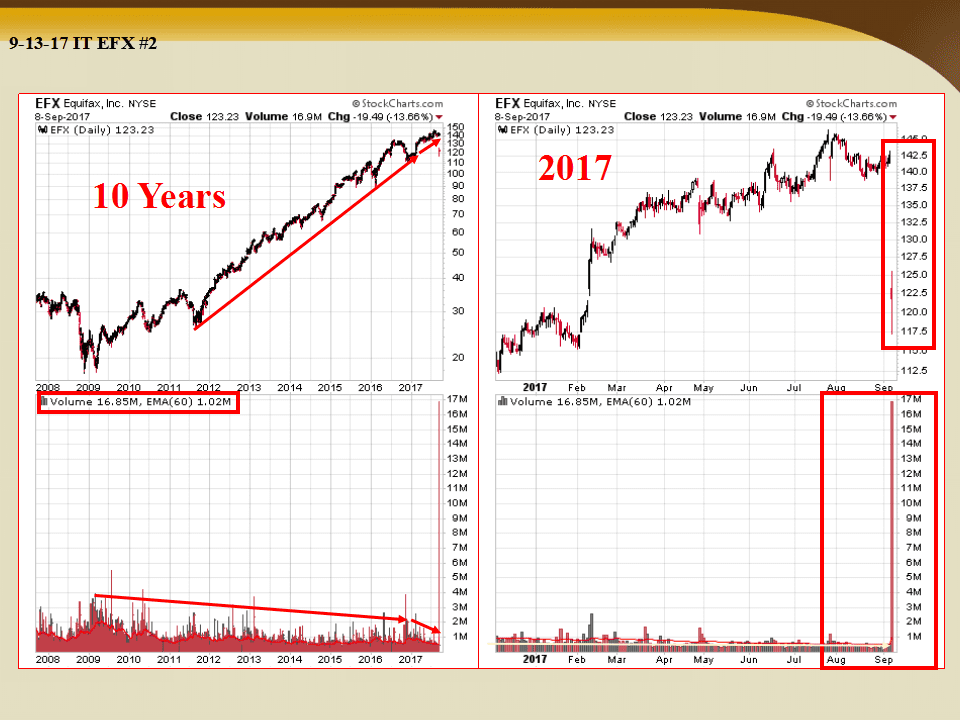 http://stockcharts.com/h-sc/ui
http://www.businessinsider.com/equifax-executives-sold-shares-after-the-company-learned-of-a-massive-hack-2017-9
http://www.marketwatch.com/story/equifax-executives-sold-stock-after-data-breach-before-informing-public-2017-09-07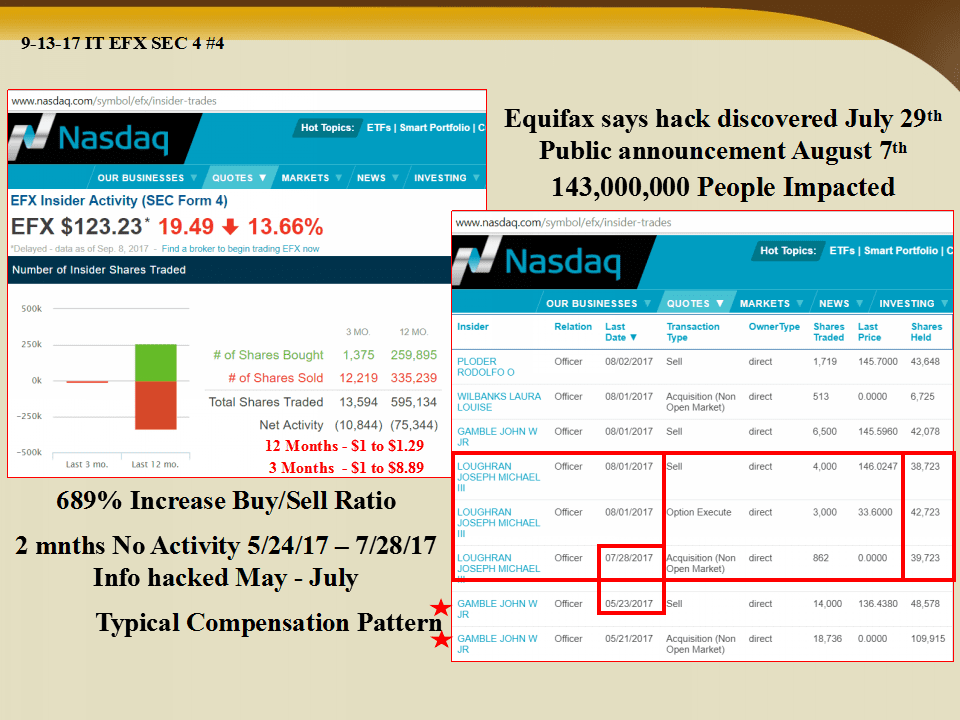 http://www.nasdaq.com/symbol/efx/insider-trades
https://www.bloomberg.com/view/articles/2017-09-08/data-breaches-and-last-looks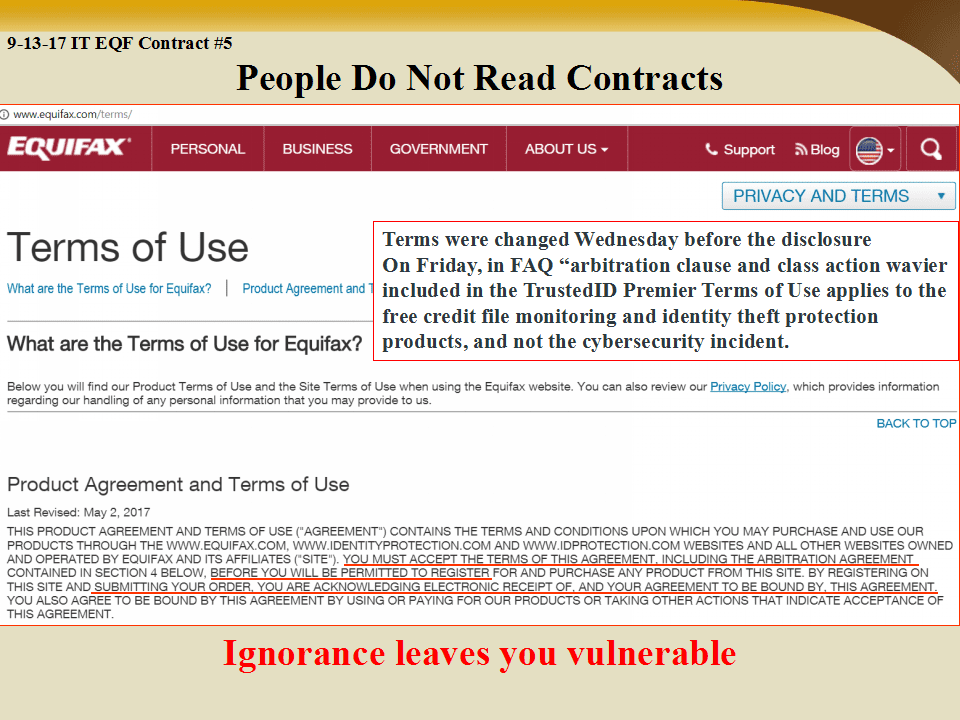 https://www.equifaxsecurity2017.com/frequently-asked-questions/
https://www.cnet.com/news/equifax-breach-hacked/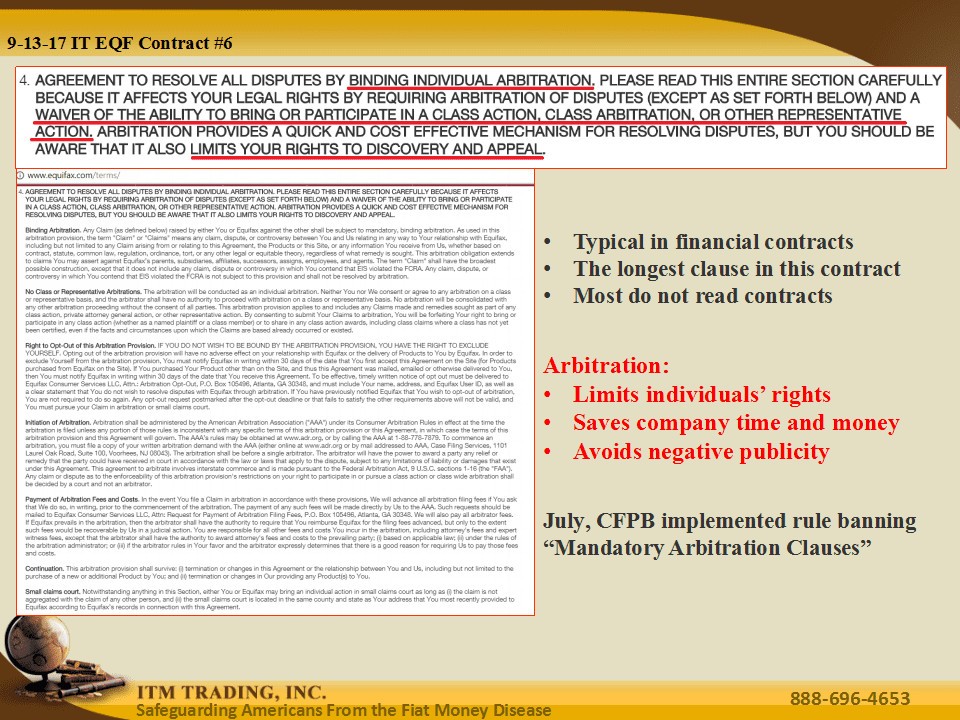 http://www.marketwatch.com/story/why-some-equifax-customers-have-unwittingly-waived-their-rights-to-a-class-action-lawsuit-2017-09-08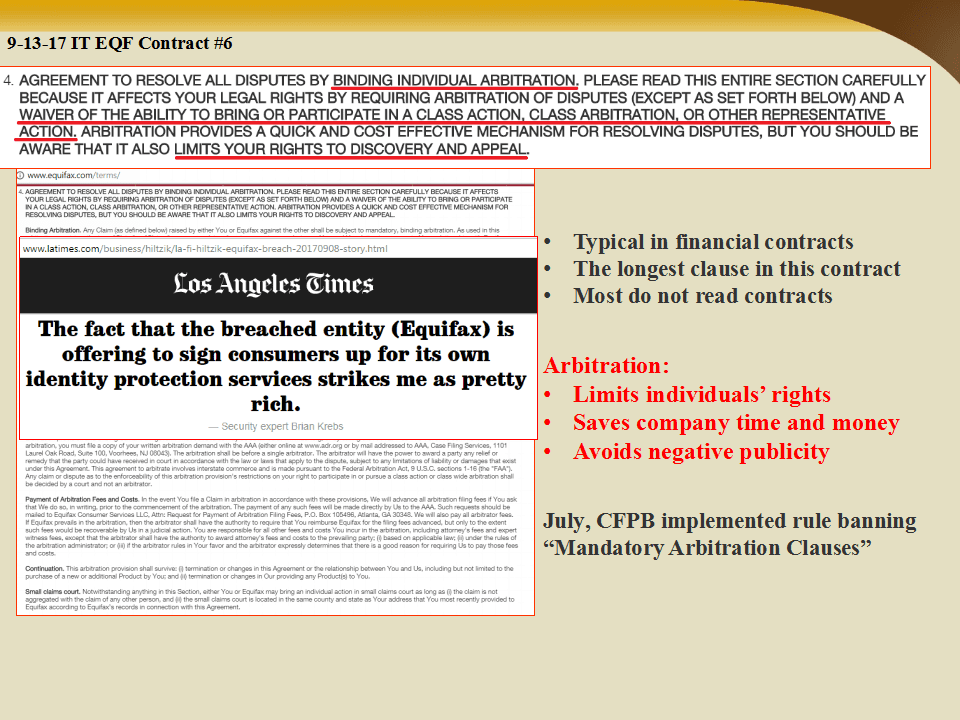 http://www.latimes.com/business/hiltzik/la-fi-hiltzik-equifax-breach-20170908-story.html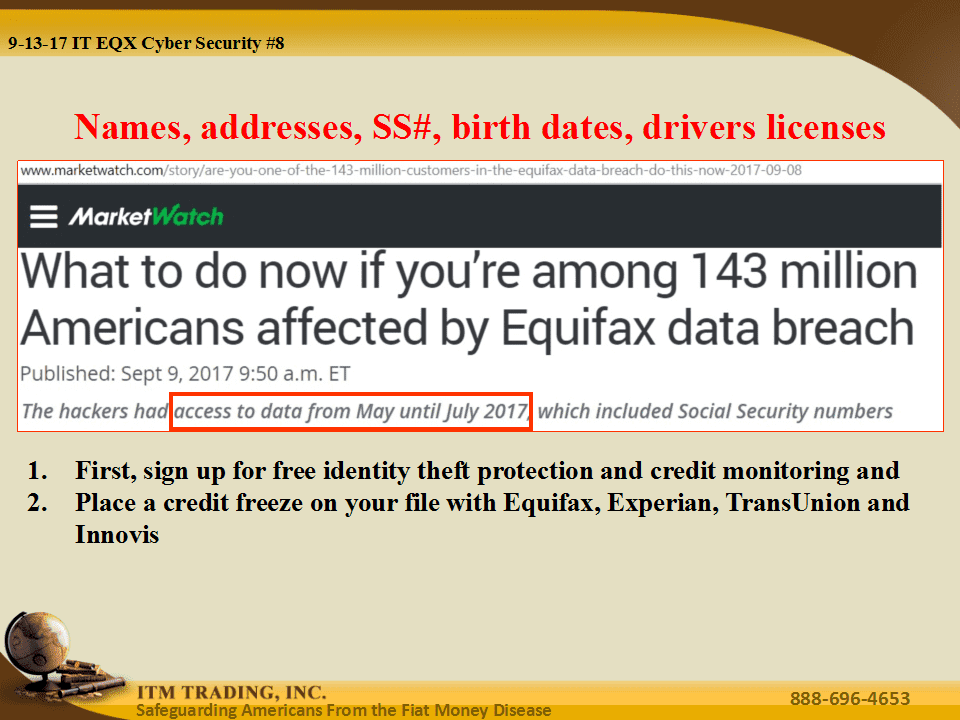 http://www.marketwatch.com/story/the-cfpb-just-announced-a-rule-that-could-help-consumers-sue-major-companies-2017-07-10
https://krebsonsecurity.com/2017/09/breach-at-equifax-may-impact-143m-americans/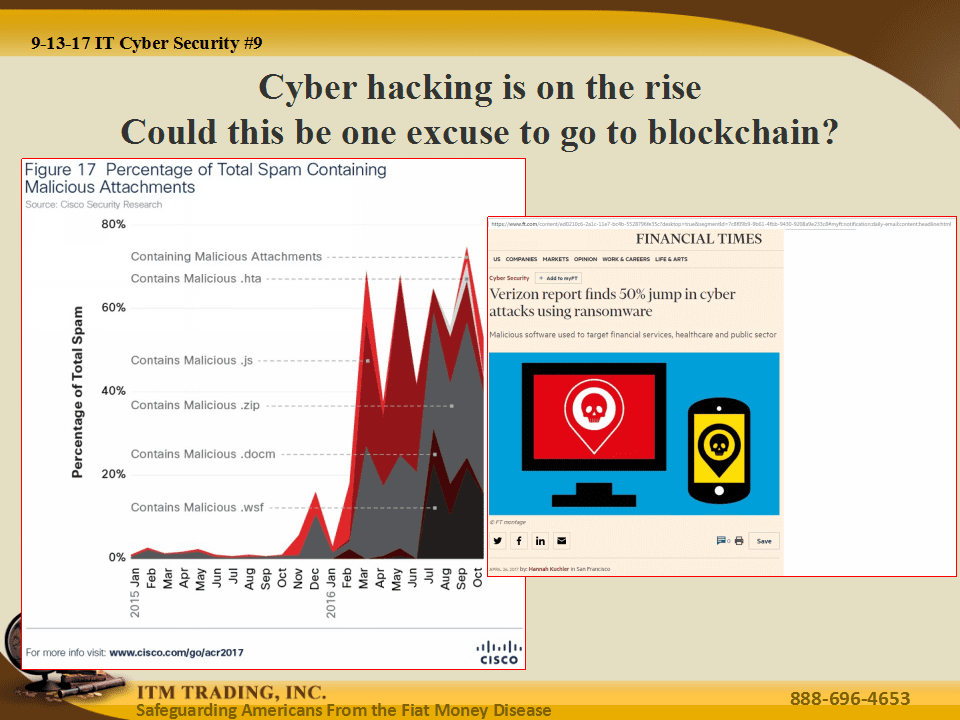 https://www.cisco.com/c/en/us/products/security/security-images-acr2017.html