There are many reasons to purchase a bag of junk silver. Most Americans these days do not know what a bag of junk silver is, although I imagine that half a century ago most Americans actually had a jar of junk silver sitting somewhere in the house. Perhaps I should clarify the term junk silver, and then the vision of a sack of junk silver or a jar of junk silver will make more sense to your mind.
Junk silver is a term used to describe old silver coins, in this case old American silver dimes and silver quarters, that are no longer in circulation for use as a currency, because the silver content of the coins has become far more valuable than the face value on silver coin which may be either $.10, $.25, $.50, or one dollar. Junk silver bags containing silver dimes and/or silver quarters are the most common so this article blog will focus primarily on these bags of junk silver, though I will tell you a little bit about the $.50 and one dollar silver coins that also can comprise a bag of junk silver.
Prior to 1964 dimes were produced of silver, and so were the quarters. A silver US dime contained about a 10th of an ounce of silver, while a silver quarter contained one fourth, or one quarter of an ounce of silver. And to keep the explanation going, a half-dollar contained a half an ounce of silver, and a silver dollar contained 1 ounce of silver. One should note, that after 1964 there were silver half dollars that were produced, however they did not contain the same silver ratio in the makeup of the coin, the ratio was less, and these $.50 coins do not contain a true half ounce of silver, and herein lies one caveat a buyer should know before he or she buys a bag of junk silver.
One reason junk silver is popular in precious metals portfolios:
There is generally a low premium associated with the purchase of a bag of junk silver. Junk silver is sold by weight, not face value. Because these old silver coins were used as currency, and by used I mean really used, they have been worn and they no longer weigh the same as they did when they left the US Mint where they were produced, nor are they still carrying the same silver content.
Therefore partly because the US Mint incurred all of the costs of production and because silver dimes and silver quarters for junk silver bags are plentiful, and because silver dimes and silver quarters are easy to sort and sell by weight the premium paid over spot silver price is low in comparison to the premiums on new silver investment coins such as the silver American Eagle, or the Canadian Silver Mapleleaf.
Another reason that savvy investors will pick up a junk silver bag or two right now:
Because there is a lot of upside potential to silver investing, and investing in junk silver coins in particular, while there is a limited downside risk. This is how the upside potential and a limited downside risk of owning bags of junk silver works. The spot price of silver, which is the base price that silver trades at per ounce, is currently around $14 an ounce.
Silver has been as high historically when valued against the American dollar at nearly $50 per ounce. Because silver is a tangible currency and not a fiat currency – which the paper American dollar is – eventually it will become stronger against the American dollar is the American dollar continues to lose value.
This is how we know that at some point the spot silver price will retrace its way to its high of nearly $50, and will eventually surpass this mark. So for $14 or $15 investment, the buyer of an ounce of junk silver has tangible and physical goods that have a very real expectation of tripling in dollar value. The downside risk, or in this case limited downside risk is the fact that a silver dime, is still a dime and therefore has a value of $.10.
In essence your dime will never become worthless. Even if silver were to drop to $.90 an ounce, which is very unlikely in the world of spot silver prices, your investment in junk silver would be carried by the face value of the silver coin because it is still US currency. Hence the upside potential and downside risk associated with a bag of junk silver dimes.
And perhaps one of the more popular reasons of late to buy junk silver bags of silver dimes or junk bags of silver quarters:
Because these coins will be very useful and very recognizable in a barter situation should one arise at any point in the future. What I'm referring to in particular is the fact that if dollars become scarce, or if dollars lose a lot of their purchasing power suddenly, then since there are thousands of millions of junk silver dimes and junk silver quarters and junk silver half dollars and junk silver dollars out there, it is thought that they will spring back to life is commonly traded coin, although this time they would be traded for their inherent silver value, much more so than their face value.
Now that we have reasonably explored three reasons to buy bags of junk silver, here is one last little piece of parting parting knowledge regarding bags of junk silver for you. There is actually a very simple grading system for junk silver. And this grading system includes what is called "cull" coins.
These are usually either silver half dollars or silver dollars that have become so extremely worn, I mean so worn that you can't see the faces or read the letters on the coin, that the coin was considered not usable for fair trade based on it silver value anymore, and therefore a hole was punched through the coin. A US currency coin with a hole punched through it is called a cull.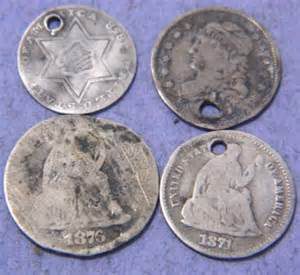 These coins traded the rock-bottom prices when available, but you should also note that when you trade them back into the market you will receive rock-bottom bids, and in a barter situation these would be the least desirable junk silver coins. Just something to think about.
ITM Trading can ship junk bags of junk silver dimes, or silver quarters, or silver half dollars, or silver dollars insured directly to your door by way of the United States Postal Service.