There are many great reasons to buy gold coins in 2017. This article will touch on two of them. These topics are related and intertwined. These topics would also seem to be at odds with each other. On one hand, we have a rapid increase in gold availability. On the other hand, there is also a serious decline in gold supplies from mining. Recently, Wealth Daily published a keen article discussing several reasons why gold prices will rise in 2017. Hence, these would also be reasons to buy gold coins in 2017. The article revealed some very interesting statistics that are definitely worth sharing.
What you will see you after we do a quick compare and contrast of these two topics, is that there is a lot of strain on gold prices. In fact, this may be a financial example of when an immovable object is met by an irresistible force. If you are a physics geek or a science-fiction nerd, then you understand what I am talking about already. If you are not and don't, please read on.
Great Reasons To Buy Gold Coins In 2017 : Decreasing Supplies from Mining.
Gold has to be mined. We cannot create gold in a factory. We cannot create gold in a test tube. And, unlike what the people on Wall Street would have you believe, gold cannot be simply wished into existence. Gold-mining is hard work. New gold mines are also difficult to find. This is exactly what engineers are saying because new gold mines are becoming much more difficult to unearth. Following are some facts regarding this phenomenon.In the past decade alone, exploration budgets for new gold mines have increased by more than a factor of 10. Yet, new gold discoveries are down a staggering 85% compared to 2006. This is a very sharp decline.
Buying Gold Online Has Never Been Easier – Shop Our Online ITM Trading Store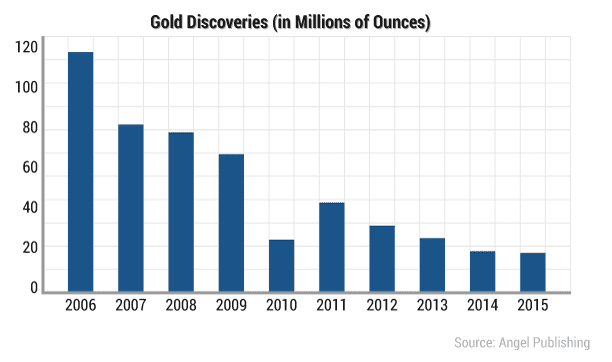 If this wasn't bad enough, the gold miners are also faced with a steep decline in the average grade of gold ore found in the new mines. A report which looked at data from more than 150 mines found that in the last 10 years the quality of gold ore reserves had declined by 35%. These two facts together are dismal. New gold mines are 85% harder to find and the gold inside of them is 35% less pure. You can see that there are some tough times ahead in the gold mining industry. Some reports suggest that in as little as five years time gold supply will peak and then fall into sharp decline for years to come. Chances are very good that demand for physical gold will be rising and set new demand highs while actual gold production withers.
Great Reasons To Buy Gold Coins In 2017 : A Rapid Increase in Gold Availability.
The Internet has changed everything. Not long ago, if you wanted to purchase a gold coin or silver coin you probably had to drive down to either a coin shop or pawnshop. You probably had to pay cash. At ITM Trading.com you can buy gold and silver coins 24 hours a day 7 days a week 365 days a year and we offer several payment options. The gold and silver coins you order will be delivered registered and insured and require a signature.
This is just one way the Internet has changed the business. Another way that the gold business has changed has been through the rapid growth of gold ETF accounts. A gold ETF is an Electronically Traded Fund that in essence mimics the changes in gold prices but does not give the buyer access to actual physical gold. Gold mining stocks are also another way that the investor can access gold market-related returns.
There is no doubt that the Internet has changed gold investing. There may, however, be another game changer on the horizon. I have written about this subject before. Very recently, agreements have been made and rules have been changed. These changes will allow people of the Muslim religion to invest in gold. The Muslim population numbers roughly 1.3 billion people. These people ultimately control a lot of wealth. But, due to the very strict religious laws which dictate what a Muslim can and cannot invest in, the Muslim population has not been participating in the world gold market. Until now, that is.
New Gold Demand.
The Accounting and Auditing Organization for Islamic Financial Institutions has given the go-ahead which allows Muslims to own gold coins and bars and even invest in gold mining stocks. According to the Islamic Finance Stability Board, only 1% of the Muslim world's sharia-compliant assets being converted to gold would equate to a demand for 1700 metric tons for about $65 billion worth of new demand. One estimate puts this increase in demand at about 40% of the total global demand for gold. If a 1% transition of Muslim wealth into gold equals a 40% rise in demand, there is immense power in this equation.
Great Reasons To Buy Gold Coins In 2017 : Call ITM Trading.
If this information interested you and peaked your curiosity about opening an account with ITM Trading, pick up the phone and give us a call. 1.888.OWN.GOLD. We are here to be of service.