If you have been watching gold prices since the beginning of this year you have seen some major up and down action.  Gold closed on the first trading day of the year at $1,121.50.  Since then it has closed as low as $1,058.00 on February 5th and closed as high as $1,261.00 on June 28th and sits today at $1,199.30.  Here is a chart from Kitco showing the gold spot price from the begining of 2010 to present: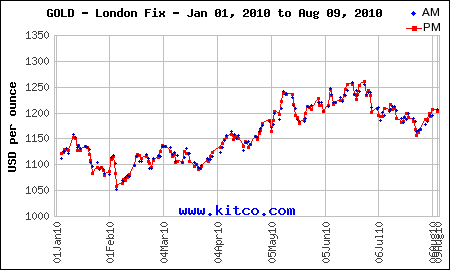 You can see from the chart that the underlying trend is positive, and if you looked at charts for the previous nine years you would see that the underlying trend is positive.  What is more interesting is that eight out of the last nine years have positive price growth in the last quarter of the year.  The reason that 2008 didn't follow this same path was because the US dollar was gaining strength as the financial crisis was occurring.  Countries around the world were flocking to the dollar as a "safe" asset.  It seems pretty convincing to me that we should see positive growth in the fourth quarter of this year.
What's more is gold has closed higher than the previous year nine years in a row.  So look for gold to close above $1,087.50.  At this point with gold near $1,200 I fully expect to see gold to close above $1,200 this year with the possibility of breaching the $1,300 mark.
Gold's volatile day-to-day action is quite normal, what is important is to follow the trends, and that trend is positive.  We are currently experiencing a nine year bull market with no end in sight as of yet.  With the Federal Reserve's announcement yesterday that they are going to use money to buy government debt in order to keep interest rates low only means more stimulus which is good for gold.  Everything seems to be pointing in the direction of more quantitative easing as the recovery looses steam.  As a result look for gold to continue its positive trend.