Is there a correlation between the rising price of gold and the number of businesses that are closing? 2016 has been a good year for gold. So far this year gold prices are up nearly 20% if you want to talk short-term gains. Retail, on the other hand, has not seen much growth. Especially brick and mortar retail stores. Several major retailers have announced either continued store closings or new store closings for 2016. Gold tends to be a safe-haven investment so money flows to gold when business times are tough, and this may explain why gold surges as more retailers close. (Live Gold Price Chart)
The Price Gold Surges In 2016
Gold Surges As More Retailers Close: Men's Wearhouse, Jos. A. Banks.
Men's Wearhouse and Jos. A. Banks are owned by Tailored Brands. Tailored Brands announced that 250 stores will be closed in the next year. About 115 or so of these stores will be Men's Wearhouse stores, and the others will be Jos. A. Banks stores. Apparently all of the Men's Wearhouse outlet stores will be closed as well. If you live near one of these outlet stores, perhaps you will find some bargains before the lights go out and the doors are chained shut.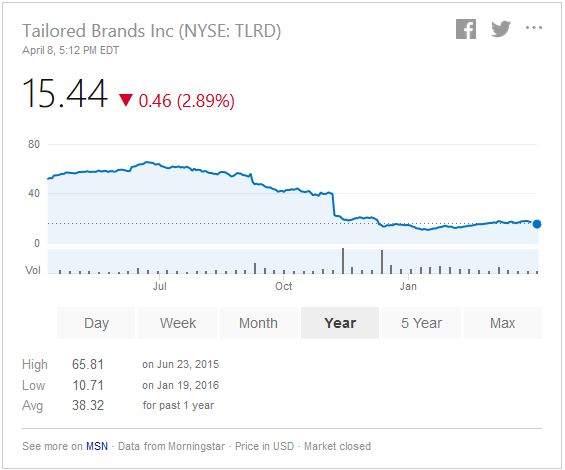 If  the price of gold increases as more retailers close, perhaps there is a reason or two. America is said to be experiencing a "jobless" recovery. Minimum wage advocates want $15 an hour, and labor statistics show that most new jobs created are lower level service sector jobs. Lower level service sector jobs and $15 an hour jobs don't require the business attire that these 250 locations sell. People without jobs don't need many new suits either. Money is flowing into gold because stock in companies like Men's Wearhouse and Jos. A. Banks is becoming more and more fragile.
Gold Prices Surge As More Retailers Close: Chico's.
Sure, the name Chico's doesn't exactly ring a whole lot of bells, especially for men. But women who like to shop at Chico's or White House Black Market or Soma know what I'm talking about. The conglomeration currently operates over 1500 boutique shops but plans to close more than 100 of them between now and sometime in 2017.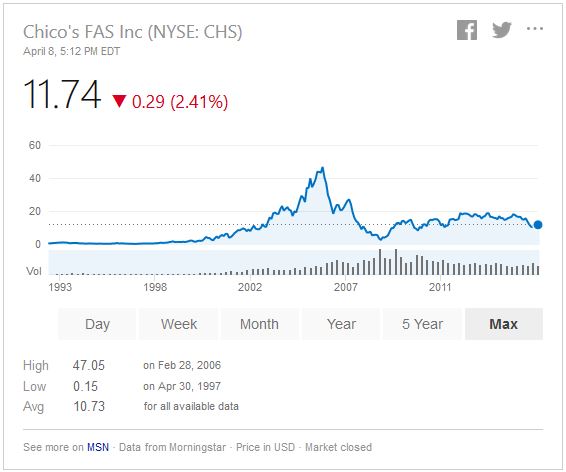 While this may not seem too alarming, the long term trend is: Chico's annual sales have declined by 66% since 2006. How long do you think the remaining 1400 stores will be open if sales continue to fall at this pace? Apparently women without jobs don't need many new clothes either, and a lot of women are still unemployed or underemployed in this country. If the lack of people needing nice clothes for work is really part of the problem for Chico's, 100 empty stores and more jobs lost is not going to help situations at all. Gold surges as more retailers close.
The Price of Gold Surges As More Retailers Close: Wolverine World Wide.
Haven't heard of Wolverine World Wide? You may have some Wolverines on your feet or in your closet right now. Perhaps Keds is more familiar. Hush Puppies, perhaps? Do the names Saucony or Sperry Top-Sider ring little bells? Do you have some Harley Davidson riding boots or some CAT work boots? If you are in the armed forces, Wolverine World Wide may make boots for your branch.Wolverine World Wide is among the largest footwear companies in the world. Nevertheless, they plan on closing about 100 stores this year. They closed 100 stores last year as well.
When stores like this close, jobs are lost and often workers end up unemployed for quite a while. Unemployed people often end up on assistance programs that our government has to borrow and tax to support. Retail spaces go vacant, and neighborhood property values eventually decline and erase any saved equity. Cycles like this are another reason gold surges as more retailers close.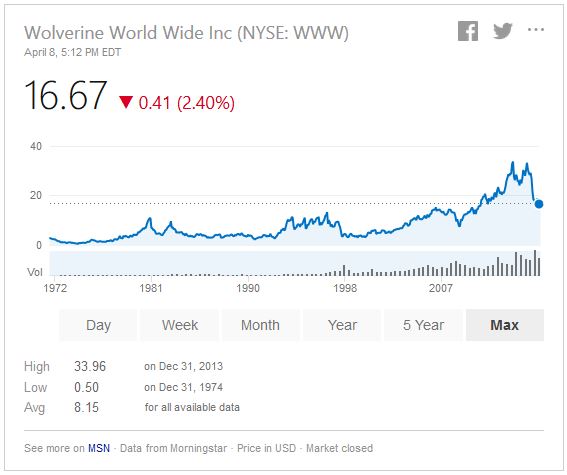 You will still be able to get your Keds and your Hush Puppies, but you might end up having to buy them online. I imagine there will be an app for that, but should an app replace an entire brick and mortar shoe store and the jobs that go with it? We may just progress ourselves right into obsolescence.
Gold Surges As More Retailers Close: American Eagle Outfitters.
American Eagle Outfitters is in the some of the same situations both Wolverine World Wide and Chico's are. Back in 2008, before the stock markets crashed and real estate imploded, American Eagle Outfitters was netting over $400 million a year. Today American Eagle Outfitters annual net income has dropped by about 80%. Long term business trends like that cannot be ignored, so 150 American Eagle Outfitter stores will be closed from 2014 to 2017. Numbers may be revised upwards.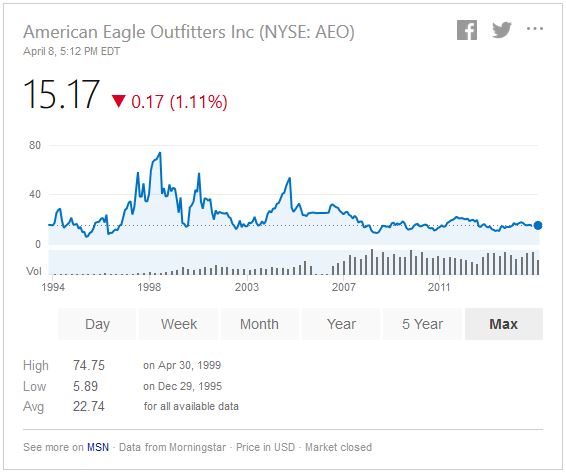 If fewer Americans are working, then fewer Americans need work clothes, this stands to reason. Perhaps people who are not working don't buy expensive casual clothes either. Are low-paying jobs and unemployment to blame for part of the reason retail clothing is doing so badly? If so, gold surges as more retailers close.
Incidentally, American Eagle Outfitters has determined that the best way to replace the income and business generated by those 150 stores is by getting a great website. 150 brick and mortar stores will be replaced by an updated website. I can't wait.
The Price of Gold Surges As More Retailers Close = Buy Gold.
Many Americans feel that something is not right with the economy and employment. The news seems to echo suspicions nearly every day. The Price of Gold has doubled and tripled or more in value while stores come and go around us, and while stocks soar and crash. Own gold and diversify. Take a clue from the dying neighborhoods and empty malls around you. When gold surges as more retailers close, perhaps you should re-visit the idea of adding gold to your financial portfolio.