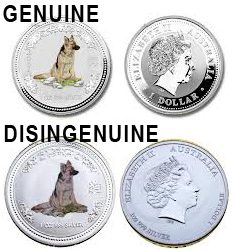 The professionals at ITM Trading are easily some of the keenest, informed and studied that I have ever worked with. Commonly an ITM Trading senior analyst will spend an hour or two with a client or a caller helping them get their gold questions answered. Since gold is a currency as well as an asset, an informed gold dealer must understand currencies and economies as well as know the nuance differences between gold coins and rare American gold coins.
When ITM Trading started heavily developing its website several years ago, we tried to include as much varied and informative content as we could. Our efforts have paid off and the ITMTrading.com website receives thousands of visitors every day. From time to time, a reader will leave a question in the comment section, and I try to get back to those. Here is the most recent reader who left a message asking to have some gold questions answered.

Gold Questions Answered: How Do I Learn About Real Gold And Silver Pieces.
I understand the question. I began working in banking in 1990. I ran multi-million dollar businesses, and before I began working at ITM Trading I was in finance. Never once at any of those one jobs did I see a gold coin. Not until my extensive education at ITM Trading began, had I ever been invited into a secure vault room to be taught about gold and silver bullion and rare American gold and silver coins. Years later I had the earned the privilege to be shown any particularly rare or interesting gold coins or silver coins or bullion items that came through the vault room.
So, until you have access to a vault full of varying gold and silver items, studying real gold and silver pieces is not exactly easy. But I have a couple of suggestions, however, so that once you do have access to some gold and silver coins to physically look at and handle, you can actually see and appreciate your lesson.
Gold Questions Answered: Tools Of The Trade.
Before you can truly appreciate and understand a coin for its intricacies and quality, you need to study intricacies and quality. One tool that you will need to invest just a few dollars in is a jewelers loupe. Amazon has plenty of them in the $15 – $20 range that will work well. Buyer beware if you spend less. Next, you should order a Red Book. A Red Book is kind of like a coin encyclopedia with general prices. The book is published annually and contains a lot of excellent images of coins as well as historic information.
Once you have a Red Book, flip through it and familiarize yourself with the terminology as well as the visual lessons you will find in the book. If you are interested in American gold coins, you will want to familiarize yourself with the term "Eagle", because it is used often. Choose coins that you would be interested in seeing in person. Choose some bullion coins to study and some rare American gold coins to study. Write down the questions you have for yourself, so you don't forget them.
Practice using the loupe. Look at everyday common coins you have, and get familiar with focusing through the small lens. You have to find the sweet spots. Once you have your loupe and your questions, it's time to find some real gold and silver coins.
The best place to get a close look at gold and silver coins is a coin shop. You may want to call ahead and talk to the counter-person, and let them know you want to make a trip in that is more educational than business. If you have never been to a coin shop, they are a lot like jewelry stores. There are glass cases full of very expensive items.
You may also have to be "buzzed" in. Don't be surprised to see bars on the windows and an off-duty police officer complete with a firearm either. In fact, don't be surprised if you see firearms on both employees and customers. In any event, I might suggest that you purchase an American Silver Eagle and a Peace Silver Dollar as a small gesture of appreciation.
Gold Questions Answered: Challenge Yourself With The ANA.
Once you have made a few trips to a local coin store to get your gold questions answered, yo may want to consider taking your numismatic education to a higher level. For a few dollars a year you can join the ANA or the American Numismatics Association. As a member,you will get discounts on their seminars as well as alot of great information. I had the pleasure and the honor to attend a three-day ANA seminar on detecting counterfeit coins. There was millions of dollars worth of gold and silver coins, real and counterfeit, for us to study. There would be lectures, and then the room would go dark and the microscopes would be turned on. Once the microscopes began to glow the room was as quiet as a library.
For a few hundred dollars and a few days time, you can attend one of these ANA seminars and educate yourself to know more about counterfeit gold coin detection than 99% of Americans. If you would like to have your gold questions answered, please feel free to leave them in the comment section below.
More of the gold questions from this reader's comment are answered in this article.

We believe that everyone deserves a properly developed strategy for financial safety.
Lynette Zang
Chief Market Analyst, ITM Trading