PLEASE NOTE

:
We highly recommend you watch this video in its entirety to

fully understand

the many different Laws on this subject (and the roles they played in the past).

What laws are currently in place regarding government power over gold and numismatic coins? What legal precedence establishes what is considered "rare and unusual"? How might the past influence the future? The following video and links below are for you to verify the facts yourself and formulate an educated opinion.
Government Precedence on the Treatment of Gold:
What legal precedence establishes what is considered "rare and unusual"? How might the past influence the future? The following are links for you to verify the facts and formulate an educated opinion.
The "Trading with the Enemy" Act authorizes the President to regulate, investigate, and prohibit "under such rules and regulations as he may prescribe…any transactions in foreign exchange, export or earmarking of gold or silver coin or bullion or currency…by any person within the United States" "During time of war or during any other period of national emergency declared by the President." http://www.treasury.gov/resource-center/sanctions/Documents/twea.pdf And while it was modified by the "International emergency economic powers act of 1977' to clean up multiple previously declared emergencies, it did not remove the Presidents executive powers or repeal the "Trading with the Enemy" Act which is still good law. In addition it gives any US president the power to freeze accounts, seize assets, nationalize banks and take other radical steps to fight economic collapse in the name of national security. http://www.treasury.gov/resource-center/sanctions/Documents/ieepa.pdf Recently those powers have been expanded by the March 2012 executive order titled "National Defense Resources Preparedness Act" which empowers the President, during a state of emergency, to seize control, on US soil, of all resources as referenced in "PART II – PRIORITIES AND ALLOCATIONS" http://www.whitehouse.gov/the-press-office/2012/03/16/executive-order-national-defense-resources-preparedness
The Exchange Stabilization Fund (ESF) is operated by the New York Federal Reserve. "The Act authorized the Secretary of the Treasury, to deal in gold, foreign exchange, securities, and instruments of credit, under the exclusive control of the Secretary of the Treasury subject to the approval of the President." http://www.newyorkfed.org/aboutthefed/fedpoint/fed14.html
Here is the 1995 FOMC meeting minutes discussing this participation in the Gold Swap market http://www.federalreserve.gov/monetarypolicy/files/FOMC19950201meeting.pdf and James Turk's discussion on the subject in 2000. http://kingworldnews.com/kingworldnews/KWN_DailyWeb/Entries/2012/10/25_James_Turk_-_The_Entire_German_Gold_Hoard_Is_Gone.html
In 2005 GATA (Gold Anti-Trust Action Committee) contacted the Treasury in an effort to clarify the US Treasury's position on Gold and Silver. They said, "The Treasury Department was surprisingly candid in that correspondence, asserting the U.S. government's authority, in declared emergencies, to confiscate precious metals and to restrict ownership of mining shares – and to confiscate and restrict every other financial asset as well." Here is a link to that communication. http://www.gata.org/node/5606
Part of what is in question is the definition of "rare and unusual". Treasury Secretary Woodin http://en.wikipedia.org/wiki/William_H._Woodin was an avid coin collector and influenced the clause in Executive Order 6102 that created the avoidance of confiscation and prosecution exemptions for collectors. Scroll to April 5, 1933 and you will see that according the Treasury, all coins minted prior to 1933 that were considered rare and unusual, were exempt from confiscation and the holders from prosecution.
Of course the statement is quite broad and needed some clarification. This is the issue from 1973 where in "gold regulations" section 54.20 there is a clear definition of what constitutes a "rare and unusual" coin according to the Treasury "Gold coin of recognized special value to collectors of rare and unusual coin may be acquired, held and transported within the United States for numismatic purposes without the necessity of holding a license therefore. Such coin may not be acquired for the purpose of acquiring the gold bullion contained therein." "(b) Gold coin made prior to 1934 is considered to be of recognized special value to collectors of rare and unusual coin." http://books.google.com/books?id=YvY6AAAAIAAJ&pg=PA91&lpg=PA91&dq=gold+regulations+section+54.20(e)&source=bl&ots=AZO6lG9d9h&sig=Cfl77meKC9BlPql6UwQvwpXeQg8&hl=en&sa=X&ei=OnX7T_qHIaaC2AXE3ezqBg&ved=0CEoQ6AEwAg#v=onepage&q=gold%20regulations%20section%2054.20(e)&f=false
David L. Ganz, managing partner and principal litigator in the law firm of Ganz, Hollinger & Towe, has been an award-winning writer in the numismatic field for more than 30 years. Pulling historic records from the Director of the Mint and Treasury Department, he has pieced together the number of coins originally minted, how many were recorded as melted, and how many likely remain.
This does not address the quality of the individual coins, but it does give us a good idea of what "rare and unusual" is. Please note that the numbers are in millions of coins. Also note that these numbers are not guaranteed, but are the best available from the Mint and Treasury data from that time.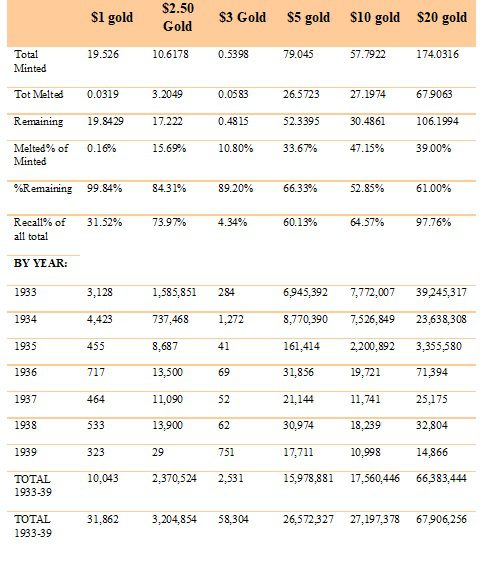 Since the known gold stock in or above ground is 6,802,592,911 according to the World Gold Council http://www.gold.org/about_gold/story_of_gold/demand_and_supply/ and the US Department of the Interior http://minerals.usgs.gov/minerals/pubs/mcs/2012/mcs2012.pdf . The total gold content of all pre 1933 coins is less than 2% of total known gold and approximately .0003% for common and better dated $20 gold coins based on coins graded by PCGS and NGS.
Here is a legal case adjudicated in 1962 that supports what is classified legally as "rare and unusual" "Section 54.20 of the regulations issued by the Secretary of the Treasury, pursuant to the authority granted in the act, draws a sharp distinction between gold coins made prior to April 5, 1933, and those made thereafter. The former are considered to be of recognized value to collectors of rare and unusual coins; the latter may be presumed not to be." http://www.leagle.com/xmlResult.aspx?page=2&xmldoc=196267028PaDampC2d642_1556.xml&docbase=CSLWAR1-1950-1985&SizeDisp=7
In Executive Order 11037 dated July 20, 1962, second paragraph, President Kennedy expanded the definition to include foreign gold coins. http://www.presidency.ucsb.edu/ws/index.php?pid=58976#axzz20B7WRP4e
"Rare and Unusual" was further reinforced with the auction of the only legalized 1933 Saint Gaudens $20 gold coin. http://www.usmint.gov/pressroom/?action=press_release&id=280 And when other 1933 Saints were later discovered, they were confiscated on the basis that they were stolen from the Treasury. This case is ongoing with the current update found here.  http://www.coinworld.com/insights/1933-gold-double-eagle-case-continues-as-court-vacates-earlier-ruling.html#
The current issue of "Money and Finance: Treasury" and refers to the ability of the Secret Service to seize gold looping back to the "Gold Reserve Act" of 1934, http://en.wikipedia.org/wiki/Gold_Reserve_Act  which is still in force. See page 513 of this attachment http://www.gpo.gov/fdsys/pkg/CFR-2004-title31-vol2/pdf/CFR-2004-title31-vol2.pdf
And while it is perfectly legal to own any form of gold in any quantity in the US today, including inside of IRA's, the IRS supports all of the above referenced laws in form 590 http://www.irs.gov/pub/irs-pdf/p590.pdf by clearly defining the difference between monetary and collectible gold.
Precious metals and Numismatic Coins were also addressed on page 33716 C. Section 103.140 (a)(1)(iv) and pursuant to the provisions in the USA PATRIOT Act of 2001 under Financial Crimes Enforcement Network: Anti-Money Laundering Programs for Dealers in Precious metals, Stones or Jewels, a rule by the Treasury Department on 06/09/2005.  http://www.gpo.gov/fdsys/pkg/FR-2005-06-09/pdf/05-11431.pdf
Finally, in Ben Bernanke's outline of how to fight deflation he believes that devaluing the dollar against gold, "enforced" by gold confiscation and additional monetary inflation which increased prices across the board and reflated the stock market was successful in pulling the US out of the depression in 1934. Considering the fact that most of what he outlined has already been or is being executed on a global basis, it is certainly possible that the entire outline may be executed. http://www.federalreserve.gov/BOARDDOCS/SPEECHES/2002/20021121/default.htm
Henry Holzer is a constitutional lawyer and professor who has written numerous historic articles with a focus on constitutional law. http://henrymarkholzer.blogspot.com/2009/01/will-private-gold-be-confiscated_25.html This is a direct link to the referenced article. http://www.fame.org/PDF/Holzer%20Henry%20Mark%20How%20Americans%20Lost%20Their%20Right%20to%20Own%20Gold.pdf
Historic as well as current legal precedence reinforce the differences between numismatic, semi numismatic and bullion gold. Since different assets support different goals, as in any positioning, it makes sense to have a diversified portfolio to support different goals. This traditional investment logic works with every asset class, including gold.
Slides and Links: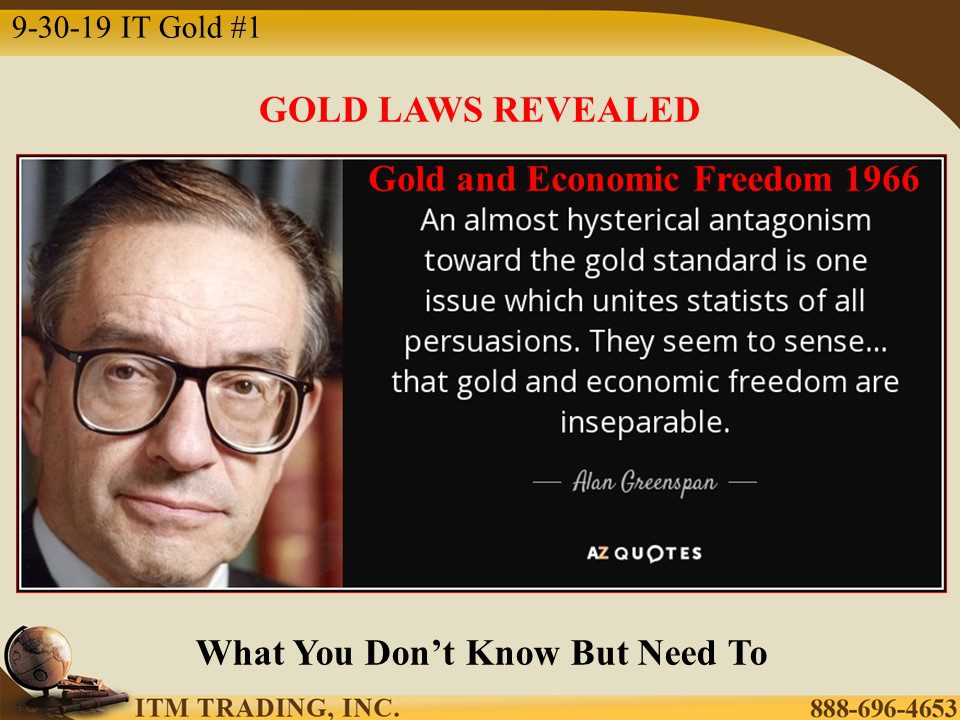 https://www.constitution.org/mon/greenspan_gold.htm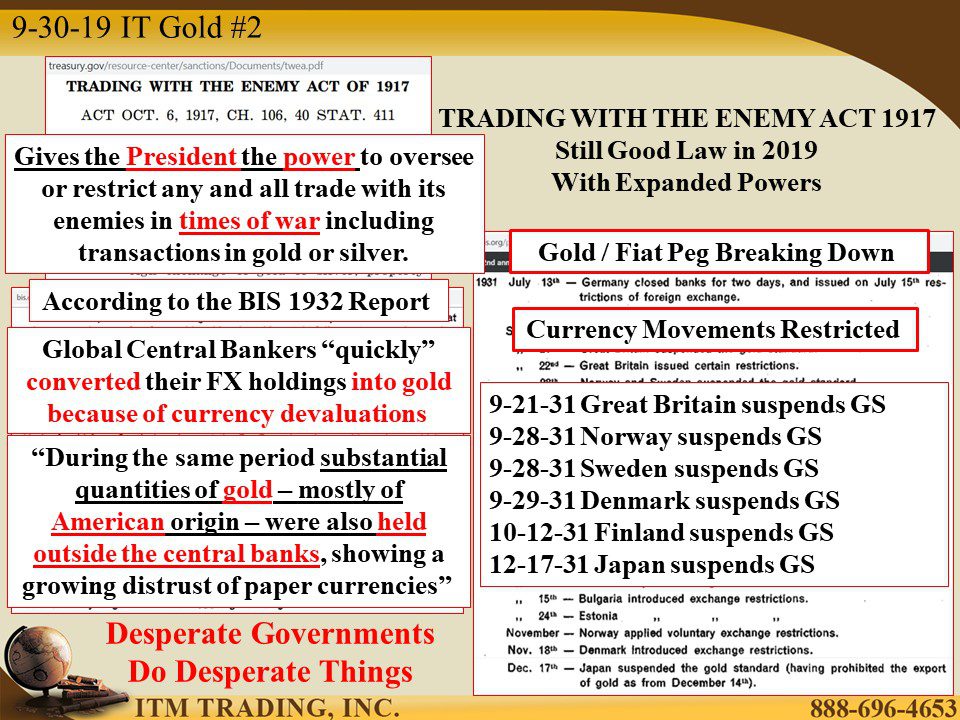 https://www.bis.org/publ/arpdf/archive/ar1932_en.pdf
https://www.govinfo.gov/content/pkg/USCODE-2011-title50/pdf/USCODE-2011-title50-app-tradingwi.pdf
https://www.treasury.gov/resource-center/sanctions/documents/twea.pdf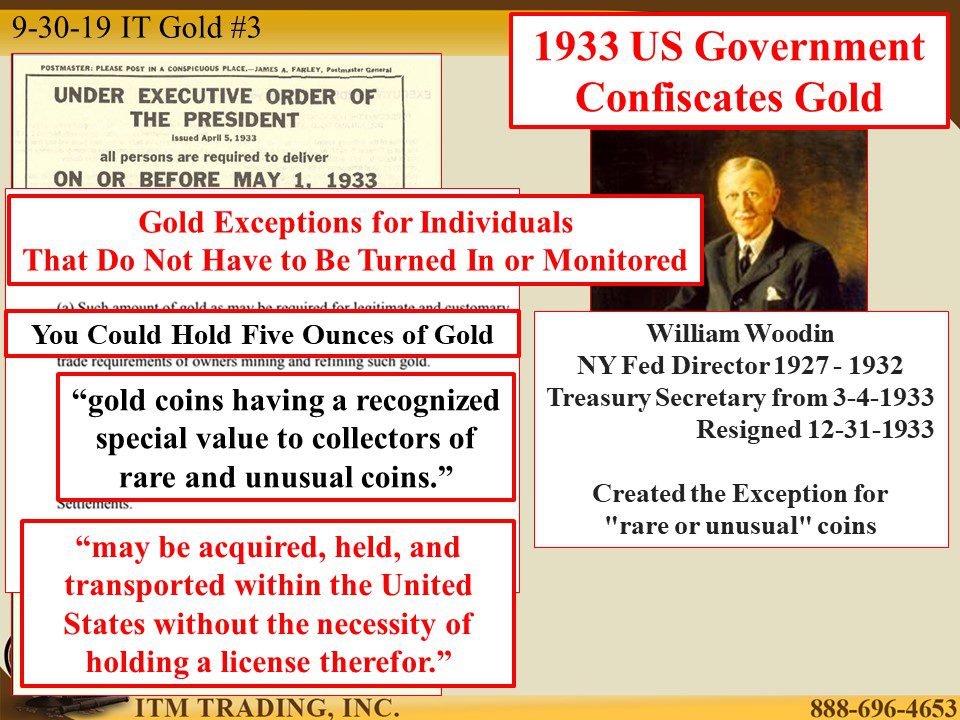 https://www.federalreservehistory.org/essays/roosevelts_gold_program
https://web.archive.org/web/20120426013733/
http://www.fame.org/pdf/White%20House%20Statement%20on%20Proclamation%202072.pdf
https://en.wikipedia.org/wiki/William_H._Woodin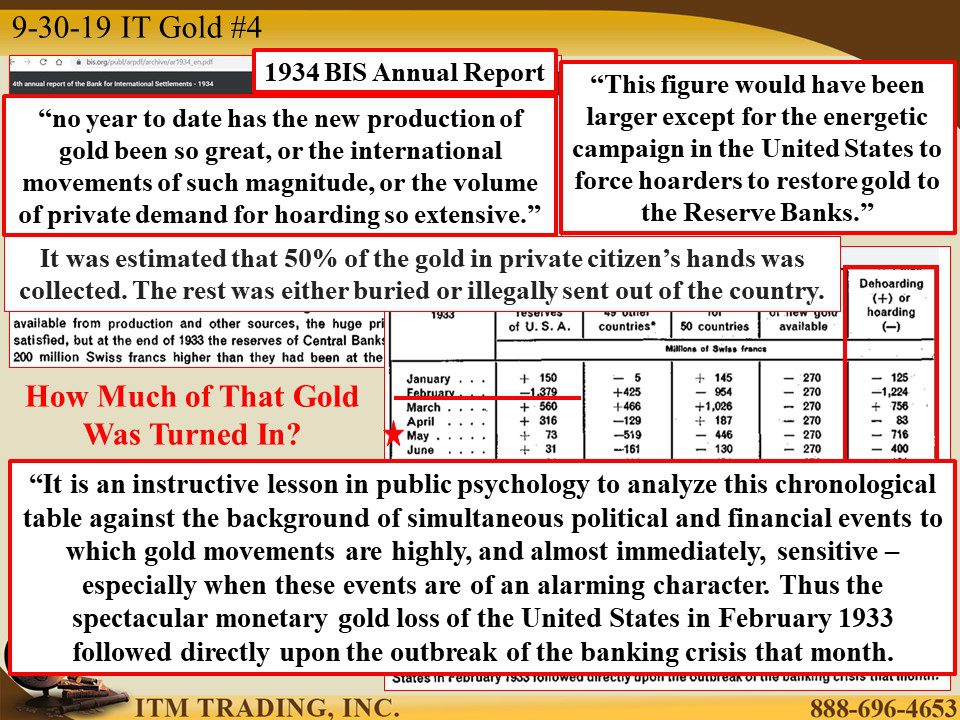 https://www.bis.org/publ/arpdf/archive/ar1934_en.pdf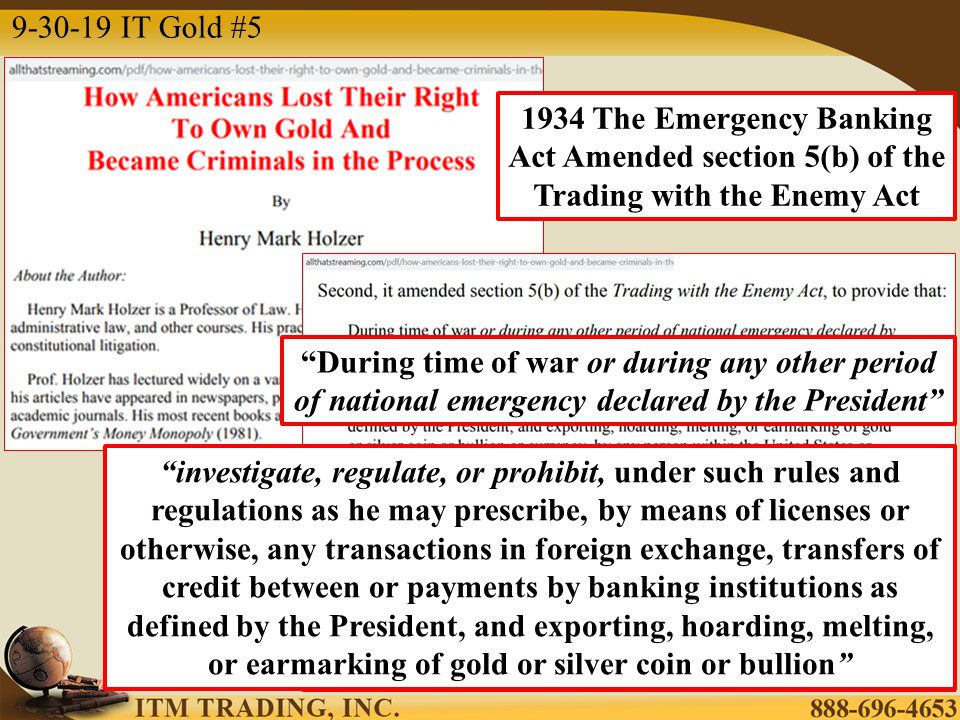 http://allthatstreaming.com/pdf/how-americans-lost-their-right-to-own-gold-and-became-criminals-in-the-process-by-mark-holzer.pdf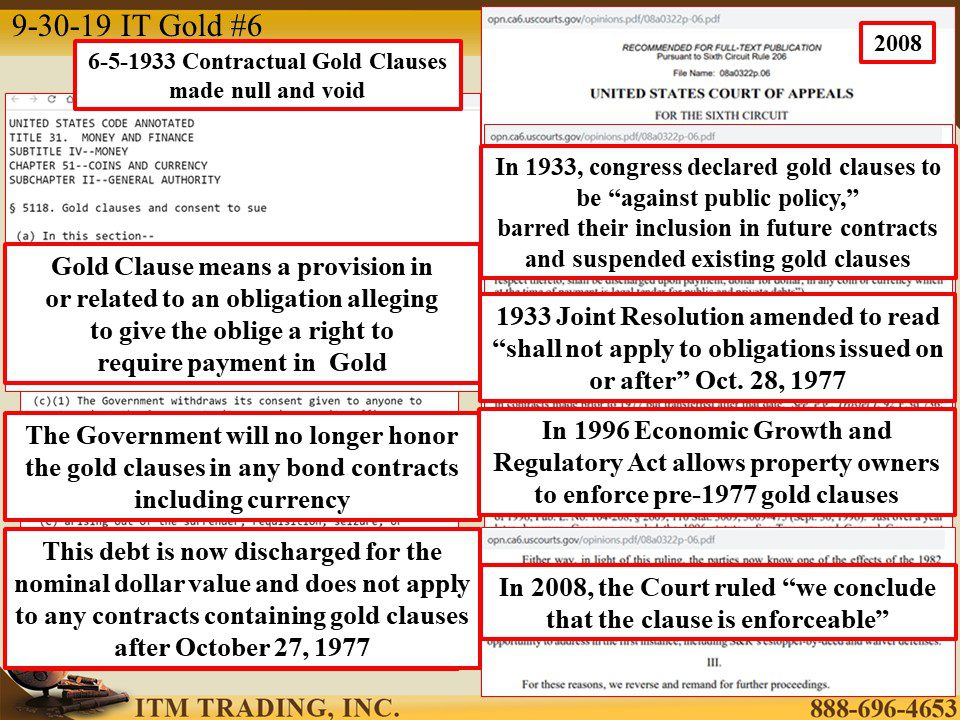 https://www.treasurydirect.gov/instit/statreg/fraud/fraud_5118.txt
http://www.opn.ca6.uscourts.gov/opinions.pdf/08a0322p-06.pdf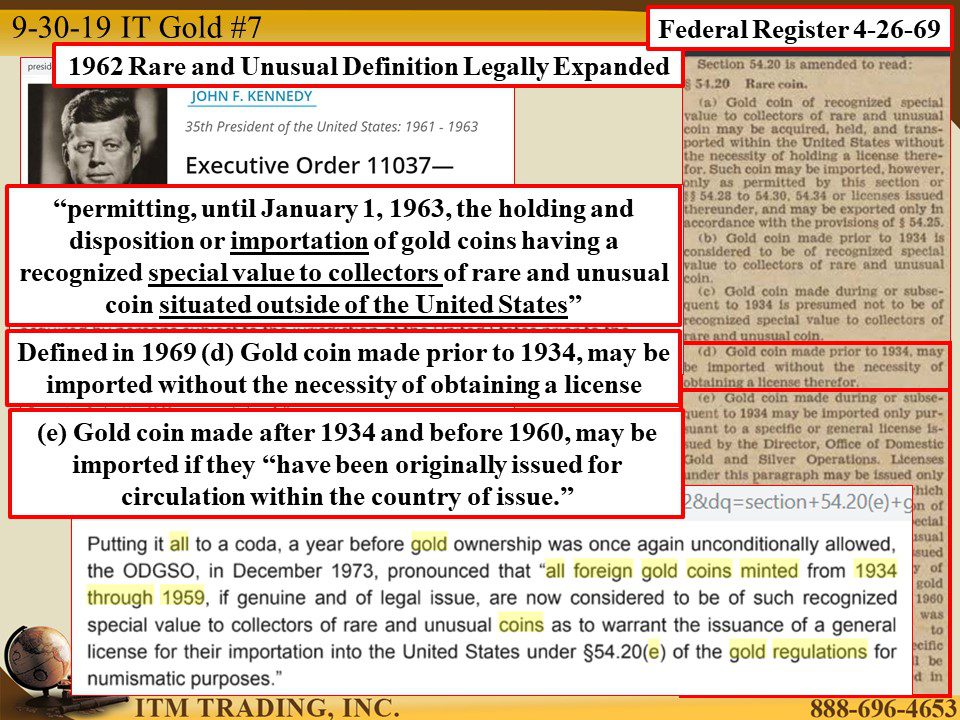 https://presidency.ucsb.edu/documents/executive-order-11037-amendment-section-12-executive-order-no-6260-august-28-1933-amended#axzz20B7WRP4e
https://www.govinfo.gov/content/pkg/FR-1969-04-26/pdf/FR-1969-04-26.pdf
https://books.google.com/books?id=4hFjDwAAQBAJ&pg=PT102&lpg=PT102&dq=section+54.20(e)+gold+regulations+all+foreign+gold+coins+minted+1934+through+1959&source=bl&ots=zYqhPmLog7&sig=ACfU3U3d4OQubhqP2yGL6uWoCVjpfxhVZA&hl=en&sa=X&ved=2ahUKEwjS54iuyvbkAhWOvZ4KHSntDboQ6AEwE3oECAkQAQ#v=onepage&q=section%2054.20(e)%20gold%20regulations%20all%20foreign%20gold%20coins%20minted%201934%20through%201959&f=false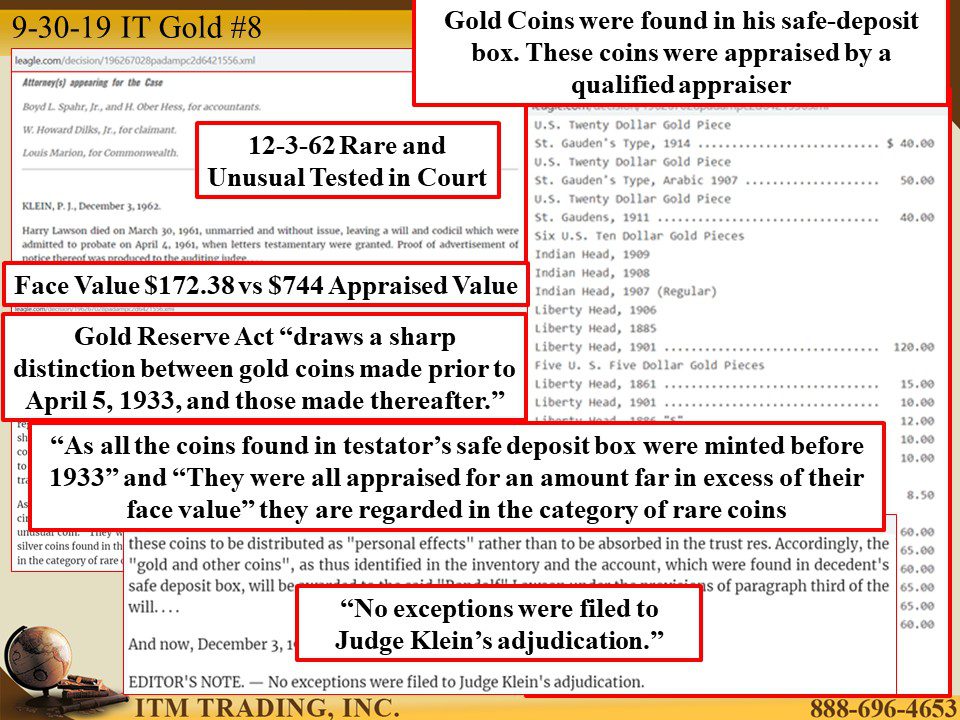 https://www.leagle.com/decision/196267028padampc2d6421556.xml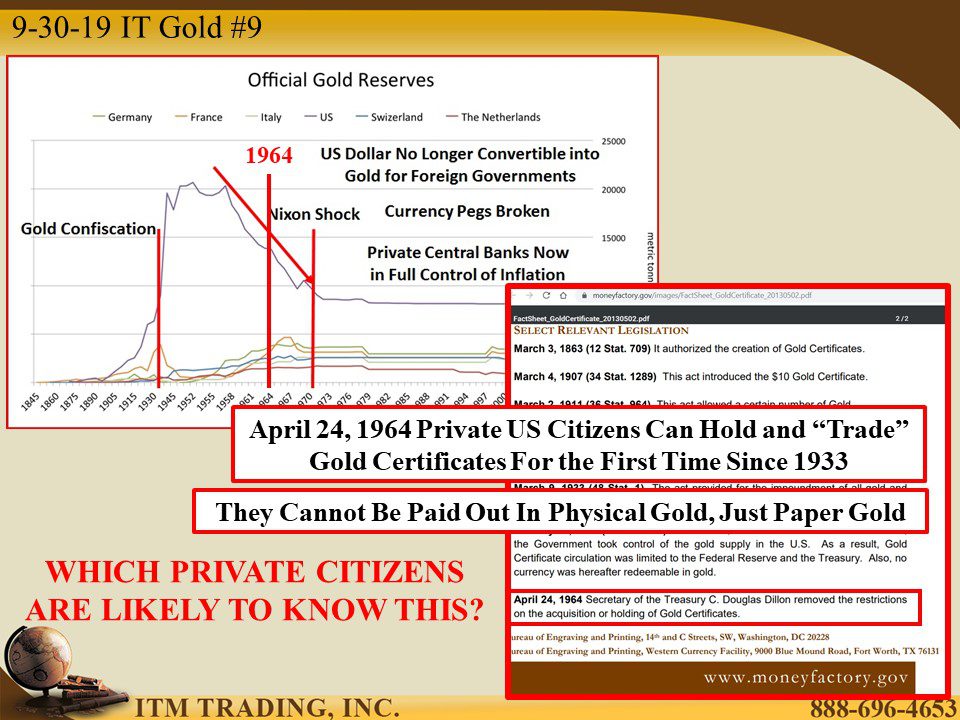 https://www.moneyfactory.gov/images/FactSheet_GoldCertificate_20130502.pdf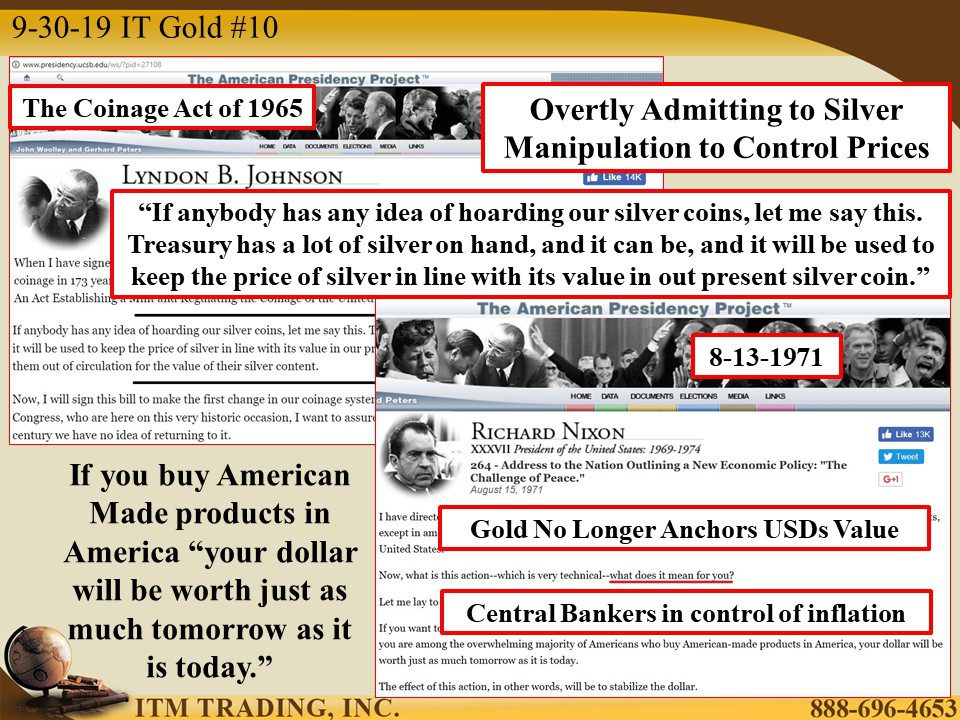 https://presidency.ucsb.edu/ws/?pid=27108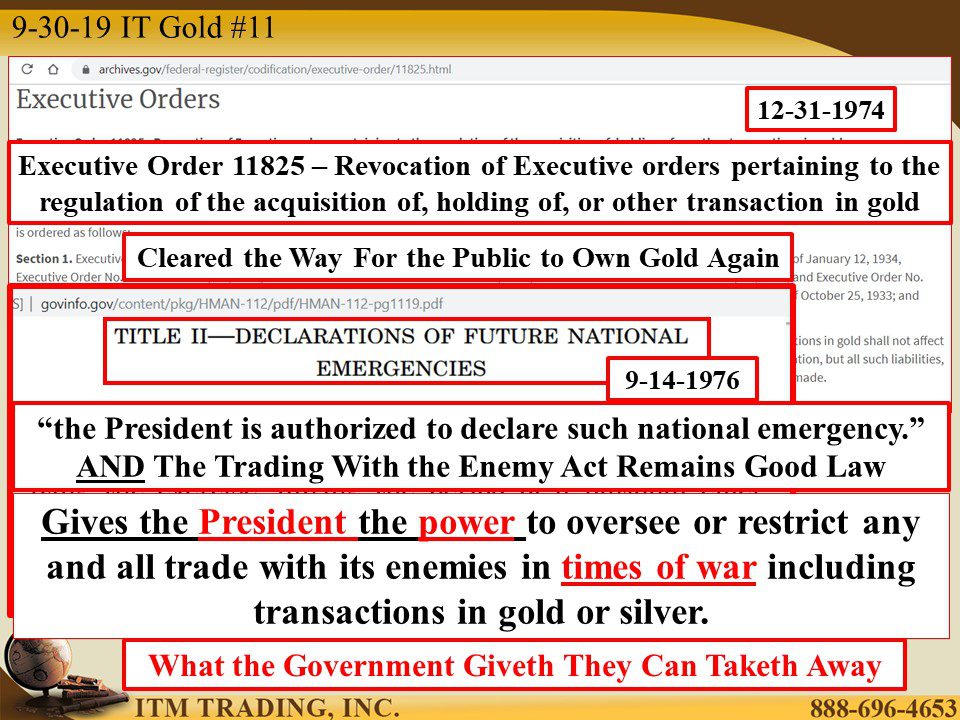 https://www.archives.gov/federal-register/codification/executive-order/11825.html
https://www.govinfo.gov/content/pkg/HMAN-112/pdf/HMAN-112-pg1119.pdf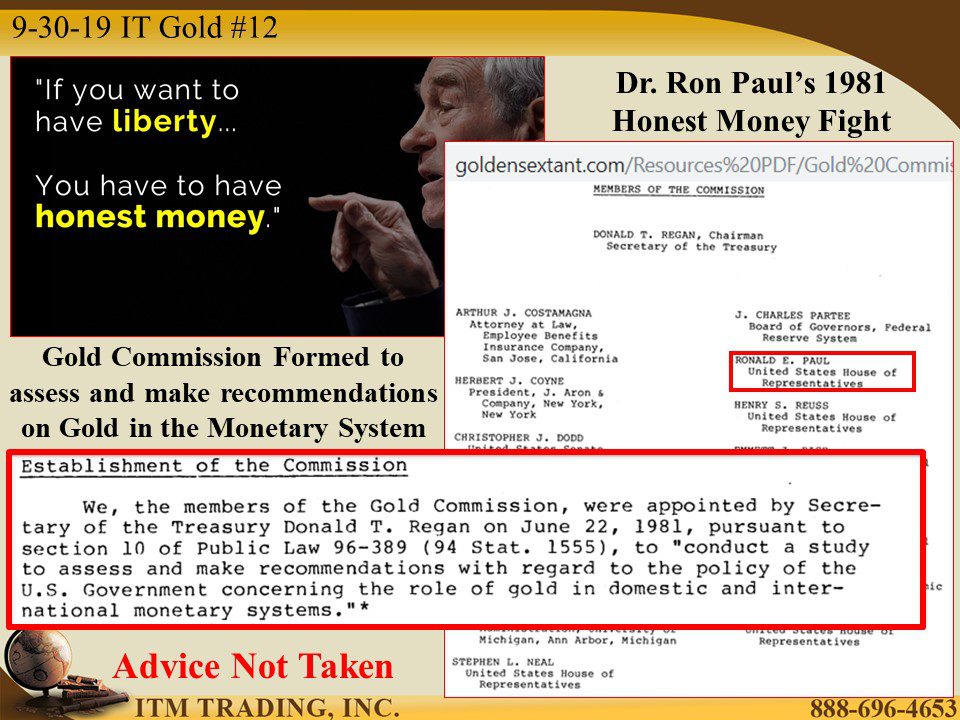 http://www.goldensextant.com/Resources%20PDF/Gold%20Commission%20Report%20Volume%20I.pdf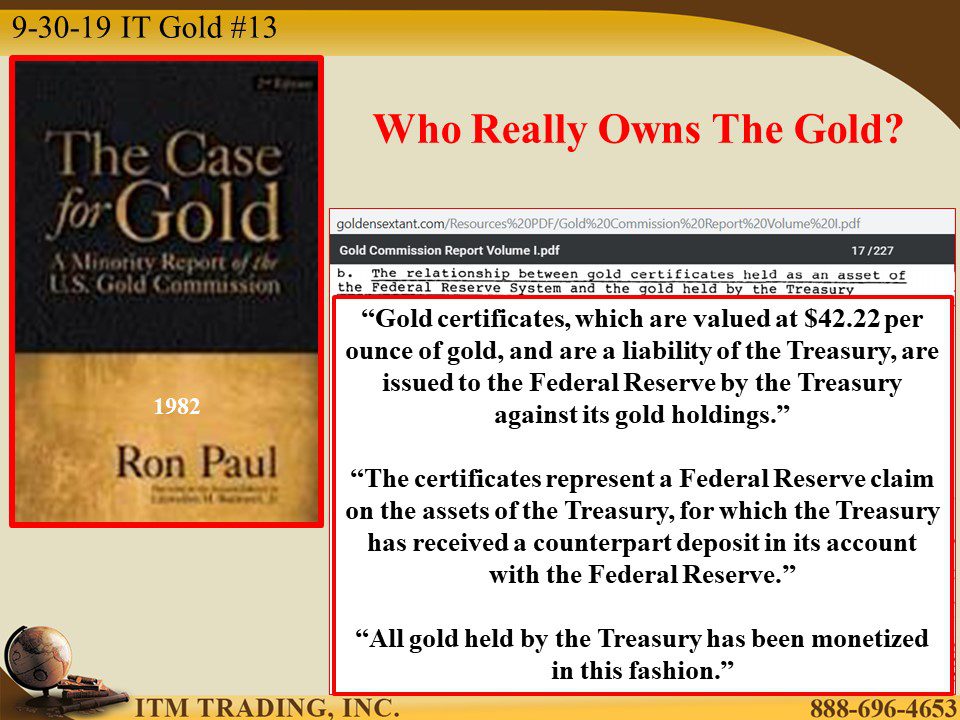 https://mises-media.s3.amazonaws.com/Case%20for%20Gold_2.pdf
http://www.goldensextant.com/Resources%20PDF/Gold%20Commission%20Report%20Volume%20I.pdf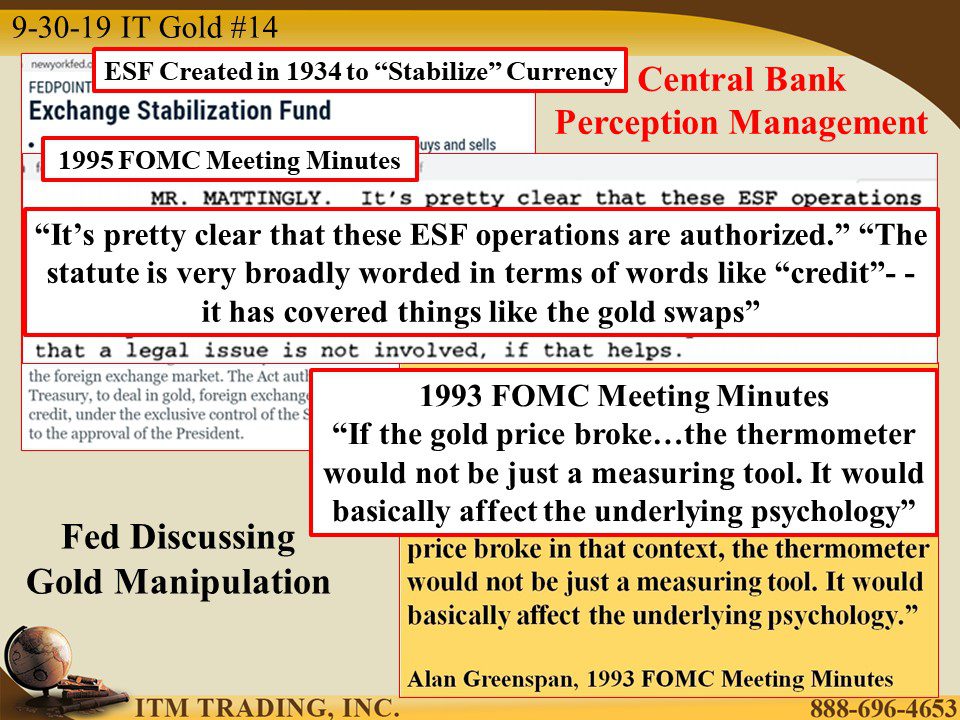 https://www.newyorkfed.org/aboutthefed/fedpoint/fed14.html
https://www.federalreserve.gov/monetarypolicy/files/FOMC19950201meeting.pdf
https://www.federalreserve.gov/monetarypolicy/files/FOMC19930518meeting.pdf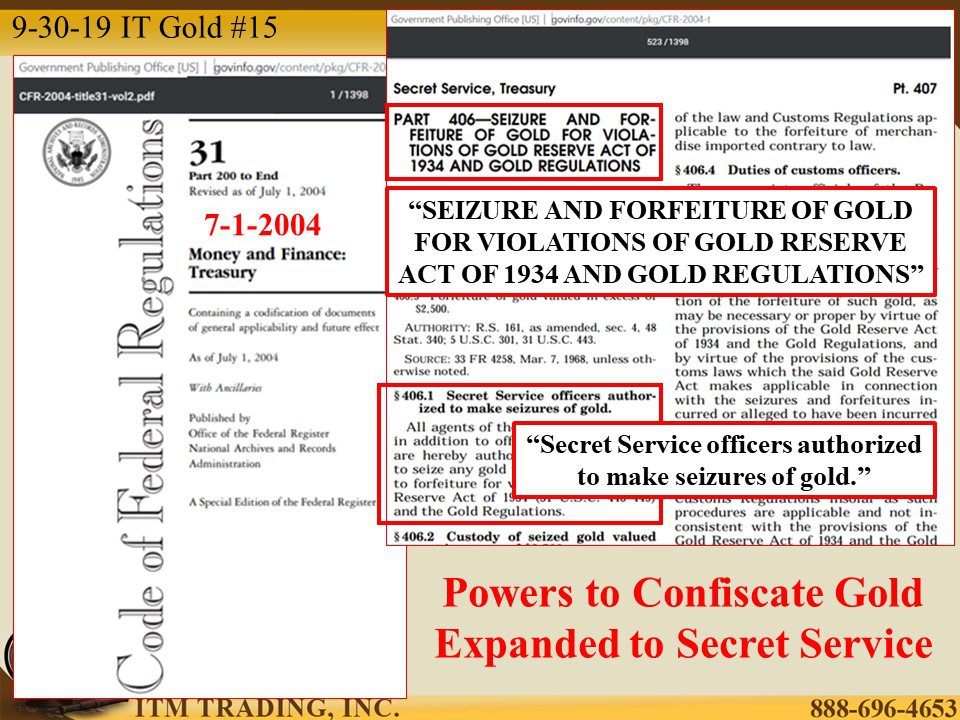 https://www.govinfo.gov/content/pkg/CFR-2004-title31-vol2/pdf/CFR-2004-title31-vol2.pdf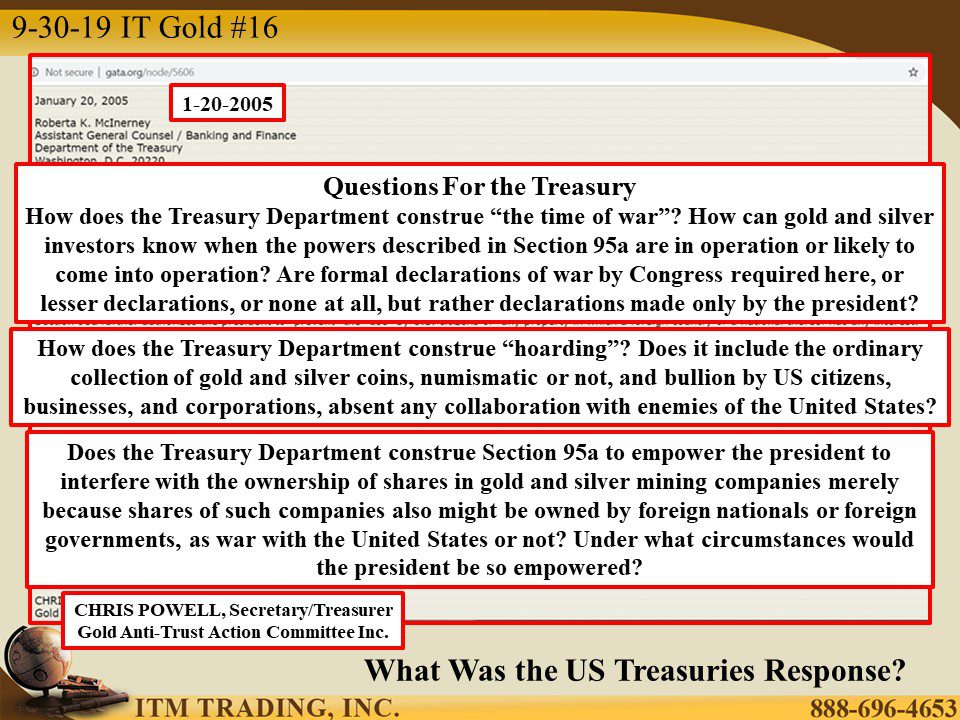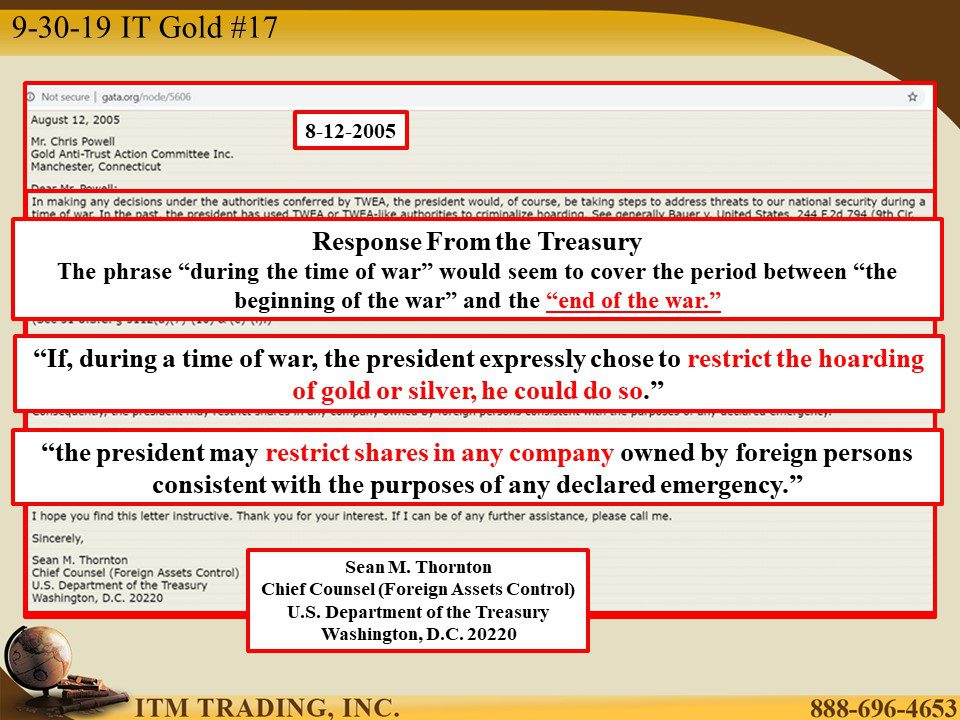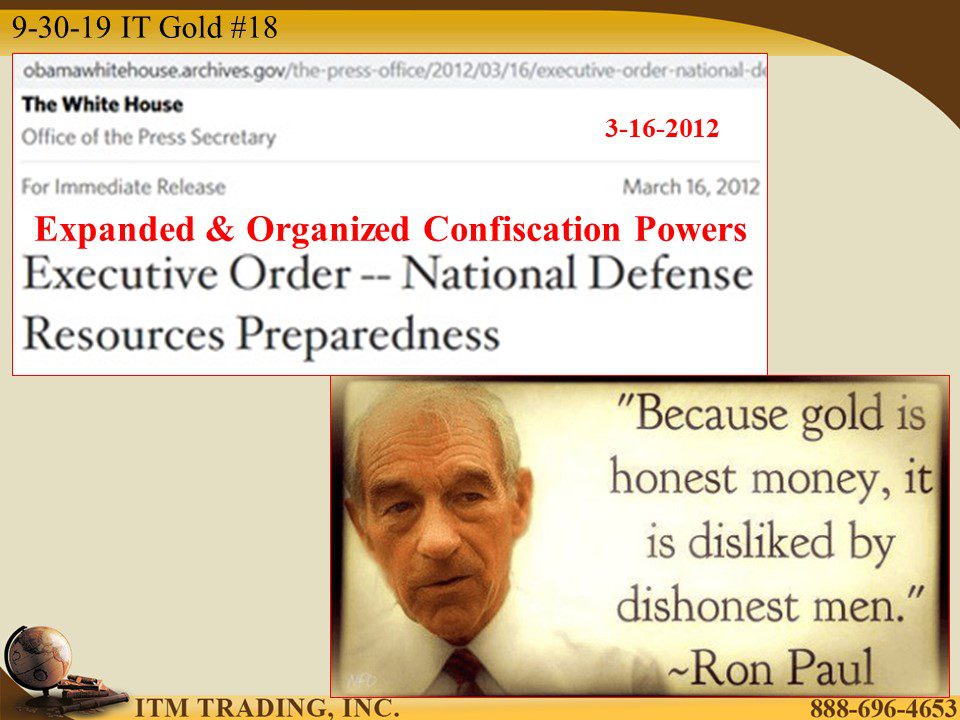 https://obamawhitehouse.archives.gov/the-press-office/2012/03/16/executive-order-national-defense-resources-preparedness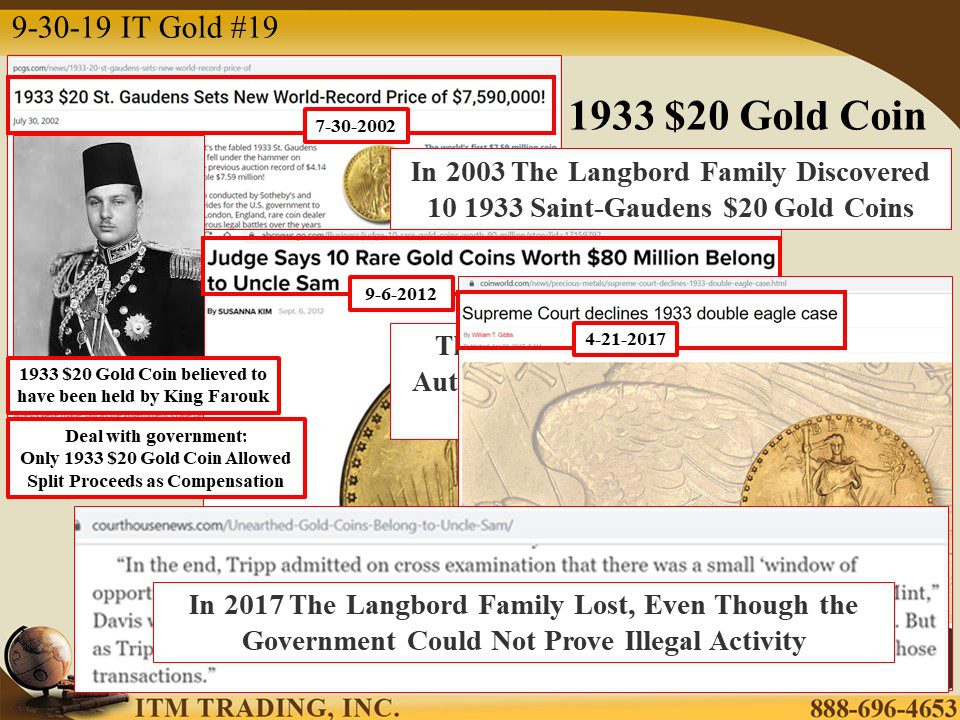 https://abcnews.go.com/Business/judge-10-rare-gold-coins-worth-80-million/story?id=17159793
https://www.courthousenews.com/Unearthed-Gold-Coins-Belong-to-Uncle-Sam/
https://www.coinworld.com/news/precious-metals/supreme-court-declines-1933-double-eagle-case.html
https://www.pcgs.com/news/1933-20-st-gaudens-sets-new-world-record-price-of
https://www.coinworld.com/news/precious-metals/roy-langbord-divulges-details-on-1933-double-eagles.html