Lynette Zang's Live On Facebook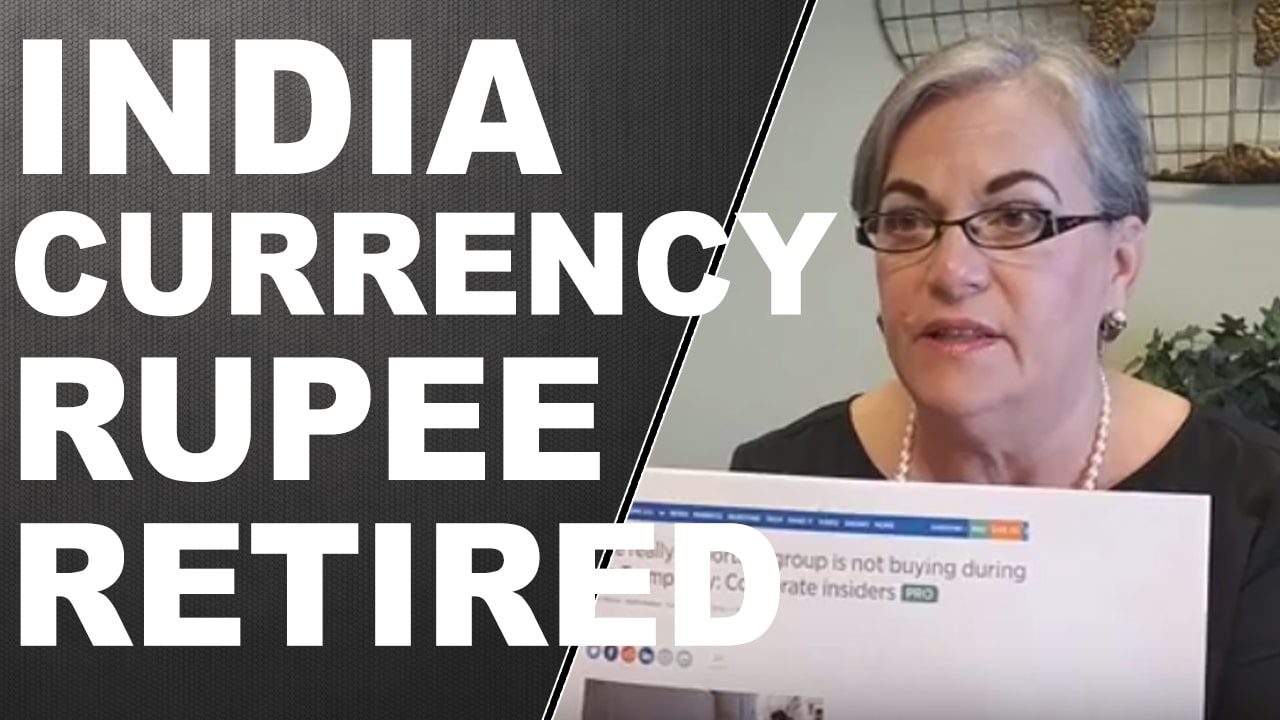 Join us for our next Facebook live chat.
Make sure you follow us on Facebook and you will be notified of all our live talks.
Go to ITM Trading's Facebook page by clicking this link or by going to Facebook.com/ITMtrading
Dec 12/12/2016
India Currency Rupee Large Notes "Retired" Limit on Gold Imports
Hi everybody welcome to today's session of fast and five we're going to go through a few things first and then we're going to get to the meat of it but these are things that are really important with the markets making new highs and anybody that I've done portfolio analysis for can attest to this the insiders are taking advantage of these highs and selling they're not creating this so you as well as a normal guy co ji the markets up i'm going to stay in it it's just about risk transfer do not be fooled but any other questions on that just call your precious metals consultant also quickly i want you to see how many of the US Treasury bonds are being liquidated by foreign governments I personally believe that this isn't in anticipation of the shift in power at the IMF
We'll talk more about this a little bit down the road but take a look at that does that look good to you and then finally and then i'm going to get to India after this but this news just came out sorry about that now we do know that there has been some tension stress over in Dallas and you can see here's one way to hold that run just eliminate your ability to do so this is brand-new news just coming out this is a big deal if you've got if you're counting on a pension fund accounting on flexibility i don't know if there's a run you're not going to be able to but what I really want to talk about really briefly today is what's been happening in India and I'm actually think I'll do this one at a time i'm sorry you guys ok so in early November actually November seventh @midnight the two largest bills in India were d monetized in other words they were declared no longer money.
Fiat money governments can declare it valid or to kick declared invalid the population had four hours in which that money was still good after the announcement so it was the 500 rupee note which is worth about the equivalent of seven and a half dollars here seven dollars and fifty cents and the thousand rupee note which is the equivalent of about fifteen dollars those were there two largest notes they are no longer valid currency the population has the ability to show you this ok so these signs are pop-ups these signs are popping up all over the place the population has the ability to convert some of it by December 30th after that period of time they can no longer convert the amount that they're limited.
People rushing to try and convert but the amount that they are limited to there were also bank closures bank holidays ATM withdrawals are limited to sixty dollars away add a bank withdrawals are limited to the equivalent of three hundred dollars per week this impacts eighty-six percent of all of the currency in circulation in India eighty-six percent now they can deposit those bills but the most that you can deposit that you can get out in cash though convert from the larger bills to the good bills is the equivalent of sixty dollars you there are no limits on the amount of deposits just the amount of withdrawals however if what you deposit seems abnormal to them they are going to subject to a two hundred percent penalty so in this way since we know that fiat money is based on debt there will be a lot of these notes that will not be deposited and therefore it's a windfall for the government but why they're really doing this is to try and push people into digital into the digital economy because India is mostly based on trust and their greatest holding is in gold that's typically how Indians attempt to hold gold so this is about getting everybody in the system now for many years so if any of you want let us know I have the report from the royal bank of India or the central bank of India on d monetizing or D materializing gold.
The next target which is actually gold now they've gone into different jewelry shops etc but according to the finance the head of the finance now I'm going to have to read this so we'll kind of share it together but jewelry and ornaments to be exact let's see to the extent of 500 grams per married lady 250 grams for unmarried women and a hundred grams for the men and that comes directly from the finance minister under their hands about 3 ounces right but yeah I think we got ya roughly roughly three ounces of gold ..
Islamic Gold Standard Gold and Silver Price ManipulatedLynette's Fast Five
I want to just update you last week we said we have to see what the vote is in Italy well the populace one again so that is indicative of the global loss of confidence in in this case the EU but just like our election indicated our public loss of confidence in the status quo. this is growing so just wanted to update you on that there's another one down now what I really wanted to talk a little bit more about today is that we now have a gold standard for Islamic trading now look there's 1.6 billion Muslims globally so this is actually an extremely significant move they are saying that they may be that the comex gold comex would not qualify because you have to deliver the gold or show that you have the ability to deliver the gold within 24 hours.
It is the comex gold that actually controls what we see when we look on TV or the computer so you can make gold any price if you don't have to have the physical this move should force that the accountability onto the gold market and its large enough to do that so this is extremely significant especially look at the timing of it we're now in December with major changes happening the end of this month and moving into the new year with the BRICS nations having more control at the International Monetary Fund.
I'll talk more about that as we get closer to it so pay attention to this this is a very big deal for physical gold briefly i wanted to also update you on what's happening with interest rates because this is a very important development and I think it should be pretty easy to see this is the two-year the five-year the 10-year and the 30-year bond and these are yields and look at the extreme moves that have been happening in every single category I would particularly like you to pay attention to the fact that the two year and the five-year has broken our resistance level which technically speaking means that it should continue to go up and let us not forget those trillions of interest related derivatives this could be a really i don't know quite what level is going to tip those derivatives bets against interest rates but this year i think it should be pretty clear sharp sharp sharp movement in interest rates so i'll keep you posted on that because this is a very big deal.
We all know what's been happening with the gold and the silver markets on the spot market ok but you may or may not also one at a time sorry about that ok this is silver and this is traders and their heads to position so they are covering their short position what that means is all in here they sold lots and lots of gold that did not exist to push the price down which you can see here okay all that they sold a whole bunch of gold to push the price down you mean over the silver ok I'm sorry Eric this is silver the gold chart looks the same pretty much the same see this move up here that means that they've started to buy even though the price has been artificially suppressed so they're covering their shorts they're going in and buying silver because they sold a lot of it at a higher price now they're buying it back at a lower price.
This is about that making money this is not about the true price discovery and this is the chart on the gold and you can see a very very similar behavior that upside-down sorry you can see a very very similar behavior they sold lots and lots of gold in here that does not nor ever will exist and now after they push that price down nicely they're going in and buying it but you can see that the price of the gold consistently moves down and that's because of lots of other manipulation right in a normal market environment you have more people buying and selling the price goes up with this is not a normal market.
India Currency Rupee Large Notes "Retired" Limit on Gold Imports
The combination of tighter quotas and an uptick in demand caused the premium for gold in China over the international gold price to jump as high as $46 in the past few weeks.
A Behind the scenes view of Lynette's Flash Five Live Facebook chat
ITM Trading's free webinar series archive page
Here you can find past recordings of our webinar series. New videos are usually added within 48 hours of the original webinar date.
A Behind the scenes view of Lynette's Flash Five Live Facebook chat
This chat was about the Organization of the Petroleum Exporting Countries (OPEC ) cutting the production of oil. As a result of the reduction in production oil prices soared.
ITM Trading's free webinar series archive http://bit.ly/2bIQfWV
Here you can find past recordings of our webinar series. New videos are usually added within 48 hours of the original webinar date.
To reserve a seat for our next live webinar: Call 1-888-own-gold or send us an email at services@itmtrading.com

We believe that everyone deserves a properly developed strategy for financial safety.
Lynette Zang
Chief Market Analyst, ITM Trading