8-29-17 Greece, by Lynette Zang
After years of preparation, in 2001 Greece was accepted into the EU Monetary Union. The main benefit was the ability to borrow at the same rate as Germany.
And borrow they did, so much so that debt service far outpaced Greece's ability to pay all this new debt. In May 2011, the Troika (European Commission (EC), ECB and IMF) granted Greece it's first of four "bail-outs".
The question is who got bailed out? Who really benefited from all this new debt? The answers to these questions could be our crystal ball, because we now have over seven years to see what it's like when Technocratic Central Bankers are in full control.
Below Are The Slides And Supportive Links Regarding The EU Monetary Union And The Road To A Greek Debt Reset: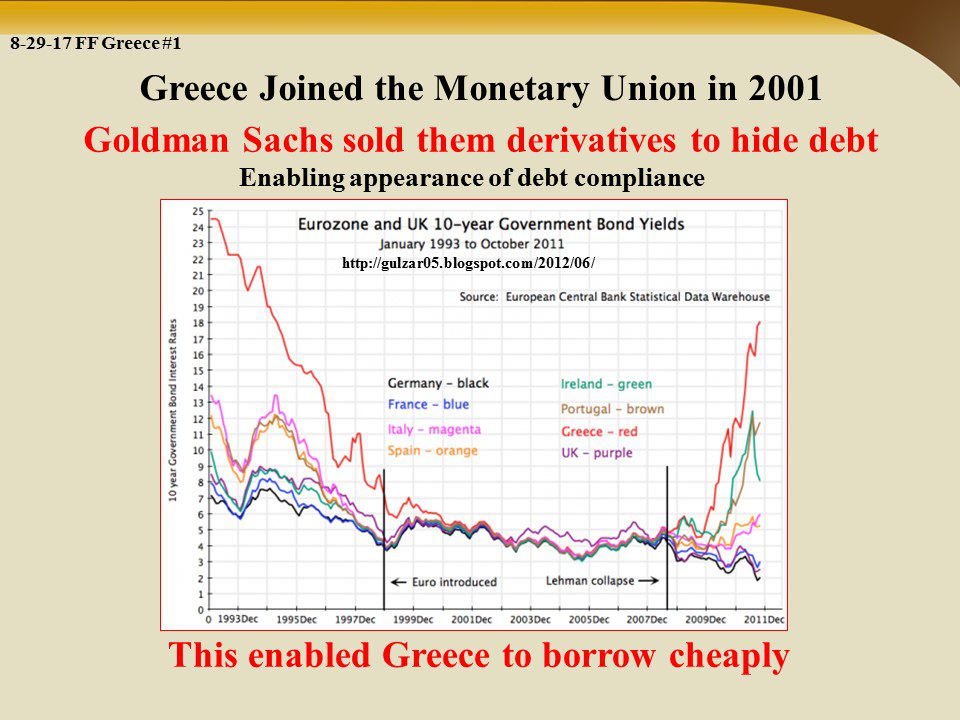 http://gulzar05.blogspot.com/2012/06/
https://en.wikipedia.org/wiki/Greek_government-debt_crisis#Fraudulent_statistics
http://www.nytimes.com/2010/02/14/business/global/14debt.html?pagewanted=1&hp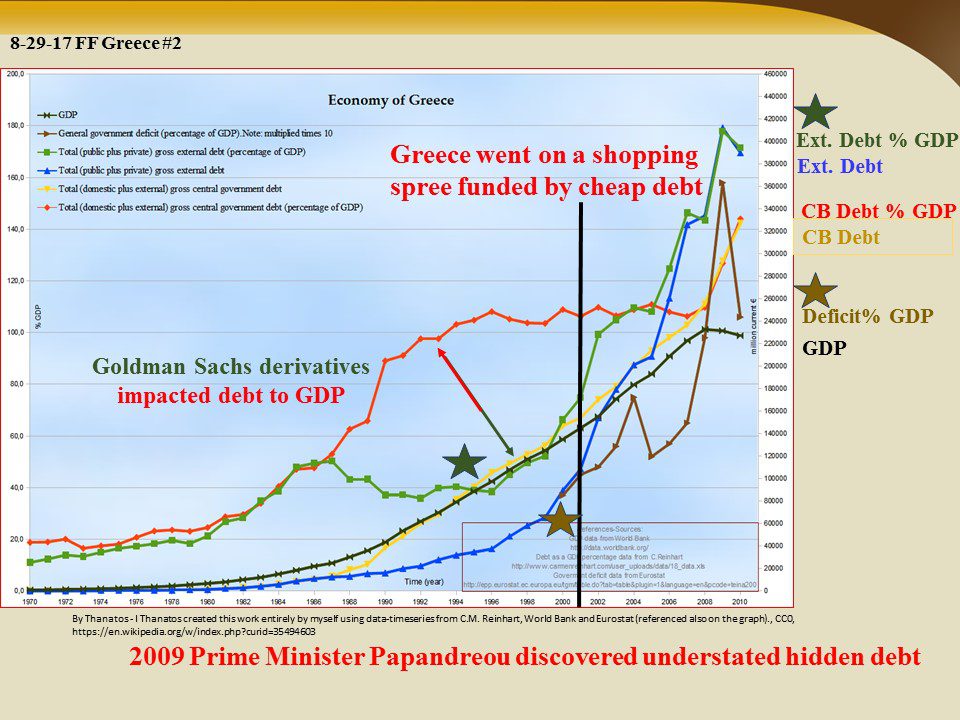 https://en.wikipedia.org/wiki/Greek_government-debt_crisis
http://voxeu.org/article/greek-debt-restructuring-lessons-learned
http://www.telegraph.co.uk/finance/financialcrisis/9125614/Graphic-Greeces-bailout-bond-swap-explained.html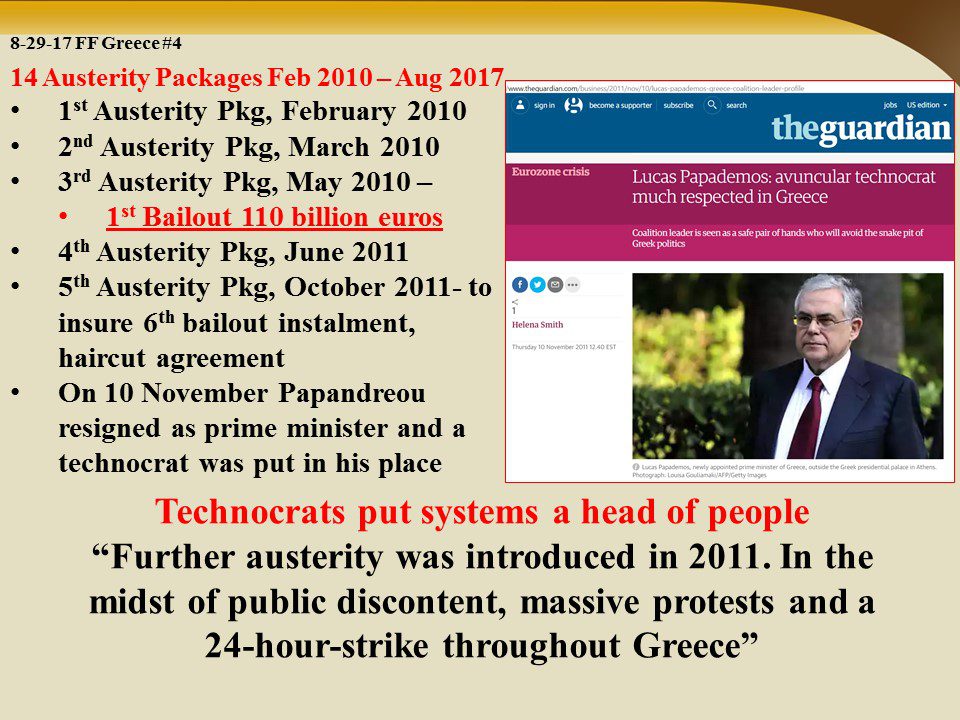 https://en.wikipedia.org/wiki/Austerity_Packages_of_Greece#First_Austerity_Package
https://www.theguardian.com/business/2011/nov/10/lucas-papademos-greece-coalition-leader-profile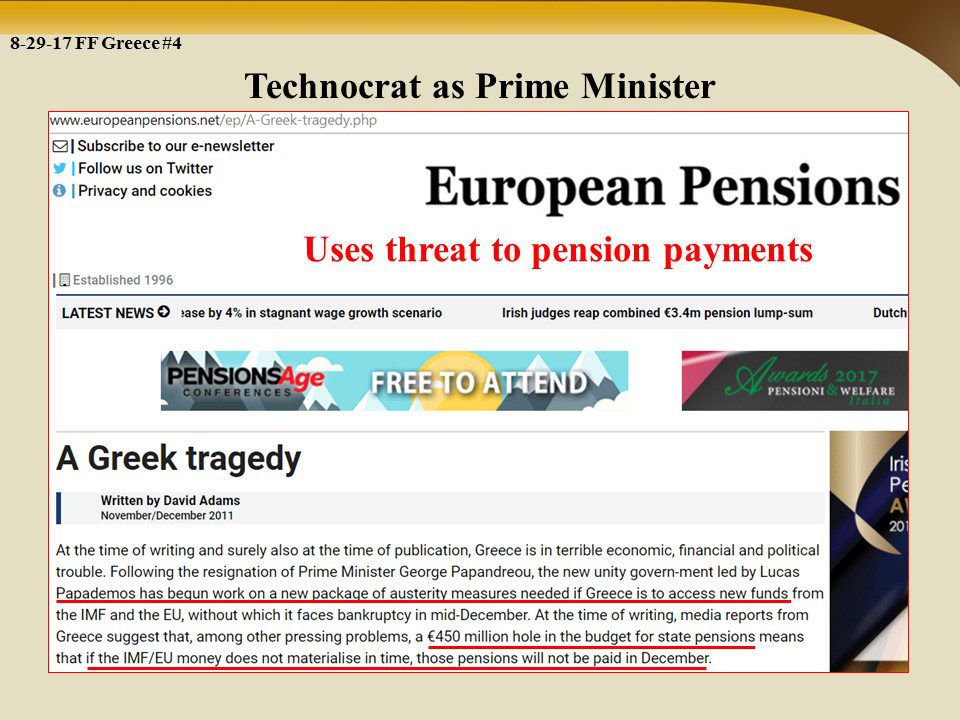 http://www.europeanpensions.net/ep/A-Greek-tragedy.php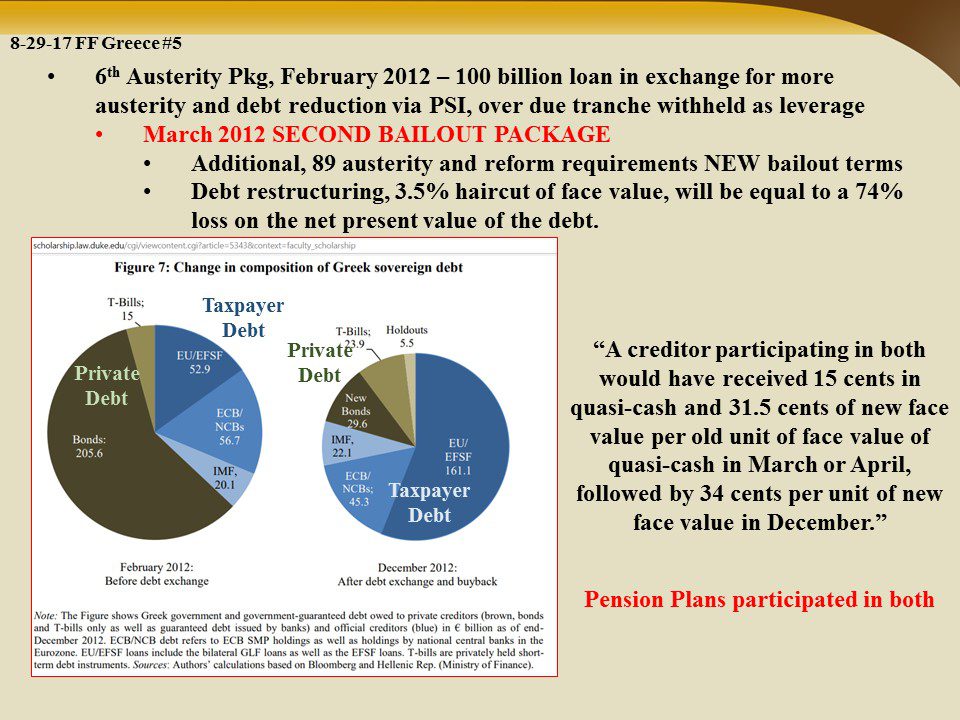 http://scholarship.law.duke.edu/cgi/viewcontent.cgi?article=5343&context=faculty_scholarship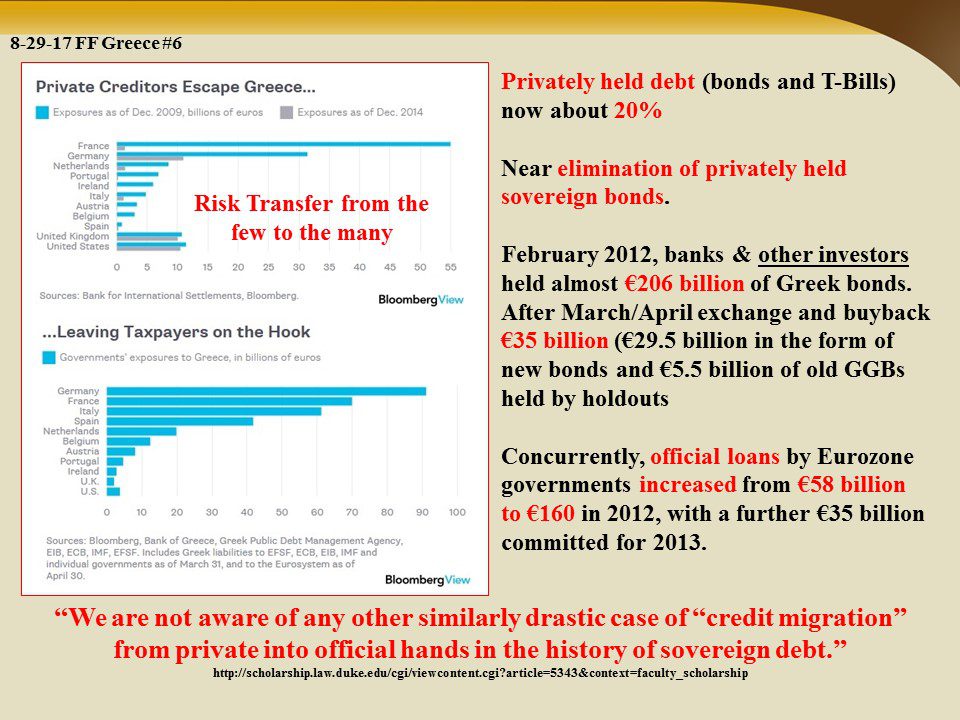 http://scholarship.law.duke.edu/cgi/viewcontent.cgi?article=5343&context=faculty_scholarship
https://www.cigionline.org/sites/default/files/cigi_paper_33.pdf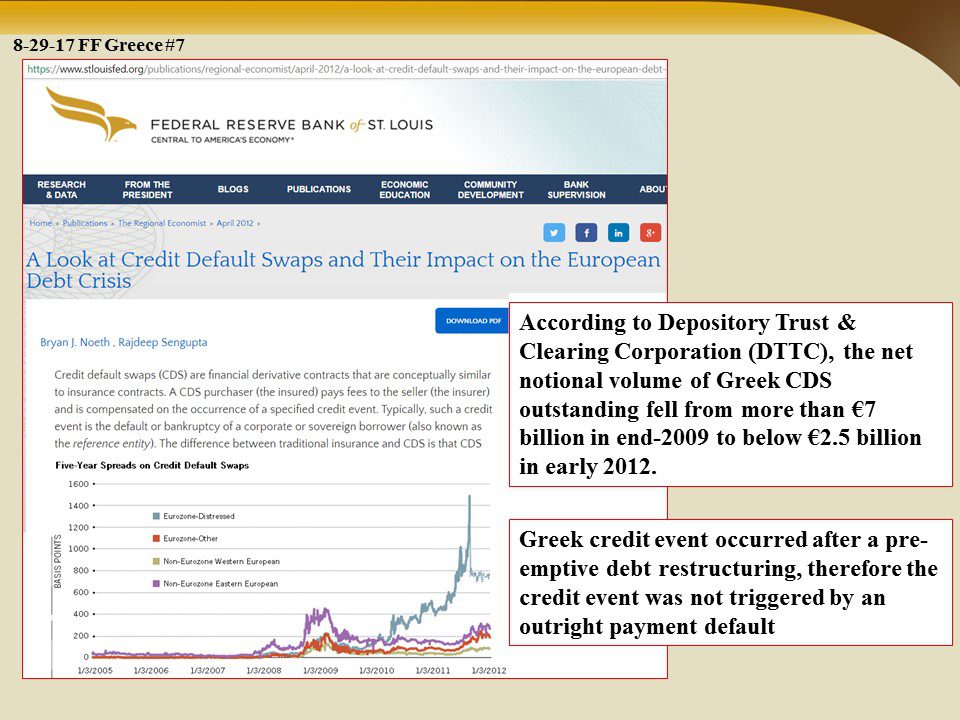 https://www.stlouisfed.org/~/media/Files/PDFs/publications/pub_assets/pdf/re/2012/b/credit_default.pdf
https://www.stlouisfed.org/publications/regional-economist/april-2012/a-look-at-credit-default-swaps-and-their-impact-on-the-european-debt-crisis
http://scholarship.law.duke.edu/cgi/viewcontent.cgi?article=5343&context=faculty_scholarship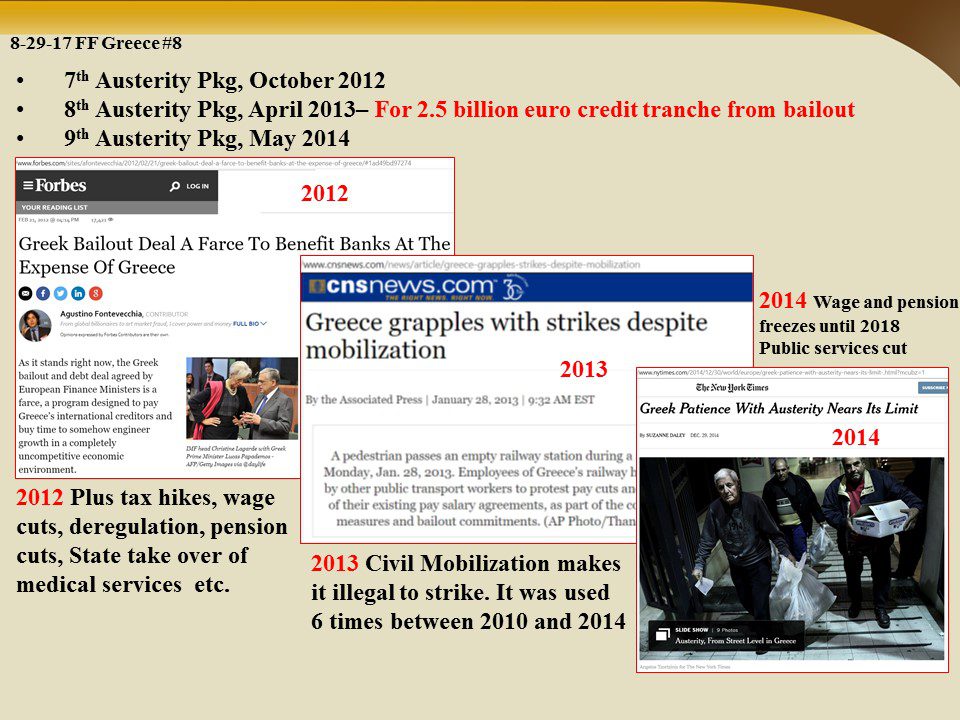 https://en.wikipedia.org/wiki/Civil_mobilization
https://www.cnsnews.com/news/article/greece-grapples-strikes-despite-mobilization
https://www.forbes.com/sites/afontevecchia/2012/02/21/greek-bailout-deal-a-farce-to-benefit-banks-at-the-expense-of-greece/#1ad49bd97274
https://www.nytimes.com/2014/12/30/world/europe/greek-patience-with-austerity-nears-its-limit-.html?mcubz=1#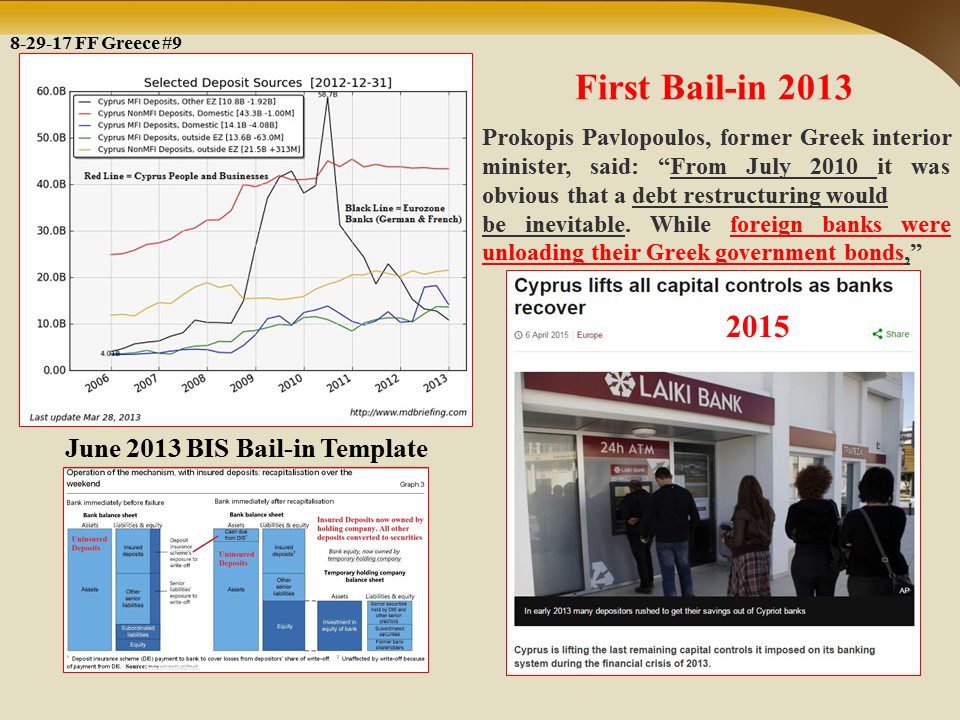 http://www.reuters.com/article/us-cyprus-banks-investigation-insight-idUSBRE93T05820130430 
http://scholarship.law.duke.edu/cgi/viewcontent.cgi?article=5343&context=faculty_scholarship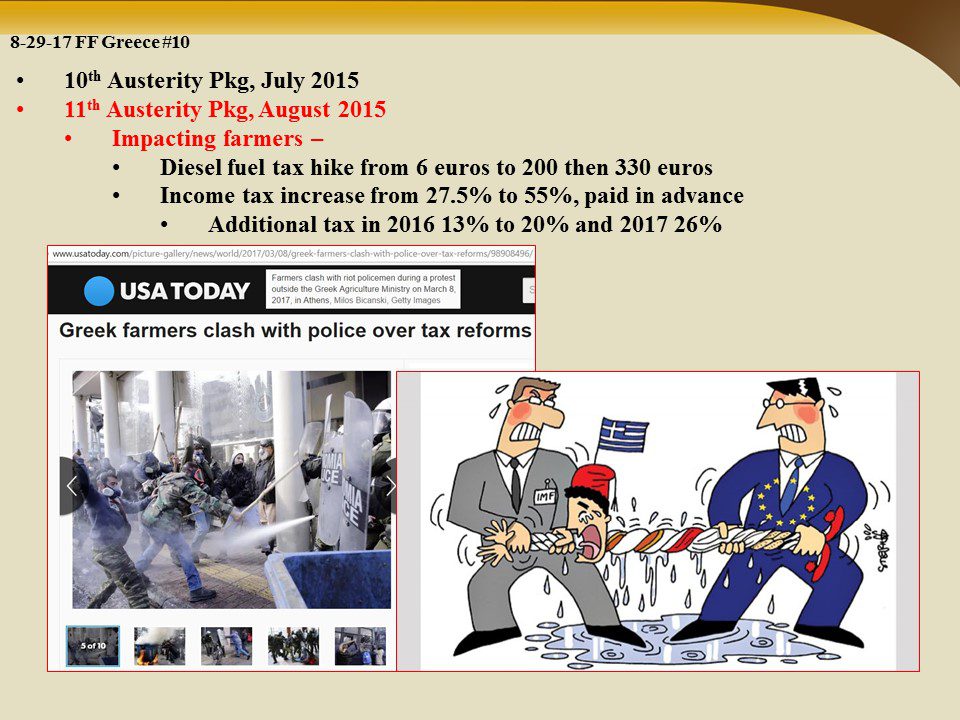 https://en.wikipedia.org/wiki/Civil_mobilization
https://www.usatoday.com/picture-gallery/news/world/2017/03/08/greek-farmers-clash-with-police-over-tax-reforms/98908496/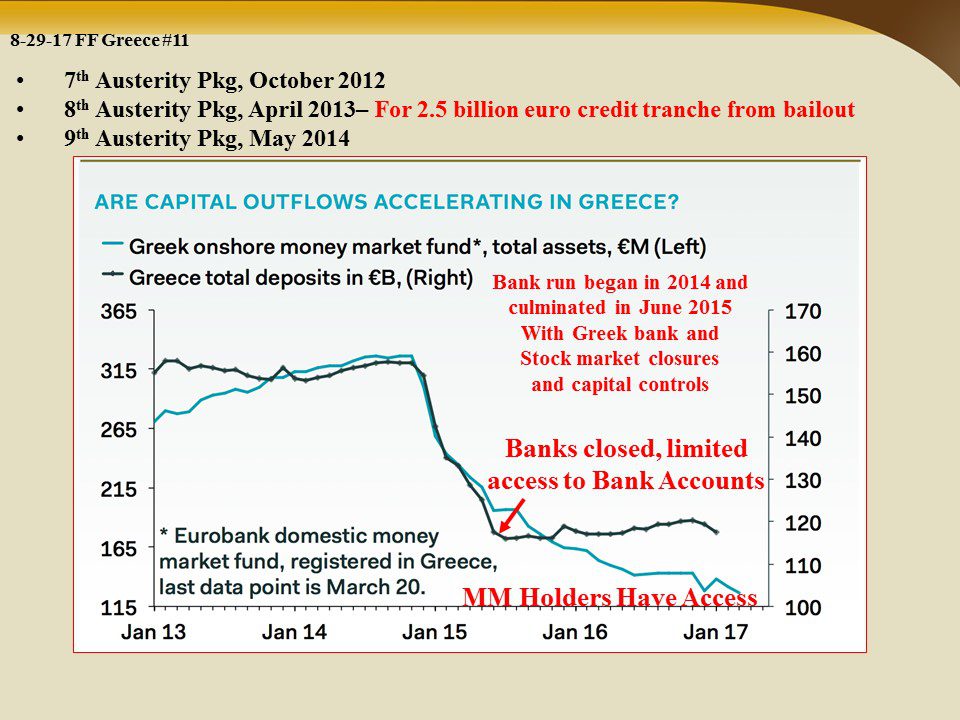 http://www.businessinsider.com/greece-debt-grexit-eurozone-imf-2017-3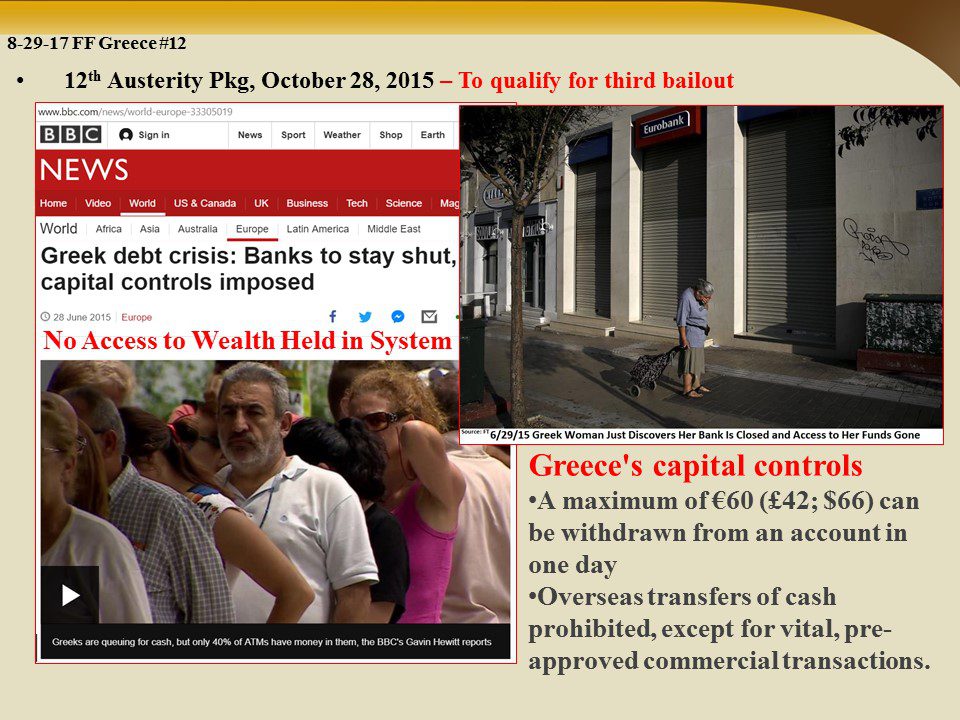 http://www.bbc.com/news/world-europe-33305019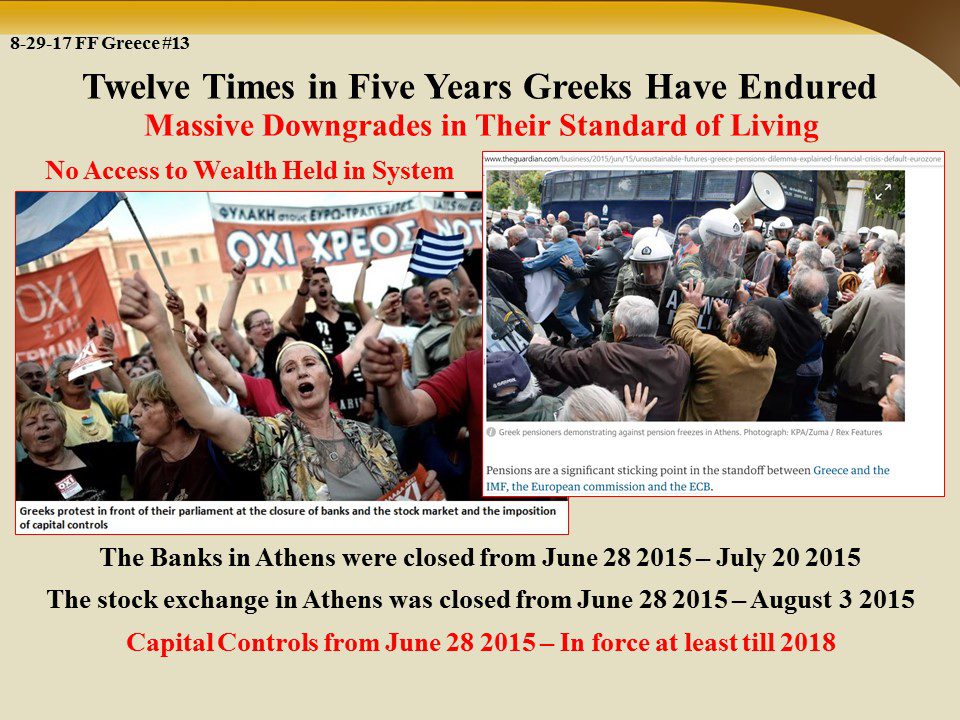 https://www.forbes.com/sites/timworstall/2015/07/18/greek-bank-closure-cost-economy-e3-billion-banks-reopen-monday/#270de57e1e7e 
http://www.businessinsider.com/kathimerini-reports-greek-stock-market-will-be-closed-for-a-week-2015-6
http://www.ekathimerini.com/218275/article/ekathimerini/business/capital-controls-to-stay-till-at-least-end-of-2018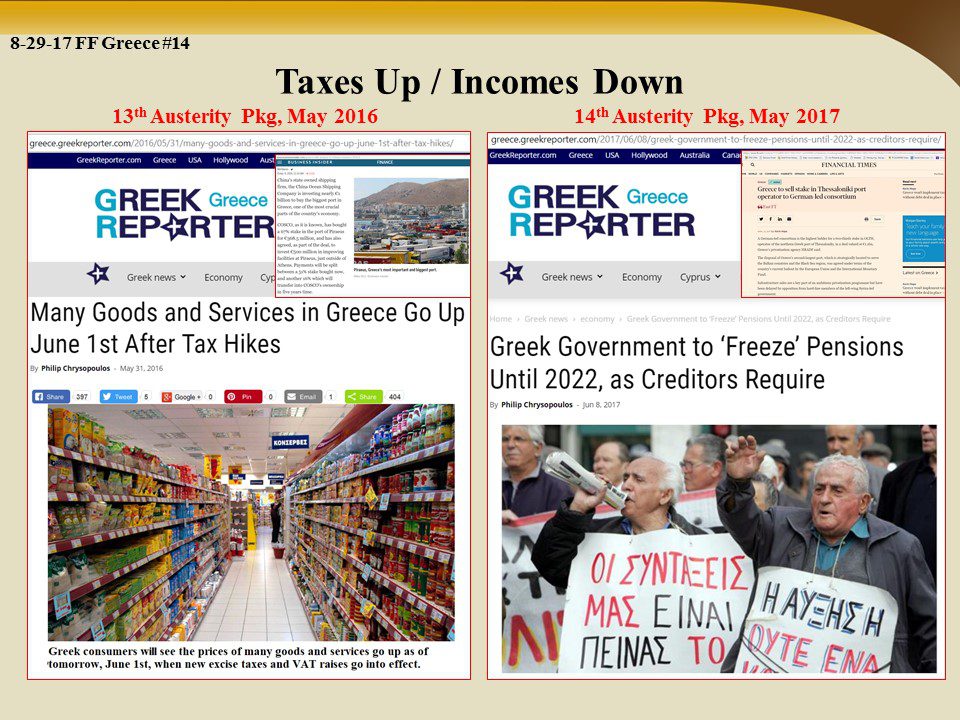 http://greece.greekreporter.com/2016/05/31/many-goods-and-services-in-greece-go-up-june-1st-after-tax-hikes/
http://greece.greekreporter.com/2017/06/08/greek-government-to-freeze-pensions-until-2022-as-creditors-require/
http://www.businessinsider.com/greece-sells-piraeus-to-chinese-investors-2016-4
https://www.ft.com/content/7221b849-5627-369c-8337-ce541f44f11a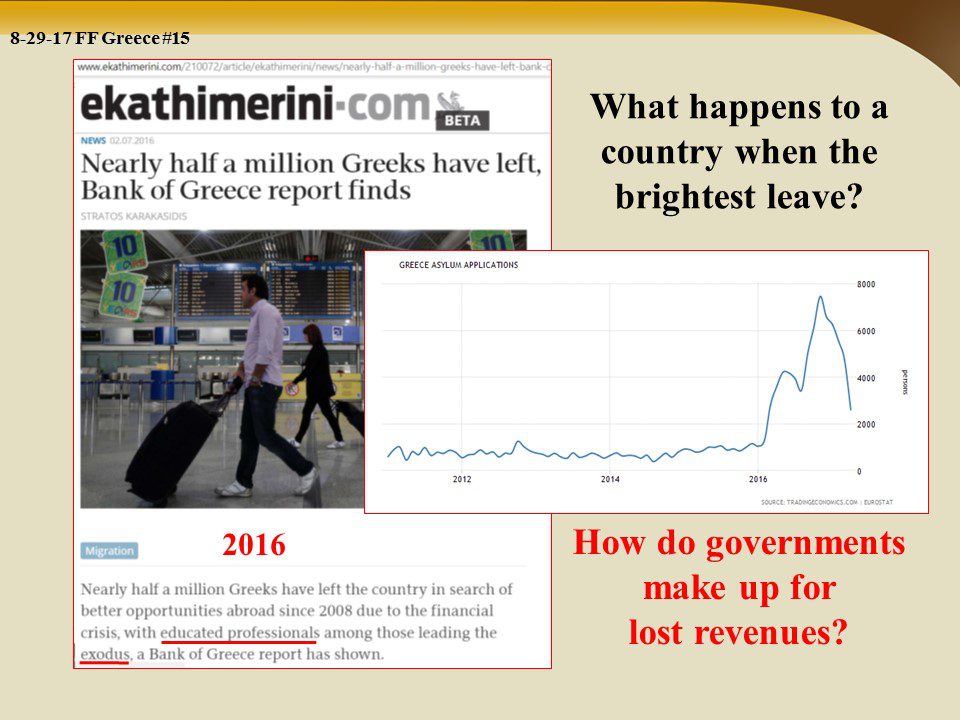 http://www.ekathimerini.com/210072/article/ekathimerini/news/nearly-half-a-million-greeks-have-left-bank-of-greece-report-finds
https://tradingeconomics.com/greece/asylum-applications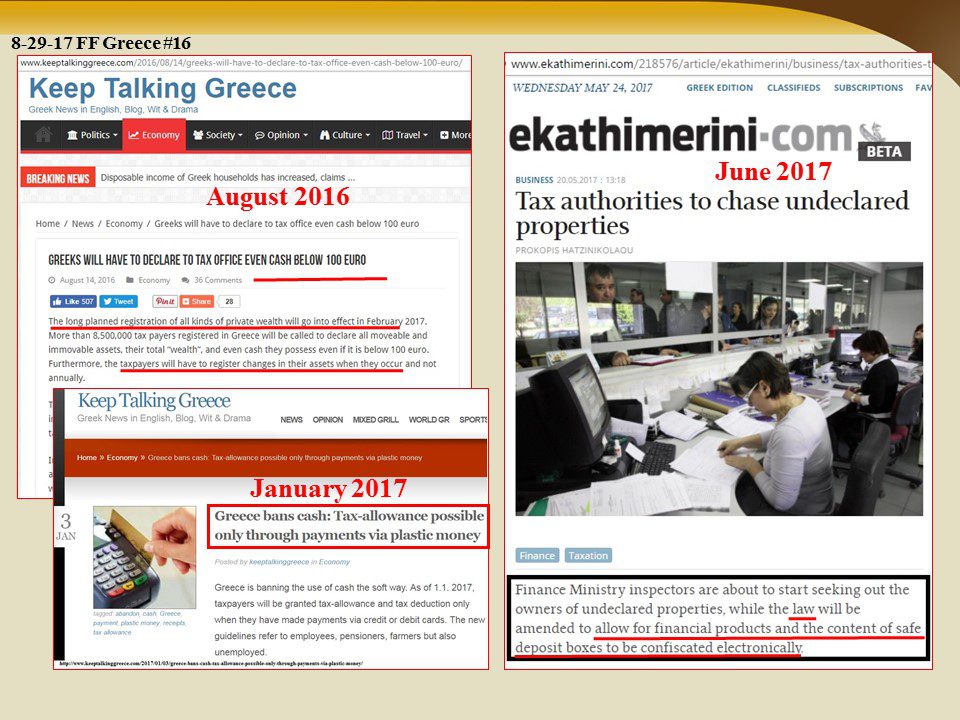 http://www.keeptalkinggreece.com/2016/08/14/greeks-will-have-to-declare-to-tax-office-even-cash-below-100-euro/
http://www.keeptalkinggreece.com/2017/01/03/greece-bans-cash-tax-allowance-possible-only-through-payments-via-plastic-money/
http://www.ekathimerini.com/218576/article/ekathimerini/business/tax-authorities-to-chase-undeclared-properties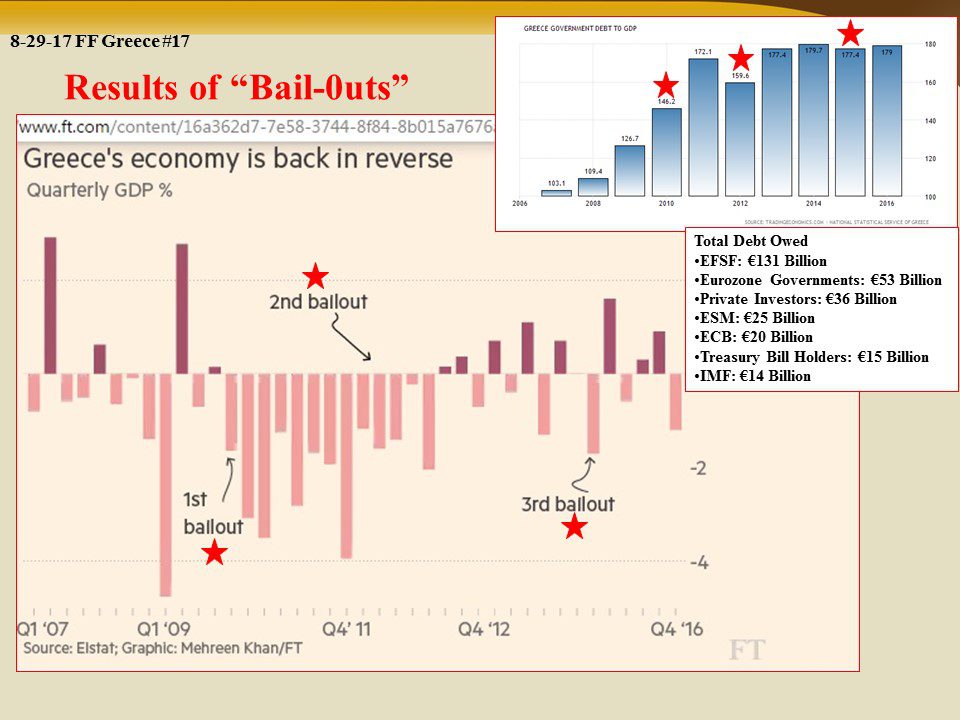 http://www.dw.com/en/latest-greece-bailout-tranche-approved-will-include-imf-buffer/a-39271008
https://en.wikipedia.org/wiki/Greek_government-debt_crisis#Fraudulent_statistics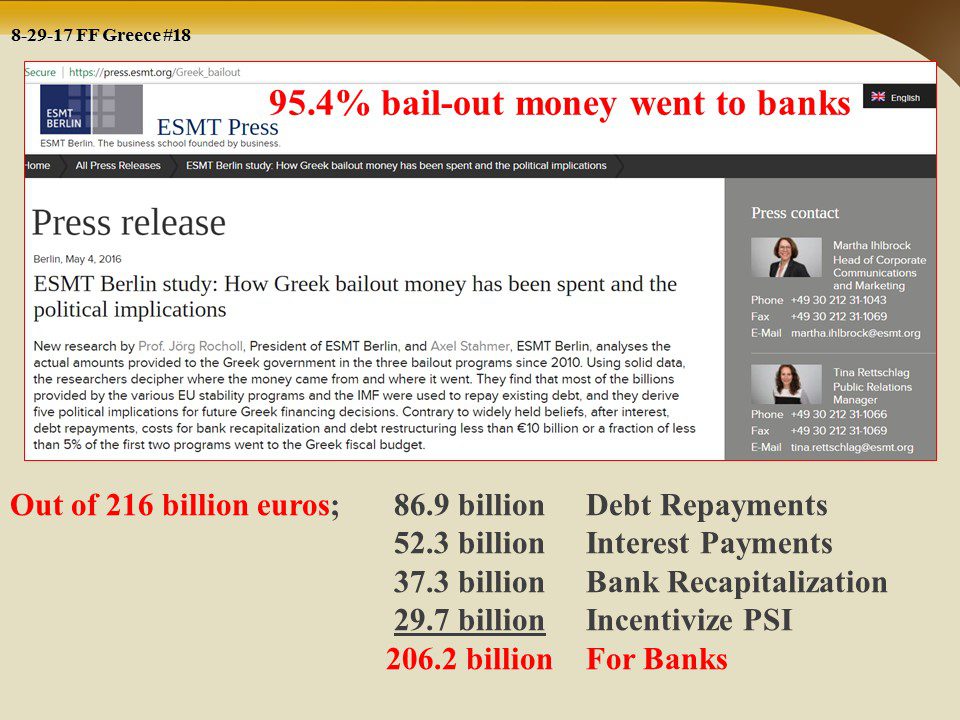 http://www.dw.com/en/most-of-greek-bailout-money-went-to-banks-study/a-19234391
https://press.esmt.org/Greek_bailout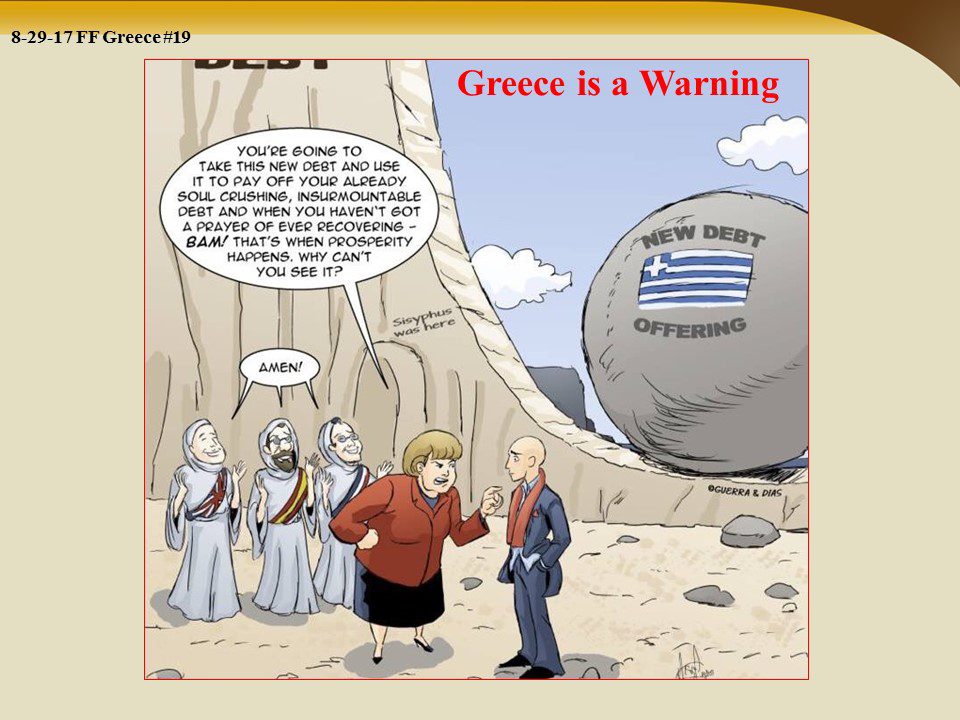 https://www.yanisvaroufakis.eu/2017/06/16/the-annotated-15th-june-2017-eurogroup-statement-on-greece