9-28-17 The Drive to Cryptocurrencies, Who is Really Driving This Bus
The key problem faced by central bankers in their ability to generate inflation. Janet Yellen says she doesn't understand why inflation is not responding the traditional way. OK then, I'll tell her. It's because, by design, fiat money loses value over time via debt inflation. This inflation is regulated via interest rates and perception management.
Officially, there is only 4 cents in value left out of the original 100 cents since the Federal Reserve took over in 1913. As the dollar has declined, so have interest rates. So here we are at the end of the currency's life-cycle and the only place to go now is to attack principal and that's where negative interest rates fit in. Thus the push to cyberspace.
In 1996 the NSA published a White Paper titled "How to Make a Mint: The Cryptography of Anonymous Electronic Cash". The white paper's index reads like an outline of today's cryptocurrencies. In 1997 First Monday, a peer-review journal on the internet sponsored by the University of Illinois at Chicago, published "Smart Contracts: Formalizing and Securing Relationships on Public Networks" Which laid out the foundation of today's Smart Contracts.
Urban legend says that Satoshi Nakamoto released bitcoin on January 9, 2009 near the depth of the crisis (QE began in March) claiming to have written the code in 2007. Yet he has remained anonymous and hidden. Is it a coincidence that cryptocurrencies were revealed as the markets were crashing?
There are those that believe cryptocurrencies bypass central banks. But what if they don't? What if they actually support the goals of the established system? What would that mean if everything we earned, owned and spent was controlled by a small group of technocrats?
Today's webinar explores these questions and more.
Slides and Links: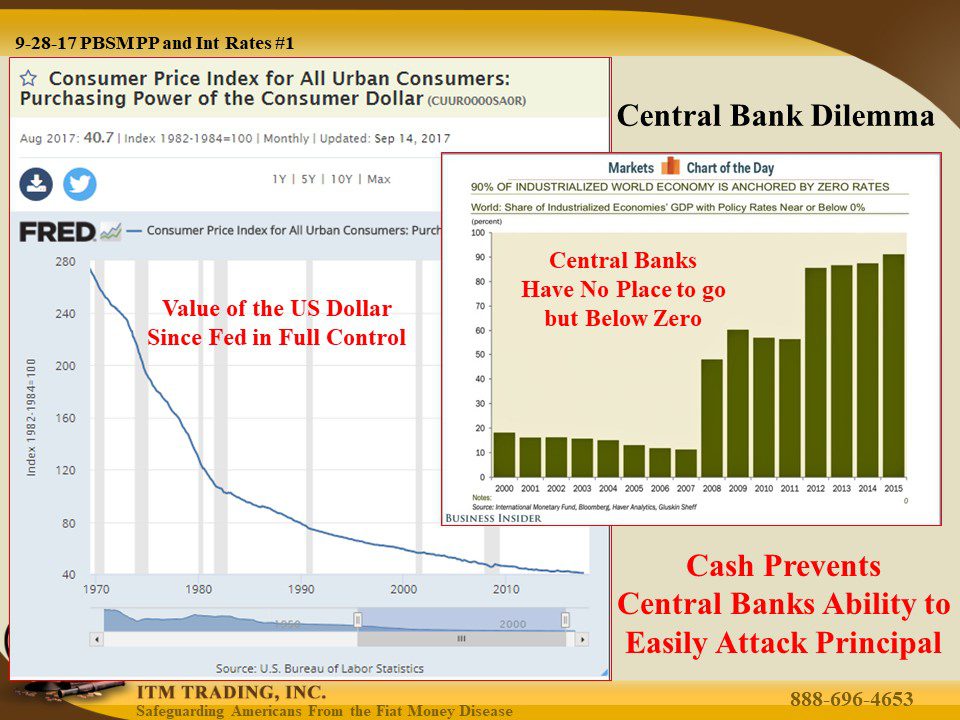 http://www.businessinsider.com/90-of-the-industrialized-world-right-anchored-by-zirp-2015-2
http://research.stlouisfed.org/fred2/series/CUUR0000SA0R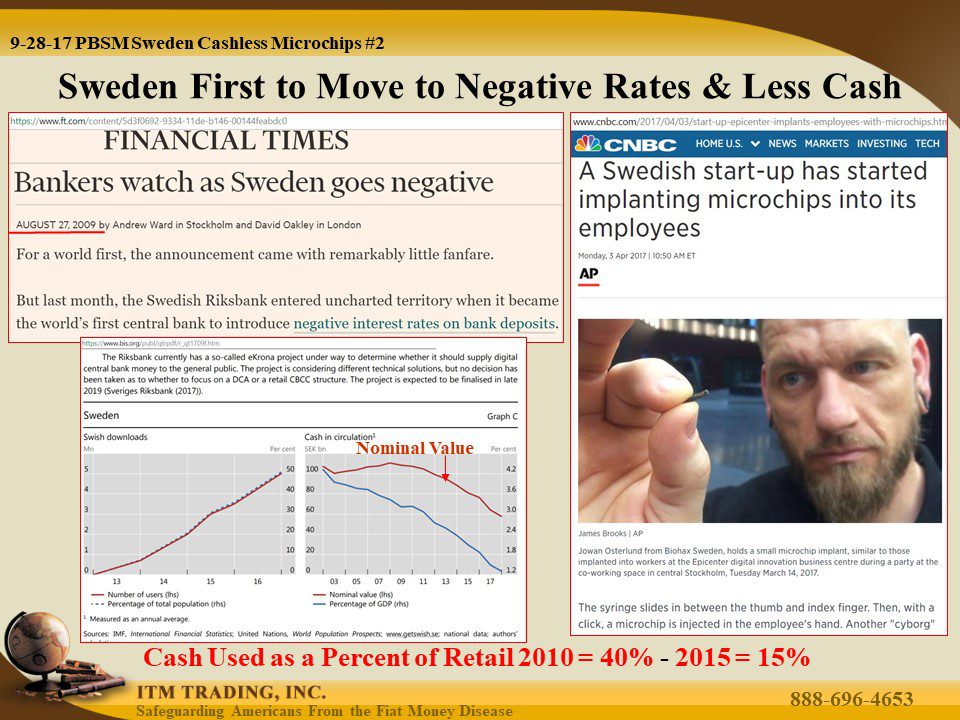 https://www.ft.com/content/5d3f0692-9334-11de-b146-00144feabdc0
https://www.imf.org/external/pubs/ft/scr/2016/cr16355.pdf
https://www.bis.org/publ/qtrpdf/r_qt1709f.pdf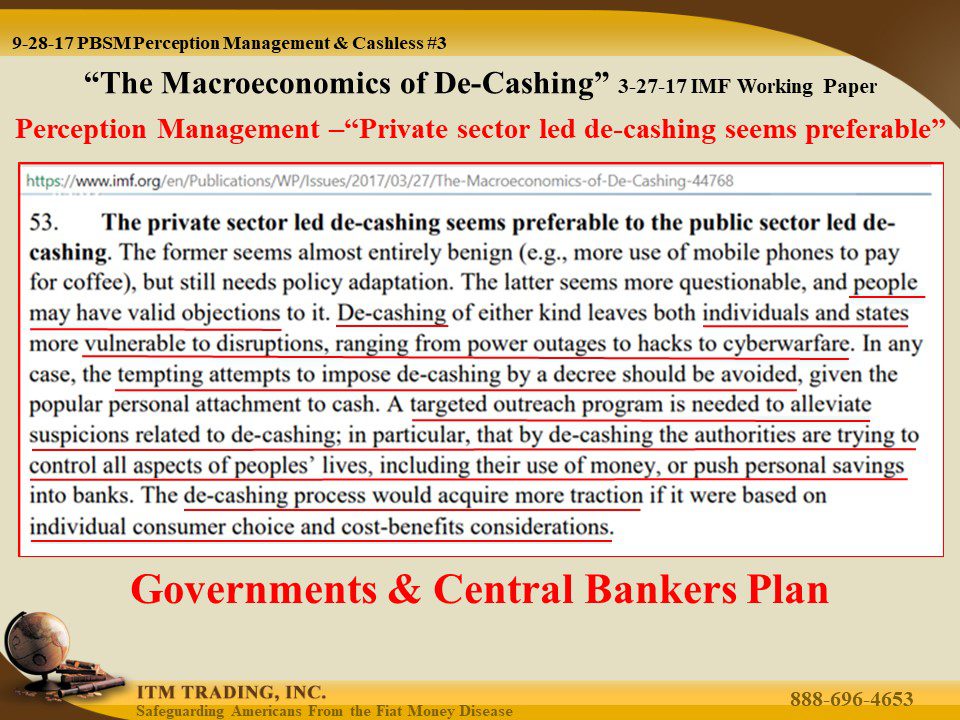 https://www.imf.org/en/Publications/WP/Issues/2017/03/27/The-Macroeconomics-of-De-Cashing-44768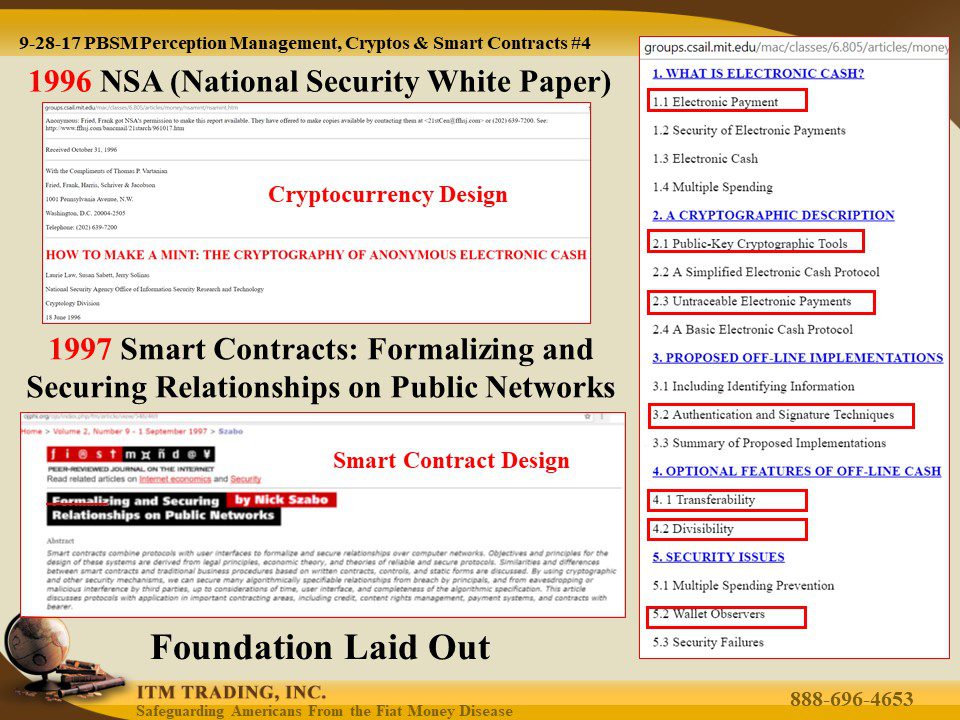 http://groups.csail.mit.edu/mac/classes/6.805/articles/money/nsamint/nsamint.htm
http://ojphi.org/ojs/index.php/fm/article/view/548/469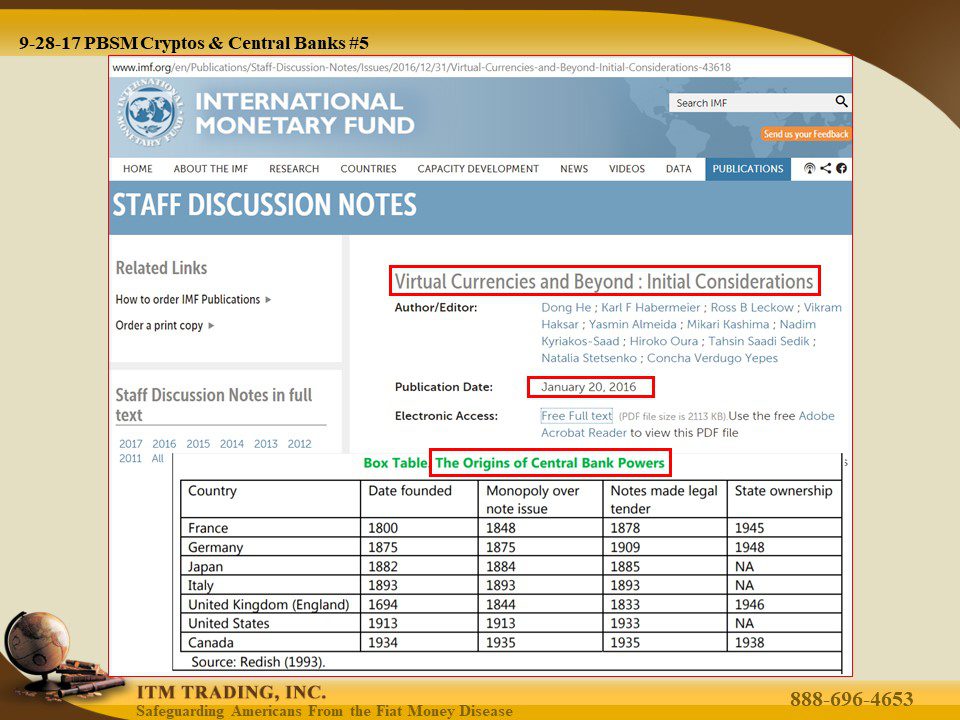 http://www.imf.org/en/Publications/Staff-Discussion-Notes/Issues/2016/12/31/Virtual-Currencies-and-Beyond-Initial-Considerations-43618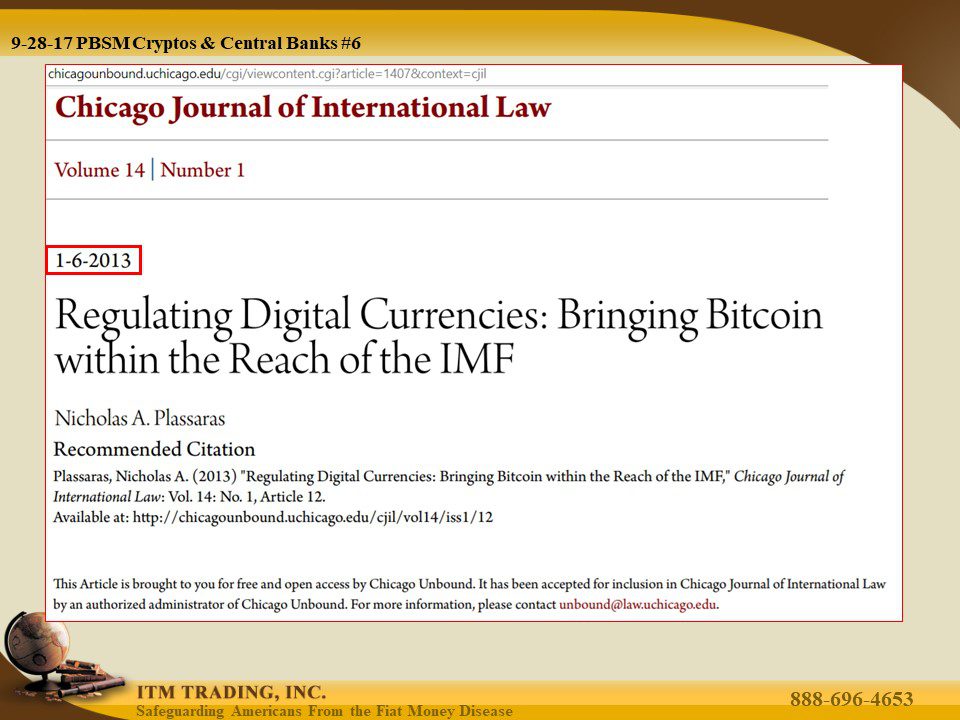 http://chicagounbound.uchicago.edu/cgi/viewcontent.cgi?article=1407&context=cjil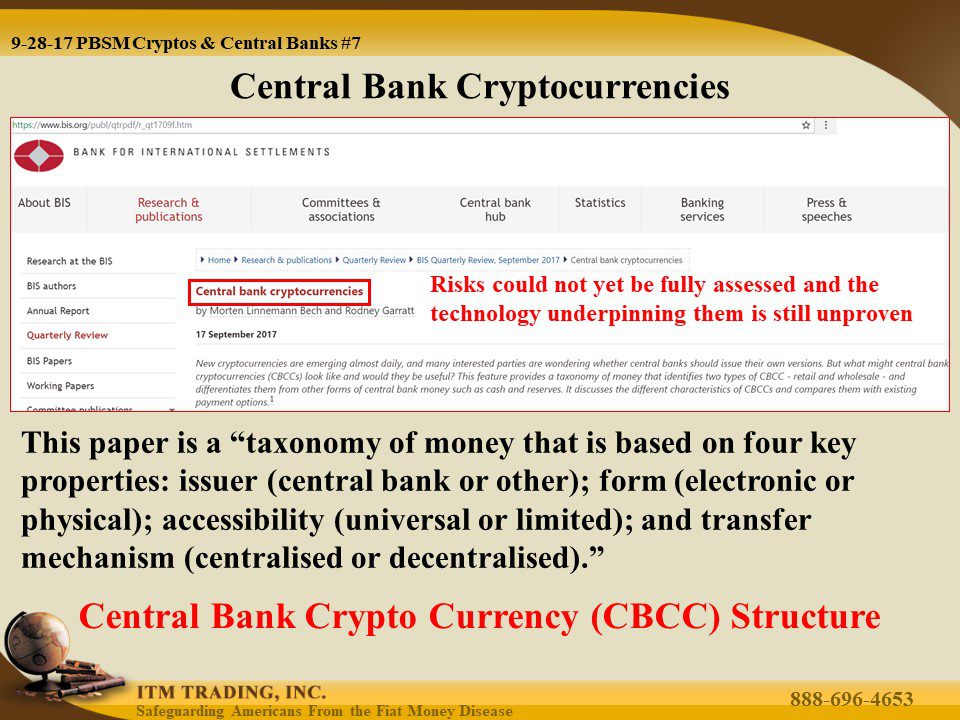 http://www.reuters.com/article/us-bis-report-cryptocurrencies/too-soon-to-determine-risks-of-central-bank-issued-cryptocurrencies-bis-idUSKCN1BS0OS
https://www.bis.org/publ/qtrpdf/r_qt1709f.pdf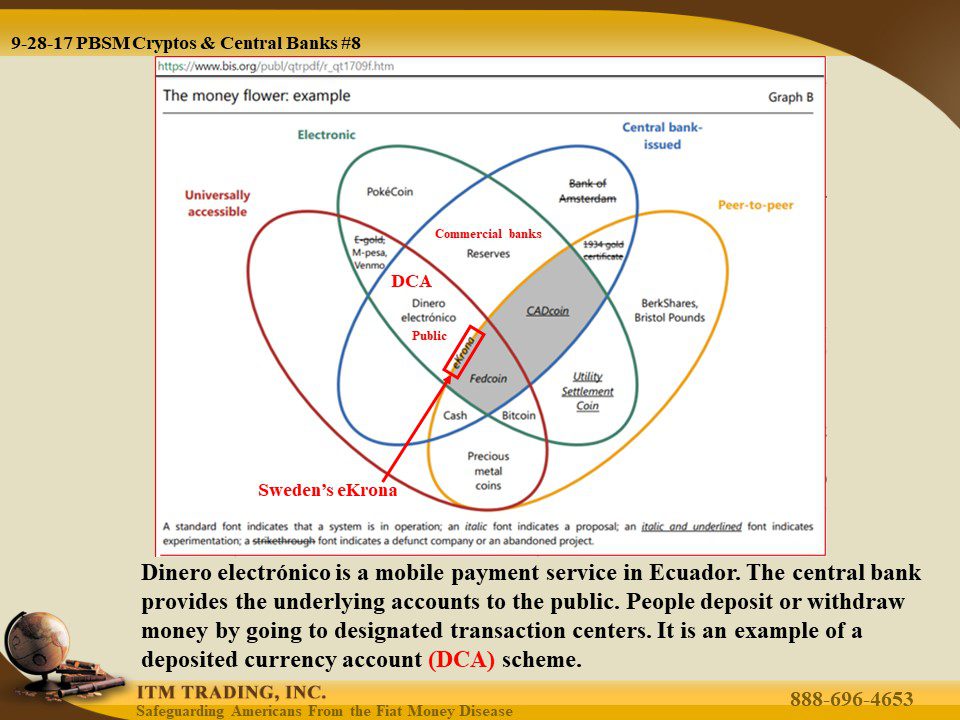 https://www.bis.org/publ/qtrpdf/r_qt1709f.pdf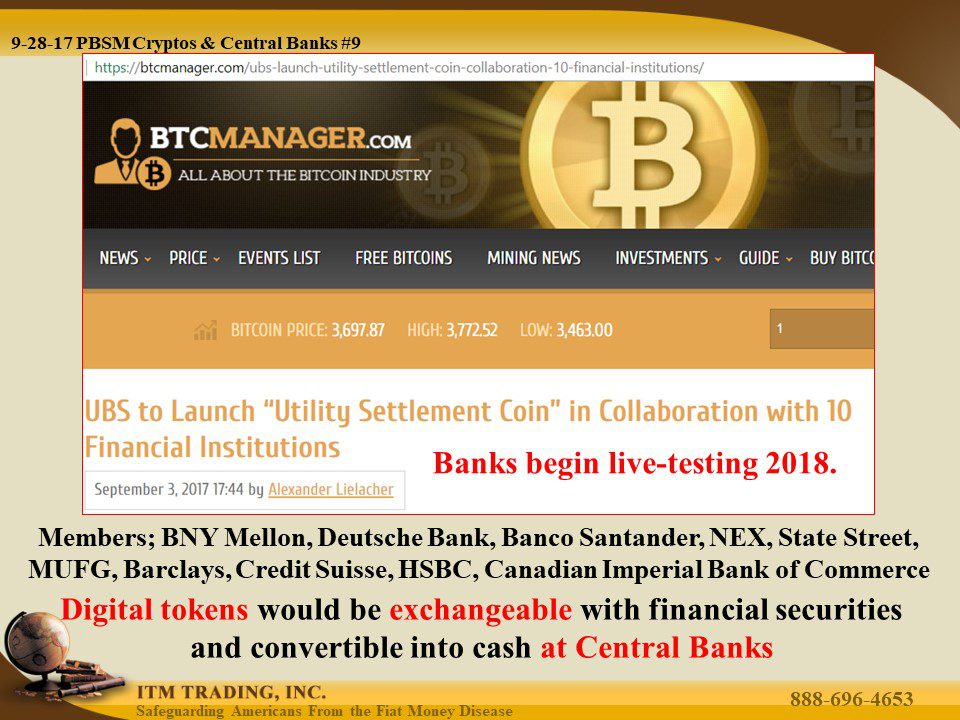 https://btcmanager.com/ubs-launch-utility-settlement-coin-collaboration-10-financial-institutions/
https://www.ft.com/content/1a962c16-6952-11e6-ae5b-a7cc5dd5a28c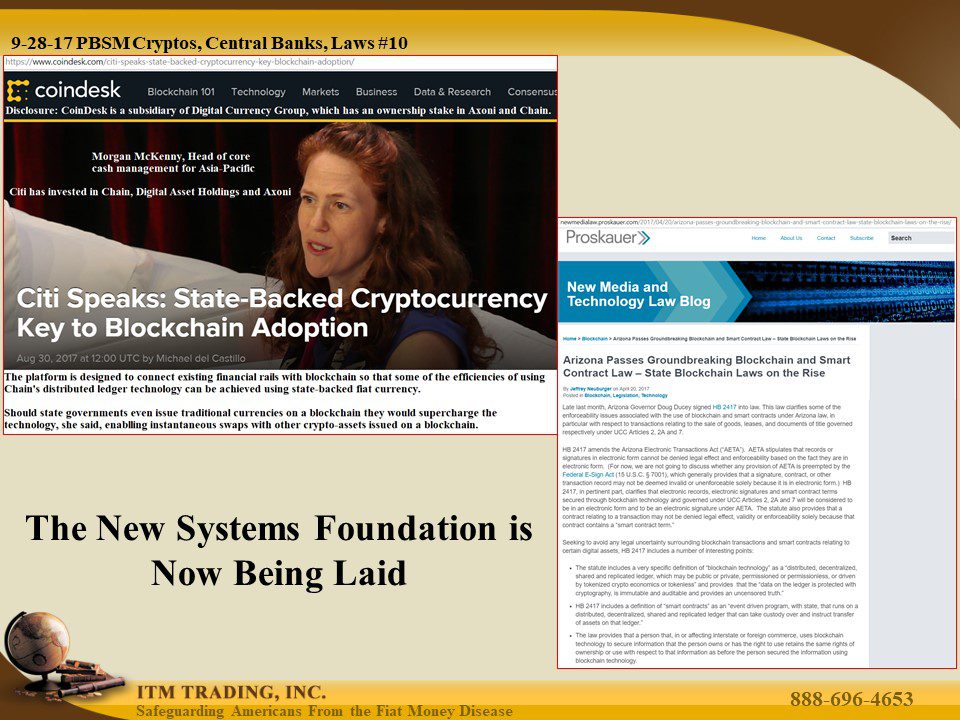 https://www.coindesk.com/citi-speaks-state-backed-cryptocurrency-key-blockchain-adoption/
http://newmedialaw.proskauer.com/2017/04/20/arizona-passes-groundbreaking-blockchain-and-smart-contract-law-state-blockchain-laws-on-the-rise
https://legiscan.com/AZ/bill/HB2417/2017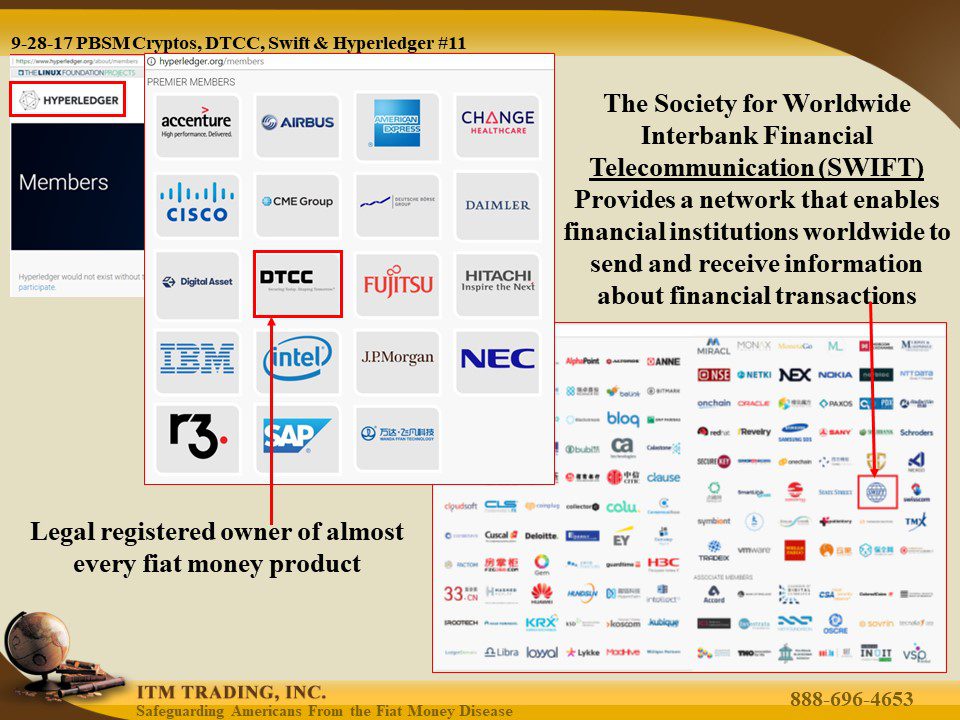 http://hyperledger.org/members
https://en.wikipedia.org/wiki/Society_for_Worldwide_Interbank_Financial_Telecommunication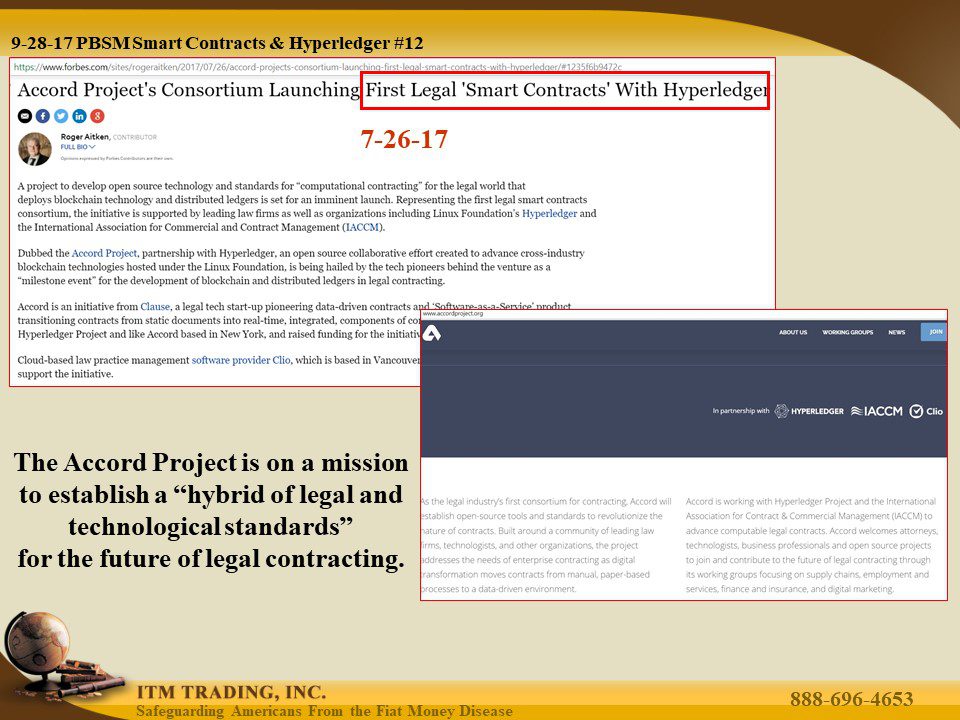 https://www.forbes.com/sites/rogeraitken/2017/07/26/accord-projects-consortium-launching-first-legal-smart-contracts-with-hyperledger/#1235f6b9472c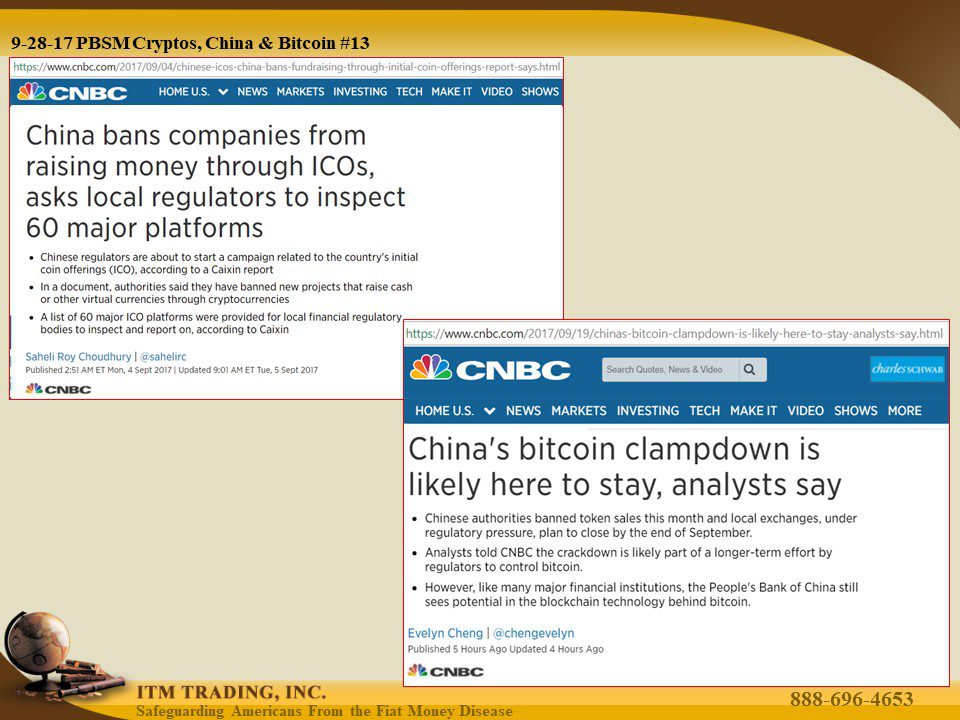 https://www.ethnews.com/local-sources-china-bans-travel-by-bitcoin-executives
https://www.cnbc.com/2017/09/19/chinas-bitcoin-clampdown-is-likely-here-to-stay-analysts-say.html
https://www.cnbc.com/2017/09/04/chinese-icos-china-bans-fundraising-through-initial-coin-offerings-report-says.html
http://thedailycoin.org/2016/08/31/digital-enslavement-central-banks-cryptocurrency-has-arrived
https://www.ft.com/content/1a962c16-6952-11e6-ae5b-a7cc5dd5a28c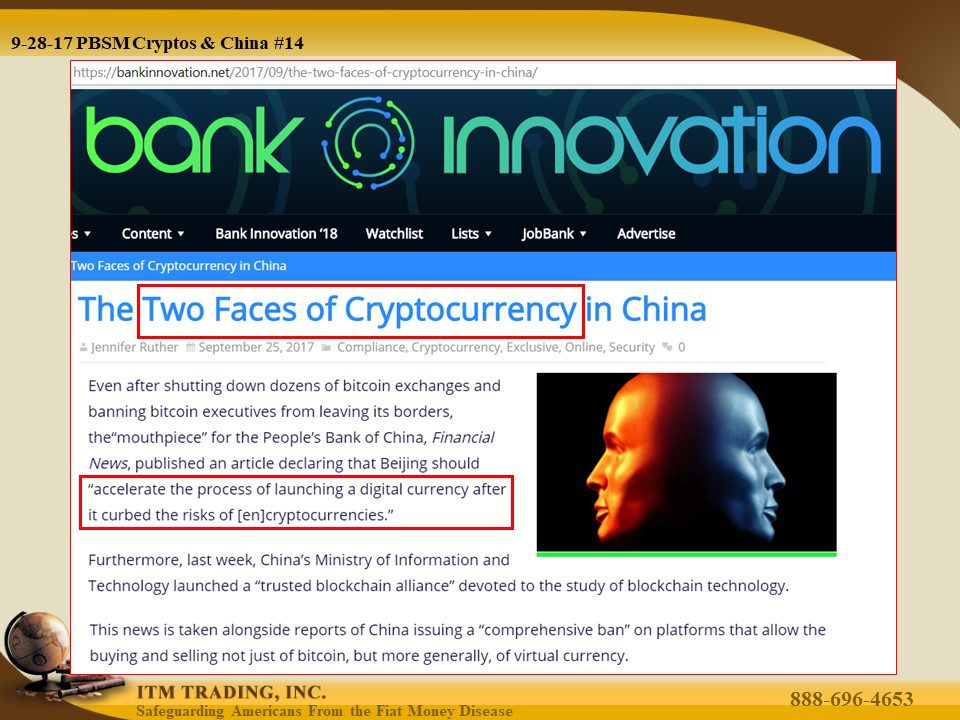 https://bankinnovation.net/2017/09/the-two-faces-of-cryptocurrency-in-china/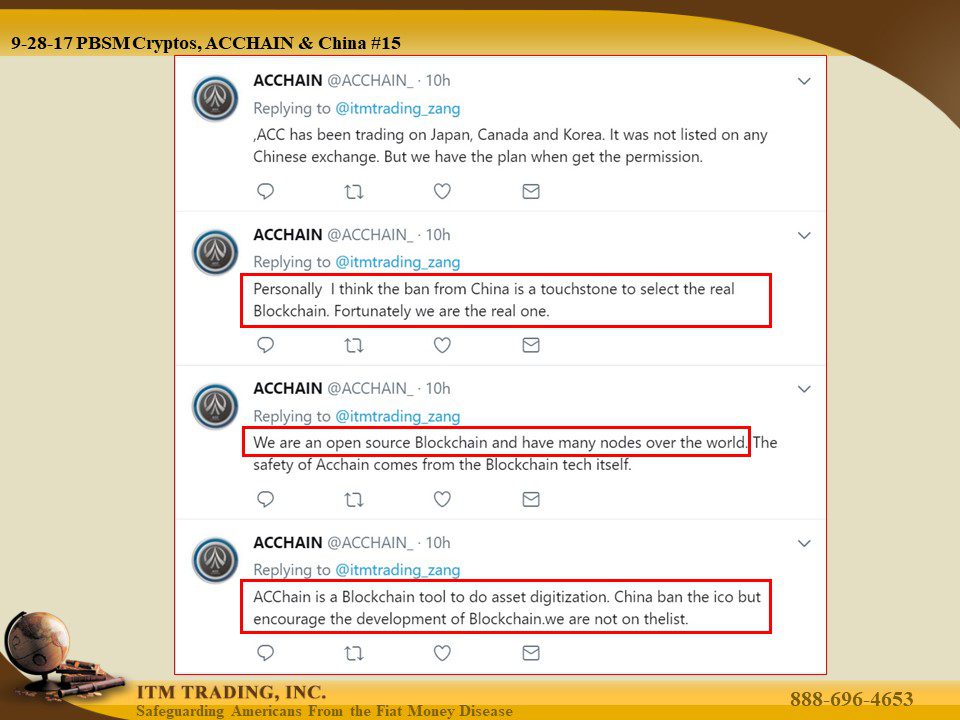 https://twitter.com/itmtrading_zang/status/912534306941104128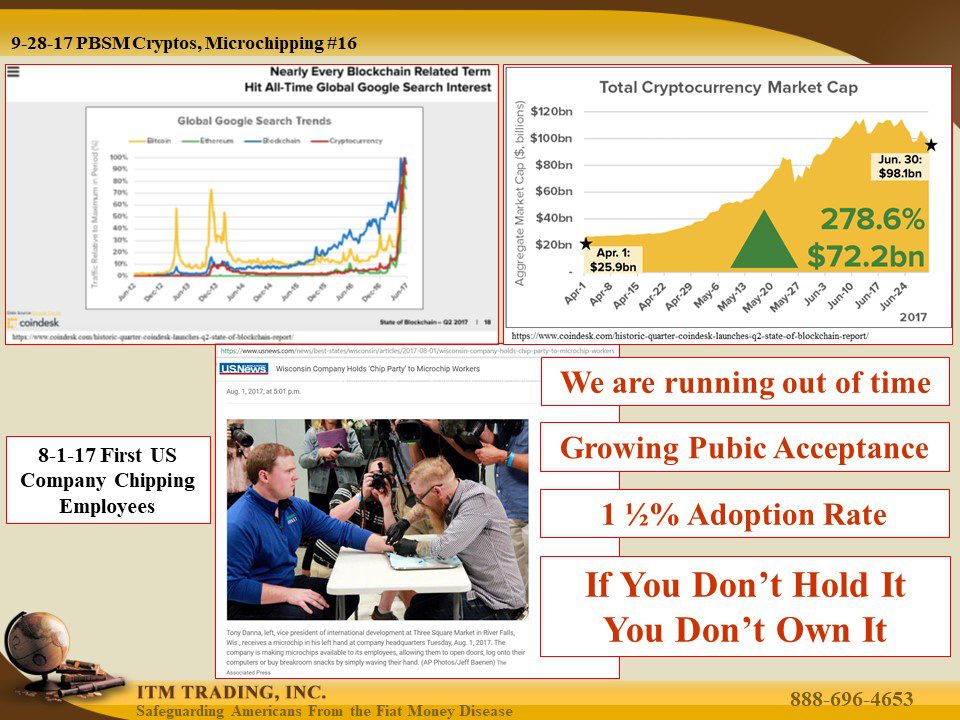 https://www.coindesk.com/historic-quarter-coindesk-launches-q2-state-of-blockchain-report/
https://www.usnews.com/news/best-states/wisconsin/articles/2017-08-01/wisconsin-company-holds-chip-party-to-microchip-workers