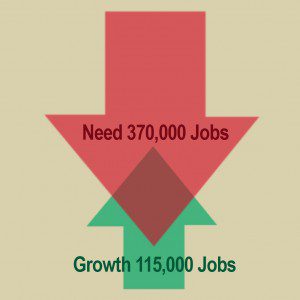 The employment Job Numbers grew by an anemic 115,000 jobs in April. This amount is much less than what is needed just to stay even with the natural population growth, let alone the number already out of work. This may sound like it is at odds with the latest decline in the unemployment rate of 8.1 percent until one realizes that the fall is a result of another 522,000 adults that quit looking for work and dropped off the roll. This has been the most frail recovery since the Great Depression, with over 4/5 of the drop in unemployment achieved by a declining adult labor participation rate.
There are signs that the housing market is making some headway, which should raise residential construction to some extent, but the general economy and jobs growth will probably be even less robust in the second quarter. The April jobs report hints at an increasing sluggish pace of economic increase and is a harbinger of more consumer caution down the road.
Construction lost 2,000 jobs and together, transportation and warehousing dropped 17,000 employees, as logistic companies brace for a further slowdown. Concerns about the resilience of the recovery as well as health care costs when Obama Care takes full effect make employers very cautious about adding to their lean ranks.
Adding in those disheartened adults and others working part time, for lack of full time work, the unemployment rate is closer to 14.5 percent. If college graduates in low skill positions are taken into account the unemployment rate is closer to 18 percent.
The likelihood for lowering those frightening statistics are, as the old saying goes, "Slim to none, and Slim just left town." At this point, the economy needs to add 13.3 million jobs over the next three years—370,000 each month—to bring unemployment down to 6 percent.
Growth is fragile and jobs are increasingly at risk due to temporary tax cuts, stimulus spending, huge federal deficits, expensive as well as ineffective business regulations, and costly health care mandates which do not deal with the structural problems that hold back dynamic growth and job creation—the huge trade deficit and dysfunctional energy policies of which green energy company Solyndra is but an example.
Unless there are swift efforts to provide more domestic oil, rectify the trade imbalance with China, loosen oppressive business regulations, and rein in health care mandates and costs, the U.S. economy cannot grow and turn around the desperately needed job numbers.