If you have not begun amassing a precious metals portfolio yet, perhaps you may want to begin by acquiring American Silver Eagles. There are several reasons to acquire silver bullion in general and a couple reasons to acquire American Silver Eagles in particular. Silver has been popular with investors because it is a more financially easily accessible form of currency metal, especially when compared to gold. In fact, silver prices are even good for silver prices right now. ITM Trading makes it easy to acquire gold and silver, and ITM Trading can send American Silver Eagles to your door registered and insured through the United States Postal Service.
By silver prices being good at the moment, I mean that silver prices have undergone what is called a price correction. Silver has seen its most recent high at almost $50 an ounce, and this was sometime after the market crashes and bank meltdowns of 2007 and 2008. As the stock markets suffered from the horrific losses that they seemed to take on an almost daily basis riding one bad and wave of news after another, when investor money did return the purchase of physical gold and physical silver seemed a safe haven and over time the market price of 1 ounce of gold more than doubled, and the market price of 1 ounce of silver jumped almost five fold.
However, as things returned to normal, the spot price of silver, which is the beginning base price for an ounce of silver when bought in large contracts, fell back to the $20 per ounce range, and has recently dropped as low as $13 and change per ounce.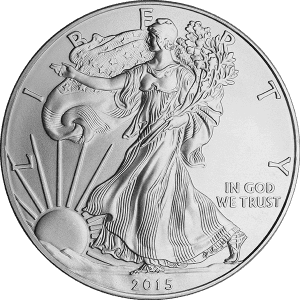 American Silver Eagles Have Big Upside Potential For Profit.
This gives silver, and therefore American Silver Eagles, a lot of upward profit potential, since eventually the price of silver must go back and test its high of around $50 per ounce, as the dollar eventually weakens again. But first, more about the silver American Eagle.
There is a certain irony to the creation of the American Silver Eagle coin, and by creation I mean the legislation that initiated the silver coin's very existence. The predecessor to the  American Silver Eagle coin in several certain ways was the silver Peace Dollar. The Peace Dollar was to be a beautiful silver dollar coin that celebrated and commemorated in ways the peaceful days that would follow after America emerged from World War I.
Meetings were held to seek out a new beautiful Art Deco type of design for the new silver dollar because part of the point in creating the silver Peace Dollar was to exhibit a move away from portraits of American politicians and reminders of war that dominated American coinage at the time. The American Silver Eagle was birthed through legislation designed to liquidate physical silver from the American Defense National Stockpile. You see physical silver has a very certain value and worth in the military arena.
Though I imagine that much of what the physical silver is actually used for and how much physical silver is required in various military needs is classified and top-secret, physical silver is used in everything from electronics to smart bomb navigation and other uses that the physical silver cannot be recovered from. So once you blow up a smart bomb the silver that was required to create that bomb is gone from the world forever. So in essence the silver Peace Dollar has been replaced by a one dollar silver bullion coin that has its very roots in national defense, the American Silver Eagle. Hence the irony.
When the military decided it had too much silver and wanted to divest some of that silver into the creation of a 1 ounce silver bullion coin, drawings began to design what the coin would look like. The American Silver Eagle emerged a striking silver bullion coin, and the minting and finish of these silver bullion pieces is top-notch. In fact the American Silver Eagle is regarded as one of the most beautiful silver bullion coins minted in the world.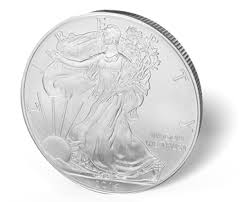 About The American Silver Eagle.
The design on the front, or obverse side, of the coin is an adaptation of a design by Adolph A. Weinman. If the design looks familiar to you that is perhaps because same design graced the Walking Liberty half-dollar from 1916 to 1947. The design of a strolling elegant Lady Liberty had been a favorite of Americans for decades and numismatists as well as newcomers to the coin realm appreciate Lady Liberty returning to the American Silver Eagle.
Underneath Weinman's design is a one Troy ounce coin with a reeded edge and a composition that is 99.9% pure silver. The .1% remaining in the composition is copper. The American Silver Eagle began production in 1986 and has been produced every year since and quite often selling out of production in recent years.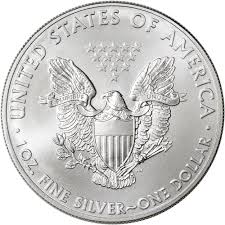 The design of the back, or reverse of the coin is that of a heraldic Eagle with an olive branch in one talon and arrows in the other. Above the Eagle there are 13 five pointed stars symbolizing the original American colonies. Script denotes 1 ounce of fine silver and the value of one dollar underneath the Eagle, and the words United States of America  curve around on top of the Eagle. The design is accredited to John Mercanti.
The American Silver Eagle has also been produced in "Proof" format, which is especially beautiful to behold. The proof American Silver Eagle has a very high polished areas of the coin, contrasted by deeply frosted areas of the coin, and the contrast between the two silver finishes really shows off the beauty and designs of both Weinman and Mercanti.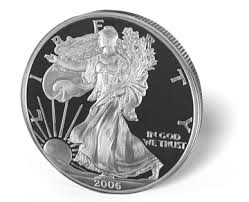 In addition to being a wonderful bullion coin, the American Silver Eagle is also eligible to be held inside of an IRA, or Individual Retirement Account. If you would like to acquire  Silver American Eagles or proof American Silver Eagles inside of your Individual Retirement Account, ITM Trading can make converting your present IRA to an IRA filled with American Silver Eagles easy and quick.