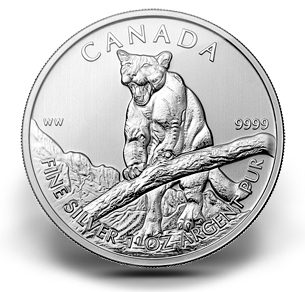 The Royal Canadian Mint released 1,000,000 Canadian Cougars, part of a 6-coin series called the Wildlife Series which has garnered much attention and love by investors and collectors of silver coins. The series started with the 2011 Canadian Timber Wolves then transitioned to the 2011 Canadian Grizzly, and its newly released 2012 Canadian Cougar. All of these coins are 1oz of .9999 pure silver.
The Cougar is the third coin in the series and the first of two to be released for 2012. The coins are minted in limited quantities (1,000,000) and do tend to sell out in a relatively short period of time. Compare the mintage quantity to that of the silver American Eagle at 29 million from January through August of 2011.
The coin depicts the same design on the obverse by Susanna Blunt débuted in 2003 on the popular Canadian Maple Leaf coin which bears the portrait of Queen Elizabeth II. The reverse shows the image of the Cougar with mouth open standing on a branch, designed by Senior Royal Canadian Mint Engraver William Woodruff.
Information on the bullion Cougar silver coin was unveiled by Mint officials at the American Numismatic Association's 2011 World's Fair of Money in Chicago, Illinois. Attendees were the first to get a glimpse of the new coins design.
All coins in the series have a legal tender value of $5 which is depicted on the obverse, but it is trivial as the real value of the coin is much higher. This is a common practice of most mints in the world.
The cougars are not available directly through the mint, but instead issued to one of its network of authorized dealers around the world. They are sold to the dealers at close to the spot trading price and then each dealer adds their markup to the coin.
What is amazing is right now you can pick up a Cougar for around $45 per coin. The first coin in the series (Timber Wolves) can be purchased for around $60, a fifteen dollar premium above the new release price. The Grizzly can be purchased for around $47.


The last two coins in the series will be released in 2013. No information is currently available on the designs of the last three coins. They will be available for purchase on October 1st by calling our offices at 1-888-696-4653 for more information on these amazing Canadian Cougars.