WHAT THE MARRIAGE OF THE GOVERNMENT & THE PRIVATE CENTRAL BANK MEANS TO YOU…by Lynette Zang
Breaking News
Jan 19, 2021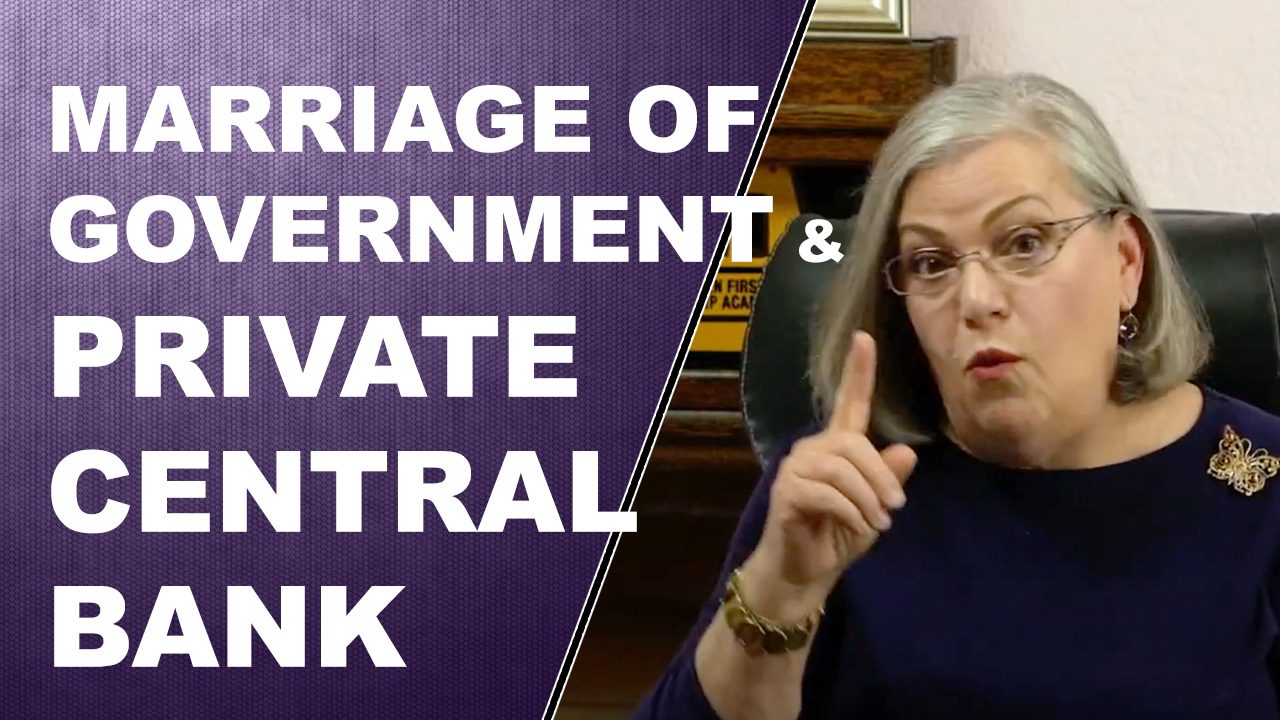 WHAT THE MARRIAGE OF THE GOVERNMENT & THE PRIVATE CENTRAL BANK MEANS TO YOU…by Lynette Zang
Many making under $75,000 have recently (or will) receive their $600 stimulus checks, though that little amount does not cover even a month of costs. But don't worry, more help is on the way in the form of feisty Janet Yellen, former Fed Chair who is most likely to become the Secretary of the Treasury.
In released statements she is quoted as saying that the US should "act big", meaning create a lot more debts, deficits and new money. Of course, Wall Street is cheering because they know most of this new money is most likely to come their way, though perhaps the much talked-about-for-ever infrastructure spending may finally happen. We will see, but, for Main Street too, help may be on the way.
The big experiment of the Treasury and Fed working together as a team is about to be solidified with Janet Yellen. Even though the new money created (QE) in 2020 is the highest in history at 24% in one year, going all the way back to 1875, it was not enough to generate the desired inflation level and "stimulate" the real economy.
And so, the call is to do even more. After all, inflation will save us. Just be careful what you ask for.
The Fed touts that the QE money created since 2008 was not inflationary, (though I think it depends on what you are buying) but most of that money went to the banks and corporations. In 2020 that was still true, though more was given to the spending public this time than the 2008 crisis. Additionally, we've been warned that the Fed will "allow" inflation to run above the 2% target, that they've not been able to hit since 2008.
In order to do that, they will have to enable consumers to consume.
The call for UBI (Universal Basic Income) as an answer is growing louder, with experiments expanding in many cities, currently primarily funded by private donations. Why would the likes of Elon Musk and Mark Zuckerberg pay for such experiments? Why would cities take on the experiments?
For large corporations, they can justify the loss of jobs to automation and AI (Artificial intelligence). For governments, wealth and income inequality get even worse after a pandemic. And that could cause a revolution that upends the current status quo.
How will they pay for UBI when it is universal? Perhaps MMT (Modern Money Theory) will become overt and the Fed will simply deposit those digital dollars into every individuals FEDNOW accounts. Won't that be great? Free money woo hoo!
Unfortunately, there is no free lunch and I fear the cost will be dear. Loss of freedom, privacy and fiat money wealth are all on the table. But that's what makes physical gold and silver in you possession so much more important. Because as a former Fed Chair once said "In the absence of the gold standard, there is no way to protect savings from confiscation through inflation. There is no safe store of value."
Slides: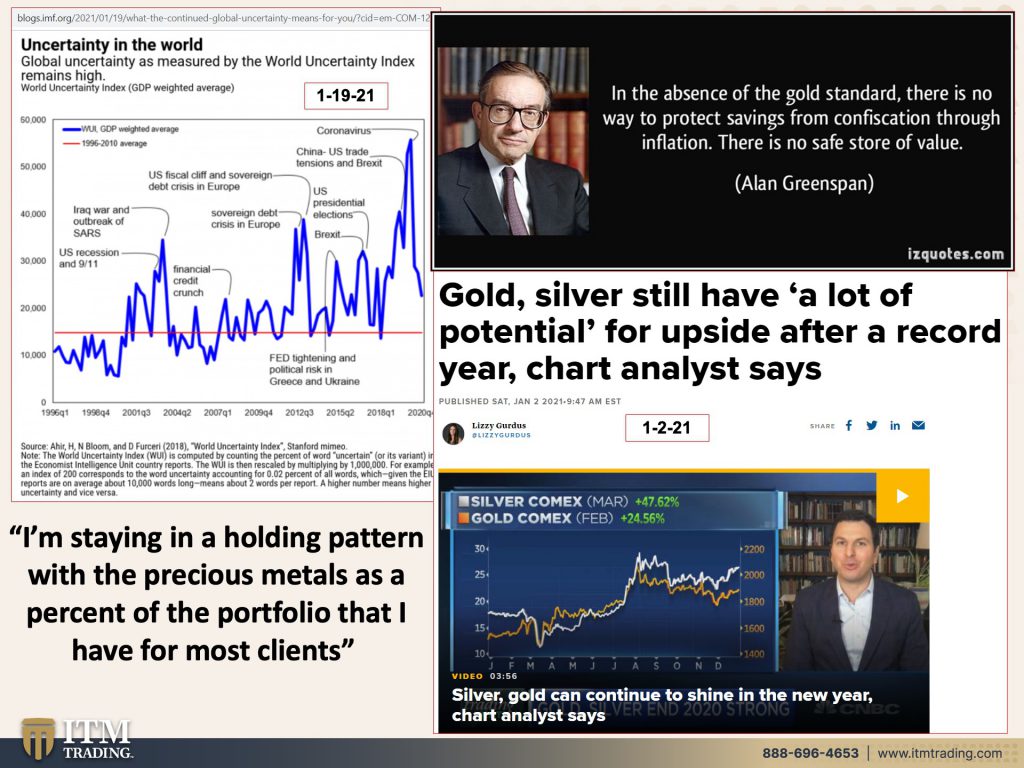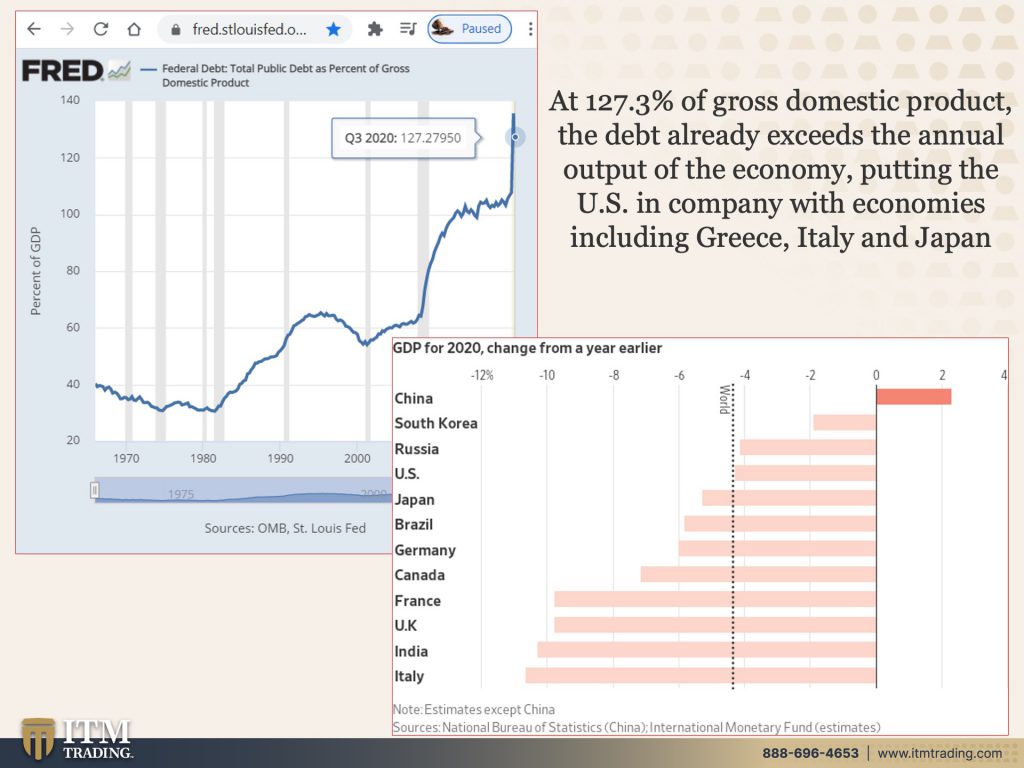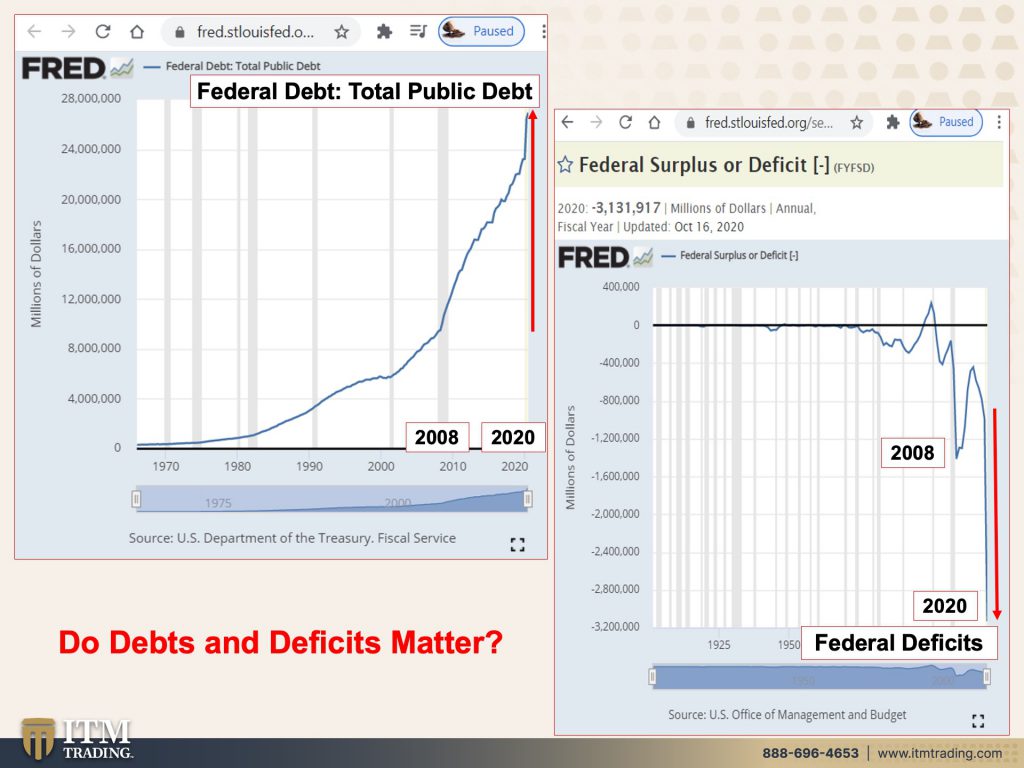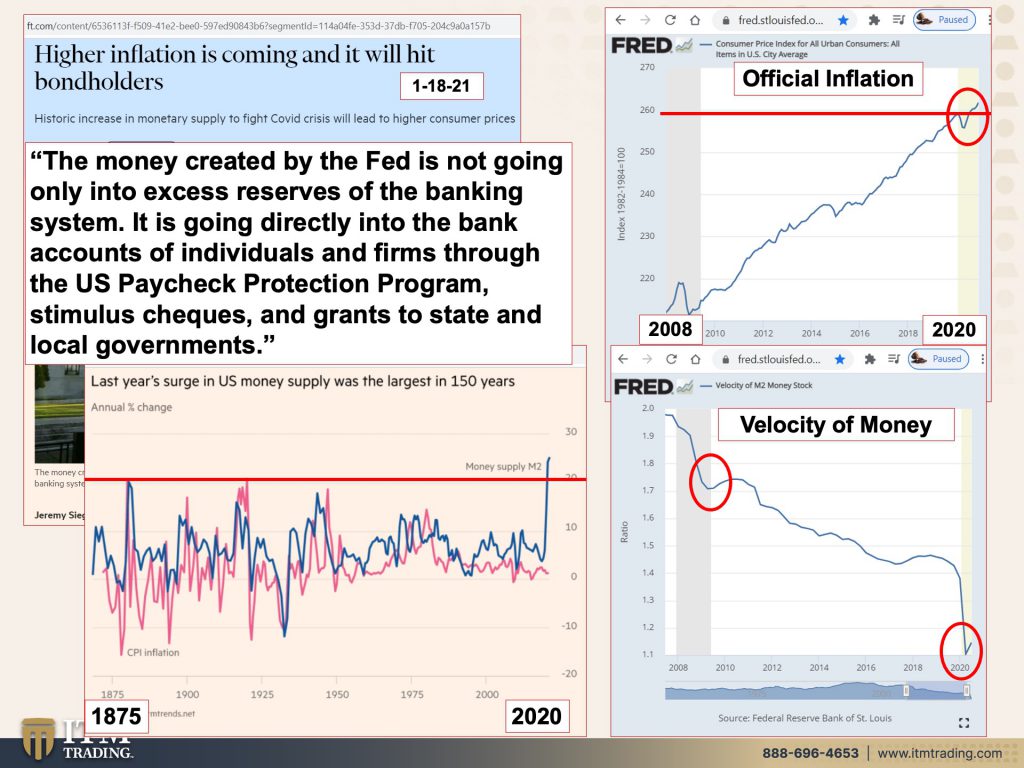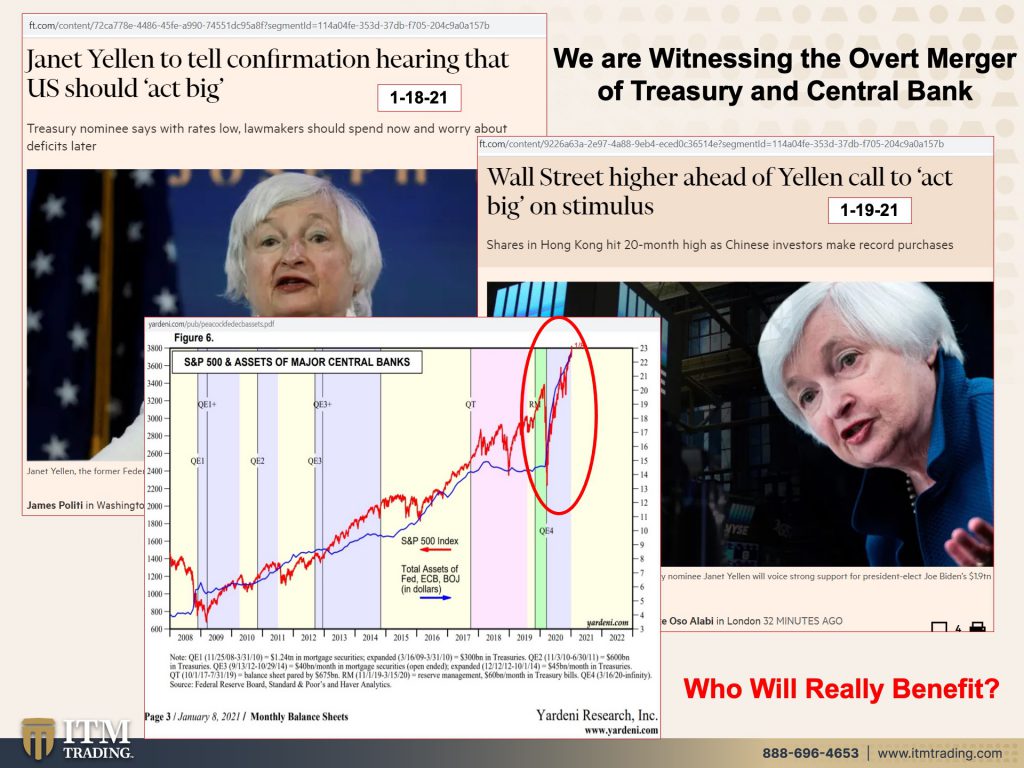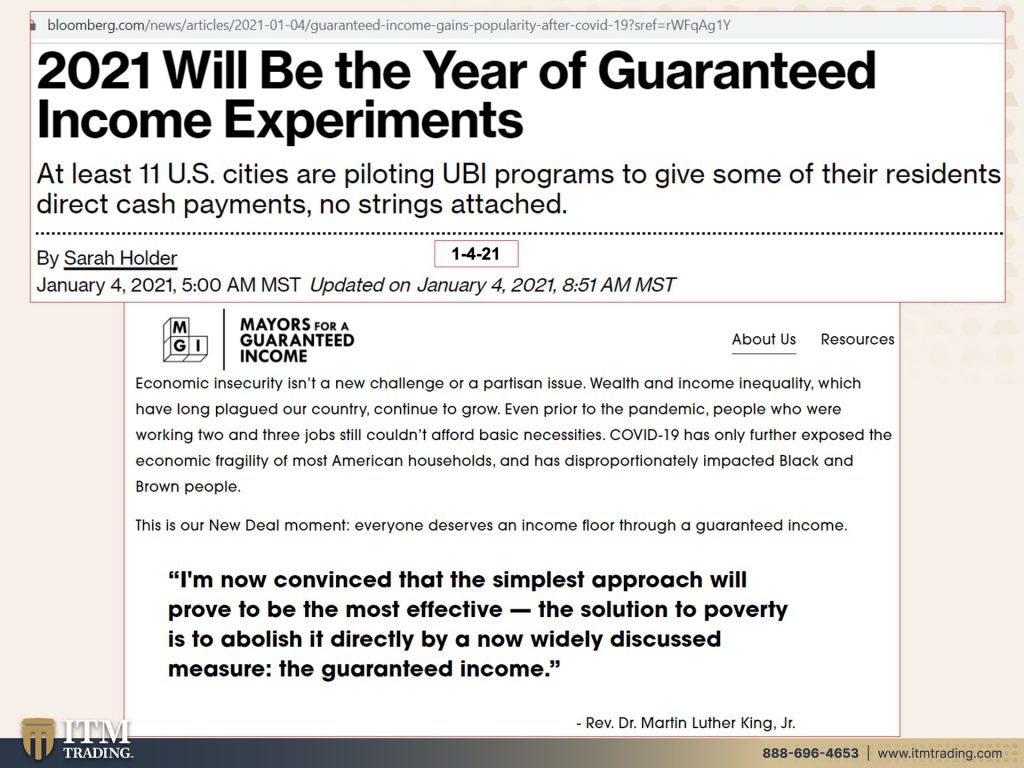 Sources:
Slide 1:
https://www.bloomberg.com/news/articles/2021-01-19/stimulus-checks-americans-say-600-government-relief-payments-are-not-enough?cmpid=BBD011921_OUS&utm_medium=email&utm_source=newsletter&utm_term=210119&utm_campaign=openamericas&sref=rWFqAg1Y
Slide 2:
https://www.bloomberg.com/news/articles/2021-01-04/guaranteed-income-gains-popularity-after-covid-19?sref=rWFqAg1Y
Slide 3:
https://www.ft.com/content/72ca778e-4486-45fe-a990-74551dc95a8f?segmentId=114a04fe-353d-37db-f705-204c9a0a157b
Slide 4:
https://www.ft.com/content/6536113f-f509-41e2-bee0-597ed90843b6?segmentId=114a04fe-353d-37db-f705-204c9a0a157bhttps://fred.stlouisfed.org/series/M2V
Slide 5:
N/A
Slide 6:
https://fred.stlouisfed.org/series/GFDEGDQ188S
https://www.wsj.com/articles/chinas-2020-growth-shows-it-gaining-ground-on-u-s-economy-11610967016
Slide 7:
https://www.cnbc.com/2021/01/02/gold-silver-can-continue-to-shine-in-2021-after-a-record-year-trader.html

We believe that everyone deserves a properly developed strategy for financial safety.
Lynette Zang
Chief Market Analyst, ITM Trading