Just as you can count on those that tally numbers to tell you how good or horrible the last year was, you can count on analysts to tell you what to buy in the new year. For a while Nasdaq was hot. Then real estate was hot. 401k's and mutual funds seem to be a perpetual favorite of the financial talking heads. This year, however, most market analysts agree on gold.
They have different reasons for doing so. They also have different ways they suggest entering the gold market. ITM Trading agrees that every financial portfolio should include some gold and silver. However, unless you are placing your precious metals inside of an IRA, ITM Trading suggests you take physical delivery of your metals. Buying gold stocks or obtaining shares in an ETF is not the same as owning physical gold. The fundamental reasons that ITM Trading suggests you own gold will also probably differ from the reasons that the traders give. Traders tend to look at the short-term, while investors look at long-term gains.
ITM Trading stresses the long-view of owning rare gold coins as well as gold and silver bullion pieces. The reason for looking more closely into the analyses that suggest rising prices is simple. If prices are set to rise in the near future, then now is the time to begin or add to your precious metals position.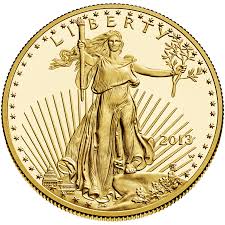 The following is compiled from a report published by MoneyMorning.com. The report sampled the opinions of twenty-three analysts regarding their 2017 gold price forecasts. Nineteen of the twenty-three saw gold prices rising. The remaining four saw gold prices remaining relatively flat or dipping. More on these four later.
Buy Gold, Now is A Good Time For Gold: Global Instability.
One strong factor for a rise in gold prices that many analysts cited is global instability. The article quoted Kun Shen, from The Bank Of China, as saying that populist leaders being elected as well as Donald Trump falling short of his political promises will push the price of gold higher. Shen also noted the increased demand for physical gold from Chinese investors as a driving force.
Other analysts pointed to instabilities in the Middle East as a reason that gold would continue to climb in both demand and price as a safe haven asset. Brexit was mentioned several times as well. Brexit caused a financial tidal wave that crushed the British pound last year. In 2016, gold rose more than twenty-five percent against the British fiat currency.
Additionally, Russian tensions and policies, as well as Iranian relations, are mentioned as a cause for global concern. Likewise is the ongoing situation with North Korea. If global instability is a cause for gold prices to rise, this factor won't be resolved away anytime soon.
Buy Gold, Now is A Good Time For Gold: 

Diversification.

This is not the first year that this poll of market analysts has been conducted. In 2016, Joni Teves of UBS Group AG was asked to give her forecasts. Her well thought out predictions were the closest for both gold and silver. In 2017 she sees at least a nine percent growth in gold prices. This would mean year-end gold prices around $1350 an ounce. She does say, however, that gold may go as high as $1450 an ounce.

Her theory contends that one of the main drivers of gold prices will be investors seeking to diversify. Teves thinks that gold is "under-owned". She also believes that macroeconomic conditions will lead to more participation in the gold market. This simply means that more demand should bring about an increase in prices.
Buy Gold, Now is A Good Time For Gold: 
Interest Rate Hikes.
Of particular importance to many analysts was the possibility of upcoming interest rate hikes by the Federal Reserve. At least two of the four analysts that saw declining gold prices cited interest rate hikes by the Federal Reserve as a factor. As many as three rate hikes are expected in the near future. In theory interest rate hikes should be bad for gold, but an interesting article published by the Economic Times has facts that would tend to show otherwise.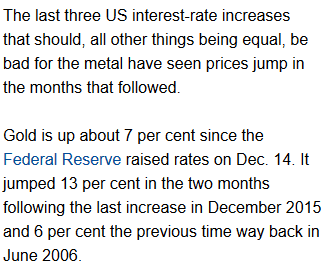 Perhaps ironically, several of the analysts that saw gold prices rising also listed interest rate increases as a factor. Nikos Kavalis of Metals Focus made a very interesting point about the state of low-interest rates around the globe.

Kavalis makes sense. Rates are so low in so many countries that a raise or two will still leave interest rates at zero or near zero for several major currencies, not just the US dollar. In 2016 gold prices finished up more than six percent against the US dollar, and six percent is much better than zero percent.
Buying Gold : Own Gold.
While many of these analysts are predicting gold prices to climb few will recommend that you own physical gold coins. Why? The first and foremost reason is probably because they don't sell physical gold and silver coins. Having certain investment licenses forbids you from trading physical precious metals, believe it or not. In addition, the commissions and costs paid on ETF and stock transactions dwarf the commissions paid on physical gold bullion sales.
Perhaps of even more importance to the stockbroker and market analyst is keeping your dollars in the market and your investment in the digital system. Once you convert your cash into physical gold and silver, your wealth is no longer a pool from which brokers and firms draw their profits.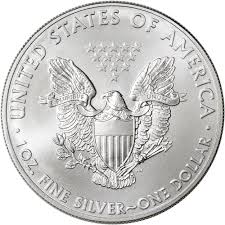 Owning gold is more than just having some coins and bars in a safe. Owning physical gold and silver gives you options and autonomy. Gold and silver are physical currencies that offer you financial diversity and safety as well as the chance to profit handsomely. Call ITM Trading and open an account today.