First of all, understanding peak gold is not as difficult as it may seem. In fact the word "peak" can be applied to all types of produce and commodities, it just so happens that "peak" is a little easier to apply to, and prove for, gold than other produce and commodities. The idea behind peak gold is that either more than half of the gold available for mining has been mined, or at least, all of the easy to mine gold has already been mined, leaving only the harder to get to gold available for mining. Whichever definition you subscribe to, proving that peak gold has been reached and surpassed is not difficult.
What Evidence Supports That Peak Gold Has Been Reached?
Whether you subscribe to the idea that more than half of the available gold has been mined, or that all of the easy to get to gold has been mined, there are cold hard facts that will support either claim. For instance, today we more technology available than ever to find gold, including ground penetrating sonar, the ability to quickly drill and test for samples, and computer modeling. None of these advantages were available just 100 years ago, and remember, humans have been mining gold for over 5000 years. Now, take into account that even with all of the technological advances available these days, worldwide gold production has been falling year over year for some time now, as evidenced by the graph below.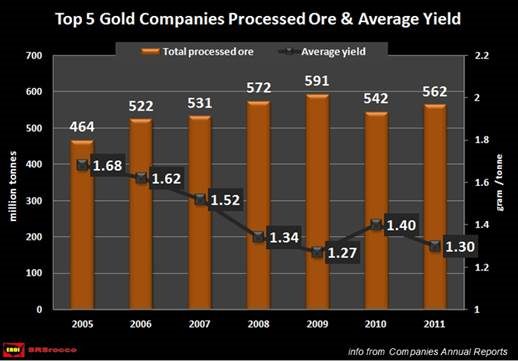 What Does This All Mean?
Gold is becoming rarer and rarer, while dollars are becoming more and more numerous. The U.S. has been going through round after round of quantitative easing, in effect creating dollars out of nowhere. Over time, this money creation shows up in the form of increasing gold prices for several reasons. One reason in particular, is evident in the chart below, which I found in a very well put together report written by Lynette Zang, Senior Analyst at ITM Trading. The chart shows that each ounce of gold produced these days requires more and more diesel fuel for it's extraction, and in addition to requiring more fuel, we all know that the price of fuel has been increasing over the years. Simply put, the more something costs to produce, the higher it's price will be when it comes to market.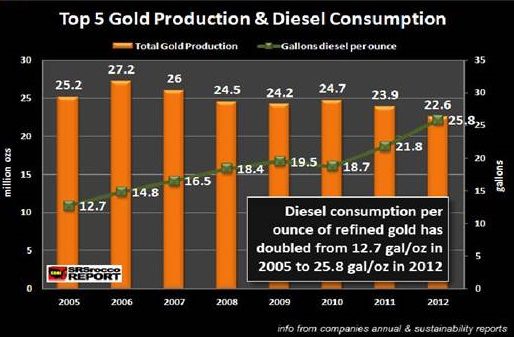 What Does This Mean For Gold Coins Already In Circulation?
Gold coins are somewhat unique in that at their empirical value, which would be the pure gold content, they are all equal. Simply put, an ounce of gold is an ounce of gold, whether it was produced in the USA or Turkey, this year or fifty years ago. Few items in the marketplace carry the distinction of being fungible. Ultimately however, what this means to you is that if you bought a one ounce gold coin today for $1385, and four years from now the same coin cost $2200, your coin would be worth about $2200. This would be true for gold coins and gold bullion. If you buy old gold coins, or if you buy numismatic gold coins, there will be other factors such as rarity and quality that will factor into the final price of your gold coins, but the fact that gold has increased in value relative to the dollar will also positively effect the value of your holdings.